Aaron Craft and the Rest of the Big Ten's Top Defenders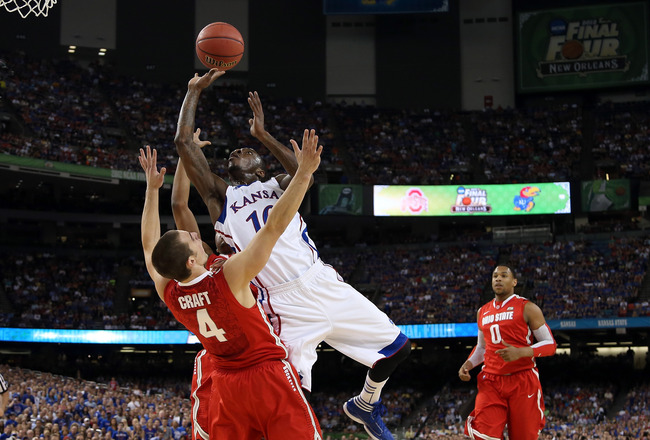 Chris Graythen/Getty Images
Defense and hard-nosed play is what the Big Ten Conference prides itself in. There are both great individual and team defenses in this great conference. I have personally witnessed the two lowest-scoring games in the modern era for the Big Ten.
First, I saw Penn State defeat Illinois 38-33 during my freshman year of college. Then as a junior at the Big Ten Tournament, the same Nittany Lion team beat Wisconsin 36-33. Did I find those games boring? Absolutely not. Call me crazy, but I love seeing close games no matter how many points are scored.
There are no style points in college basketball, like there are in college football, which is a very good thing. The five players highlighted in this list are a huge part of the reason that I prefer watching Big Ten basketball over any other conference.
Aaron Craft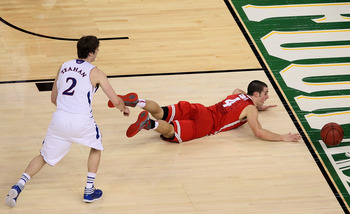 Ronald Martinez/Getty Images
There isn't a guard in all of college basketball as pesky as Craft. While Craft averaged 2.5 steals as a sophomore, it is his constant on-ball defense and pressure on opposing point guards that really defines his game. A former high school quarterback, Craft is hard-nosed and doesn't back down from any other guards in the league.
His ability to create turnovers leads to so many easy buckets for his Ohio State teammates, which is something that gets left out of the box score. While Jared Sullinger, Deshaun Thomas and William Buford were a terrific scoring trio last season, that Buckeye team would not have been nearly as good without Craft, especially on the defensive end. A soon-to-be junior, Craft is only 6'2" and 190 pounds, but his tremendous effort certainly makes up for his lack of size.
Tim Frazier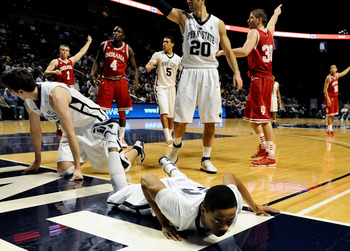 Patrick Smith/Getty Images
Not only is Frazier the heart and soul of the Nittany Lions on the offensive end, but he is also their best defensive player. Frazier averaged 2.4 steals as a junior, which is just barely below Craft in that category. The difference between the two players though is that Frazier exerts so much energy on the offensive end, either scoring or distributing, that it's amazing how good of a defender he is.
Without Frazier, the Nittany Lions would be lucky to have even a handful of wins last season. Frazier leads the team in points, rebounds, assists and steals. To me, the most impressive one of those stats is that he leads PSU in rebounds even though he is only 6'1" and 160 pounds. However, he was he still able to pull down nearly five boards per game. Although the Nittany Lions finished in the cellar of the Big Ten this season, Frazier should was not penalized for playing on a bad team and was selected to the First Team All-Big Ten.
Rodney Williams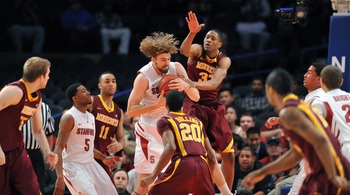 Jason Szenes/Getty Images
Williams may be the most athletic player in the entire Big Ten. He averaged 1.3 steals and 1.4 blocked shots as a junior, which was tops for Minnesota in both categories. He also finally established himself on the offensive end during his junior year. Williams made the move to power forward when Trevor Mbakwe went out for the season, which was a blessing in disguise for Williams who is now able to play his natural position.
Williams stands 6'7", but his incredible wingspan and leaping ability make him just a freak athlete that has NBA potential written all over him. Williams had either a steal or a blocked shot in all but one game last season, which the Golden Gophers won anyway. The emergence of Williams on both ends of the court makes the Golden Gophers a scary squad to face in 2012-13.
Josh Gasser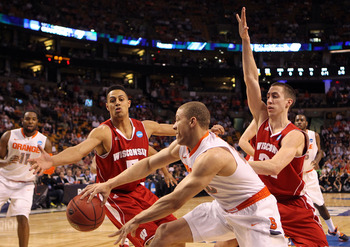 Jim Rogash/Getty Images
Although Gasser isn't the flashiest player and doesn't put up ridiculous stats, there's no denying how important he is to Wisconsin. A significant amount of his importance comes on the defensive end of the court, as Gasser was selected to last year's All-Defensive Team along with Craft, Frazier, Draymond Green and Victor Oladipo.
Gasser only averaged 0.7 steals a year ago, but he is often guarding the opposing team's best player. Gasser only stands 6'3" but isn't afraid to get up close and personal with whoever he is defending, and I've seen him get into plenty of his opponents' faces. With Wisconsin's slow-playing style, they need a defensive stopper like Gasser for their system and game plan to be executed on a game-by-game basis.
Victor Oladipo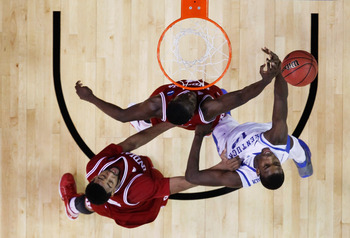 Streeter Lecka/Getty Images
The final player on the list is Indiana's Victor Oladipo, a junior from Upper Marlboro, Maryland. In 2011-12, Oladipo averaged 1.4 steals during his 26.7 minutes of playing time. Oladipo is 6'5" but has the ability to guard players at any position. In fact, he guarded John Shurna late in Northwestern's visit to Bloomington last February, after Shurna lit up Christian Watford for the game's first 30 minutes.
Like Williams, Oladipo is also one of the best athletes in the league. He is incredibly quick and never appears to get tired on the court. If Tom Crean decides to start both Yogi Ferrell and Jordan Hulls this season, Oladipo could see himself guarding bigger players while playing the small forward position. He could even guard power forwards too since Watford's defense is poor.
Keep Reading

Ohio State Basketball: Like this team?