Grading the Jacksonville Jaguars' Entire 53-Man Roster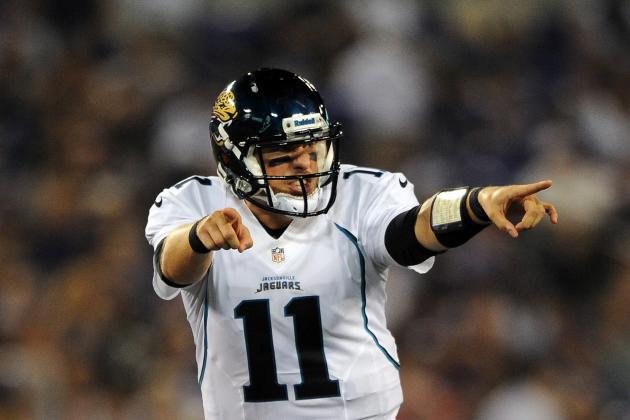 Patrick Smith/Getty Images

After a long and strenuous process, the 2012 Jacksonville Jaguars are finally set.
Fifty-three men, plus eight men on the practice squad, make this year's version of the Jags and will begin the 2012 season against the Minnesota Vikings Week 1.
Now that we have the roster set, it is now time to go through it with a fine-tooth comb and see what this team really has to offer.
The 2011 Jaguars didn't offer much, finishing 5-11.
Can the 2012 version improve upon that disappointment? Let's go through position by position and see if this team has what it takes to make the Jaguars a winner in 2012.
Begin Slideshow

»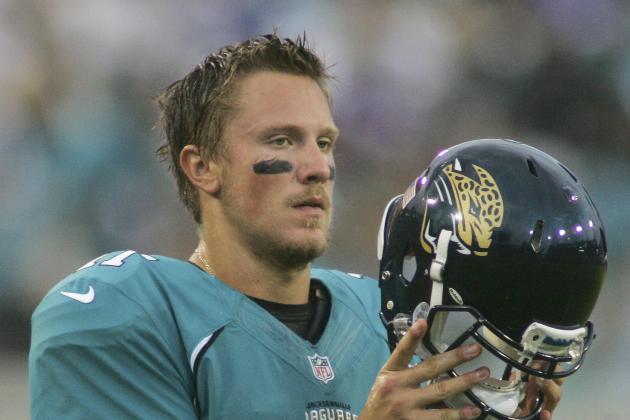 Phil Sears-US PRESSWIRE

Blaine Gabbert: C+
Gabbert showed a good amount of improvement this preseason; however, it was only the preseason.
Any improvement is good for the second-year man out of Missouri, as he clearly struggled to get his feet under him in 2011.
Now with a full offseason under his belt and a more offensive-minded head coach in Mike Mularkey, Gabbert could be ready to take a much-needed step forward.
But he will have to show that progress in the regular season before this position gets a higher grade from me.
Before the preseason, the grade could have been a C-, and possibly even a D, but after solid preseason, it gets a C.
The Jaguars believe he can improve as he was named an offensive captain for the season.
Chad Henne: D
Henne was brought to Jacksonville to be a veteran backup to Gabbert. Unfortunately, he didn't show much of anything during the preseason. Which comes as no surprise to me as he didn't show much of anything while in Miami.
For Jags fans, you do not want to see Henne trotting onto the field unless he is setting up the victory formation and taking a knee.
If he his on the field for any other situation, namely replacing a struggling Gabbert, don't expect much at all from him as far as production.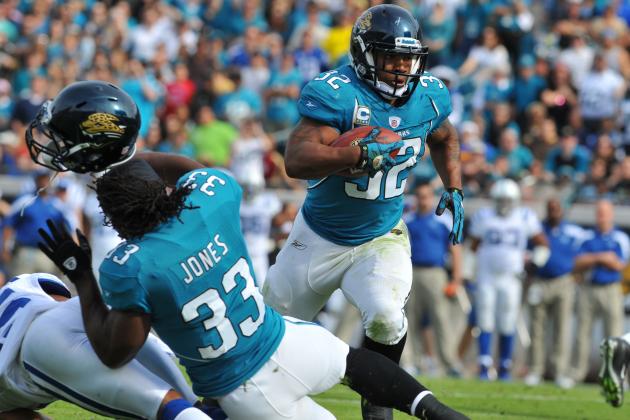 Al Messerschmidt/Getty Images

Maurice Jones-Drew: A-
When the 2011 season ended, his grade was an A+.
Now, after spending the entire offseason away from his teammates, away from his new coaching staff and offensive scheme, his grade takes a slight hit.
A holdout could adversely affect MJD, much like it did Chris Johnson as he has to get his playing legs back. That cannot be replicated away from the team.
Another reason his grade takes a hit as he returns to the team without the motivation of a new contract.
It didn't work out too well for DeSean Jackson and the Eagles last season, but hopefully, MJD thinks better of it.
Regardless, he is still one of the best running backs in the league and deserves a very high grade, just not as high as it would have been before the contract dispute.
Rashad Jennings: B
Now that Jones-Drew is back in the fold alongside Rashad Jennings, who had a great training camp and preseason, the Jaguars may all of a sudden have one of the better backfield tandems in the league.
Jennings played so well during the preseason the Jaguars did not find a need to rush Jones-Drew back in to the starting lineup against against the Vikings. The team feels comfortable letting Jennings receive the majority of the carries until Jones-Drew gets in playing shape.
When Jones-Drew is fully ready to go, Jennings may have forced his way into some more touches, which will give the Jaguars another weapon, but also keeps Jones-Drew healthy and potentially extends his career.
The Jags may have stumbled upon a very good situation in the backfield.
Montell Owens: C
Owens had a very good training camp and solid preseason. His spot on the team as the third running back seems to be safe, especially since he is a good special teamer as well. He was recently named captain of the special teams.
Keith Toston and Jalen Parmele: C-
Toston and Parmele have a problem. The Jaguars currently have four running backs listed on the roster, not including Maurice Jones-Drew, who is still listed on the reserve/did not report list.
Although Jones-Drew has returned to practice, the Jaguars, at least according to their transactions list, have yet to officially activate him from that list, meaning that there are 53 men on the roster, not including Jones-Drew.
What does that mean for Toston and Parmele? One of them will be cut before Week 1. There is zero chance the Jags keep five running backs as four is probably too many as it is.
As to who the Jags will keep, Toston saw a good amount of playing time during the preseason despite missing the Ravens game due to injury, so the roster spot may be his.
But time will tell as to who sticks around in Jacksonville.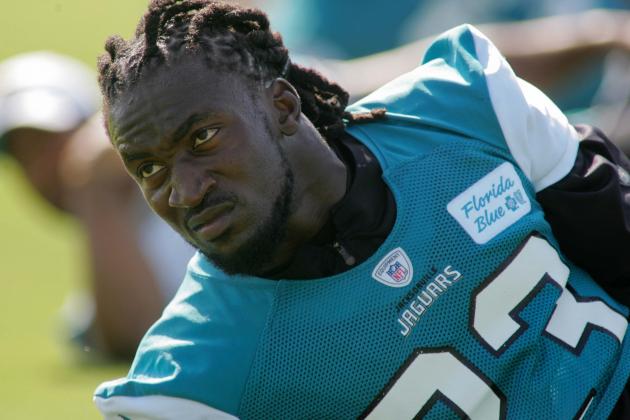 Phil Sears-US PRESSWIRE

Greg Jones: B
There is only one fullback on the roster, and that spot belongs to the veteran Jones.
Jones beat out Brock Bolen and Will Ta'ufo'ou to keep the spot he has long held down in Jacksonville.
Ta'ufo'ou did land a spot on the practice squad to provide depth at the position.
Jones is a very good blocking fullback, as he has been the man leading the way for Maurice Jones-Drew and, in the past, Fred Taylor.
He can also catch the ball out of the backfield when he is asked.
Jones is a very underrated component of the Jags' potent running game.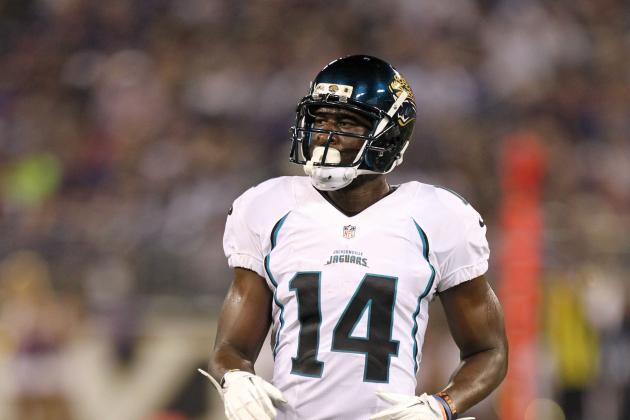 Mitch Stringer-US PRESSWIRE

Justin Blackmon: C+
Blackmon garners this grade simply because he still has so much to prove in the NFL. He had a very good preseason, better than I expected after a holdout, but once again, it was only the preseason. The jury is indeed still out on Blackmon. He has talent, but he has to showcase it when the games count.
Laurent Robinson: B-
Robinson garners this grade based upon the solid regular season he had in 2011 where he caught 54 passes for 858 yards and 11 touchdowns.
He did not have that great of a preseason, but I will give him the benefit of the doubt, for now at least.
Cecil Shorts III: C
Shorts seems to be a big play waiting to happen and could be an X-factor game in and game out for the Jaguars. He just hasn't seemed to put it all together. Jaguars fans see his potential, but he is still very unproven as a weapon.
This season could be the year he breaks out and shows everyone outside of Jacksonville what he can do. Until then, he gets a C as he still has much to prove.
Mike Thomas: C
Before the preseason, Thomas seemed to be on his way out of Jacksonville with a bad first week of camp. Now, he has a firm place on the roster and could be weapon in the return game for the Jaguars.
He earned his roster spot during preseason, but if he is not productive again in 2012, he may be fighting for his spot this time again next year.
Brian Robiskie: C-
Robiskie had a solid preseason, but no one should expect a whole lot of production out of him during the regular season. Partially, because he's not that great of a player and also because he won't get too many chances to be productive unless there are injuries to the starters.
Kevin Elliott: C-
A big performance against the Falcons in the preseason finale helped Elliott a roster spot on the Jaguars. More than likely, you're not going to hear or see too much of him during the regular season.
But he did show some flashes of talent and ability during the preseason, which is why the Jaguars not only kept him on the team, but placed him on the active roster.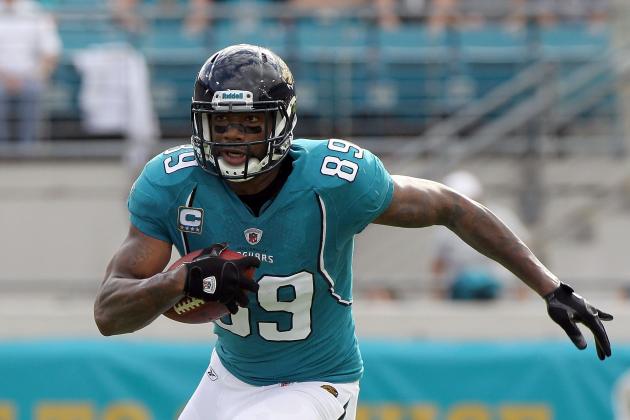 Sam Greenwood/Getty Images

Marcedes Lewis: C+
After a great 2010 season that ended in a Pro Bowl selection, Lewis stumbled to a less-than-stellar season in 2011.
Lewis was selected in the first round of the 2006 draft with the thinking that he would be a top-flight tight end to the likes of Rob Gronkowski and Vernon Davis. So far during his career, he has not come close to that.
He has the ability to be a good target for Gabbert, but just hasn't been consistent enough.
Brett Brackett: D
The Jaguars have recently signed Brackett after waiving the oft-injured Zach Miller. Brackett has bounced around from the Dolphins to the Jaguars' practice squad at the of last season, to the Eagles this season and now back to the Jaguars again. Brackett is going into only his second NFL season.
He was recently injured, which will not help his grade.
Zach Potter: C
Potter has potential at tight end, but with only nine career receptions coming into this season, don't expect a bunch of big plays from this season.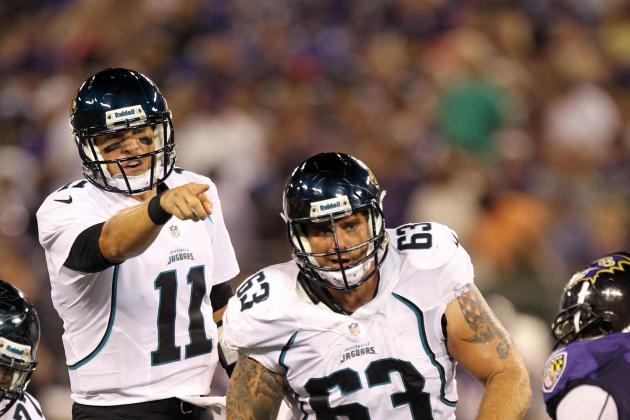 Mitch Stringer-US PRESSWIRE

Brad Meester: B
Meester is a 13-year veteran who is very steady at the center position. Blaine Gabbert is the fourth (Mark Brunell, Byron Leftwich, David Garrard) different quarterback that has taken snaps from Meester in Jacksonville.
That's a testament to Meester's stability and also a look at the instability at the quarterback position in Jacksonville.
The team rewarded his leadership by naming an offensive captain for the season.
Mike Brewster: B-
Brewster went undrafted, but was still one of the more talented rookie centers in the NFL. He showed his talents during the offseason, and it earned him the backup role behind Meester where he can learn from a guy that has probably seen it all during his long NFL career.
Brewster has gone from undrafted to possibly the heir apparent to Meester once he hangs up his cleats.
The Jaguars should be set at the center position for long time.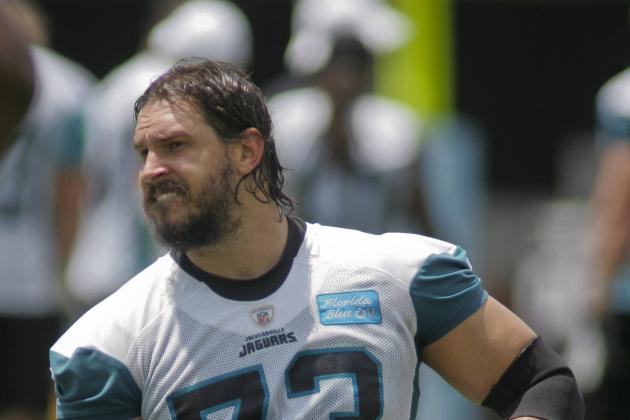 Phil Sears-US PRESSWIRE

Eben Britton: B+
Because of injuries, Britton had to make the move from tackle to guard during the preseason. Wherever he lines up, he is one of the better offensive linemen on the team.
The only thing keeping Britton from being a perennial Pro Bowler is his health. If he can stay on the field for all 16 games, he could earn the nod at the end of 2012.
Uche Nwarneri: B
Nwarneri has been another steady and consistent component of the Jaguars offensive line. With Britton and Nwarneri, the Jags have a very good combination.
Josh Beekman: D
Beekman was signed during camp because of the rash of injuries to the offensive line, which included placing Will Rackley on injured reserve.
We haven't seen enough of him for him to garner a higher grade than this at this point.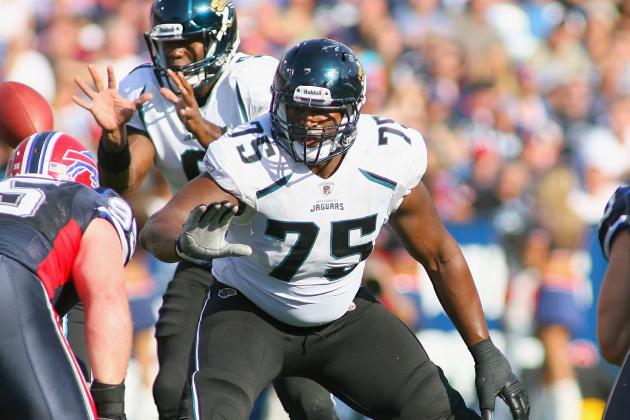 Rick Stewart/Getty Images

Eugene Monroe: A- (if healthy)
If healthy, Monroe is one of the best tackles in the league, but that is if he is healthy.
Monroe missed a couple of preseason games with a concussion, but did return to practice recently and is expected to suit up for the season opener.
Cameron Bradfield: B-
Bradfield had a great preseason. He had so much of a great preseason that he will be the tackle opposite Monroe for the start of the season.
Guy Whimper: C+
Whimper has had his fair share of struggles as of late, and it resulted in Bradfield leap-frogging him on the depth chart.
Whimper is still good enough that he could fill in for a little bit in the event of injuries, however.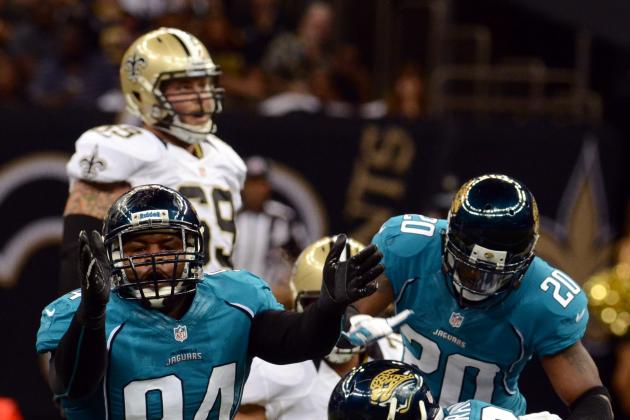 Chuck Cook-US PRESSWIRE

Jeremy Mincey: B+
Mincey is probably one of the more underrated defensive ends in the league today and is one big season away from stepping into the upper echelon of defensive ends.
Hopefully for Jaguars fans, that season is 2012. The Jags will need him in the hopes of creating a legitimate pass-rush that, at the very least, can disrupt the timing of opposing offenses.
Andre Branch: B-
Branch had a solid preseason and definitely showed flashes of his physical ability to rush the passer. If he can put it together in the regular season, his grade could easily go up.
Austen Lane: C+
Lane is still a "few weeks away" from being ready to go, but the Jaguars thought enough of him to keep him on the active roster going into the season.
Lane isn't a great player, but is very good for depth purposes.
Aaron Morgan and George Selvie: C
Both of these player suffered some nicks and bruises during the preseason, but seem to be ready to go for the regular season. The Jags will need them both, as they are very thin at this position as far as depth.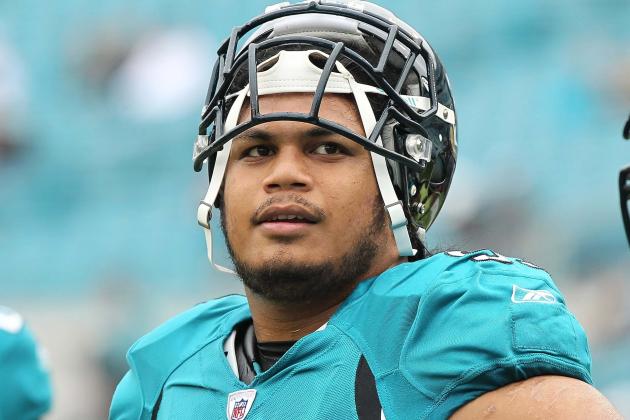 Kim Klement-US PRESSWIRE

Terrance Knighton and Tyson Alualu: B
Knighton Alualu make up a very good defensive tackle tandem for the Jaguars. Given that Knighton is all the way back from his eye injury earlier in the offseason, the tandem should be even better with a better pass rush from the defensive end spots.
C.J. Mosley: C
Mosley saw time in the starting lineup during the preseason as the team was bringing Knighton along slowly.
Mosley did a solid job with his opportunity and earned the backup role in the unit.
Jeris Pendelton: C
Pendleton showed a lot during this preseason and overcame the wealth of depth the Jaguars had at the position of defensive tackle.
Seventh-round draft picks aren't always promised roster spots like their higher-selected brethren, so Pendleton had to fight for his spot and he earned it.
D'Anthony Smith: C-
Smith did not show me a whole lot during preseason, but showed enough to warrant the Jags to reward him with a roster spot.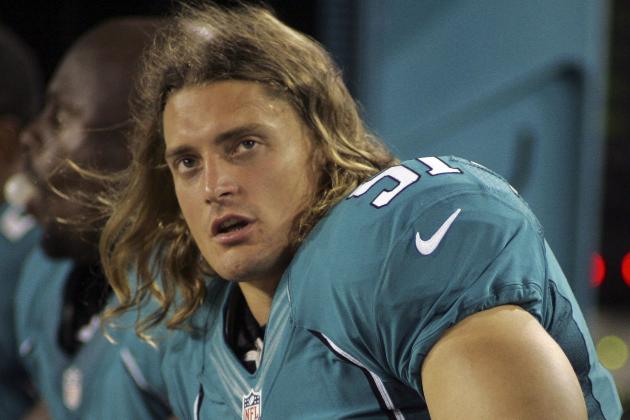 Phil Sears-US PRESSWIRE

Paul Posluszny: B+
Not much more can be said about the ability of Posluszny. He is the leader on the defense, evidence by him being voted a defensive captain, and will be the guy in the middle of everything for another season in Jacksonville.
Brandon Marshall: C+
Marshall 's spot on the roster was safe from the beginning as he was the team's fourth draft pick despite being selected in the fifth round.
For his season in the league, he will get to sit back behind Posluszny and learn from a very productive linebacker about the ins and outs of the position.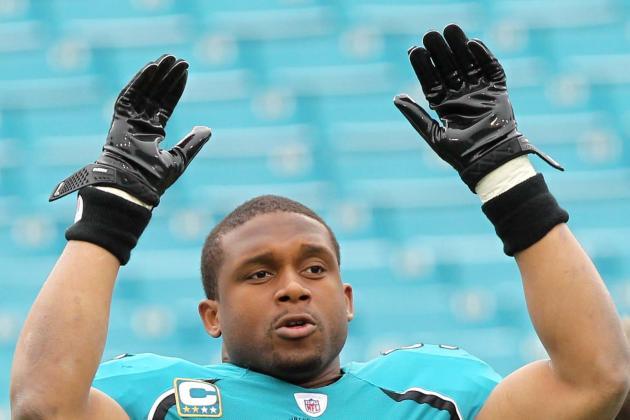 Kim Klement-US PRESSWIRE

Daryl Smith: B (if healthy)
If healthy, Smith is a very underrated linebacker for the Jags.
He is expected to play in the season opener against Minnesota, but he will more than likely be less than 100 percent with a nagging groin injury.
Russell Allen: C+
Although Allen is cemented as the starter for the start of the season, he still has to prove that he belongs in the starting lineup for good in Jacksonville.
Allen wasn't overly impressive during the preseason and will have to step up his production to earn a better grade from me.
Julian Stanford and Kyle Bosworth: C
Both of these guys went from undrafted free agents to members of the active roster. The Jags needed to make these guys active because of the lack of depth across the linebacker corps as a whole.
But these two guys earned their spots and will make an impact on special teams.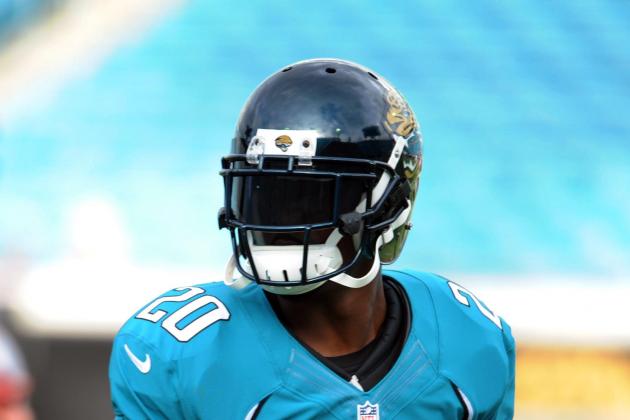 Melina Vastola-US PRESSWIRE

Derek Cox: B (if healthy)
Cox is a solid cornerback if he his healthy, but he will not be healthy enough to take the field against the Vikings Week 1.
Depending on how long he is unable to suit up, this position could a take hit, but if he comes back in a timely fashion, it will remain unchanged.
Aaron Ross: B
Ross was the big free agent pick up for the secondary during the offseason. He was a good corner for the Giants. He wasn't great, but he was good and the Jags hope that he not only brings his talents, but also brings winning attitude as he won two Super Bowls with the Giants.
Rashean Mathis: C+
Mathis isn't what he was circa four years ago, but has shown enough to believe that he can still be a productive player in this league. He will begin the season at nickel position, which I think is a very nice fit for him coming off his injury.
William Middleton: C+
With Cox sitting Week 1, Middleton will be moving up the depth chart in his place.
Middleton is a solid component to the secondary, but the Vikings will probably look to throw his way more, simply to see what he is made of.
Mike Harris, Kevin Rutland and Antwon Blake: C
The sixth-round draft pick for the Jags enjoyed a solid preseason and earned his spot on the team.
Harris will add to what looks now is some much-needed depth to the cornerback position.
The same goes for Rutland and Blake.
All three should have a chance to make some kind of impact on special teams in some fashion.
Blake is another undrafted free agent rookie that made the active roster for the Jaguars this season.
The Jaguars kept five undrafted free agent rookies on the active roster.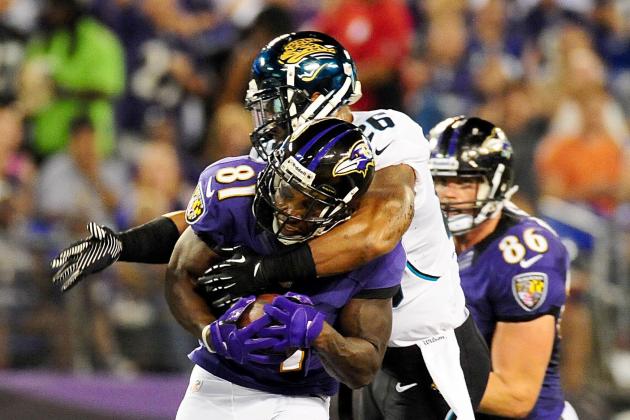 Evan Habeeb-US PRESSWIRE

Dawan Landry and Dwight Lowery: B
The tandem of Lowery and Landry isn't the league's best just yet, but could potentially turn into it.
The more time they spend together in the secondary, the better they will become.
Chris Prosinski: C-
Prosinski recorded a lot of tackles during preseason, but a good amount of them happened down the field after he had been beaten.
He also gave up a good amount of big plays. He still a lot to show me before he gets a higher grade.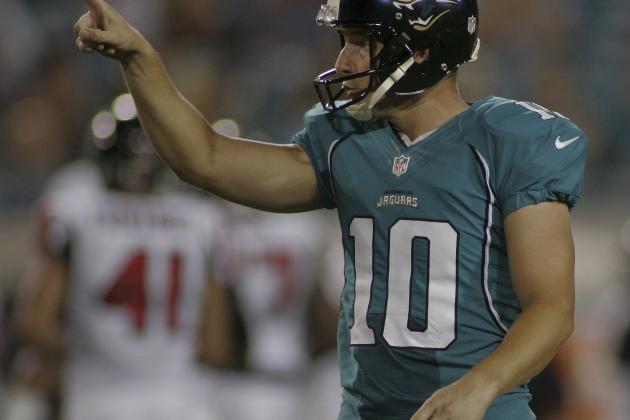 Phil Sears-US PRESSWIRE

Josh Scobee: A
Scobee has been one of the best and most consistent kickers in the NFL year in and year out.
He made 23 of his 25 field goal attempts last season. He showcased his big leg hitting seven from 40-49 yards and five from 50 yards or more.
His longest last season was from 55 yards.
With a new contract in tow, expect another big year from the man with the big leg.
Bryan Anger: B
Anger silenced a lot of critics with a very strong preseason, where he routinely averaged 40 yards per attempt.
Whether or not the Jaguars should have taken him with the third selection, Anger has showed the reason why teams considered drafting him to begin with.
The Jaguars may have one of the better kicking games in the league when you look at both kicker and punter, and the team should win the field position often thanks to Anger's booming punts.
Jeremy Cain: B
Not much to say about a long snapper besides the fact that he is reliable.