Draymond Green and 11 Former Big Ten Stars Have Their Careers Ranked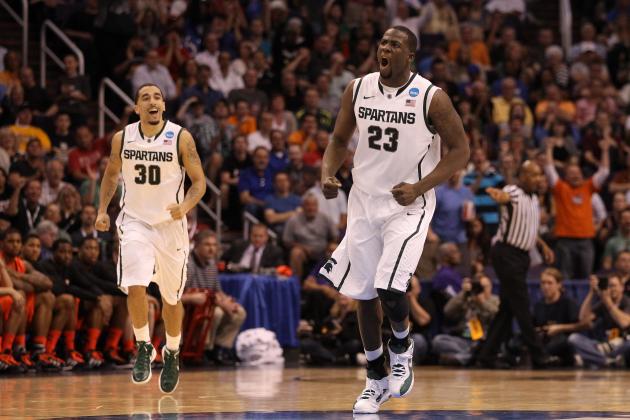 Christian Petersen/Getty Images

While the Big Ten should still be regarded as the nation's top conference entering the 2012-13 season, I think it is worth noting that arguably half of the conference will be without their top performing player from a year ago.
Meyers Leonard and Jared Sullinger both decided to forego their final two collegiate seasons and enter the NBA, while Draymond Green was drafted following his senior year.
Regardless of whether the players listed here are in the NBA, NBA Developmental League, playing in Europe or done with their basketball careers, there is nothing that can be taken away from the efforts that each gave to their respective Big Ten school over the past few years.
In this article, I will highlight one player from each Big Ten squad and give a breakdown on the player's game as well as offer insight as to who may take on their role this next season.
While there could be much debate with this list, especially with the top six players, keep in mind that I took all four years of the player's career into account. So those that were four year starters gave more overall during their four years, even if they weren't as good as others later on.
Begin Slideshow

»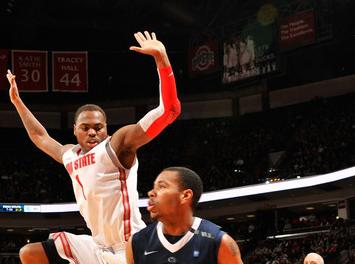 Career Averages: 3.7 PPG, 1.9 RPG, 0.3 APG, 13.3 MPG
Best Season: Senior
Likely Replacement: DJ Newbill
After three seasons of minimal contributions as a member of the Penn State basketball program, Woodyard stepped up as a senior on a very young Nittany Lion squad last year becoming a starter for the first time in his collegiate career.
Penn State only won four conference games a year ago, but with the addition of Newbill they basically return the same team from a year ago. Woodyard was a solid competitor throughout his career, although he should be replaceable for them.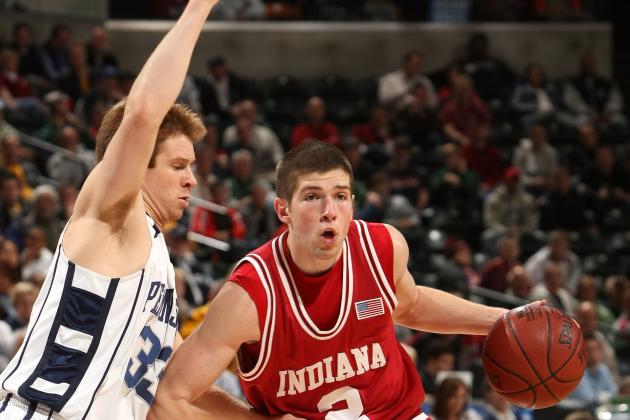 Jonathan Daniel/Getty Images

Career Averages: 4.8 PPG, 0.8 RPG, 0.3 APG, 13.6 MPG
Best Season: Freshman
Likely Replacement: Jeremy Hollowell
As a freshman, Roth played over half the game on average for a Hoosier squad that only won a single Big Ten game that year. Roth's role on the team diminished greatly during his sophomore and junior seasons, only to improve for his senior year.
Although he only saw the floor for close to 12 minutes per contest as a senior, Roth was put in the game for the sole purpose of shooting from the outside. In fact, he shot a remarkable 54.5 percent from deep as a senior. While IU has plenty of more talented players coming in, Roth could have helped had he been granted another season of play by Tom Crean.
Jonathan Daniel/Getty Images

Career Averages: 7.7 PPG, 4.7 RPG, 0.7 APG, 19.8 MPG
Best Season: Sophomore
Likely Replacement: Nnanna Egwu
After playing only eight minutes per game as a freshman, Leonard became one of college basketball's most improved players as a sophomore. This helped him gain national recognition for his talents, as Leonard was a lottery pick to Portland in the 2012 NBA Draft.
Although incredibly talented, Leonard has some growing up to do on the court. Leonard may be the most talented player on this whole list, but because he only played in college for two years, it didn't feel right bumping him ahead of the upcoming players.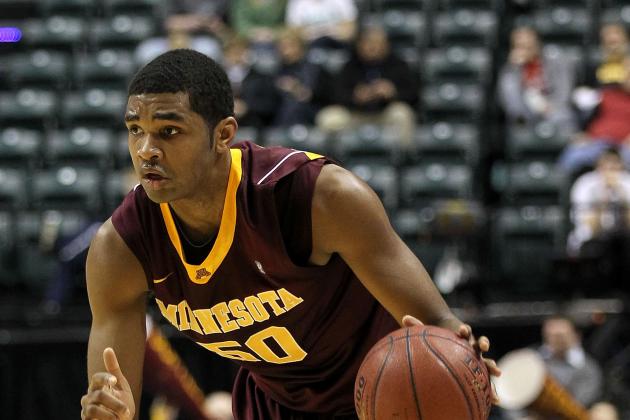 Andy Lyons/Getty Images

Career Averages: 8.1 PPG, 5.0 RPG, 1.5 APG, 24.7 MPG
Best Season: Junior
Likely Replacement: Elliott Eliason
Sampson III played over 20 minutes per contest his entire career, which started out bright but faded as the years went on. Sampson III is the son of former Virginia star Ralph Sampson, although he never came close to reaching his father's accolades.
Sampson III missed plenty of time his senior season due to injuries, as did Trevor Mbakwe. With Mbakwe returning for a sixth collegiate season, the Golden Gophers should forget quickly about Sampson's contributions.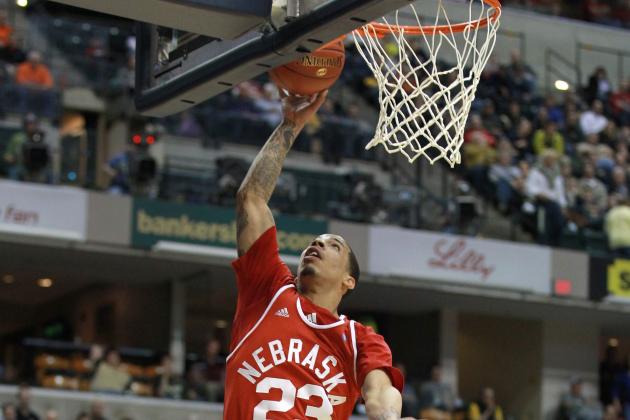 Andy Lyons/Getty Images

Career Averages: 11.2 PPG, 2.3 RPG, 2.5 APG, 29.0 MPG
Best Season: Senior
Likely Replacement: Shavon Shields
After three seasons as an LSU Tiger, Spencer was kicked off the team. This is when Spencer decided to transfer to Nebraska, where after sitting out one season due to transfer rules, he became the Cornhusker's leading scorer during the team's first season in the Big Ten.
Not only does Nebraska lose Spencer, but they lose another three starters from last year on top of that. Although he only played one season in Lincoln, Spencer and the other seniors from the 2011-12 team will be sorely missed in Tim Miles' first year as head coach.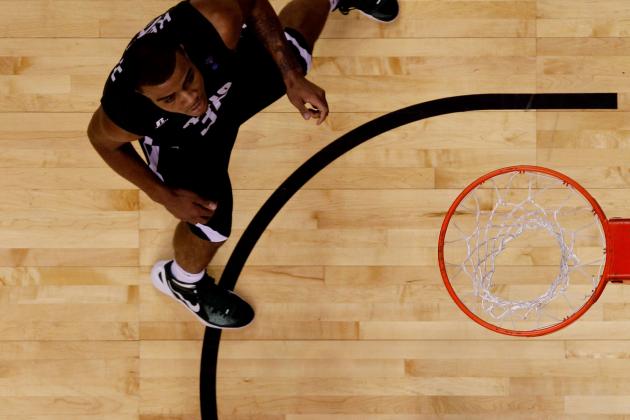 Kevin C. Cox/Getty Images

Career Averages: 8.1 PPG, 4.5 RPG, 1.6 APG, 32.5 MPG
Best Season: Junior
Likely Replacement: Glenn Robinson III
Despite standing only 6'4" and weighing 210 pounds, Novak found himself playing the power forward position for much of his collegiate career. Novak was a four-year starter for Michigan, a heavy three-point shooting team.
While Novak had the ability to both score and rebound, his best attribute as a player may have been his defensive prowess. The sweet shooting lefty from Chesterton, Indiana will be missed, as will Stu Douglass, but the Wolverines' young guns should be ready to go.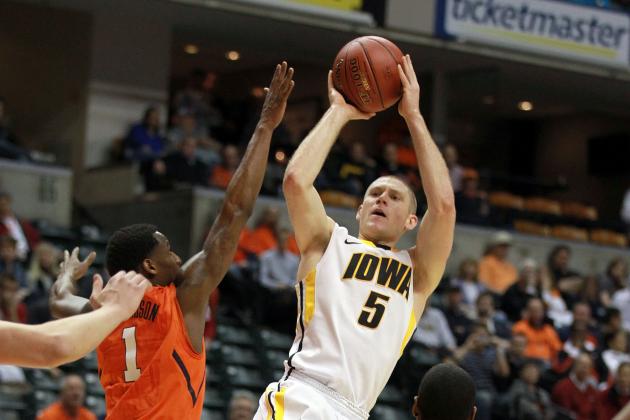 Andy Lyons/Getty Images

Career Averages: 12.8 PPG, 3.6 RPG, 2.3 APG, 34.7 MPG
Best Season: Senior
Likely Replacement: Josh Oglesby
To have Gatens only check in at No. 6 on this list speaks volumes to the 2012 Big Ten senior class. Gatens, also a four-year starter, never played less than 33.5 minutes on average during his Hawkeye career.
He also averaged over 10.8 points each season and steadily improved his scoring numbers each year. Gatens shot 41 percent from long range as a senior. He will be missed by Hawkeye fans for the time being, but Fran McCaffery has that program going in the right direction.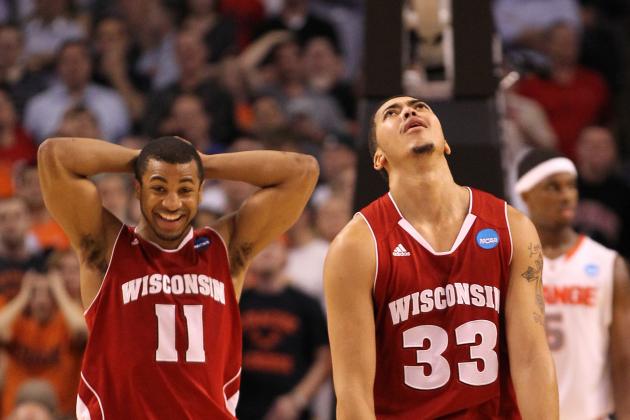 Jim Rogash/Getty Images

Career Averages: 11.3 PPG, 3.0 RPG, 3.4 APG, 29.0 MPG
Best Season: Junior
Likely Replacement: George Marshall
Who would have thought that Taylor, who only averaged 1.6 points as a freshman, would go on to average 18.1 points as a junior? I sure did not. Taylor came to Madison without a long range shot, but left as one of the most clutch shooters in the league.
Taylor started for two-and-a-half seasons and set the NCAA record for assist-turnover ratio over his career. Although Bo Ryan coached teams always seem to reload no matter who graduates, it may take some time to fill Taylor's shoes.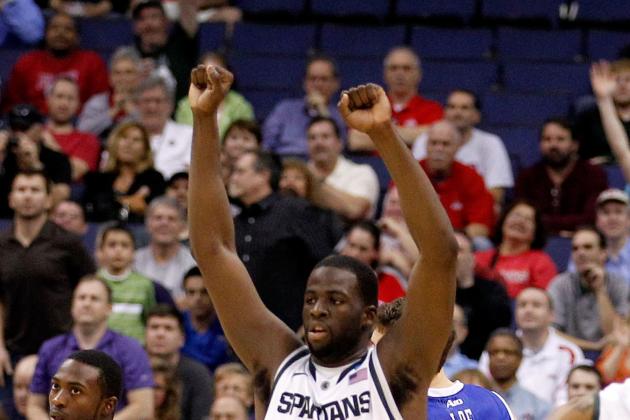 Rob Carr/Getty Images

Career Averages: 10.5 PPG, 7.6 RPG, 2.9 APG, 25.0 MPG
Best Season: Senior
Likely Replacement: Branden Dawson
Green's placement on this list is hurt by the fact that he only started for two seasons under Tom Izzo, despite being a vocal leader from the day he stepped into East Lansing. Green was the Big Ten's Player of the Year in 2012, so no disrespect here to one of my favorite all-time players.
Green's teams reached two Final Fours during his career, something that no one else on this list can say. The "Dancing Bear" will be tough to replace both as a player and a captain, but it'd be silly to think that Izzo doesn't have the players to compete even with losing Green.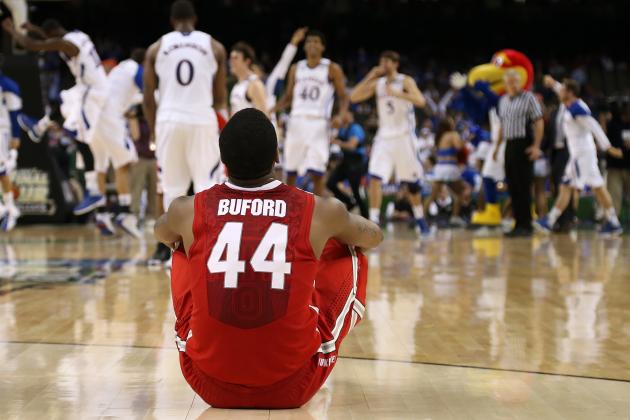 Chris Graythen/Getty Images

Career Averages: 13.7 PPG, 4.6 RPG, 2.5 APG, 32.6 MPG
Best Season: Sophomore
Likely Replacement: LaQuinton Ross
Buford, the Big Ten Freshman of the Year in 2009, finally got his first taste of the Final Four in 2012 in a close loss to Kansas. Buford was a starter from the day he stepped onto the Columbus campus and for good reason, he was as steady of a scorer as they come.
Despite being one of the top scorers in Ohio State basketball history, Buford always played second fiddle to either Evan Turner or Jared Sullinger, but I think that's the way he liked it. Ohio State has plenty of talent on their roster, but it'll be hard to find anyone who can stay in school as long as Buford and perform at the same high level that he did.
Doug Pensinger/Getty Images

Career Averages: 14.0 PPG, 6.8 RPG, 2.1 APG, 30.2 MPG
Best Season: Senior
Likely Replacement: DJ Byrd
Hummel, who is now teammates with Buford in Spain, was also a four-year starter for Purdue. Hummel came to Purdue with JaJuan Johnson, E'Twaun Moore and high school teammate Scott Martin, but graduated alone because of multiple ACL surgeries.
That didn't slow Hummel though, who nearly willed the Boilermakers over Kansas in last year's NCAA Tournament. Now that all of the 2007 recruiting class is gone in West Lafayette, Matt Painter has some rebuilding to do.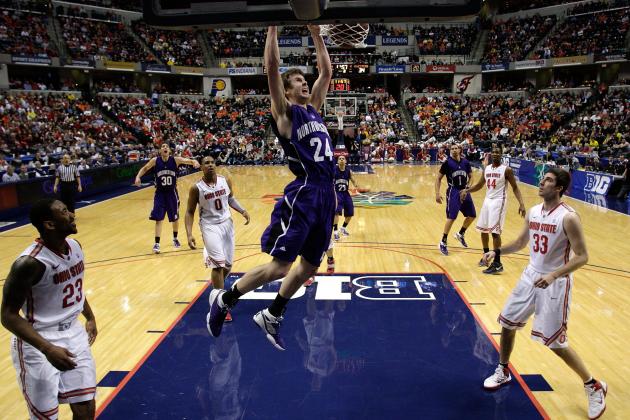 Andy Lyons/Getty Images

Career Averages: 15.7 PPG, 5.0 RPG, 2.3 APG, 31.8 MPG
Best Season: Senior
Likely Replacement: Jared Swopshire
After an up and down freshman season, Shurna quickly established himself as the Big Ten's best scorer and did so for three consecutive seasons. The 6'9" forward from Glen Ellyn, Illinois is a deadly outside shooter and a matchup nightmare, who also happens to be the school's all-time leading scorer.
Shurna also leads Northwestern's all-time list in blocked shots and was both a solid rebounder and passer during his time in Evanston. Shurna recently signed a partially guaranteed contract with the New York Knicks. While Northwestern may have their deepest team in school history in 2012-13, replacing Shurna simply cannot happen. I mean come on, he scored 2,038 points over the course of four years.