Tennessee Football: Grading All 22 Starters from the Volunteers' Week 1 Game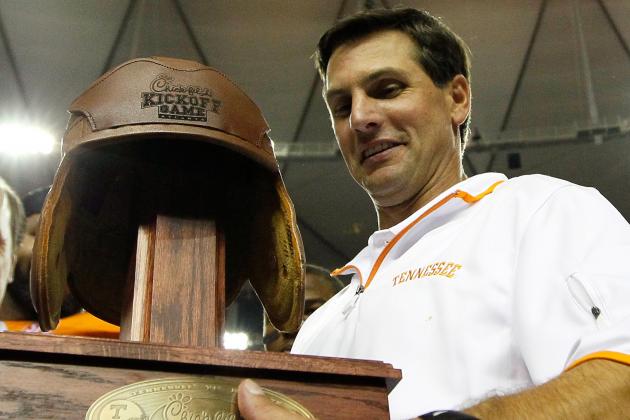 Kevin C. Cox/Getty Images

The Tennessee Volunteers got the 2012 season off to a rip-roaring start in Atlanta last Friday against a quality N.C. State squad. The individuals grades for the 22 starters reflect that, with three of them earning a perfect A+.
I incorporated postgame statistics, a number of game-changing plays and the tried-and-true eye test when grading these players, and boy, does it feel good to be the one with the red pen for a change!
Of course, with a two-touchdown victory over a team with 17 wins and two bowl victories since 2010, there weren't many failing grades—in fact, no one scored below a C+!
Begin Slideshow

»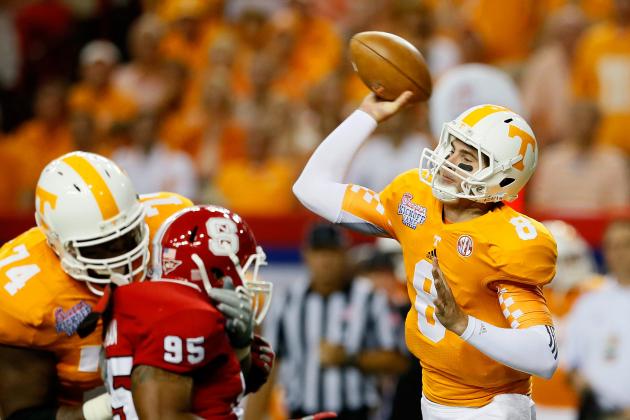 Kevin C. Cox/Getty Images

Grade: A
Tyler Bray was outstanding on Friday night. He completed 27-of-41 passes (over 65 percent) for 330 yards and two touchdowns. Along with the Music City Bowl, the Chick-Fil-A Kick-Off was Bray's biggest game of his college career, and he responded.
He was patient in the pocket and used the offensive line to his great advantage. He had a few errant passes—some intentional because everyone was covered—but all in all, Bray was stellar.
Kevin C. Cox/Getty Images

Grade: C+
Rajion Neal was named the starter after terrific summer workouts and a great fall camp, but he had trouble finding his rhythm. Neal got off to a solid start, but N.C. State quickly caught on to his frequent outside runs, several of which were intended to go inside.
Marlin Lane led the Volunteers in rushing with 75 yards on just nine carries. Neal managed only 58 yards but was a workhorse with 22 carries. His effort on an eight-yard touchdown run was excellent, but he needs to find more holes.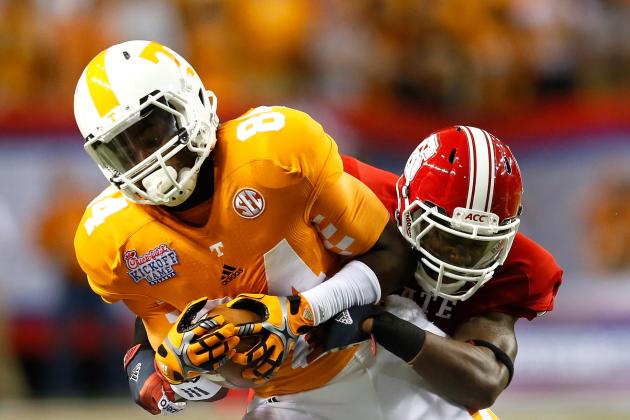 Kevin C. Cox/Getty Images

Grade: A+
Is there any other grade that Cordarrelle Patterson deserves? In his first game with Tennessee, Patterson led the Vols in total yards, total touchdowns, receivinging yards and was even second in rushing yards. He was Tyler Bray's favorite target in the first half, and for good reason.
Patterson just needs to continue to find ways to improve. He was quiet in the second half after drawing more attention from the secondary so he may need to still improve a bit. Still, it's hard to criticize his performance.
Kevin C. Cox/Getty Images

Grade: B-
Justin Hunter caught more balls than any Volunteer on Friday, but you could see his frustration with never making the big play. I sincerely hope the emergence of Cordarrelle Patterson doesn't make him impatient.
He had a chance to score two touchdowns in the second half, one on a quick slant and the other a deep bomb. They were both tough catches, but we've grown accustomed to seeing Hunter make those plays. I expect he'll regain his form soon.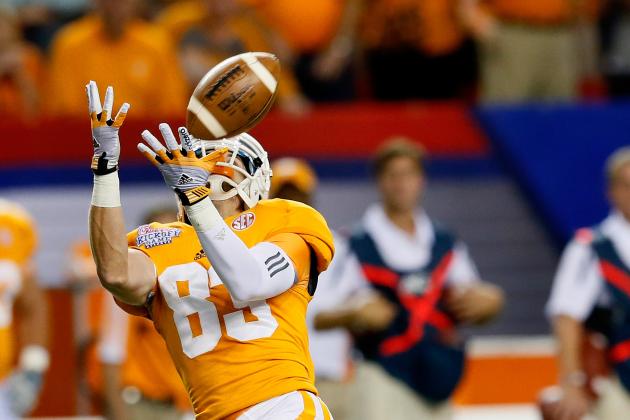 Kevin C. Cox/Getty Images

Grade: B+
If you told me one month ago that Rogers was going to have a big game at wide receiver, I would've shrugged my shoulders and said, "Obviously. Da'Rick is great."
But it was the other Rogers who came up with the big game—of course, it helps that he's the only one Rogers on the team. His Willie Mays-like catch had us all forgetting that fact, and he also converted a key 3rd-and-10 to keep a drive alive in the second half.
If Rogers does that every game, the Volunteers will be fine.
Grade: B+
There were no penalties and no sacks allowed by the big tackle playing in his native state. Ja'Wuan James was, however, a piece of a line that wasn't able to generate much push for the running backs who accounted for just 82 yards on 36 carries, minus the two big runs.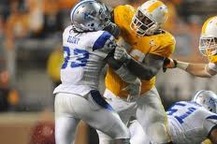 Grade: B+
I know Zach Fulton was named the SEC Offensive Lineman of the Week, but his false start on the one-yard line cost the Vols six points and was a sour way to start a goal-line offensive series. Marlin Lane deserved the touchdown there.
But he was excellent otherwise. Fulton is a quiet force on Tennessee's line.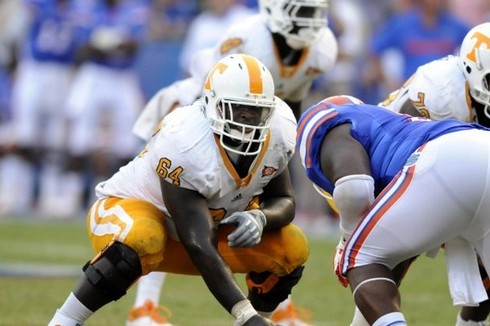 govolsxtra.com
Grade: A-
James Stone's grade is a bit inflated because the center position caused so many problems last year that were gone in this year's debut game. The fact that we haven't heard a word about the center-quarterback exchange is good.
Stone is snapping shotgun with his left hand in his unorthodox fashion and snapping under-center with his right to help Tyler Bray. That's no easy task, but he did his job. I expect to see more under-center plays as he gets comfortable being ambidextrous.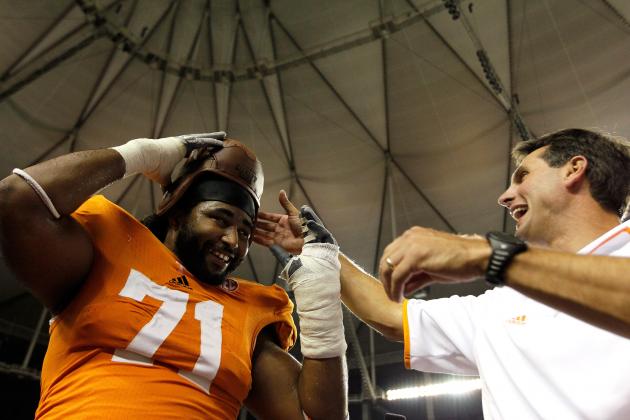 Kevin C. Cox/Getty Images

Grade: B+
Like the rest of the offensive line, Dallas Thomas did a good job pass-blocking but was unable to provide consistent push for the running backs.
The elder of the unit sets the tone, so let's hope for a commitment by Thomas on improving that weakness that has been the offensive line's Achilles' heel for more than a season.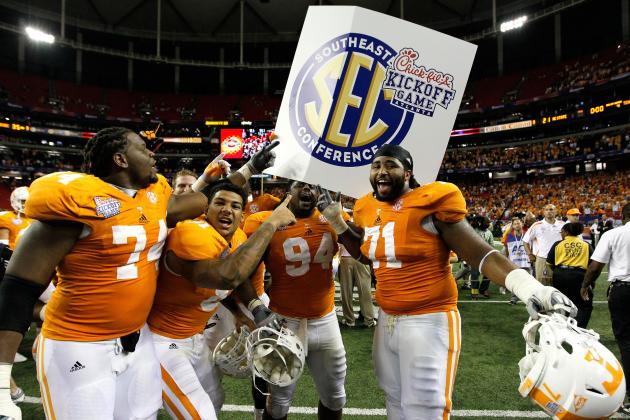 Kevin C. Cox/Getty Images

Grade: B-
In his first career start, Antonio Richardson got off to a lackluster beginning with a false start on the first play of the game. He recovered quickly and went out about his business.
Richardson did, however, lose focus and commit a second false start later in the game. The big tackle from Nashville is an incredible talent and hopefully has all the nerves behind him.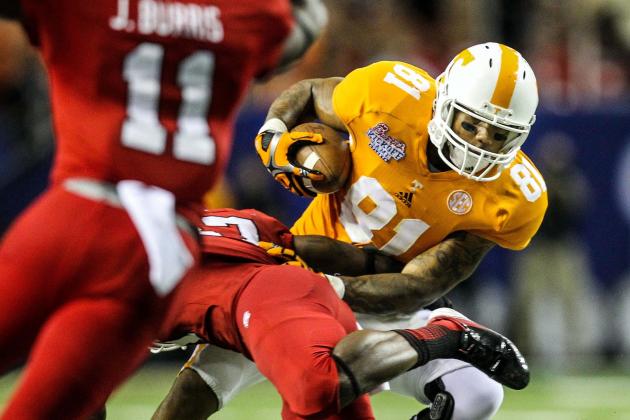 Daniel Shirey-US PRESSWIRE

Grade: B-
On third down and very long to go, Mychal Rivera caught a 13-yard pass, fought hard for extra yardage, and helped the Vols approach a first down. The only problem was that it was his only catch.
Tennessee opted to use Alex Bullard at tight end for running plays, limiting Rivera's imprint on the game. The high-flying receivers may have more trouble when the Vols are in the redzone, so Rivera needs to step up and become a go-to target for short passes and big scores.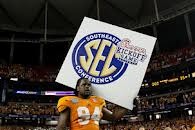 Grade: C+
As excited as I was about the defense, you can't overlook a zero-sack, zero-tackle effort from a heralded JUCO defensive end.
I thought Darrington Sentimore played a strong game. He just needs to get in the action more often.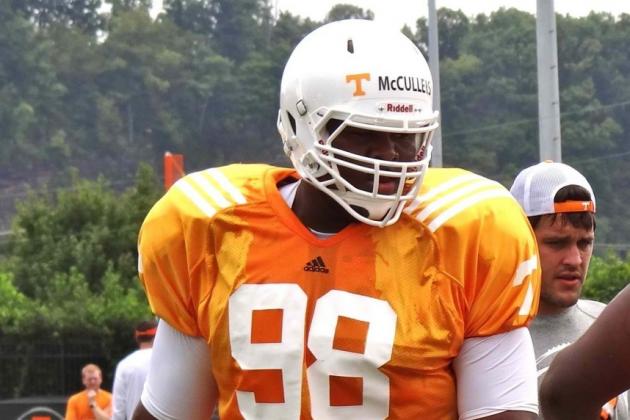 athenaeumnews.com
Grade: B
Call me a hypocrite, but I have to give big Daniel McCullers a higher grade than Sentimore even though he also produced a goose egg on the box score.
He was a land mover and helped limit N.C. State to less than 120 yards rushing. I also distinctly remember him making a beautiful read on a screen pass that many over-aggressive nose tackles would have missed.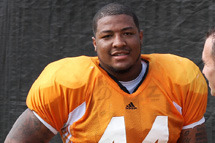 tennessee.scout.com
Grade: B
Maurice Couch was a disappointment last year but is already showing that 2012 will be a different year for him. He tallied five tackles, good for third-most on the team, and one for a loss.
Couch blew a chance to break up a running play in the backfield on N.C. State's last scoring drive, but otherwise was very polished.
Kevin C. Cox/Getty Images

Grade: A+
Curt Maggitt was awesome on Friday. He showed his swift closing speed at the end of the first quarter with a fumble-forcing sack of Matt Glennon. He looked at home on the outside of the 3-4 defense and should continue to wow the college football world.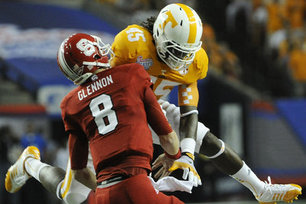 hendersondispatch.com
Grade: B+
When Herman Lathers went down with a shoulder injury, the sophomore A.J. Johnson immediately became the core of the defense. As usual, he responded with maturity well beyond his years.
The 3-4 caused a few problems in the middle of the field, with far too many tight ends and receivers finding themselves wide open. But with time and patience, the number of miscommunications will decrease.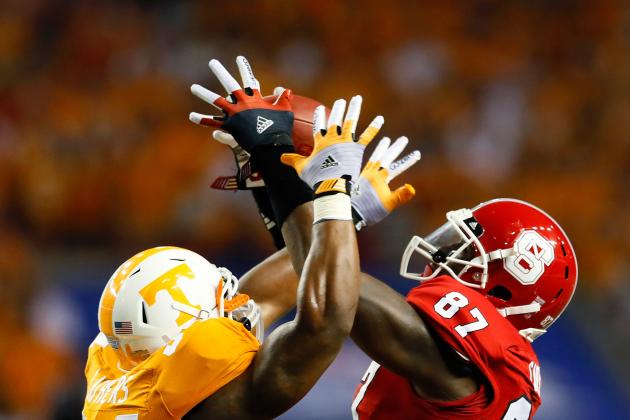 Kevin C. Cox/Getty Images

Grade: Incomplete
Remember when you got a grade of incomplete for not finishing a homework assignment? It didn't mean that it was good or bad; it means it still can't be evaluated and more information is necessary.
That's the grade for Herman Lathers. He only played one half before going down with a shoulder injury that kept him on the sidelines after halftime. Dontavius Sapp filled in admirably, but the Vols really need their fifth-year senior out there.
Lathers is close to being labelled "injury prone," if he isn't already.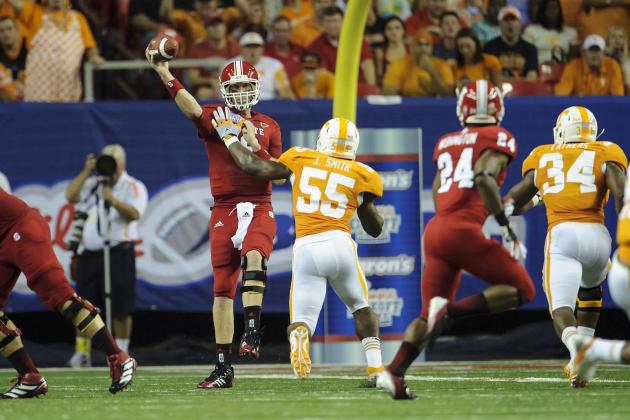 Paul Abell-US PRESSWIRE

Grade: B
Jacques Smith showed off his versatility against N.C. State. He played primarily at outside linebacker, but when defensive coordinator Sal Sunseri wanted to mix in more speed, Smith moved up to defensive end and an extra defensive back was brought in.
He only managed four tackles but played a key role in the great pass coverage Matt Glennon threw into all night. He and Maggitt are a dynamic duo.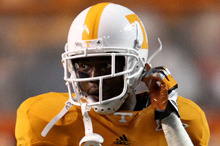 tennessee.scout.com
Grade: A-
If not for a couple mishaps in the secondary, Prentiss Waggner would have earned an A or A+. His interception of Matt Glennon in the first quarter broke up the flow that N.C. State was starting to build. In fact, the very next play was Zach Rogers' amazing 72-yard touchdown.
Waggner should continue to be a ball-hawk at cornerback. Opposing quarterbacks would do well to challenge the other side.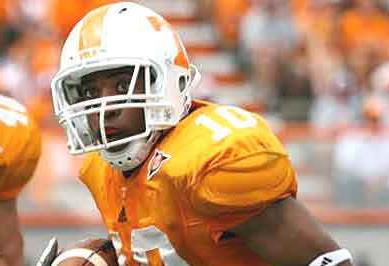 henryco.com
Grade: B
Marsalis Teague filled in nicely for the Izauea Lanier, who will be ineligible all season. He was another player who got confused from time to time in the secondary, leading to too many open passes, but it was still a strong showing.
His interception with five seconds left was a perfect end to the game.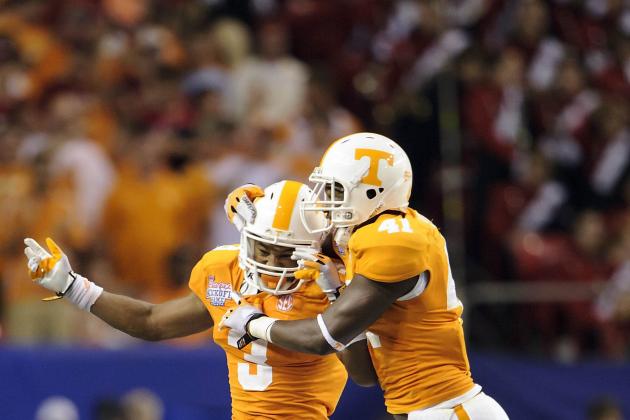 Paul Abell-US PRESSWIRE

Grade: A+
Byron Moore had a brilliant game in Atlanta. He led the team in tackles with eight, finding himself in the right spot, time after time. He also read a lobbed pass beautifully and stepped in front of it for his first career interception, which he returned for 18 yards.
In just his third start, I was immensely impressed with the maturity Moore showed. He looks like he has been the starting safety for years.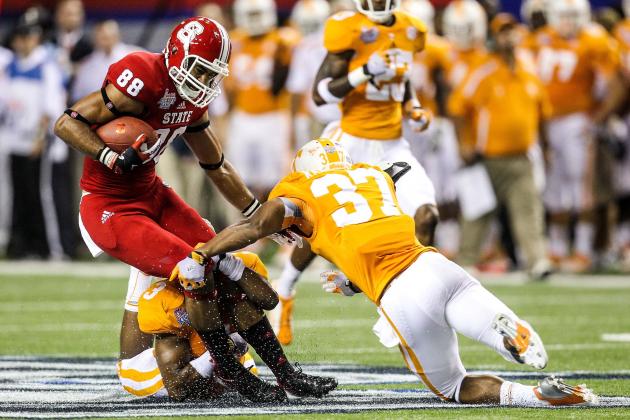 Daniel Shirey-US PRESSWIRE

Grade: A
Brian Randolph is quickly gaining a reputation as a steady-eddy on the defense. He is consistent, reliable and just might be the second half of one of the best safety combos in college football.
He tied with Moore to lead Tennessee in tackles with eight, including one for a two-yard loss. He was sent on a safety blitz more than once, which means we might get to see the sophomore rack up a few sacks in the coming weeks.