UCLA Football: Things We Learned from Week 1 vs. Rice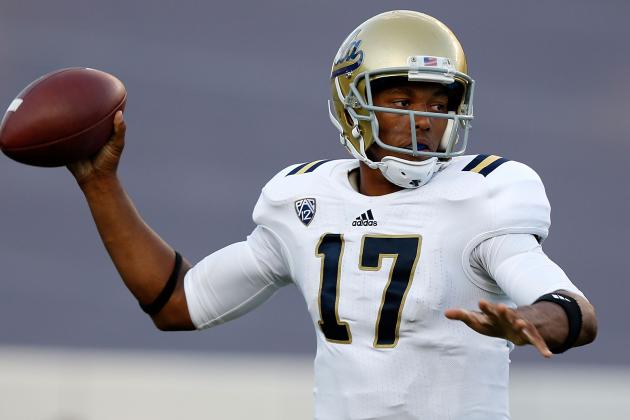 Scott Halleran/Getty Images
QB Brett Hundley had a great first start
The UCLA Bruins started their 2012 season in spectacular fashion, as they disposed of the Rice Owls by a score of 49-24.
Although one game has been played, the team looks completely different from a year ago. Offensively, the Bruins showed a level of excitement and inventiveness not seen in years.
Schematically, UCLA and defensive coordinator Lou Spanos pressured the opposing quarterback relentlessly. A myriad of younger players were integrated into the fold, and quarterback Brett Hundley started his collegiate career very impressively.
Here are some things we learned about the Bruins in week one.
Begin Slideshow

»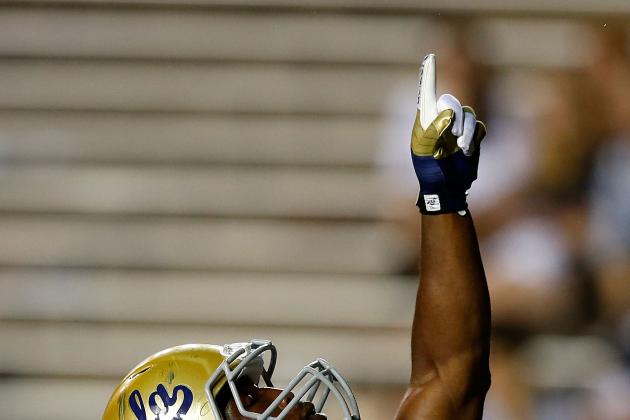 Scott Halleran/Getty Images
Franklin celebrating one of his three touchdowns
The undoubted offensive star of the game for the Bruins was senior tailback Johnathan Franklin.
Franklin had 15 carries for 214 yards and three touchdowns. Not only that, but he scored on touchdown runs of 78, 74 and 22 yards.
The Dorsey High School product really looked like he's taken the next step in his progression as a football player. He showed a nice burst as he hit the hole hard, and he was never shy about breaking tackles and fighting for tough yards.
Two knocks against Franklin historically include his knack to fumble, and also his propensity to be tackled "by the shoelaces"—which obviously minimizes his potential for bigger plays. During this contest, he neither fumbled nor was the victim of minimal tackling.
Expectations should be tempered a bit because of the opponent. However, if the Bruins can get even half of this production weekly, they'd be elated.
Due to his strong play, Franklin was named as the Pac-12 offensive player of the week. He's currently 7th on UCLA's all-time rushing list and needs 843 yards to become the top rusher in UCLA history.
By all accounts, he has a feasible shot at breaking that mark.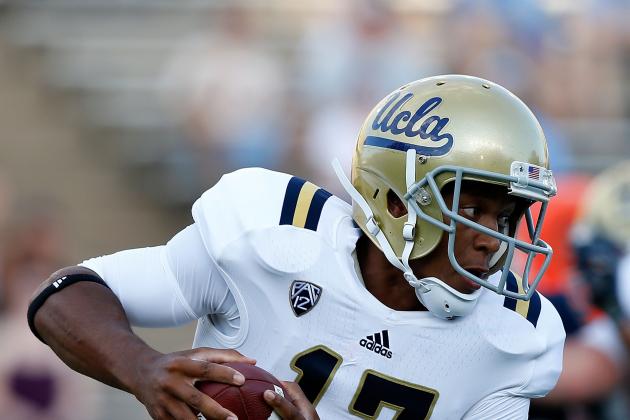 Scott Halleran/Getty Images
Hundley rushed for a 74-yard touchdown
When was the last time a UCLA offense was categorized as "diverse" or "inventive", or even "fun to watch?"
It's been a while.
But if the performance against Rice is any indication, there will be plenty of offensive fireworks at the Rose Bowl this season.
To go along with the 49 points scored, the Bruins racked up 646 total yards. That's the 8th most all-time for a single game in UCLA history. The thing that makes this stat even more impressive is that UCLA was playing with a redshirt freshman at quarterback and multiple freshmen on the offensive line.
It's also indicative of offensive coordinator Noel Mazzone's brilliance.
He was able to get quarterback Brett Hundley confidence by calling short throws out in the flat and to the perimeter. Mazzone also got Hundley involved right off the bat by calling a zone read—which Hundley promptly took 72 yards for a touchdown.
Another interesting note is that Hundley completed passes to nine different receivers. He spread the ball all over the field and got his teammates involved in a myriad of ways.
Chalk up this offensive performance as perhaps the best in over a decade for the program. Mazzone has undoubtedly brought a creative system that allows for his playmakers to make plays all over the field.
If UCLA can continue this type of effectiveness against Nebraska this weekend, they could be considered an offensive juggernaut the rest of the season.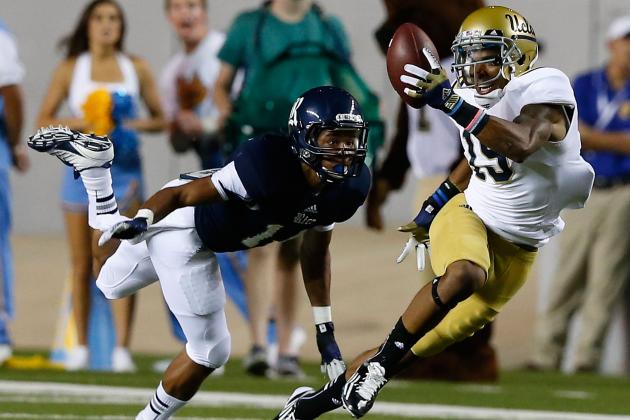 Scott Halleran/Getty Images
Devin Lucien with the impressive one handed grab
There was plenty of youth out on the field in Houston this past Thursday. It shows that head coach Jim Mora isn't afraid to opt for talent over experience (something the previous regime was reluctant to do).
Seven true freshmen saw play time in the game (Ellis McCarthy, Simon Goines, Randall Goforth, Jordan Payton, Kenny Walker, Ka'imi Fairbairn, Ishmael Adams), and both Goines and Fairbairn started at right tackle and kicker, respectively.
By all accounts, the true freshmen played very well. Goines started and had two huge blocks which helped to spring Franklin for touchdown runs. McCarthy got a sack on the first play he was a part of, while Walker had a nice grab for good yardage.
Of course, with inexperience comes some bad. Fairbairn had three extra points blocked in the contest. That cannot continue—especially in a tight game situation.
Redshirt freshmen that played prominent roles included Hundley, Jake Brendel, Devin Lucien, Torian White and Steven Manfro.
White manned the left tackle spot and was solid. As the starting center, Brendel was excellent. He often got to the second level and displayed his impressive athleticism. Manfro had a poor day—as he muffed a punt and dropped a clear touchdown pass with no one within 10 yards of him.
Kudos to Mora and his staff for going with the young talent. It's somewhat of a risky proposition—considering the reliance on so many young players in important positions. However, they are the most talented in some cases and it'll ultimately bode well for the future.
For instance, a core of Goines, White and Brendel allows for the UCLA offensive line to have a bright future for years to come.
It will, however, be fascinating to see how the relatively young roster reacts to adversity on the field in a tough environment or against a talented opponent.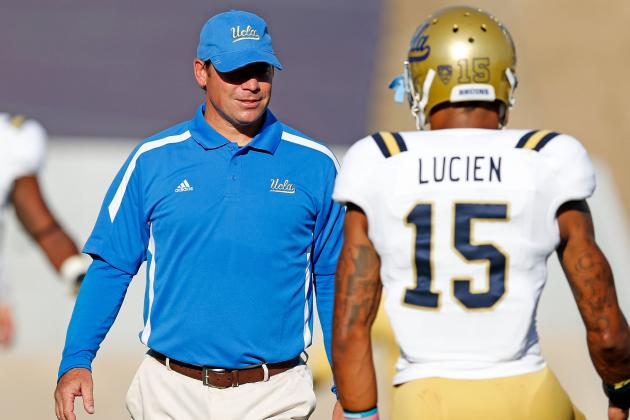 Scott Halleran/Getty Images
Lucien was one of many that got PT
A big criticism of the previous staff was the inability to fully utilize all of the skill position players on the roster. There were seemingly explosive players on the sidelines due to their youth, inexperience and other reasons.
The current staff threw all that out the window, and made a concerted effort to get their playmakers out on the field.
Against Rice, the collection of talented skill players were on full display. Nine players registered a catch in this game.
Both Jerry Johnson and Joe Fauria scored touchdowns. Shaq Evans impressed with not only his receptions, but also with two huge downfield blocks that sprung touchdowns for both Hundley and Franklin.
The lightning-quick duo of Jordon James and Damien Thigpen were also on full display. James caught a number of balls out of the backfield in space, including this nasty juke.
Thigpen also caught four catches, including this would-be touchdown had it not been for a penalty. Regardless, one can see how fast and elusive he is.
Redshirt freshman Devin Lucien also got in the mix with an acrobatic, one-handed 38-yard grab. He potentially could the big play threat on the perimeter for Hundley.
The scary thing for opponents is that UCLA didn't even open up their playbook against Rice. With an array of diverse and dynamic options, it will not be a picnic to go up against this type of attack.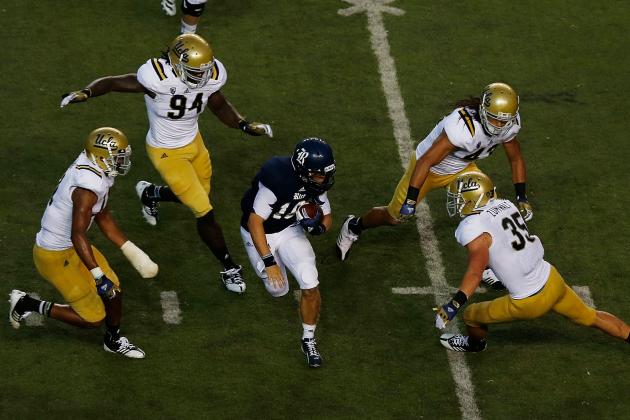 Scott Halleran/Getty Images
Four Bruins converging on the Rice QB
Let's face it, UCLA's pass rush was inept last year.
The team had 14 sacks all of last year. Blitz packages looked uninspired, slow and overly scripted, while the line rarely got a good push.
Fast forward a year against Rice in the opener, and the team upped their defensive pressure to the tune of six sacks in this game alone.
New defensive coordinator Lou Spanos made it a point to get after the quarterback with relentlessness and vigor. During the game, the team blitzed perhaps more than 65% of the time. These weren't scripted blitzes right up the middle, but rather exotic packages that catered to the skills of the defensive personnel.
One athlete that stood out immensely was Anthony Barr. Barr was essentially wasted as an F-back in the pistol for two years. When Mora took the job, Barr asked if he could be switched over to defense as an outside 'backer in the new 3-4 scheme.
Against the Owls, Barr displayed why he wanted the move. He pursued extremely well and in the process, showcased his fabulous athleticism.
This set of highlights shows why Barr basically rendered Rice quarterback Taylor McHargue useless in the second half.
From a UCLA fans prospective, it's impressive to see the Bruins "get after" the opposing quarterback. One aspect that the team does need to improve on is over pursuing and losing containment.
Often times the pressure upfield was so vast that McHargue stepped up in the pocket and had running lanes up the middle of the field. Since the cornerbacks were playing primarily man-to-man, there wasn't much help for the middle 'backers. It definitely was a reason as to why both Damien Holmes and Eric Kendricks had sub-par games.
That can't happen Saturday when the Bruins take on Nebraska and the dynamic Taylor Martinez.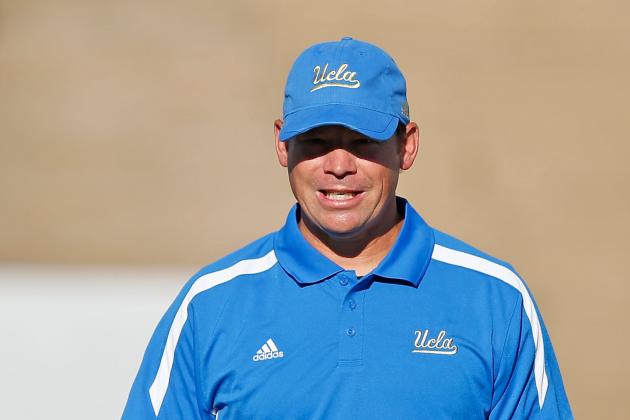 Scott Halleran/Getty Images
Head Coach Jim Mora
A number of things were impressive about the staff this past Thursday.
In the first half, the defense was being gashed on draws and escapes from the pocket. As a result, halftime adjustments were made with the defense playing primarily with a dime look. It cut down lanes in the middle of the field—and in the process the defense gave up no points in the second half.
Also, there's an apparent emphasis on getting the most talented players on the field—regardless of year and experience. Growing pains will naturally happen with true freshmen and redshirt freshmen, but from Mora's vantage point, getting the playmakers out on the field outweigh the possible mistakes they might make.
The offensive line looked very good, especially on the interior with Brendel, Xavier Su'a-Filo and Jeff Baca.
Both Brendel and Su'a-Filo particularly looked quick and explosive—often getting to the second level and finishing off blocks with authority.
The offensive line was bar none the biggest question on the entire team heading into the summer. While they didn't play a quality opponent, a semblance of cohesion and success came out in the contest. With a line featuring a true freshman, two redshirt freshmen and a sophomore, it's key that they come together and play well.
This weekend's game against Nebraska will be the first true test of the season, and could provide a barometer on how the team does going forward.
With a win against Nebraska, the Bruins could potentially open the season 5-0 before heading into Berkeley to face Cal.