Houston Texans: What to Expect from Arian Foster in Week 1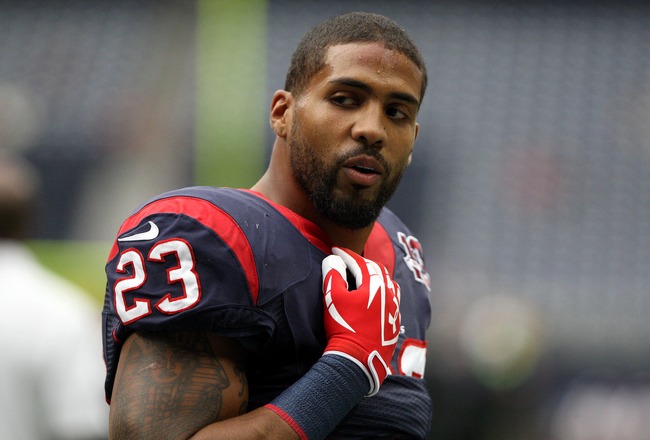 Troy Taormina-US PRESSWIRE
The Houston Texans open the season with the Miami Dolphins this Sunday, and Arian Foster could deliver an epic performance similar to his stellar Week 1 effort in 2010.
Houston's lead back opened the 2010 season in a big way when he carried the ball 33 times for 231 yards and three touchdowns. A similar performance shouldn't be out of the question for this year's opener.
The Dolphins are adjusting to a new defensive scheme. There could be some growing pains early on for Miami, as they switch to a 4-3 defense. Their front seven lacks the talent and speed to compete with Houston's offensive line, tight ends and running backs.
The Texans will look to dominate this game in the trenches, and Foster will reap the benefits with a big day running the ball. After missing Week 1 last season, Foster will look to start this year on a better note.
Here are a few things to expect from Foster in Week 1.
Over 20 Carries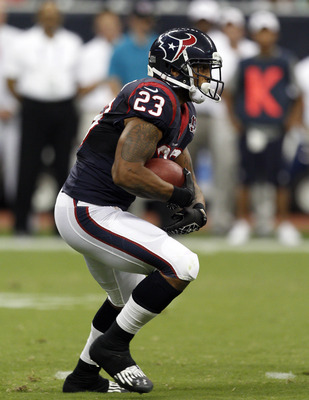 Bob Levey/Getty Images
Even with the emergence of Ben Tate, Arian Foster should be relied on for over 20 rushes this week against the Miami Dolphins. In the past two seasons, Foster has had 20 or more carries in a game 14 times.
Houston Texans head coach Gary Kubiak has never shied away from giving his featured back a heavy workload. The team is committed to the run as much as any offense in the NFL, and Foster is more than capable of handling the workhorse role.
The Texans will also look to break in recently acquired fullback, Tyler Clutts. Kubiak will use traditional run-blocking fullbacks in the Texans' zone-blocking scheme, and Clutts will fill that role in 2012.
Clutts spoke to Nick Scurfield via the Texans' official website about fitting into the offense.
The big thing with a running back and a fullback is being on the same page and being able to play off of each other well. The running back knowing what the fullback is going to do when he inserts here, how he's going to take that block and being consistent with your blocks so that he can get a good read off of that and anticipate. If you guys are on the same page, it allows the running back to anticipate holes were they're going to be and hit it and break them.
It would make sense for the Texans to get Clutts acclimated to their system in a game against the Dolphins, where the Texans could have a lead to sit on for much of the game.
Foster and Clutts will need to be on the field together in order to establish a comfort level. Foster has a specific running style different from most running backs, which Clutts will need to learn.
The more time these two can have together on the field, the better it will be for Houston's running game.
Continued Presence in Passing Game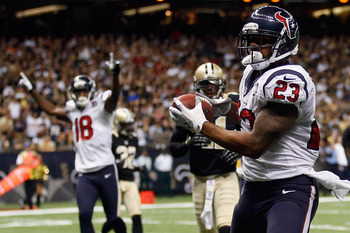 Chris Graythen/Getty Images
Arian Foster's presence in Houston's passing game is more important than most think. He's been the team's second-leading receiver in back-to-back seasons, despite missing three games last year.
In 2010, Foster was second in the NFL in receptions by running backs, and fifth in 2011.
He is often motioned out of the backfield as an eligible receiver, which can often lead to blown assignments by defenses as they try to adjust. At 6'1" and 229 pounds, Foster gives Schaub a big target to throw to out of the backfield.
The Texans should be expected to explore more ways to involve Foster in the passing game. As good as Ben Tate is as a runner, Foster is still much further ahead of him in the receiving game.
Houston will test Miami's new 4-3 by making them figure out how to cover Foster out of the backfield.
Always a Threat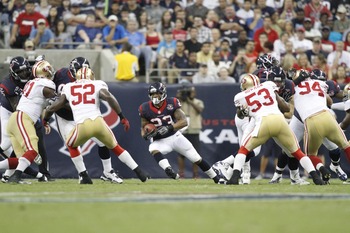 Brett Davis-US PRESSWIRE
Arian Foster is one of the rare running backs in the NFL who has to be accounted for every snap. When opposing defensive coordinators put together a game plan against Houston's offense, it starts with stopping Foster.
Foster's presence will be key to getting Andre Johnson and the Texans' receivers open downfield, as Miami's safeties will try to cheat in the running game to stop the Pro Bowl running back.
If the Dolphins' defensive backs get caught looking in the backfield, the Texans' play-action offense will take advantage with big plays.
Houston's skill players could all benefit in a big way Sunday from Foster's presence on the offense. The Texans should be able to make big plays in the passing game.
Foster should be expected to turn in a dominant performance Sunday against the Dolphins. He should also be expected to finish the year near the top of the league in rushing yards, barring injuries.
Foster is easily one of the top five running backs in the NFL today, and he will continue to prove why in Week 1.
Keep Reading

Houston Texans: Like this team?