Oklahoma Football: The Good, the Bad and the Ugly in Win at UTEP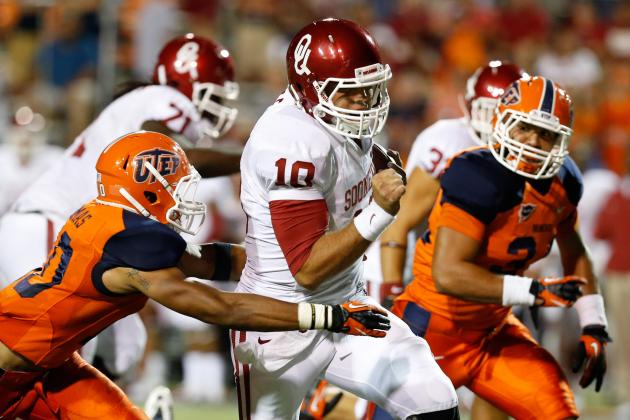 Jim Cowsert-US PRESSWIRE

The atmosphere while walking from the Sun Bowl to Cincinnati Ave. in El Paso after Oklahoma's lackluster 24-7 win over UTEP would have led you to believe Bob Stoops and his Sooners had just been upset by the Miners.
Oklahoma fans had looks of disgust and worry all over their faces. UTEP fans were suddenly Texas Longhorns fans.
Even the students in El Paso wearing their Miner orange were flashing the horns with their hands and letting us know that the Sooners would be in big trouble when the Red River Rivalry takes place in Dallas this October.
These type of close wins against the likes of UTEP just don't sit well with fans in Oklahoma. The Sooner faithful will spend the rest of the Labor Day weekend and the week to come looking for answers and pointing fingers.
Here's a look at the good, the bad and the ugly from Oklahoma's trip to El Paso.
Begin Slideshow

»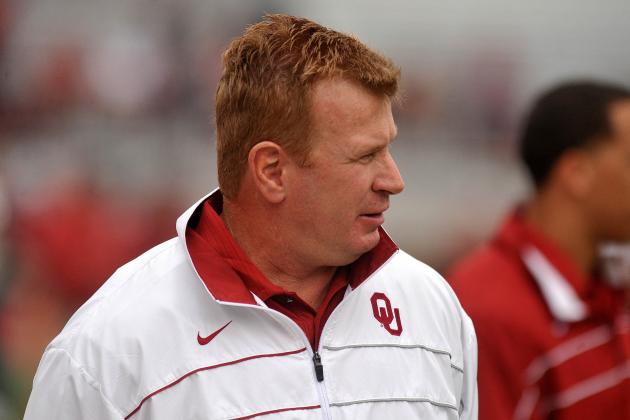 Mark D. Smith-US PRESSWIRE

Sooner fans have put their hopes on Mike Stoops being able to bring back the shutdown defense that held Florida State scoreless in the 2000 BCS National Championship game.
With the defensive line missing two of its best players, the secondary would have to step up. They did exactly that while allowing UTEP quarterback Nick Lamaison to complete only six passes for 39 yards.
Demontre Hurst looked like he might be a shutdown cornerback, and the rest of the secondary was as solid as anyone can remember at Oklahoma in some time.
On the offensive side of the ball, Landry Jones showed the improvement that was talked about so much after his summer workouts with George Whitfield Jr. It was obvious Jones has improved his mobility and ability to throw on the run.
Landry has his critics, and they have already pointed the blame for the offensive struggles on the senior. But on offense, the quarterback, along with receiver Kenny Stills, were the bright spots.
Keep in mind, he had one touchdown pass to freshman Trey Metoyer called back when the receiver had a foot out of bounds when he made the catch.
Another deep ball to Stills was called back due to a chop block by Dominique Whaley. That catch would have give the Sooners 1st-and-goal to go inside the four-yard line.
Whaley then dropped a pass behind the secondary that hit him in perfect stride and would likely have been a touchdown.
It's likely that even with those touchdowns, which would have given Jones nearly 400 yards and five touchdowns without an interception, many Oklahoma fans would still be calling for the quarterback's head.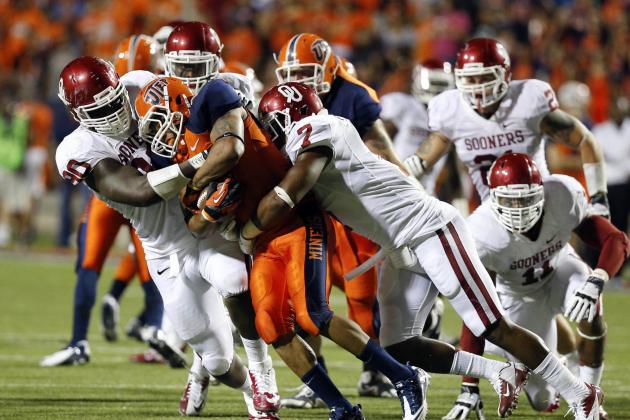 Jim Cowsert-US PRESSWIRE

Injuries and suspensions have hurt the Sooners at several positions, but none more than on the offensive and defensive lines.
It was painfully obvious that Oklahoma will have a tough time overcoming the loss of center Ben Habern and lineman Tyler Evans, both of which were considered to be Stoops' top two offensive linemen coming into the 2012 season.
Gabe Ikard did well moving over to center, but the rest of the line had a tough time protecting Jones and creating a consistent push in the run game.
With so many new faces, the offensive line will need time to build consistency.
The defensive line is in a similar position missing it's best two players in Casey Walker and Stacey McGee. The good news is that there is at least a chance of both guys making it back into the lineup this season.
Walker is out with an unknown injury or illness, and McGee has been suspended for what appears to be school issues. If the line struggles against Florida A&M next week, you can expect to see one or both back in the lineup against Kansas State after an off week.
The final numbers weren't all bad. Oklahoma ended up with 205 yards rushing as the holes got bigger in the second half.
UTEP wound up with 207 yards rushing. Both teams were helped in the rushing category by a big run. One by each team that padded the stats.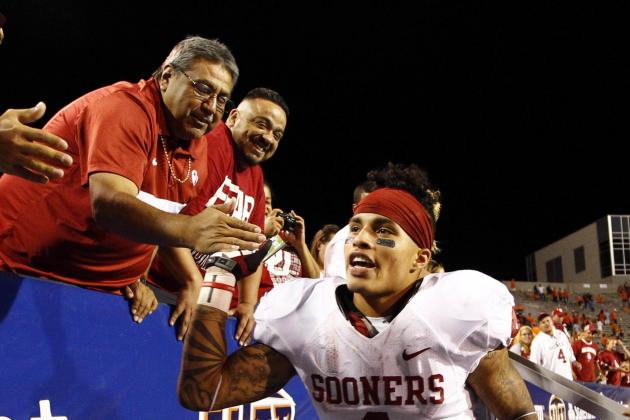 Jim Cowsert-US PRESSWIRE

There's no doubt this was not the start Oklahoma wanted. But it's not as if this is a new thing.
In 2002, Oklahoma opened with Tulsa on the road and struggled. The Sooners led at the half, 3-0. Oklahoma finished 12-2 with a Big 12 title and Rose Bowl championship.
In 2004, Oklahoma looked bad in its opener at home against Bowling Green, but played for a national championship.
The 2006 Sooners opened with Alabama Birmingham and barely won 24-17 before winning another conference title.
Nobody will forget when Bob Stoops yelled at his team in the huddle in their 2010 opener, screaming, "this is Utah State!"
The Sooners would escape with a 31-24 victory, and Oklahoma fans were ready to throw in the towel. Stoops would rally the troops and finish with yet another win in the Big 12 championship against Nebraska and a Fiesta Bowl win.
Oklahoma fans need to know that some key guys will make a return to the lineup soon, and they are trying to break in several new players on both sides of the ball.
Walker and McGee could return and would make a huge difference against the run. Trey Metoyer and Justin Brown looked descent on Saturday, but still need time to build chemistry with Jones. Brown has only been on the team for about a month.
Having a tight end to throw to will help as well. Geneo Grissom could make a difference in the passing game giving Jones another target when he returns next week.
The sky has looked dark in Norman before, but the sky has never fallen under Stoops' watch.