The sky is not falling in the Bronx, but it would be nice for the New York Yankees' top pitcher, CC Sabathia, to get on a roll and shut the Yankees' top competitors out of the postseason.
Sabathia takes the hill on Monday in Tampa against James Shields, a man whom he has opposed many times before in big games like this, with all of Yankees Universe looking to the team's horse to deliver the Bombers a key victory.
Sabathia was signed for times like these, as was he signed for times like the 2009 World Series run and every single postseason that the Yankees have played in and will play in during his time in the Bronx.
A $23 million salary requires an ace to be ready, competitive and to deliver performances that put his team in a position to win the biggest ballgames on the schedule.
Sabathia's numbers are mostly solid this season, and while he's missed some starts due to brief stints on the disabled list this summer, he's still in the Top 10 in the AL in strikeouts and WHIP.
Yet Yankees fans expect more from Sabathia, and rightfully so, given his aforementioned enormous contract.
Dating back to late July, in three of Sabathia's last five starts, he has surrendered eight hits or more, and it's clear from the eye test that batters are seeing the ball better out of his hand lately. The Blue Jays were able to piece together a rally against the Yankee ace—albeit on the back of a Jayson Nix error—putting together five hits in their three-run third inning last Wednesday at Yankee Stadium.
How many quality starts (minimum 6 innings pitched with 3 earned runs or less) do you expect Sabathia to deliver in his final five regular season starts?
Sabathia is only 3-9 against the Rays since 2009, a team the Yankees will face six times over the next two weeks. Sabathia will be in line to start the Friday-night series opener against Tampa in 11 days in New York, another chance for CC to make a big splash against a huge division rival.
Sabathia is on pace to make five more starts, with two more to come against Toronto and one likely to come in the Midwest against Minnesota. Given the competition, it's not unreasonable to expect a strong Sabathia to deliver the Yankees wins in all five games that he starts.
Tampa has clearly been a different ballclub since Evan Longoria returned from the disabled list last month, but it's still one of the worst-hitting teams in all of baseball. The Rays' strength lies in their superior starting rotation and their ability to keep teams off base.
The Rays have the best starting rotation in the American League, by the numbers, and probably have the best overall starting pitchers in all of baseball right now. The Yankees will avoid Tampa ace David Price this go-around, but will see Shields, Alex Cobb and lefty sensation Matt Moore.
Tampa's stellar pitching rotation's success is nearly inversely proportional to its anemic hitting. The Rays are 24th in the majors in OPS and second-to-last in the American League in the same category. Tampa also has one of the worst team batting averages against left-handed pitching in the big leagues at only .240.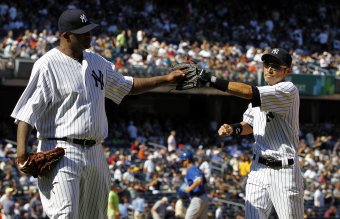 Jeff Zelevansky/Getty Images
Some are wondering if Sabathia is completely healthy, but he appears to be showing that he is, as seen in both of his starts back from the disabled list. The Yankees can only rely on what their big man tells them, and CC appears to be fine physically.
The Bombers will need his endurance, grittiness and mental toughness combined with his physical prowess over the next two months.
Hiroki Kuroda has stumbled somewhat of late, and the Yankees' lineup sure has as well without Alex Rodriguez, Mark Teixeira and Curtis Granderson. The Bombers have scored only 13 runs over their last five games against Toronto and Baltimore.
That will not cut it down the stretch.
The Yankees have pinned their hopes on their large, husky lefty to lift them to greater heights over the final 29 games. Sabathia has been here before with the Yankees, Indians and Brewers. He's been given this script many times, and he's sure seen the movie.
The results, however, are not guaranteed.
Sabathia is out to prove he's very much worthy of being considered one of the best pitchers in the American League, not just by reputation, but based on results in the here and now.
He has fallen behind pitchers like Justin Verlander and Jered Weaver, but Sabathia is still in his prime and capable of greatness on the biggest of stages.
This is Sabathia's time to vault the Yankees forward into the playoffs and show why he's worth every penny of that $23 million. And why manager Joe Girardi can hand him the ball every fifth day and expect a "W" when the Yankees need it.