Top 20 January Transfer Window Targets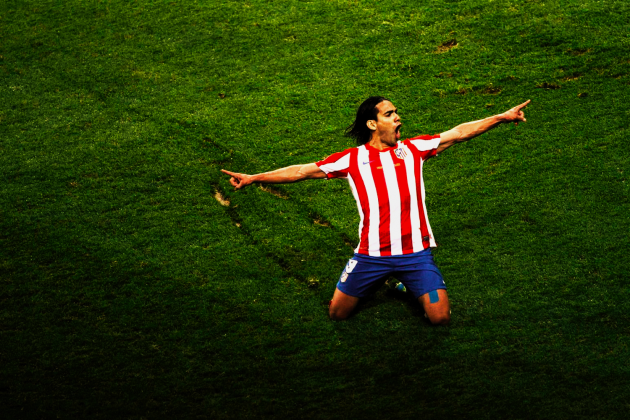 Photo: citiesandteams.blogspot.com.au
You may think looking forward to the January transfer window seems early, but it isn't.
Liverpool manager Brendan Rodgers has already talked about the January transfer window, saying, "We will reflect on it as a club and hopefully, come January and the next window, we can transition the group to allow us to compete."
Here are the top 20 January transfer window targets. Some are fueled by speculation, others have rumors aplenty.
Begin Slideshow

»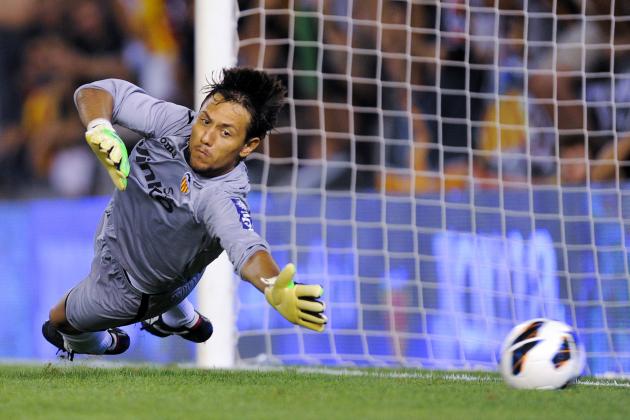 David Ramos/Getty Images

Mauricio Pellegrino has a pleasant goalkeeping conundrum because he has to choose between two superb shot-stoppers in Diego Alves and Vicente Guaita.
Alves was a standout at Almería and has continued to flourish at Valencia.
He's hit the ground running with world-class performances against Barcelona and Real Madrid.
Liverpool needs a competent keeper, so signing Alves in the January transfer window is a must.
Valencia would likely be willing to sell Alves because Guaita not only has elite potential but is born and bred in Valencia.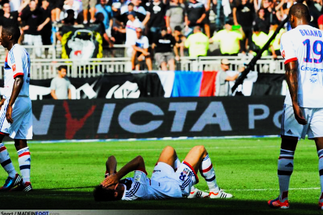 Photo: madeinmarseillais.com
You could see the anguish in Yoann Gourcuff's face as the pain started hitting him. He hadn't even played a quarter of the game against Troyes when he was forced off the field.
He'll miss three months due to medial collateral ligament damage.
Gourcuff's career has been hindered by a chequered injury history and the inability to be liked by those who are there to help him fulfill his potential for greatness.
Paolo Maldini had issues with Gourcuff: "Yoann's problem was his behaviour. He didn't study Italian at all. He didn't want to work on tactics. He wasn't always on time."
Carlo Ancelotti echoed Maldini's sentiment: "The return of Gourcuff in the Milan jersey will not be easy, even if it is not impossible. It's a pity, because here he was unable to express himself well, but the problem was only psychological in nature."
Gourcuff was a victim of workplace bullying during Raymond Domenech's pathetically classless joke of a French FIFA World Cup campaign.
Franck Ribéry, Patrice Evra, Nicolas Anelka and William Gallas took turns to slap Gourcuff on the back of the head as a sick, twisted in-joke.
Gourcuff hasn't helped his PR image by selling out the Bordeaux management, teammates and fans for Lyon—only to leave those involved with OL deeply frustrated with his anemic performances.
He should look at Hatem Ben Arfa's rejuvenation at Newcastle United and contemplate moving to the Toon.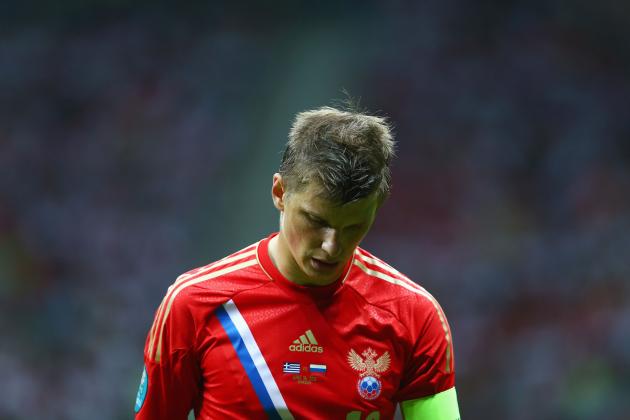 Shaun Botterill/Getty Images

Andrey Arshavin is watching Santi Cazorla become a star at Arsenal whilst knowing his lack of playing time will cost him a place with the Russian national team.
Arshavin told Sport-Express newspaper (via sbs.com.au): "I talked to Fabio (Capello) during our last training camp (in August) and he told me he would not select me next time if I don't play enough for my club so his decision looks very logical."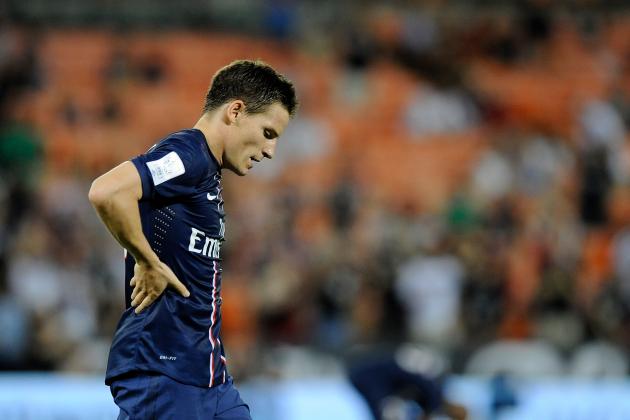 Patrick McDermott/Getty Images

Kévin Gameiro went from being the man at Lorient to just another guy at Paris Saint-Germain.
With Zlatan Ibrahimović on the team, Gameiro will have to be content with being an impact sub.
Since Carlo Ancelotti took over PSG, Gameiro has scored twice in 18 games, with the large majority of his playing time affected by sub appearances.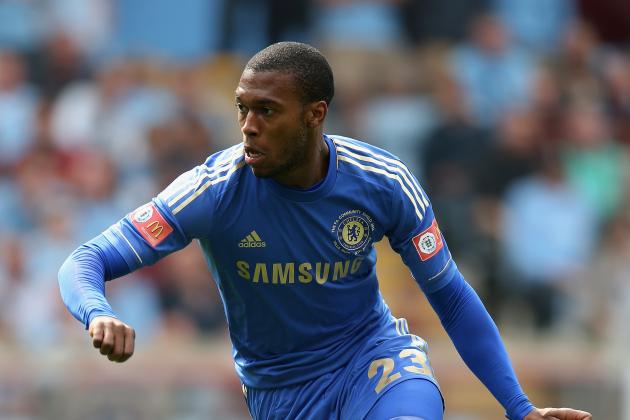 David Rogers/Getty Images

Roberto Di Matteo hasn't tolerated Daniel Sturridge's selfishness, unlike André Villas-Boas, who gave the Englishman leeway to take shots from ridiculous angles.
Sturridge's relationship with Fernando Torres doesn't exist.
The 23-year-old is an ambitious player, and he'll force a move away from the club if he isn't given a chance in his preferred position as a No. 9.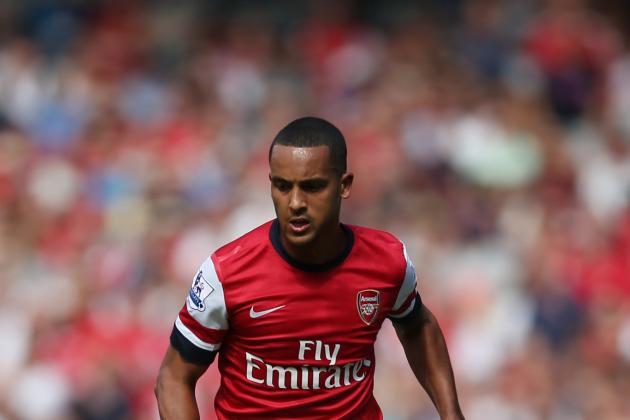 Julian Finney/Getty Images

Arsène Wenger promised Theo Walcott a chance to play up front, but the French manager has yet to live up to his word.
With the acquisitions of Olivier Giroud and Lukas Podolski, Walcott will have to continue out wide.
One of the reasons why he's so inconsistent is because he resents playing as a winger.
Arsenal shouldn't break their wage structure for Walcott, who has consistently demonstrated low football IQ as a winger.
If he hasn't signed a long-term contract extension by January, the club should sell him.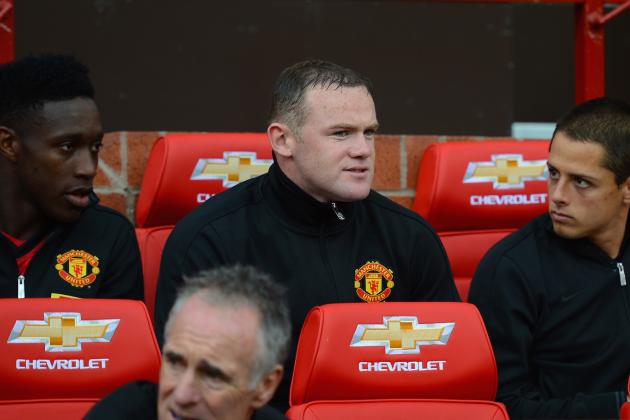 Shaun Botterill/Getty Images

Last season, Chicharito's 4.7 shots per goal were more efficient than Robin van Persie, Wayne Rooney and Danny Welbeck.
How can someone of Chicharito's goal-scoring ability not be a starter? He deserves better.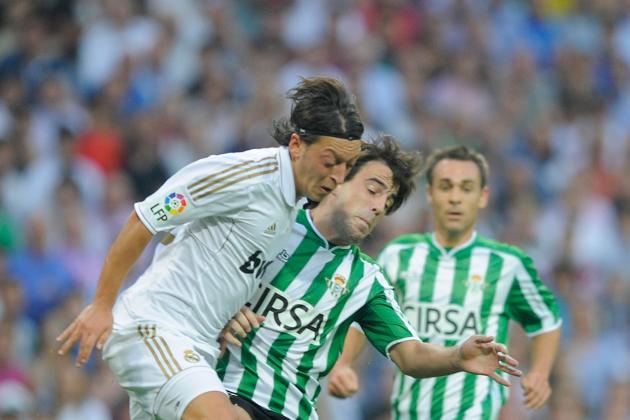 Denis Doyle/Getty Images

If you haven't seen Beñat before, think Riccardo Montolivo.
Beñat's positional awareness is superb. He fights to win back possession and he dictates Betis' attacks.
Beñat's creativity is the main reason why Jorge Molina is playing so well, which is the reason why Arsenal loanee Joel Campbell isn't a starter.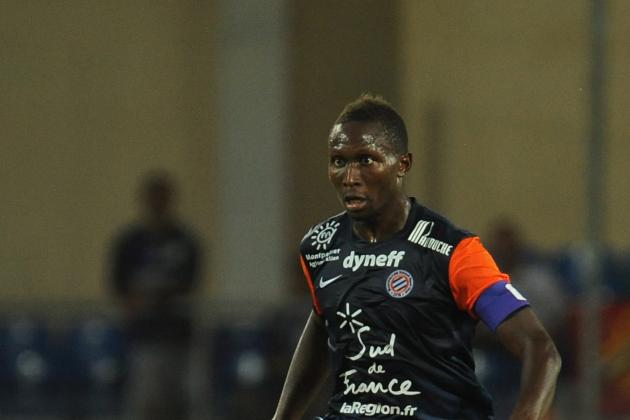 Valerio Pennicino/Getty Images

Mapou Yanga-Mbiwa was a consensus selection in French Football Weekly's Ligue 1 Team of the Year.
He's quite experienced for a 23-year-old, having played five full seasons, and in that duration, he earned the captaincy.
AC Milan, the king of Bosman signings, will target Yanga-Mbiwa once his contract expires.
It's up to Montpellier management to swallow their pride and sell the talented centre-back for a cut price in January as opposed to losing him for nothing.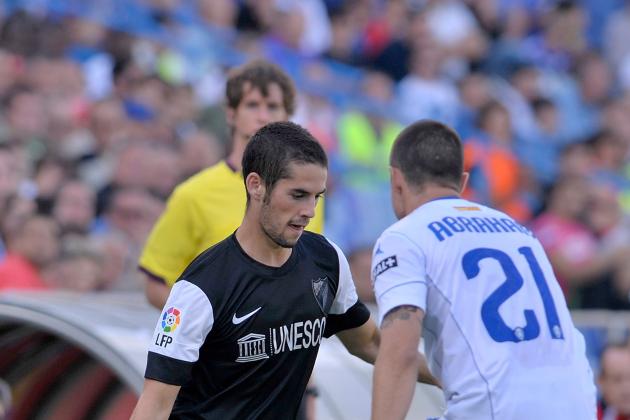 Gonzalo Arroyo Moreno/Getty Images

Isco possesses wonderful balance, which allows him to evade several tackles.
His vision is exemplary and he's a decent tackler. Mind you, he does have a mean streak in him like Jack Wilshere.
With Málaga's future still up in the air, Arsène Wenger should try and short-change the Spanish club for a world-class talent in Isco—just like what the Frenchman did with Santi Cazorla.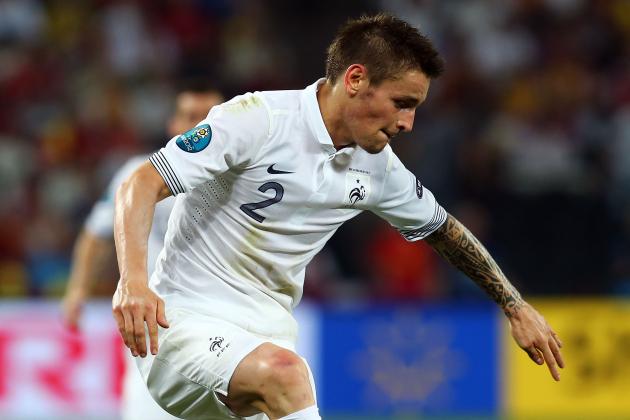 Martin Rose/Getty Images

Mathieu Debuchy was one of the best right-backs at Euro 2012. Alex Oxlade-Chamberlain looked mediocre against the Frenchman. Yevhen Konoplyanka didn't trouble Debuchy, nor did Emir Bajrami.
Though Debuchy didn't look too impressive against the Spaniards.
Prior to Euro 2012, his defending for Lille was hit-and-miss, but his all-around displays at full-back is the reason why he was Ligue 1's best right-back last season.
With quality right-backs coming at a premium, Debuchy will be a transfer target in January.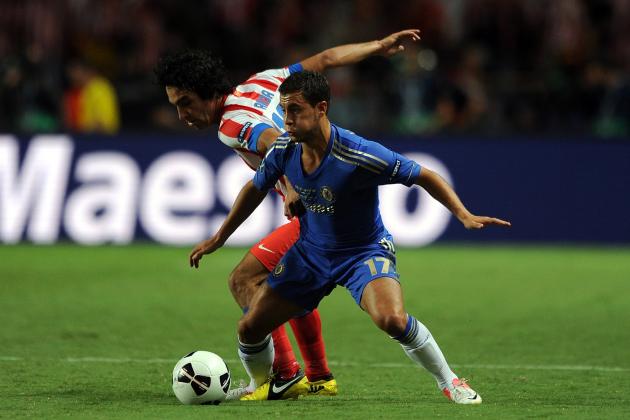 Chris Brunskill/Getty Images

Arda Turan played as if he was a wing-back against Chelsea. He attacked like a winger and defended like a full-back.
Is this a surprise? Of course not, because Turan is such a selfless team player.
What separated Atlético Madrid from Chelsea was that Diego Simeone's men attacked and defended as a team.
It was a similar story when Athletic Bilbao outplayed Manchester United last season.
Players who are as complete as Turan will thrive in any league. With Atlético's mounting debt, the energetic Turk will become a viable transfer target for top clubs.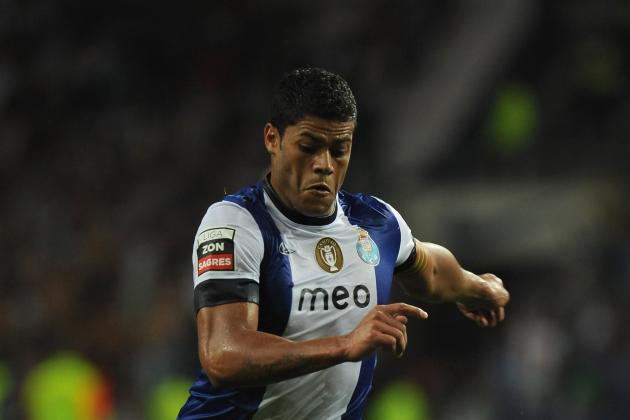 Valerio Pennicino/Getty Images

UPDATE: Zenit St. Petersburg have completed a deal for Hulk.
Given Porto's transfer market efficiency, rejecting €50 million for Hulk didn't make sense when they plucked him out of the J.League.
Once again Porto have won out in the transfer market.
ORIGINAL POST: Porto rejecting Zenit St. Petersburg's monumental €50 million transfer bid tells you two things: 1. Porto want to keep Hulk long-term; or 2. Porto believe they can get more than that for Hulk.
Considering the spending power of Anzhi Makhachkala, Chelsea, Manchester City and Paris Saint-Germain, Porto's confidence shouldn't be doubted, because they have negotiated significant transfer fees for Falcao, Anderson, Pepe, Ricardo Carvalho, Ricardo Quaresma and Lisandro López.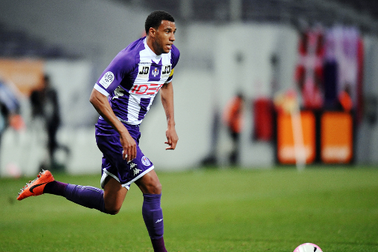 Photo: caughtoffside.com
Étienne Capoue is one of the most feared players in France.
The way he commands midfield and how he leads his team are reasons why he beat Yann M'Vila to a starting position in the UNFP Ligue 1 Team of the Season.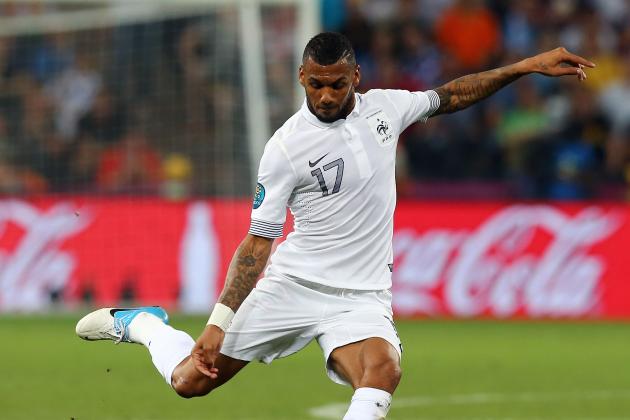 Martin Rose/Getty Images

Contrary to what Ligue 1 aficionados think, Yann M'Vila is still a better defensive midfielder than Étienne Capoue.
Is there a major gap in quality? No, but M'Vila is a more efficient tackler and superior passer, and he has better positional discipline.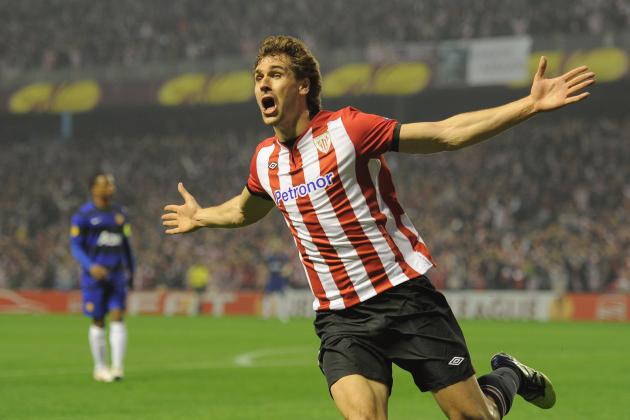 Michael Regan/Getty Images

Last season, Fernando Llorente ensured casual football supporters remembered his name after he took advantage of Manchester United's lackluster defending.
He is a complete forward who is comfortable with the ball at his feet or hoisted towards his head—12 headed goals since September 2011 is incredible.
Liverpool's No. 1 transfer target in January must be Llorente.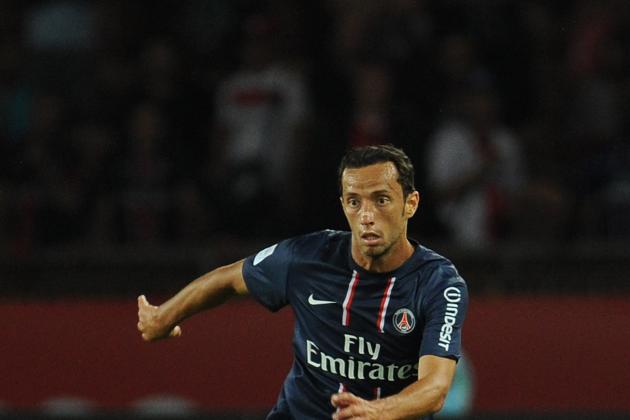 Valerio Pennicino/Getty Images

Nenê played the best football of his life last season, and Paris Saint-Germain still wouldn't offer him a long-term contract.
To make things worse, he was involved in an altercation with Zlatan Ibrahimović after the Swede's haymaker didn't connect.
Nenê plays entertaining football, he can get past several players with ease, and he is blessed with wonderful vision.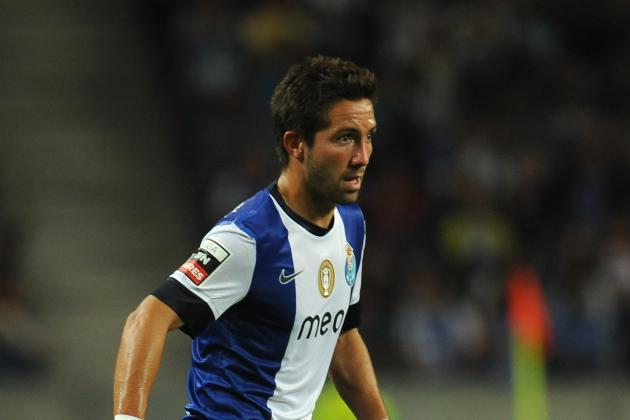 Valerio Pennicino/Getty Images

André Villas-Boas missed out on signing João Moutinho after a breakdown in negotiations with Porto.
Villas-Boas made sure to remind people about Porto's tough negotiation stance: "We were covered because of the fact it could not happen, bearing in mind they [Porto] are a difficult club to deal with."
Moutinho is a leader of men, he can attack, he can defend, he can pass—he does it all.
Should Porto demand too much for Moutinho, Tottenham Hotspur should consider bidding for Jordy Clasie.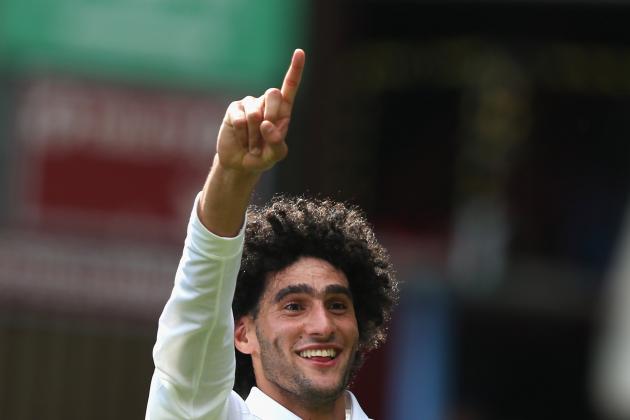 Mark Thompson/Getty Images

Marouane Fellaini can score goals as a deep-lying forward and be a dominant defensive midfielder.
What's his best position? Defensive midfielder.
He looks so awkward up front, but he positions himself well and is more calm in front of goal than Luis Suárez.
Another aspect of Fellaini's game that is overlooked when he plays up front is his constant harassment of centre-backs.
Chelsea and Manchester United desperately need that commanding figure in the centre of midfield.
If you googled "Falcao" several years ago, you would have been watching Falcão's futsal skills or Falcão of Telê Santana's unforgettable 1982 FIFA World Cup squad.
Through hard work and dedication, the Colombian Falcao is now the most recognisable Falcao.
Here's an interesting Q & A on Tim Vickery's BBC blog in 2009:
Q: Recently I was playing on my Fifa 09 game and noticed a talented young Argentinian player by the name of Falcao. I heard that during the summer he was linked to a host of clubs including Manchester United and Real Madrid. I was wondering how his development is going and what chance does he have of breaking into the Argentine national team?

A: None whatsoever, because he's Colombian, and already an international with them. Radamel Falcao Garcia, son of a defender, named after a midfielder and he's turned out to be a centre forward. River Plate unearthed him early—he's come up the ranks with them.

He seems to have it all—he's good in the air, sleek on the ground, cuts in well on the diagonal—a striker of terrific potential. But the time for truth is fast approaching. He's been a bit injury prone and has struggled to really get a sequence of games behind him. He's 23 next week, and I think this is a big year for him—can he be the leader of the River Plate attack in their Copa Libertadores campaign? Is he going to deliver week in week out? He still needs to make the step from promise to reality. But I think that long term he has the attributes to deserve attention from the European giants.
Four months after that question, Porto signed Falcao from River for €3.9 million, €10.1 million cheaper than the fee Barcelona paid for Keirrison.
Falcao was world-class for Porto, and he continued his prolific goal scoring with Atlético Madrid.
He's a big-game player, as Athletic Bilbao found out in the Europa League final. Evidently, David Luiz didn't think it was a good idea to tightly mark Falcao during the UEFA Super Cup.
Going into the January transfer window, Falcao should have a 10-plus-goal buffer on Fernando Torres, simply because he's Falcao.
His father was very candid, as ESPN reported him saying:
There are three teams interested—Manchester City, Chelsea and a Russian team. Falcao has always wanted to play in the Premier League. Ever since he was a boy he has loved Chelsea and has always thought it would be an honour to play for a big Premier League team.
Not that I'm doubting the sincerity of Falcao's father, but players like Hámilton Ricard, Faustino Asprilla and Juan Pablo Ángel were memorable Colombian footballers in the Premier League—but they didn't play for Chelsea.
Maybe Falcao fell in love with Chelsea because of the great Gianfranco Zola. Either way, according to Falcao's dad, Falcao has loved Chelsea since he was a kid—that certainly should make your day if you support the Blues.
Please read Grading Notable EPL Transfer Deadline Day Signings.
Follow @allanjiangLIVE

Connect with +allanjiang