Alabama Football: 5 Plays by the Tide That Spelled Doom for Michigan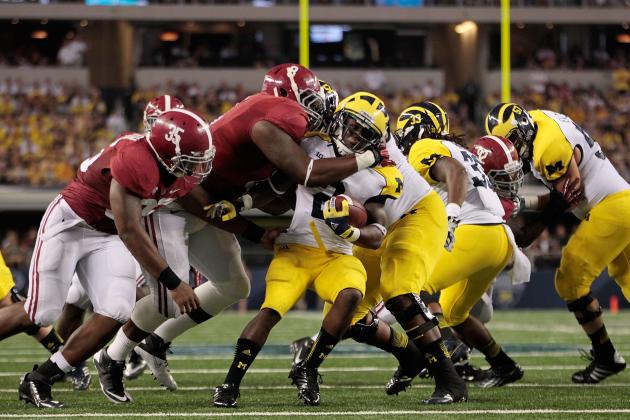 Leon Halip/Getty Images

For all of the preseason and pregame hype, the first every Cowboy Classic in Dallas ended up as nothing more than another top-10 mismatch for Nick Saban and the Alabama Crimson Tide.
The eighth-ranked Michigan Wolverines had little to fight with against the 'Bama machine, and as the final seconds mercifully ticked off the first-half game clock, the 31-7 Alabama lead was the result of five simple plays.
Football has always been a game of inches, one where the entire complexion of a contest can be turned on a dime. As Alabama meticulously pounded Michigan into first-half submission, this was the case once again. Sure, it was a dominant performance all around, but the story of this game was execution. Simply, Alabama did and Michigan did not.
Size, experience, talent and overall depth obviously all sided with the Crimson Tide as well. Still, well-executed plays can often overcome these kinds of advantages that Alabama held over the Wolverines. Here is a look at the five plays that sealed Michigan's fate in the first half.
Begin Slideshow

»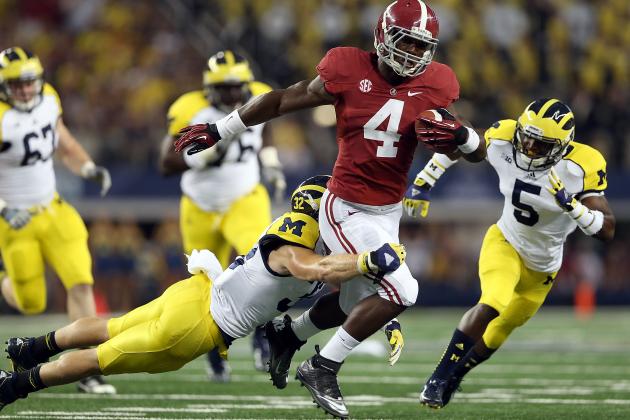 Ronald Martinez/Getty Images

With just 9:31 left to play in the opening quarter, freshman running back T.J. Yeldon was handed the ball for the first time in what is likely to be an illustrious Alabama career. Yeldon danced his way to a 14-yard gain and, for the first time in live action, showed 'Bama fans the kind of talent that they have all heard about since spring practice.
In the whole scheme of things, this play was in many ways irrelevant to the outcome. What it did mean, though, is that Alabama is as loaded at running back as many have suspected. Yeldon finished his first drive with three carries for 24 yards, setting up the first score for the Tide on A.J. McCarron's play action fake to tight end Michael Williams.
When it was all over, Yeldon had scampered his way to 137 yards on just 12 touches. He later dazzled on the ground with a 40-yard run that flipped the field and followed it up minutes later with an impressively elusive 26-yard gain on a 3rd-and-long screen pass that set up a Jeremy Shelley field goal.
Most importantly, Yeldon established himself as one more dependable threat on the Alabama offense that SEC foes will have to deal with.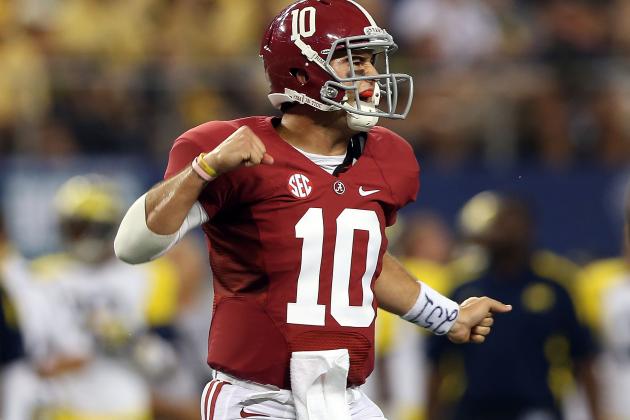 Ronald Martinez/Getty Images

Even though the Tide jumped out to a 7-0 lead midway through the first quarter, it was clear that Michigan did not respect the Alabama passing game. A.J. McCarron was just 3-for-6 for 28 yards and a score before he changed that opinion.
Following a 16-yard jaunt by bruising running back Jalston Fowler, McCarron hooked up on a 51-yard connection to a wide-open DeAndrew White, doubling the Tide advantage to 14-0. The under-appreciated "game manager," McCarron showed that he can be accurate with the deep ball early, forcing the Wolverines to respect his arm as well as the 'Bama ground attack.
After this impressive pass and catch, the Tide ran for 64 yards on their next six carries. as Michigan was no longer able to sell out to defending the run.
As for McCarron, he went on to do exactly what was asked of him on this night. He managed the game. And he did so in a manner similar to a former Michigan great by the name of Tom Brady.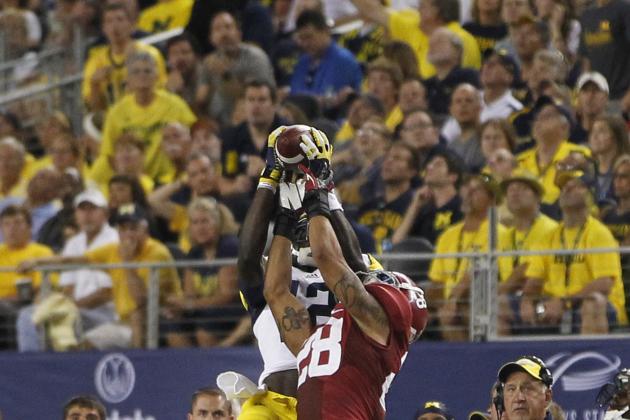 Tim Heitman-US PRESSWIRE

Just minutes after McCarron and White put the Tide up by a pair of touchdowns, a holding penalty left the Wolverines facing a 2nd-and-20 at their own 25-yard line. With no ground attack to work with, quarterback Denard Robinson looked to move the ball through the air.
Dee Milliner tossed the Wolverine receiver to the sideline and intercepted the Robinson pass, then returned it 35 yards to the Michigan 17, laying a powerful hit on would-be tacker Robinson as well. Alabama went on to score a third touchdown on a nine-yard run by Eddie Lacy, and the rout was on.
For Milliner, this was the highlight of a first half in which he also deflected four passes. Michigan appeared to be reluctant to pick on Robert Lester, opting to throw on Milliner instead. But the veteran came through with arguably the best game of the night for any 'Bama defender.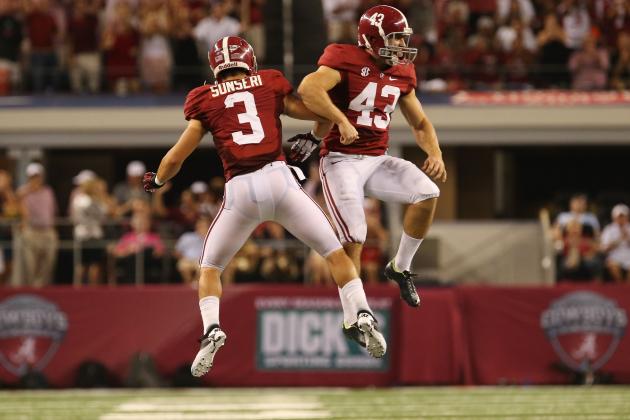 Kevin Jairaj-US PRESSWIRE

With just under five minutes left the play in the first half, Alabama was forced to punt the ball for only the second time. Punter Cody Mandell loaded up on a 48-yard beauty that was stopped just inside the one-yard line by Tide defensive back Vinnie Sunseri.
In a game among top 10 powerhouses, the little things are often what make the difference between winning and losing. Already ahead 24-0, the Alabama special teams unit could have let the kick roll into the end zone, satisfied that the game was already well in hand.
But with Michigan looking much like Appolo Creed and 'Bama feeling as dominant as Ivan Drago, the special teams sharks looked to finish it right then and there.
Sunseri and company were in their rightful places on the goal line to stop the ball and force Michigan to try and work their way out of a 99-yard hole if it were to get back in the game. With their collective backs against a great wall, yet another mistake was all but inevitable.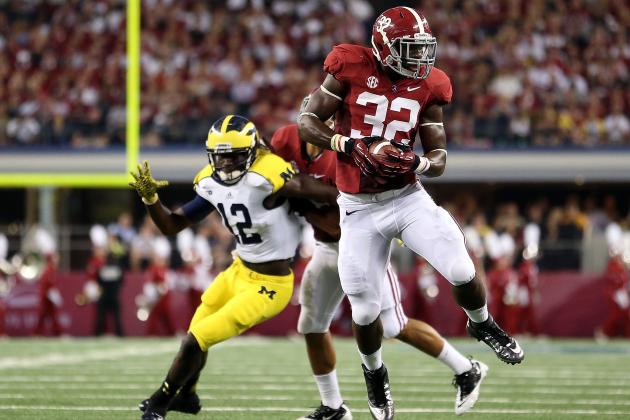 Ronald Martinez/Getty Images

The stop by Sunseri set up the mistake that effectively closed out any hope of a Michigan comeback. After Milliner broke up another pass attempt on first down and a one-yard run on second, Michigan was forced into a passing situation. Robinson dropped back and, even though he was not under heavy pressure, fired a rocket right into the waiting hands of sniper C.J. Mosley.
The Alabama junior picked off the pass and took it to the house for a 16-yard defensive score and a 31-0 Alabama lead. The Alabama defense that was called "young" and "inexperienced" due to numerous offseason departures came through like seasoned professionals once again. For Mosley, it was the finishing touch on a game where he led the team in tackles with seven and staked his claim as one of the leaders of the new and already proven Alabama defense.
After putting up this overwhelming lead, the Wolverines fought hard to save face and keep it respectable. Unfortunately for them, though, it was far too late.