Jayhawk Quarterback Dayne Crist & 10 Key Takeaways from Kansas Football Opener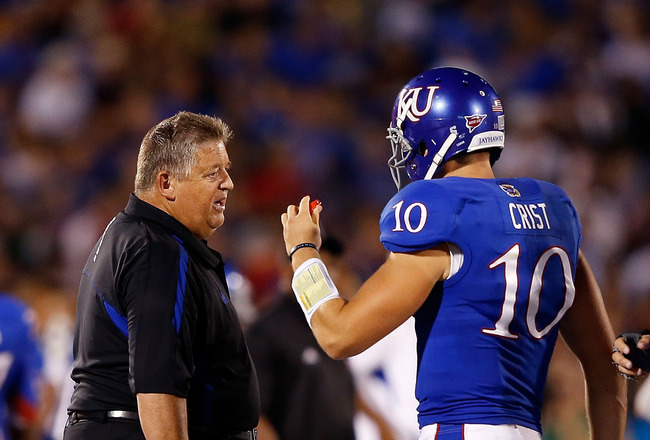 Weis and Crist were successful, but not perfect, in week one.
Jamie Squire/Getty Images
New Head Coach Charlie Weis and his Jayhawks were successful in week one, earning a 31-17 win over FCS opponent South Dakota State and Kansas' first victory in its last 11 games.
Though the victory lacked the grandeur for which fans, the Jayhawks and Weis had hoped, this contest, like every other, raised both concerns and reasons for optimism.
This slideshow outlines the 10 most important tidbits, in no particular order, that the Jayhawk faithful can take away from week one and keep an eye on in week two on Sept. 8, 2012, against the Rice Owls.
Toben Opurum Needs to "Turn the Corner" as a Pass-Rusher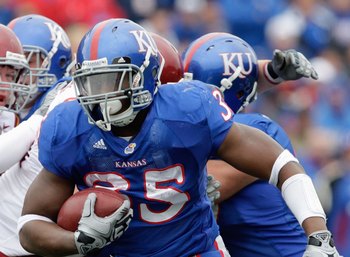 Jamie Squire/Getty Images
Last Saturday, 6' 1", 250-pound senior defensive end Toben Opurum made it into the opposing backfield with regularity.
However, just as in two previous seasons of defense, Opurum failed to close the deal; he finished with no sacks nor tackles for loss against FCS opponent South Dakota State.
It's too early to worry; Opurum is adjusting to his fourth set of responsibilities in as many years. Still, it should be an area of focus in the coming week.
But Josh Williams Will Be His Most Important Tool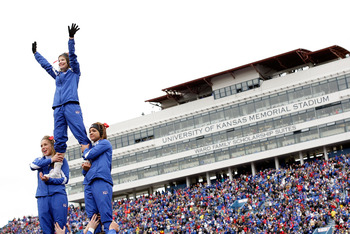 Jamie Squire/Getty Images
Nothing helps one defensive end have more success rushing the quarterback than a second pass-rushing defensive end. As Opurum and senior transfer defensive end Josh Williams should become each others most valuable teammates in 2012.
Williams had a solid first start as a Jayhawk, forcing and recovering the same fumble in the backfield, getting credit for a quarterback hurry and having a strong presence in the backfield all game long.
If Opurum has more room to operate against Rice in week two, he'll have Williams (and good week one game film) to thank. It'll be exciting to see which end will have a better season.
The Right Side of the Offensive Line Is Underrated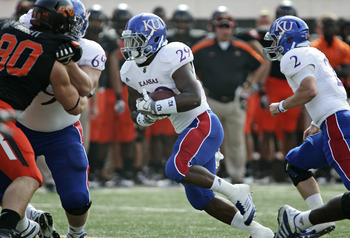 Brett Deering/Getty Images
The left side of the offensive line is more experienced, is better in pass protection, receives more recognition and had the majority of running back carries go it's way.
The right side of the line, though, is vastly underrated. Right guard Aslam Sterling and right tackle Gavin Howard, both first-time starters at the FBS level, got a terrific push in the running game throughout the entire ball game, and allowed no pressure to approach quarterback Dayne Crist from his dominant side.
Left tackle Tanner Hawkinson has NFL potential, left guard Duane Zlatnik is among the best interior linemen in the conference and center Trevor Marrongelli has made a seamless transition from guard. Sterling, however, may be the best under-the-radar pickup of the offseason, and Howard might become the team's most improved player overall.
Jordan Tavai Is Kansas' Best Defensive Tackle Since James McClinton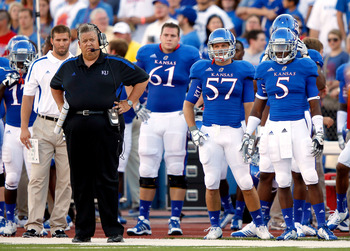 Jamie Squire/Getty Images
Junior defensive tackle and junior college transfer Jordan Tavai has only been in town a couple of weeks; he arrived on campus late after completing summer courses.
That didn't stop him from being Kansas' most disruptive defensive lineman against South Dakota State. Though he accumulated no sacks or tackles for loss, he generated more interior pressure in one game than the Jayhawks have sported in five years.
It's too early to get too excited, but a second quality week in a row will remind more than a few spectators of a certain former Jayhawk star defensive tackle.
Taylor Cox Will Be a Very Unfortunate Casualty of Death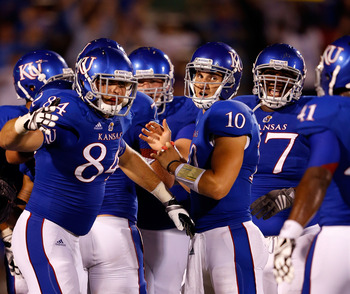 Jamie Squire/Getty Images
Despite junior running back Taylor Cox's success (121 yards, one touchdown against South Dakota State), the shifty 5' 11", 210 pound junior college transfer can't afford any mishaps in weeks two or three if he hopes to retain his current role.
There's no reason to believe Kansas' most talented running back, junior James Sims, won't re-earn the starting spot when he returns from a suspension for game four against Northern Illinois. Sophomore speedster Tony Pierson has a defined role cut out for him regardless of Sims' success. That makes Cox the odd man out.
Against Rice, Cox needs a repeat performance on the ground, and an opportunity in the return game wouldn't hurt either (South Dakota State booted every kickoff out of the endzone).
But Tony Pierson Will Be the Offensive MVP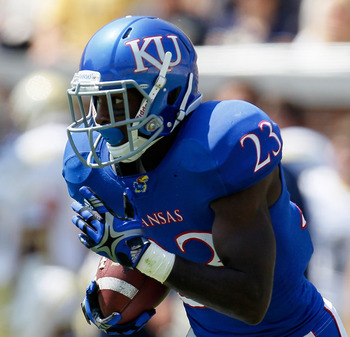 Kevin C. Cox/Getty Images
Crist is the quarterback; he'll always receive his fair share of love and hatred. Sims is the team's best running back; he'll wear out defenses and open things up for his teammate.
Pierson is the home-run hitter. The super-speedy sophomore running back will be the difference between success and failure against the Big 12's toughest defenses. He'll lead the team in all-purpose yards and will be the explosion in the offense when no other fire can be found.
Pierson may not always be successful—no one man can carry a team—but when he is successful, it's likely that the Jayhawks will be too.
Kansas' Secondary Still Has Question Marks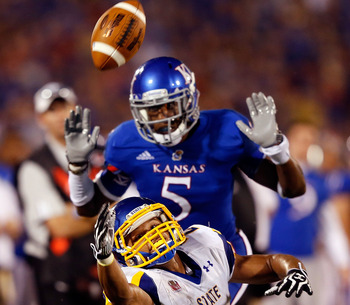 Jamie Squire/Getty Images
In 2010, Kansas picked off seven passes. In 2011, Kansas picked off eight. After one game in 2012, the Jayhawks already have four interceptions (and should have five).
The secondary looked better than it has in three years against the Jackrabbits, but is far from perfect. Depth is the biggest issue; not one backup from the secondary tallied a single statistic in week one (not counting Corrigan Powell who is used exclusively as a nickelback).
So while Defensive Coordinator Dave Campo and Defensive Backs Coach Clint Bowen welcome the aggressive play and turnovers, don't let the statistics blind you. This secondary still needs help.
Except for Bradley McDougald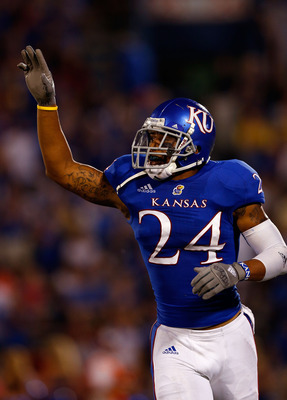 Jamie Squire/Getty Images
The entire secondary played respectably, but talented senior safety Bradley McDougald had, without a doubt, the best individual game of his career.
Six tackles (five unassisted, one for a loss), two interceptions and one more pass defended constitute a statistically impressive outing. Only failing to catch speedy Jackrabbit running back Zach Zenner on his 99-yard touchdown scamper mars an otherwise stellar performance.
McDougald could become a luxury Kansas has lacked since Darrell Stuckey. A sideline-to-sideline safety allows more cover-one scheming, linebacker blitzes and frustration for opposing quarterbacks. The Jayhawks' secondary will be much better in 2012, and McDougald will be the biggest reason.
Josh Ford Will Become a Fan Favorite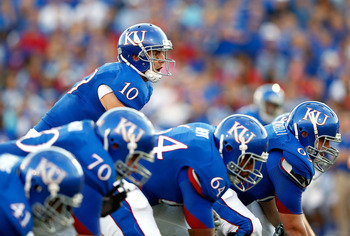 Jamie Squire/Getty Images
Placing a pair of speedy, 6' 4" wide receivers on either side of the punt-block unit had a very profound effect in game one; two blocked punts.
One of those blocks came from junior transfer Josh Ford, who even recovered his own block. He played with a lot of tenacity on kickoff coverage as well and, simply put, captivated the crowd every time he touched the field.
Fellow punt-blocking junior receiver Chris Omigie performed well on special teams in his own right, but it's hard to be a favorite of the fans after two years of teasing them with frustratingly untapped potential.
Dayne Crist Needs Time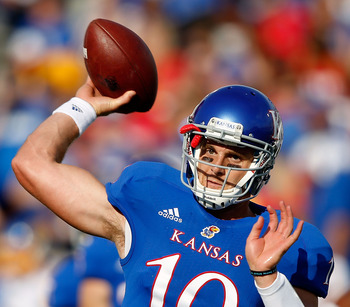 Jamie Squire/Getty Images
The skills that made Crist a highly touted quarterback recruit and his wealth of college football experience were evident in his first action as a Jayhawk.
Crist stood tall in the pocket, stepped into strong throws and had a calm and coolness about him that makes it easy to see why he was chosen to be a team captain.
He was a little rusty and inaccurate; he made two questionable decisions and often appeared out of sync with his receivers. Still, after so much anticipation and so little time to prepare, a so-so performance is easy to forgive in a first outing.
Crist won't be a superstar, but he could certainly prove himself to be among the better half of the league's quarterbacks. If his accuracy indeed picks up and he get's just a little more help from his receivers, he'll be exactly what his new-old head coach expected him to be.
Keep Reading

Kansas Jayhawks Football: Like this team?