WWE vs. TNA: Who's Been Better This Week? (Aug. 26-Sept. 1, 2012)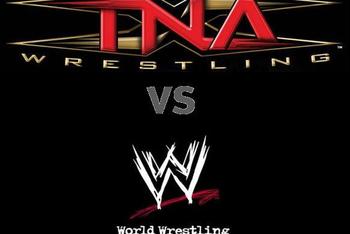 Image: wetalkwrestling.com
Hello and welcome to the latest in my WWE vs. TNA series, where each week I analyse Raw, Impact and SmackDown to see who's been the best. Last week, Raw got the win easily as Impact faltered.
With both promotions firmly in between pay-per-views, let's see who has the momentum coming out of this week.
WWE Raw, Aug. 27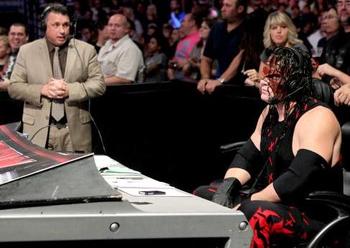 Maybe it should be a regular thing? (image: wwe.com)
Raw opened with Jerry Lawler on the mic demanding an apology from CM Punk. Punk came out with a new haircut, which I didn't like. But what he said, I did like.
Jack Swagger's first Raw appearance for quite a while came as he faced Ryback. You see when he's with Swagger that Ryback's not actually that tall. Maybe the legions of jobbers he's been facing are all five feet tall. Even now, about five months since he debuted (by my count), he still gets Goldberg chants. But at least they're easily drowned out by the "feed me more" chants.
After going over Swagger easily, maybe we really will get proper matches for Ryback now. Anyone else think they should go straight to Ryback vs. Randy Orton?
The following Divas match between Layla and Natalya actually displayed some decent chemistry between the two. Of course, it was over in about three minutes, cut short so we can see Vicki Guerrero have a quick brawl with AJ. Who on earth wants to see that?
Throughout the show, we were treated to clips of Daniel Bryan and later Kane in an anger management group. The hilarity never starts.
John Cena coming out to the ring surprised me. Not because this is a rare occurrence, but because he didn't come out for a promo—just for a match, and a singles match at that. I can't remember the last time Cena's first appearance on Raw was just coming out for a match.
Cena's match against The Miz may have had the inevitable result, but before the particularly egregious and textbook five moves of doom, The Miz did some great work. I've never been a Miz fan, but his match against Rey Mysterio at SummerSlam was brilliant and combined with his work here, I'm certainly coming around to him. We've seen Cena vs. Miz quite a few times, and this might have been the best.
Tonight, Twitterers are allowed to vote for what kind of match they want between Punk and Lawler. The wide shot of the arena then shows the suspended steel cage, should it be selected. I'd have thought it's a fairly big effort to have the cage in place if there's a chance of it not being used, but it's by far the most appealing option available, so maybe there's not too much worry there.
Sin Cara and Brodus Clay vs. Damien Sandow and Cody Rhodes finished very quickly (though it was broken up by commercials). Cody Rhodes taking the pin from Brodus Clay feels like a push in the wrong direction for the lad, especially since he had a very credible showing on SmackDown against Sheamus some weeks back.
Throughout the night are various highlight packages for Triple H. I say "highlight" because that's something for which individual mileage will vary wildly. When he finally appears, he teases a quick answer to whether he's retiring only to waffle on for ages. For over 10 minutes, in fact, but at least it will be the last 10 minutes of him we'll ever have to sit through. Well, OK, obviously it won't be. Triple H's ego should be getting "feed me more" chants.
During the entrances for Sheamus and Randy Orton vs. Alberto Del Rio and Dolph Ziggler, Michael Cole mentions that Del Rio is "next in line for an opportunity at Sheamus' world title." Del Rio is the line. As for the tag match, it was so predictably uninteresting that it didn't need to happen at all.
Kane came out for commentary, with results. He didn't actually say anything, but Cole's response to his presence was far more entertaining than a David Otunga match. When I saw Zack Ryder come out, I hoped we'd see another tombstone. Sadly, we just got a chokeslam, and even then to Otunga, but never mind.
CM Punk vs. Lawler was pretty much as expected. What stood out like a sore thumb was not Punk's blading (I was late noticing the blood, what with the more obscured view due to the cage), but the referee putting gloves on. What followed the match was just a bit dull, really.
Raw this week may not have been as good as last week's (it seldom is), but it was OK. Despite its flaws, there seems to be an effort to do things a little differently here and there that had been distinctly lacking for some time. Vicki's interruption made the Divas match a little more attention-worthy (even if for a stupid outcome), and John Cena coming to the ring just to have a match and Dolph Ziggler coming out both without Vicki and to Chris Jericho's music were all seemingly minor things that made the show a little different and interesting.
TNA Impact, Aug. 30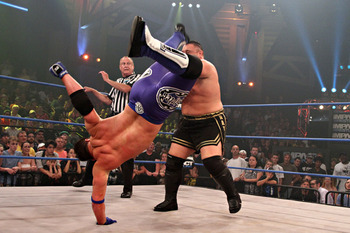 Image: impactwrestling.com
As usual, Impact opened with a recap of last week's episode, which made it look a lot better than it was. They didn't leave in a growling Hulk Hogan for a start.
The show proper opened with Austin Aries on the mic. Once again, opening with a mic promo. It seems to be a definite policy now, and it's a good one. Sting and Hogan follow, and then there's some almost unintelligible talk from Aces and Eights on the screen.
The first match was Rob Van Dam vs. James Storm, and this week's matches decided the final five of the Bound for Glory series, giving them a particular importance. The opener was a good match (as ever), with a particularly memorable closing spot.
ODB squashed Madison Rayne (which should surely put her right in line for a Knockouts title shot), which gave way to Eric Young's return. This is the kind of rubbish I should be bothered by, but I'm fairly indifferent. I just want to know what's going on with the Knockouts tag titles.
Samoa Joe vs. AJ Styles was next and, as expected, it was another good one. Has Joe been absent recently? I don't recall seeing him much. He's not formed with the part of the locker room that group together to fight the Aces and Eights so far as I've noticed.
Sadly, we had to tolerate a judges Gut Check segment. Is the entire thing a work? I don't like it either way. This one was a vehicle for Joey Ryan (a former, unsuccessful entrant) to shout through a megaphone from the crowd and throw a drink over Al Snow. But I'm really not interested.
Backstage, a fairly minor segment made me happy by featuring the return of Joseph Park. I find his un-obnoxious, Penn Jilette style and act endearing and very entertaining, so he's always welcome on my screen.
Kurt Angle vs. Jeff Hardy even got its own pre-match promo—and considering they had two fantastic matches on PPV some months back, giving this away on TV is another example of the Bound for Glory series delivering terrific, clean TV matches.
The show closes with some Roster vs. Aces and Eights brawling, though better and more intriguing than last week's.
After last week's anomalous disappointment, Impact's back on fine form with a good balance of storyline and great matches. We may again have not actually learned anything new about the Aces and Eights, but we weren't promised anything and, more importantly, we got some really high-quality wrestling in the three Bound for Glory series bouts.
WWE SmackDown, Aug. 31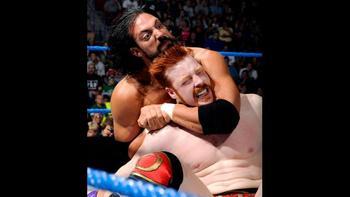 You're welcome, fella. (image: wwe.com)
SmackDown opened with Sheamus on the mic, who chose to eulogise Triple H, insisting the COO has the respect of both himself and the entire WWE Universe. Considering Triple H is almost certainly not actually retiring, this ego boosting for Levesque seeping into everything is outstaying its welcome.
Worse still, we're promised a recap of his speech from Raw later in the show. Raw recaps are bad enough (as though there are people who watch SmackDown but not Raw), but giving up five minutes to again show a boring, applause-begging promo is more than I can cope with.
Damien Sandow interrupted and was put in a match with Sheamus later that night. Sandow is brilliant, but I certainly didn't expect anything more than a squash match at that point.
Cody Rhodes and Rey Mysterio had a good little match in which Rhodes' obsession with unmasking Rey led to his loss. Afterward, Sin Cara puts one of his own masks on him.
I thought Cody was great with his gimmick of putting paper bags on people's heads, and despite his unique mic skills, I think he needs something additional like that to be really interesting. Being as it worked so well, I don't see why he doesn't go back to that.
Kaitlin defeated Natalya with a quick roll-up, in another step backward for the Divas division.
Damien Sandow was counted out against Sheamus after a surprisingly credible display, in a step forward for intellectual enlightenment.
A fairly silly sequence (Kane apologising to Josh Matthews as part of his anger management could be slightly amusing or dreadfully stupid, I can't decide) led to Kane vs. Alberto Del Rio. Worse still was the result. I'm not sure if it's purely a botch that Kane was pinned by a slight distraction followed by the weakest move of all time, or whether it was meant to show that Kane really needs his anger (suggested by his chokeslamming Josh Matthews after). Whatever it was, though, it was poor.
Randy Orton vs. Dolph Ziggler was slightly disappointing. Not just because Ziggler lost, but despite being a good match, I'm sure I remember their TV matches while Ziggler was United States Champion being better.
SmackDown this week continued a long line of satisfactory shows. Some good stuff in there, some bad stuff and overall, somewhere in the middle. This week, though, that makes it the least of the three.
Conclusion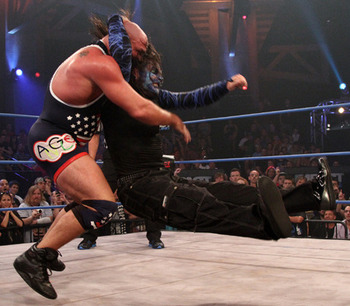 Image: impactwrestling.com
Show of the week: TNA Impact
The WWE continued a trend of overall improvement since SummerSlam this week, but neither of its shows came close to matching a pretty pacy Impact, with three high-quality Bound for Glory series matches. The best of the WWE could easily have matched Impact overall, but unfortunately, it was diluted by too much rubbish comparatively.
Match of the week: Jeff Hardy vs. Kurt Angle
A very good week for TV matches on all three brands, with John Cena vs. The Miz, Rob Van Dam vs. James Storm, AJ Styles vs. Samoa Joe and Randy Orton vs. Dolph Ziggler all being entertaining contests as well.
Thanks for reading and all comments are appreciated.
Keep Reading