WWE Analysis: 5 Ways the Company Has Given Us What We Asked for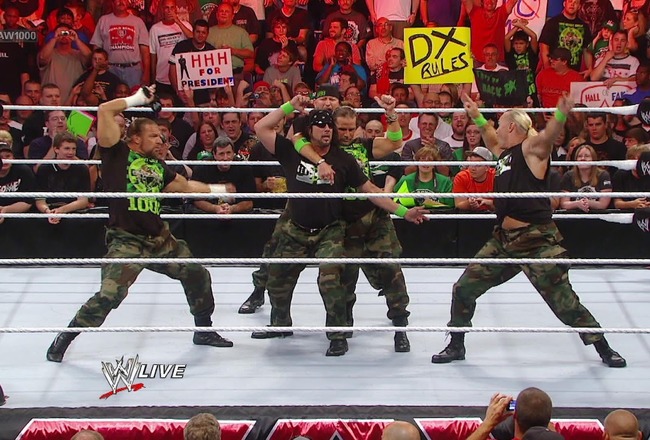 Photo: WWE

All sports fans have one thing in common: They think they know what is best for their favorite teams and athletes.
We are all arm-chair quarterbacks to some degree because we are all guilty of starting a sentence with "That's not what they should do; they should..."
It is inevitable, but it is also a good thing because it shows passion and concern for the fan's favorites when they attempt to come up with their own ideas.
WWE fans are even more guilty of this because not only is it a year-round thing for us, but it is also because those changes we want to happen can actually happen.
WWE has the ability to listen to its fans and make changes based on the suggestions they feel are good and ignore the ones that are bad.
About two weeks ago I wrote a slideshow about the mistakes WWE was making, so I figured it was only fair to write another one about what they are doing right.
In this slideshow I will look at five ways the WWE has given us what we asked for and whether it worked out or not.
No More 'Hot Potato' with Titles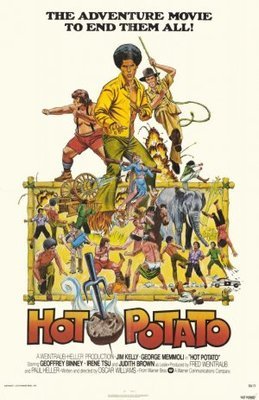 From movieposterdb.com (This was so funny I had to use it!)
There used to be a trend in WWE where they would shift titles from one person to another very quickly. Those days seem to be over.
CM Punk has been Champion for nearly 300 days, Sheamus has been world champion since WrestleMania in April, which is also when Kofi Kingston and R-Truth won the tag titles. Santino had been champion for more than 180 days when he lost the title to Antonio Cesaro.
The IC title has only changed hands four times this year, and the Divas title has only seen three champions in the past year.
WWE is sticking with longer reigns to build their champions up as stronger competitors, but it also has a negative effect.
When a Champion is defending his title for nine to 10 months, then it is inevitable that they will face a few of the same people over and over and over again.
Sheamus has fought Del Rio more times than I care to remember, and John Cena vs. CM Punk is the new John Cena vs. Randy Orton in terms of the frequency they fight each other.
Longer reigns are something we have asked for and received, but the downside is also evident by how sick people are of certain feuds.
More Tag-Team Attention
WWE recently featured a brawl between The Usos, Prime Time Players, Justin Gabriel and Tyson Kidd, Kofi and Truth and Primo and Epico.
If you count Hunico and Camacho as a team, which I do since they have received title shots as a team, then that makes six tag teams WWE is currently using.
Had Tyler Reks remained with the company then we could add a seventh.
Put that on top of the fact that not a week goes by where we don't see one of the tag champs, or both, in a match, and you have exactly what the IWC has been asking for.
For a long time it seemed as if tag-team wrestling had been all but killed off in WWE, but recently we have seen a resurgence in the division.
Kofi and Truth are great champions, and given that two of the other teams are actually families, you have the seeds to start rebuilding the division to its former glory.
Will we ever see it as good as when the Hardys, E&C, Dudleys and Brothers of Destruction were around?
Probably not anytime soon, but this is a good start.
Indie Stars Getting Major Pushes in the Company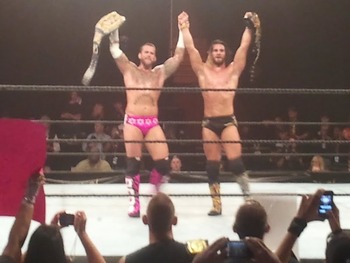 wrestlingnews.com
It was not long ago that WWE used to only push its own homegrown stars like John Cena, Edge and Randy Orton. These guys made their names in WWE and did not have major careers in the indies before joining the company.
Now the roster is littered with names like CM Punk, Daniel Bryan, Damien Sandow and Antonio Cesaro, all people who made names for themselves on the independent circuit before joining WWE.
Daniel Bryan has become one of the most intriguing heels in the company. CM Punk has been a major player for a couple years. Some of the newer stars are already seeing pushes, like Cesaro who won the U.S. title.
WWE couldn't ignore these guys for long, but now it seems as if they have been embraced as the company's saviors rather than looked at as second-tier stars.
How long did we see articles about how Bryan was the future of the company?
Now he is one of the most reliable performers in the company and capable of sustaining promos against some of the best talkers in the business.
When it comes to pushing new stars, WWE has certainly done well with what they have. They will only get better when Dean Ambrose, Kassius Ohno and Seth Rollins get in the mix.
Getting Guys We Thought We Would Never See Again to Return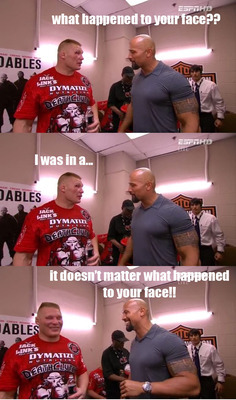 hockeydrunk.com and ESPN
I cannot tell you how many times I saw the following comment in articles I have written.
"The Rock will never return to wrestle in WWE."
I don't like telling people to eat crow, but get your forks. Not only did The Rock return, shattering all those assumptions, but so did Brock Lesnar.
They may not be full-time stars, but the fact that both men are wrestling matches again means WWE obviously has the power to get people who have publicly stated they had no interest in returning to return.
The Rock was the one I think was more surprising because he does not need the payday from WWE at all. He is a huge success in Hollywood and could coast the rest of his life on what he has in the bank right now.
Brock, on the other hand, was a bit more shocking given that he had just finished up his UFC career when he showed up in WWE.
Either way, WWE got two of the most talked-about superstars to get back in the ring. For that, they must be applauded.
Make Us Laugh, Please
Just two weeks ago I wrote another slideshow, 5 Mistakes WWE Is Making with the 3-Hour Format and How to Fix Them.
In the final slide, I criticized WWE for not doing things that were funny anymore, and then they had to go and make those hilarious anger management videos and slap me in the face.
I am more than happy to admit I had my complaint thrown back in my face because I loved every second of those segments, which is not something I usually say about non-wrestling segments.
WWE clearly has the ability to be funny, and hopefully they plan on doing more skits like this in the future to help fill up the three hours on Mondays.
I do not necessarily want to see more anger management segments—although seeing Harold again would be awesome—but I do want to see more things that make me laugh.
As a wrestling fan, you have to be able to take yourself a lot less seriously than most sports fans because most of what we watch is pretty ridiculous to begin with.
Incorporating comedy into the show is vital for WWE to continue succeeding because it is a part of what made them as big as they are.
The Rock was one of the funniest things on TV when he was wrestling full-time, and it helped boost WWE to beat WCW in the ratings.
Maybe more comedy segments will help turn the ratings around, maybe they won't. But it is certainly a nice change of pace to see comedy from WWE that actually appeals to a broad audience and makes them laugh.
Keep Reading