The Good, the Bad and the Ugly from Arsenal's 2-0 Win over Liverpool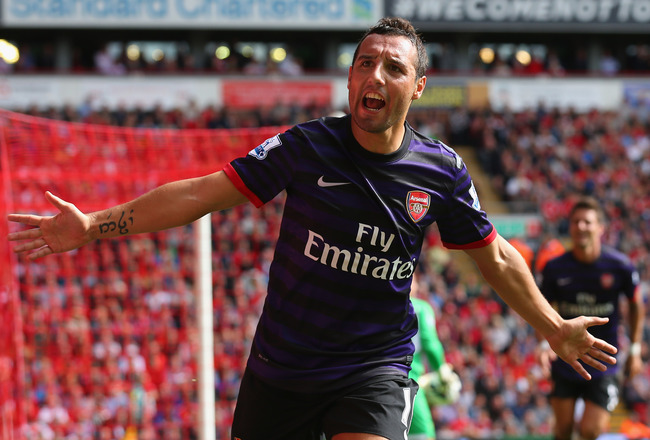 Alex Livesey/Getty Images
Arsenal supporters can breathe a sigh of relief: The Gunners' first goal and victory of the season finally came.
Any win away from home in the Premier League is a good one, let alone one over a club like Liverpool.
So how did the Gunners pull of their first win of the season?
Let's break down the match Clint Eastwood-style.
The Good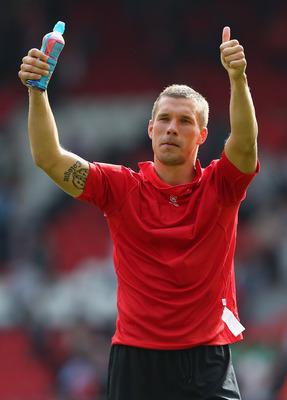 Alex Livesey/Getty Images
We have to start this category off with Santi Cazorla and Abou Diaby.
The two midfielders were creative and incisive with their passing. It was their incredible play that really won the match for their side.
After just two prior matches with the club, we had come to expect a performance like this from Cazorla. However, Diaby's amazing display caught non-Gooners a bit off-guard.
It's easy to forget the ability of the Frenchman after he had just five appearances with the club last season, but he could be a key cog for the Gunners this season.
Acknowledgement should also be given to Lukas Podolski, whose fine play in the build-up and finish of that first Arsenal goal helped ease the tension that was building around the Gunners' lack of goals.
The Bad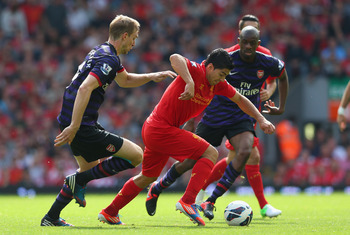 Alex Livesey/Getty Images
Before you get on me for this one, I'll clarify that "bad" is harsh for this discussion. Seeing as Arsenal were pretty impressive today, it might be better to term this "less than perfect."
This one goes to the defense, who were lucky to avoid a few penalties.
Now, I'm not going to go so far as to say there were missed calls that influenced the result, but there were clearly some moments where Arsenal were vulnerable.
Look at Per Mertesacker's pull-down of Luis Suarez in the box. Another referee could easily have whistled that, while a different striker could have stayed on his feet and put the ball in. Mertesacker should have positioned himself better.
In another instance, Thomas Vermaelen fell on the ball and allowed it to touch his arm. A penalty undoubtedly would have been harsh in that instance, but Vermaelen opened himself up to the discretion of the referee with his lack of strength in that play.
Of course, the result of the match is that Arsenal are still the only side yet to be beaten, which is absolutely fantastic.
However, they showed a bit of vulnerability that could be exploited by the likes of Chelsea or the Manchesters should they play similarly.
The Ugly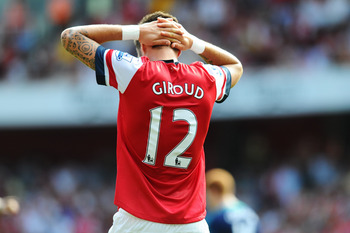 Mike Hewitt/Getty Images
Only one aspect of Arsenal belongs in this category: Olivier Giroud.
The Frenchman has now missed a golden opportunity to score in each of Arsenal's first three matches. At one point, he was even beaten by Martin Skrtel in a foot-race to an over-shot cross.
The striker's play at Montpellier as he helped them to the French title last season made his introduction into the side a mouth-watering prospect, but he has failed to live up to that as of yet.
Of course, this is only three matches, so judgments should be reserved for a later date.
Still, Giroud is trying the patience of Gooners everywhere as he misses opportunities he needs to put away.
Let's see how long it will take him to turn it around at the Emirates.
For the latest news in the world of football, follow me on Twitter.
Keep Reading

Arsenal: Like this team?