Robin van Persie and the Most Embarrassing EPL Penalty Misses in Recent History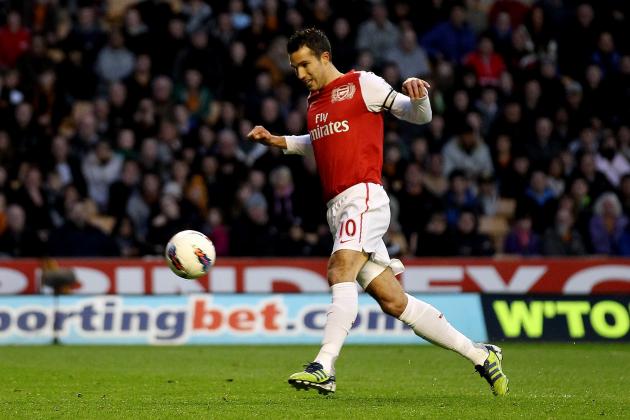 Scott Heavey/Getty Images

There must be something in the water. The season is less than 3 weeks old, and we have already seen three shocking attempts at the dreaded penalty kick.
First it was Shane Long, then David Silva and then, last but not least, Robin van Persie.
For fans there are few moments as exciting.
In a team sport, it is one of the rare times a player must go "mano et mano" with an opposing player.
When they step up to that penalty spot, they are all alone. It's just them and the goalkeeper.
It can cause even the greatest players to falter.
Here are some of the most embarrassing penalties I can remember from recent times.
There have been so many that some have slipped my mind. I encourage people to add their own memories in the comments section.
Begin Slideshow

»
They say there's a thin line between genius and madness. In 2005 Pires and Henry found themselves on the side of madness after an audacious penalty attempt against Man City.
Pires stepped up to take the penalty and attempted to roll the penalty into the path of the onrushing Henry.
Unfortunately for Arsenal, he didn't make enough contact with the ball, and Henry had overrun the ball expecting the pass.
Pires stood motionless, as he couldn't touch the ball again since Sylvain Distin had cleared the danger.
This style of penalty was made famous by Johan Cruyff and Jesper Olsen back in 1982, and in a bizarre twist of fate, City had fallen victim to this trick before.
Way back in 1964, Johnny Newman and Mike Trebilcock of Plymouth Argyle tried it and succeeded in a League 2 clash.
Had it gone in, then Henry and Pires would have been lauded for their brilliance—instead they looked stupid.
This isn't the worst penalty of the list but perhaps the most important. It's also on the list because the taker, Ruud van Nistelrooy, was a renowned penalty-taker.
As a Man United fan, it annoys me that despite the brilliant teams we have produced in the last 20 years, Arsenal's 'Invincibles' are lauded as the great side of the EPL era.
How different that might have been had van Nistelrooy held his nerve in the final minutes of this brutal encounter.
The match was between the two best sides of the time and has since been dubbed the "Battle of Manchester."
After a foul on Diego Forlan, only Jens Lehmann and his prowling stood between van Nistelrooy and a United win.
Having seen his previous two penalties saved, he sought to make sure this attempt was unsavable. And so he smashed his attempt at goal only to see it bounce off the bar.
The game would finish as a draw, and Arsenal would go to finish the season unbeaten and earn the tag "Invincibles."
Sometimes the width of a crossbar is all that separates the good from the great.
*Skip to 1.00 for the penalty.
This year's Premier League season was less than a day old when we had a contender for worst penalty of the year.
In most cases you can tell what a player is trying to do when they miss a penalty. With Shane Long, I haven't a clue.
Maybe he was just tired after his long sprint onto the ball, but this was one of the most feeble attempts I have ever witnessed.
He didn't pick a side or put any height on the ball. He appeared to just roll it right at Pepe Reina.
Luckily for Long, he quickly made amends by winning another penalty and stepping aside to let Peter Odemwingie show him how it was done.
Yakubu is a player who made a name for himself as a player of immense power and strength. What he was not known for was his finesse.
Which is why this feeble penalty attempt is so surprising. Maybe he was overconfident because he was facing Liverpool's third-string keeper.
Brad Jones must have been grateful that his first task, on replacing the red-carded Doni, was so easy.
The ramifications of the miss were huge. Blackburn were in the midst of a relegation dogfight, and three points and a timely boost in confidence could've seen them to safety.
Instead Andy Carroll scored an injury-time winner to steal the points, and Blackburn would go on to be relegated.
Today Robin van Persie reminded us that even great players can fall victim to pressure.
He has hardly set a foot wrong since his arrival in Manchester, but this was a very poor attempt from the Dutchman, that could've proven costly.
Having fallen behind 2-1 to EPL new boys Southampton, United were scrambling for an equaliser.
After he was felled in the box, the result seemed inevitable. After all, he was in great form and is normally deadly from the spot.
Instead Kelvin Davis seemed to get in his head, which seemingly forced RVP to alter his plans at the very last second.
As soon as he hit it, he knew he'd missed. He grimaced before he even looked up.
The miss, however, was soon forgotten as RVP made it 2-2 and then 3-2 to give United the win in the dying minutes.