Santi Cazorla and the 5 Hottest Premier League Players Right Now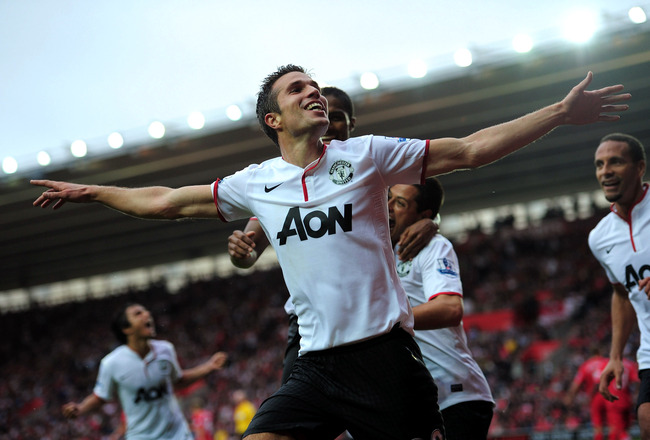 Jamie McDonald/Getty Images
The Premier League is well and truly underway. With the first three rounds of fixtures done and dusted, there has been no shortage of excitement.
Once again it's been goals, goals, goals, with Arsenal being the only side yet to concede.
Thus, this list of star performers is dominated by attacking players, who have scored or set up the goals that have lit up the first month of the season.
In creating this short list I had to leave off a string of players who have stood out, so please feel free to add your own star performers in the comments section.
Santi Cazorla: Arsenal
Alex Livesey/Getty Images
It may have taken a year, but it looks like Arsenal have finally found a replacement for Cesc Fabregas.
Santi Cazorla may not have been the flashiest signing of the season, but he could be the most important.
La Liga fans will have long been aware of his talents, but the ease at which he has adapted to the EPL has surprised many. He has all the vision and class you would expect from a Spanish midfielder, and he has deceptive strength on the ball for someone so diminutive.
Both Villarreal and Malaga can attest to his talent, and Arsenal fans will hope he will continue to thrive in English football.
He has been imperious, pulling the strings for Arsenal in midfield and finally getting on the score sheet against Liverpool.
His form, combined with the impending return of Jack Wilshere, will give Arsenal fans hope that the much-talked-about drought might be coming to an end.
Michu: Swansea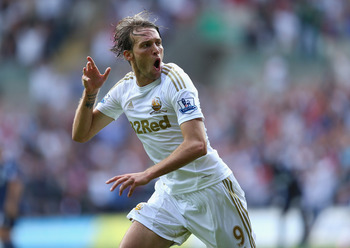 Richard Heathcote/Getty Images
The departure of Brendan Rodgers and a string of key players led many to question if Swansea's fairytale was about to come to an end.
Clearly, they hadn't banked on Michu.
Many scoffed at the news this summer that he was drawing the interest of both Manchester United and Liverpool. In the end, he arrived at Swansea with little or no fanfare for a fee of £2 million.
After four goals and an assist in three games, he is the signing of the season—for the time being.
A relatively late bloomer, he has only one season of top-flight football behind him having worked his way up from the fourth division of La Liga.
He is not your usual Spanish midfielder, but is well-suited to the English game. Strong on the ball and with a relentless work rate, he will play a huge role for Swansea this season.
What sets him apart, though, is his knack for being in the right place at the right time. His timing of runs into the box is impeccable, and his finishing is top notch.
He scored 17 goals last season, and Swansea will hope he matches that this year.
Eden Hazard: Chelsea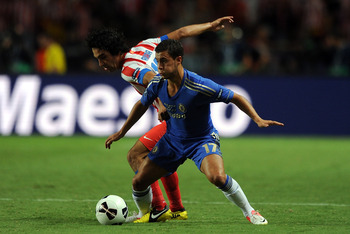 Chris Brunskill/Getty Images
Of all the big summer signings, Eden Hazard was under the most pressure. His protracted summer move had turned many neutrals against him.
He was in danger of falling victim to his own hype after he spent all summer flirting with seemingly every top side in Europe.
The daggers were out after an average performance in the Community Shield, but it took just two minutes of his EPL debut to silence the critics.
He received the ball on the halfway line, turned his man with consummate ease and sent Branislav Ivanovic scampering toward goal.
He has had a hand in all but one of Chelsea's eight goals this season, scoring one and setting up six. Chelsea fans are licking their lips at his potential, while the rest of the EPL is scrambling for ways to nullify the threat of the exciting Belgian.
If Torres can find his scoring boots, Chelsea will have an attack to rival any in world football.
Robin van Persie: Manchester United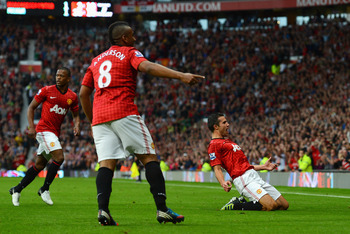 Shaun Botterill/Getty Images
Arsenal fans were like scorned lovers as Robin van Persie was unveiled at Old Trafford. He's too old, they said. He's injury prone, they said. He doesn't suit your style, they said.
And after his first performance in a Man Utd shirt, fans began to wonder if they were right.
Thrown on with 20 minutes to go, he was invisible. He hasn't wasted much time putting those thoughts to bed with four goals in two games, including a hat trick this afternoon.
His first goal was a thing of beauty. Patrice Evra swung in a cross from the left, RVP met it on the bounce and curled an unstoppable shot past Mark Schwarzer.
His only blemish so far was a dreadful penalty this afternoon, but he more than atoned for that by scoring the goals that saw United triumph 3-2 after twice falling behind to Southampton.
His admiration for Paul Scholes was plain to see in his postgame interview, so United fans will hope this relationship will flourish as the club fights to regain its status as Premier League champions.
Carlos Tevez: Manchester City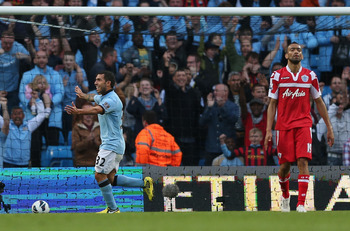 Clive Brunskill/Getty Images
What a difference a year makes in the life of Carlos Tevez. This time last year, he was languishing on the City bench preparing to go on a five-month strike that would cost him a small fortune, and almost cost City the title.
Now he's just scored his third goal in three games and will be a key player in the coming months with Sergio Aguero and Mario Balotelli out injured.
Tevez has long been an emotional character who thrives when he is happy and content. He is a long way from the sullen character we saw last year and is clearly enjoying life on the blue side of Manchester again.
He looks fitter than ever and his goal today saw him become the first City player of the EPL era to score 50 league goals for the club.
If City can find a way to keep their four star strikers happy over the course of the season, they will be nigh on impossible to stop.
Keep Reading