Penn State Football: Key Adjustments Bill O'Brien and Staff Must Make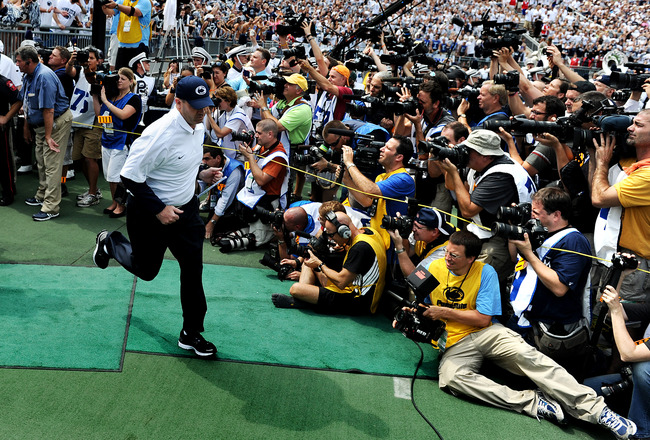 Patrick Smith/Getty Images
The start to Penn State's 2012 season was about change and forgetting the past. However, after Saturday's 10-point upset loss at home to Ohio University, there needs to be more changes to this team if it wants to finish 2012 with a winning record.
Over the last 10 years, Penn State has opened its season at home. However, today was the first time during that span that a Nittany Lions team started a season with an 0-1 record.
Here are five key adjustments that head coach Bill O'Brien must make for Penn State to not only finish 2012 with a winning record, but show that this current roster isn't being affected by what happened in the past.
Key Adjustment No. 1: Take More Shots Downfield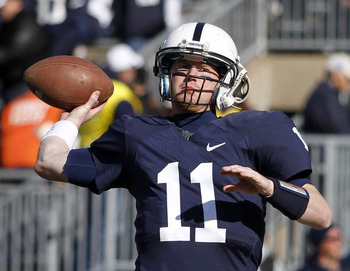 Justin K. Aller/Getty Images
Whenever a team struggles on offense, as Penn State did in scoring only 14 points against Ohio, the majority of the blame will fall on the quarterback. Matthew McGloin deserves some but not all of it.
McGloin played well against Ohio, completing 27 of 48 with 260 yards and two touchdowns.
However, his averaged pass only gained 5.4 yards, an abysmal stat.
McGloin's day was filled with short passes to Nittany Lions' receivers. His longest completion was for 22 yards in the second quarter. After halftime, McGloin had no passes that gained more than 20 yards.
Key Adjustment No. 2: Establish a Run Game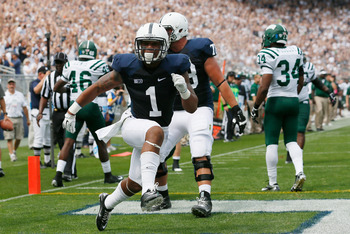 Rob Carr/Getty Images
The only Penn State running back who did anything against the Ohio defense was Bill Belton. However, once Belton went down with an ankle injury, the Nittany Lion rushing game fell to pieces.
The lack of a running game forced Penn State to become a one-dimensional offense, that resulted in no points being scored in the second half.
If Belton's ankle injury isn't serious, he has to see his workload increase in Penn State's next game. If it doesn't, Penn State will have another game with little to no production from its offense.
Key Adjustment No. 3: Limit the Turnovers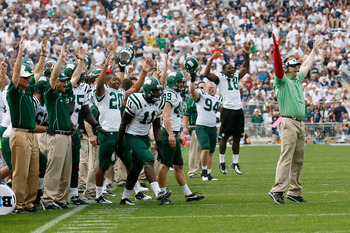 Rob Carr/Getty Images
The turnover differential in this game favored Ohio, as they forced three Penn State turnovers.
Penn State had a chance at intercepting an Ohio pass in the third quarter. However, that turned into a tipped ball off a Penn State defender that wound up in the hands of Ohio receiver Landon Smith, who took it into the end zone.
But, bad luck aside, Penn State lost a fumble, ending its first drive on the Ohio three-yard line, and had an interception in the fourth quarter on the Ohio 30-yard line. Those turnovers prevented Penn State from turning both those drives into points.
Key Adjustment No. 4: Keep Penn State's Defense off the Field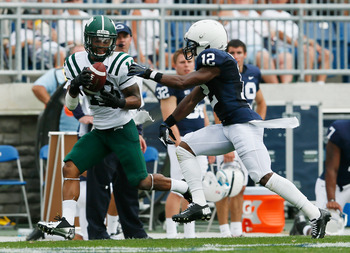 Rob Carr/Getty Images
In the first half, Penn State and Ohio had six offensive possessions apiece. In the first half, two of Ohio's drives ended after four plays.
The result of Penn State's offense chewing up game clock and their defense holding Ohio to short offensive drives was a 14-3 Penn State lead heading into halftime.
However, the second half saw Penn State's offense have only four possessions to Ohio's six. With those possessions, Ohio scored 21 unanswered points and finished with a time of possession advantage of 34:55 to 25:05.
Key Adjustment No. 5: Find a Way to Respond After a Bad Break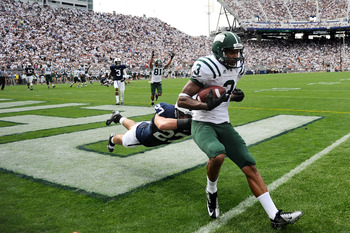 Patrick Smith/Getty Images
Up until Landon Smith's fluke touchdown reception, Penn State was on cruise control. However, once Smith caught that tipped ball, Penn State's fortunes changed for the worse.
After Smith scored, Penn State still led 14-10 and could have maintained its composure.
However, instead of doing that, the Nittany Lions gave up the next 14 points and lost by 10.
The coaching staff and leaders on this team must do a better job in helping to settle down this team if something like this happens again.
Keep Reading

Penn State Football: Like this team?