Predicting the Philadelphia Phillies' Opening Day 25-Man Roster for 2013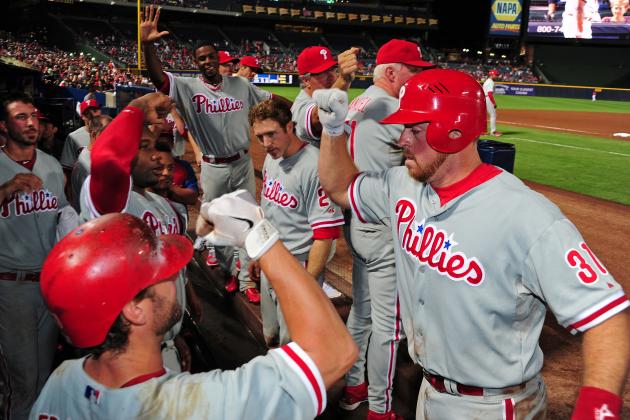 Scott Cunningham/Getty Images

The Philadelphia Phillies are having the kind of season that already has fans looking forward to next year.
So while the Phillies try and make an improbable run back into the postseason race here in 2012, it certainly isn't too soon to take a look at the roster moving forward and try and make sense of what the Phillies 25-man roster could look like on Opening Day 2013.
Some of the names are obvious. The Phillies have made big commitments to guys like Ryan Howard, Cole Hamels and Jonathan Papelbon, and those guys aren't going anywhere.
However, the Phillies also made a couple of deals at the trade deadline involving guys like Shane Victorino and Hunter Pence in an attempt to free up some space under the luxury tax for flexibility this winter.
Some of the guys on next year's roster are already here. Others are in the minor leagues. Even more are on the free agent and trade markets.
One thing is for certain: If the Phillies are going to win in 2013, they'll need to be creative in some areas of the roster.
Here's what they should do.
Begin Slideshow

»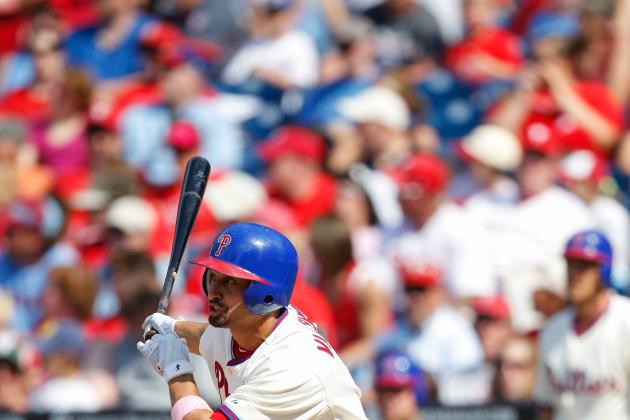 Brian Garfinkel/Getty Images

I wouldn't count out the Phillies bringing Shane Victorino back just yet.
Before the Los Angeles Dodgers' blockbuster deal with the Boston Red Sox right before the month of August ended, I could have seen Victorino staying out in Hollywood, but now, the Dodgers have arguably too many outfielders.
They're likely to open the season with a trio of Carl Crawford, Matt Kemp and Andre Ethier and no place for Victorino.
The Phillies obviously have an open spot in center field. They've been linked extensively to Michael Bourn through numerous reports, sources and venues, but that's a deal that is a long shot at best, in my opinion.
Sure, Bourn would be a pretty good fit for the Phillies. He's a speedy leadoff hitter that hits for a high average and sets the tone for the rest of the lineup. He's also one hell of a center fielder.
Now you have to look at the downside. Bourn is a Scott Boras client, so you know he won't come cheap (or sign early unless there is a huge offer on the table). He's left-handed, strikes out a lot and will be a 30-year-old speed-first player.
If I had my druthers, I think that Victorino is the better fit. He's a switch-hitter, would come cheaper, is a fan-favorite, and plays—at least—the same caliber of defense in center field.
Other Options: Bourn, B.J. Upton, Grady Sizemore, Angel Pagan, John Mayberry Jr., Tyson Gillies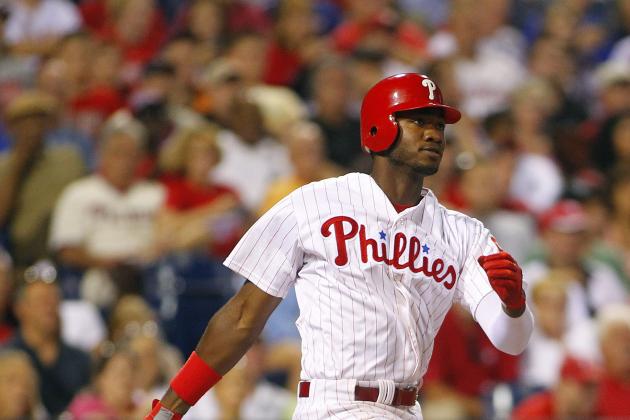 Rich Schultz/Getty Images

It may be too soon to determine whether he'll be playing left or right field next season, but if one thing is for certain, Domonic Brown is here to stay.
After trading Hunter Pence at the deadline, the Phillies called up Brown and threw him back into the fire hoping to forge an All-Star caliber outfielder.
Brown has the potential to make that happen.
He has shown a very patient approach at the plate and good contact skills. He's also shown a proficiency for driving the ball to the opposite field and an improved defense.
The one thing that has been lacking is the home run swing, but you can only assume that it will come with time.
Brown will be in one of the two corner outfield spots next season. For the sake of this slideshow, I have him in left.
Other Options: Darin Ruf, Cody Ross, Josh Hamilton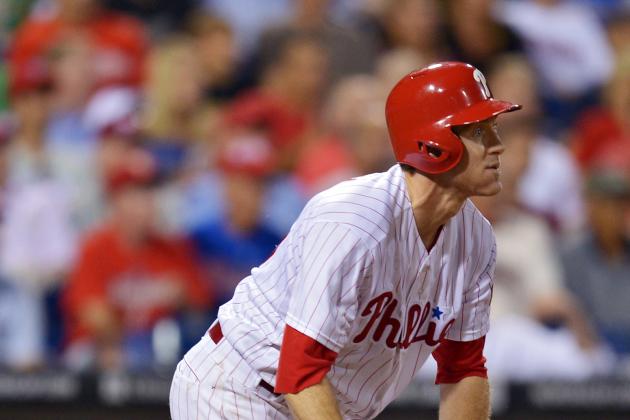 Drew Hallowell/Getty Images

I wasn't a fan of Chase Utley moving to third base when the idea was first lobbied because, in a distant part of mind, I remember the last time he tried to do it, and it wasn't pretty.
But Utley is a different player now. A quick look at his minor league career will show that he wasn't always a great defensive second baseman either, but he's made incredible strides in that regard, becoming one of the best in the game.
If you're asking me if I think Utley can move back to third base—then yes, I think it's possible. But don't take it from me. Take it from his teammate Placido Polanco, passed along by Mandy Housenick of The Morning Call.
The good news Polanco, who played third base for two years in college, provided about the position switch bodes well for Utley, who is arguably the most popular player to wear a Phillies uniform the last decade.

"Of course, it can be done, especially him," Polanco said. "He's such a good athlete. He works so hard."
If anyone knows about making the switch and making it stick, it's Polanco.
But after you get over the initial shock of Utley actually wanting to play third base, the more you think about it, and the more you think about it, it just continues to make mores sense.
The third base market is bland. Chase Headley is probably the best player "available" and he's going to cost an arm and a leg on the trade front. The best free agent available is Kevin Youkilis and he'll be 34 years old.
The best bet for the Phillies may be to see if Utley can stick at third base and use one of their exciting second base prospects next season.
Other Options: Headley, Youkilis, Polanco, Eric Chavez, Mark Reynolds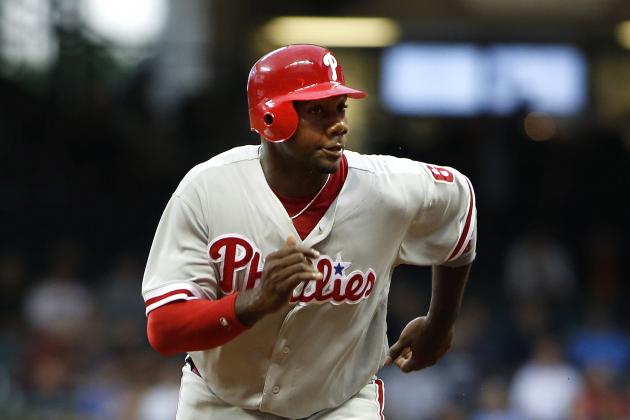 Mark Hirsch/Getty Images

2013 will be Ryan Howard's 10th MLB season, and you wouldn't think that there is much left for the first baseman to prove moving forward, but in a lot of ways, there is.
Howard suffered a torn Achilles tendon last October and has been on the rebound ever since. Though he made his return to the Phillies in July, he hasn't been 100 percent at all this season and probably won't be.
Not that it is an excuse, but Howard won't have that security blanket to fall back on in 2013. He's going to need to produce next season and attempt to justify that massive contract.
The Phillies need his presence in the middle of the order.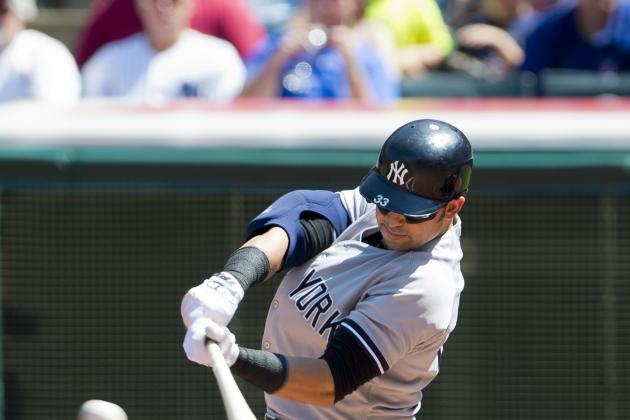 Jason Miller/Getty Images

Nick Swisher makes a lot of sense for the Phillies, but just how realistic it is that he could join them really depends on his contract demands, which are already rumored to be borderline ridiculous.
For what it's worth, I can't see the Phillies even thinking about giving Swisher a "Jayson Werth-type deal" because they wouldn't even give Jayson Werth that kind of contract.
But regardless of that, Swisher is a guy that would be a nice fit for the Phillies, both on the field and in the clubhouse.
One presence that the Phillies have really been lacking since Werth departed in free agency is a right-handed power presence in the middle of the order, and while Swisher is a switch-hitter who bats better left-handed, his presence behind Ryan Howard would make a world of difference.
He's a solid—but unspectacular—defender who could probably play left field as well.
Other Options: John Mayberry Jr., Nate Schierholtz, Laynce Nix, Cody Ross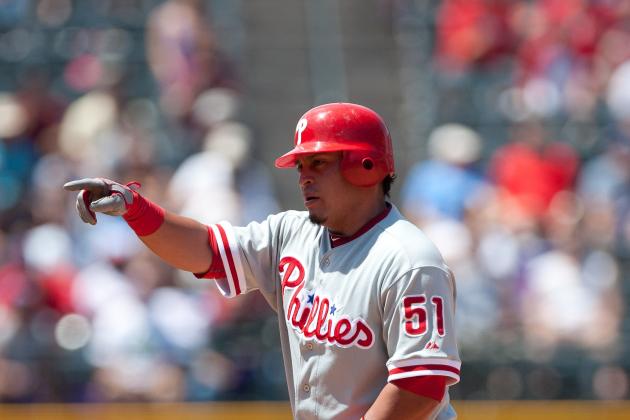 Justin Edmonds/Getty Images

Carlos Ruiz could make or break the Phillies' lineup next season.
That statement seems like it could have the potential to be a bit overly dramatic, but when you're unsure if the player who was the best hitter on your club can replicate his best offensive season, you're setting yourself up for a bit of drama.
For the Phillies, that guy was Ruiz in 2012.
Before he hit the disabled list with a foot issue, Ruiz was batting .335 / .399 / .559 with 14 home runs. The surge in power made him a legitimate middle-of-the-order threat.
Now, Ruiz has been a "high on-base" guy over the last couple of seasons, and it wouldn't be hard to imagine him hitting out of the two-hole in an ideal lineup.
However, while it may be silly to do so, the Phillies are counting on Ruiz to pick right up where he left off. There aren't many quality hitters available this winter, and they really can't afford to lose one of their own to regression.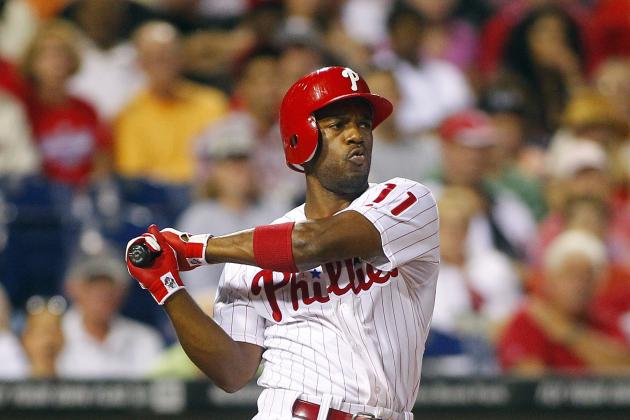 Rich Schultz/Getty Images

I have Jimmy Rollins hitting seventh in this batting order because he's not suited to be a leadoff hitter at this stage in his career. With that being said, however, you will probably see him do just that as long as Charlie Manuel is this club's manager.
But that's neither here nor there. Rollins is going to be this club's shortstop in 2013.
While there is a reasonable argument for trading Rollins to free up some space under the luxury tax (something that the Phillies may have to do for next season), it's not something that I see happening.
Rollins may not be an above-average offensive player any longer, but he is still an elite shortstop who has the ability to provide offensively, and that makes him incredibly valuable to any club, including the Phillies.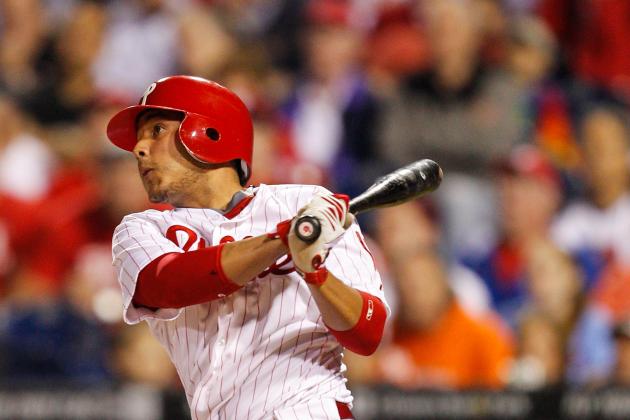 Brian Garfinkel/Getty Images

I'm giving the nod to Freddy Galvis here, but this is a position that could realistically be a battle ground in spring training next season.
There's no doubt that the Phillies have a lot of faith in Galvis, though. He stepped right up to the plate when the club needed him this season and learned a new position very quickly.
He may not have been much of a threat with the bat, but there is definitely room for improvement in his second season against big league pitching.
But if you're looking for an underdog to step up and take the job away from him, how about top second base prospect Cesar Hernandez? He hit .290 / .327 / .403 in the minors this season and, like Galvis, is an above-average defender.
Other Options: Kelly Johnson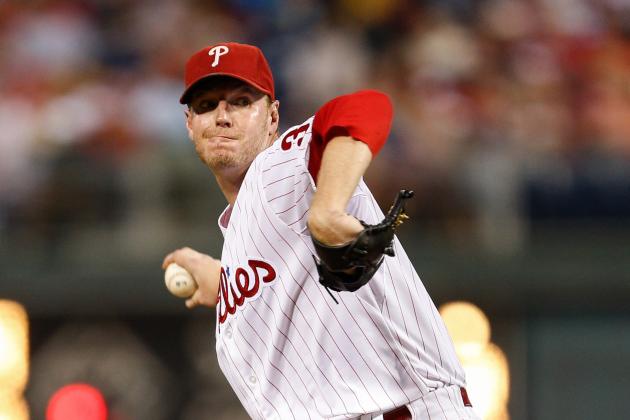 Brian Garfinkel/Getty Images

2012 has been an uncharacteristically down season for Roy Halladay, but there is no doubt that he is still the ace of this ball club.
He came into the season shrouded in the speculation that he was dealing with an injury and was eventually forced onto the disabled list with a bad strain in his right latissimus dorsi (back).
Halladay has seen a noticeable improvement since his return from the DL, but there have been more than a few instances where he hasn't looked quite like himself.
Realistically, the problem may have been that Halladay came into spring training already dealing with the injury and didn't have time to prepare properly. 2013 could be a big year for him.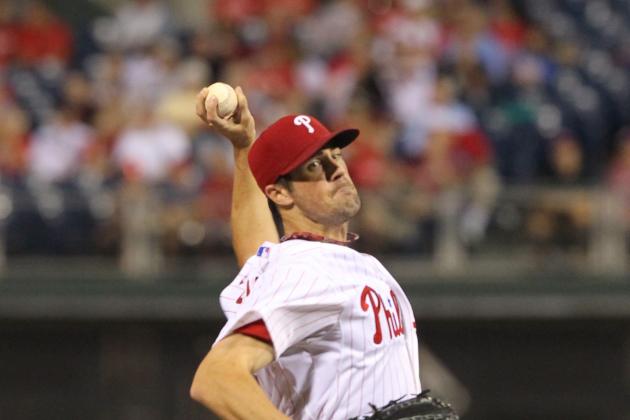 Hunter Martin/Getty Images

Anyone who wants a quick lesson about the Phillies' philosophy should take a quick look at the incredible amount of money they have tied up in starting pitching.
This is a team whose leaders fully believe in the mantra "pitching wins championships."
And while that mantra hasn't resulted in a championship just yet, the Phillies made a huge commitment to Cole Hamels in an attempt to bring a second World Series to Philadelphia during his tenure.
I'm nitpicking a bit by naming him the "No. 2 starter" because in the grand scheme of things, rotations rarely stay in the exact same order.
But I don't think it's unfair to say that the Phillies are gradually building Hamels up to be the "ace among aces."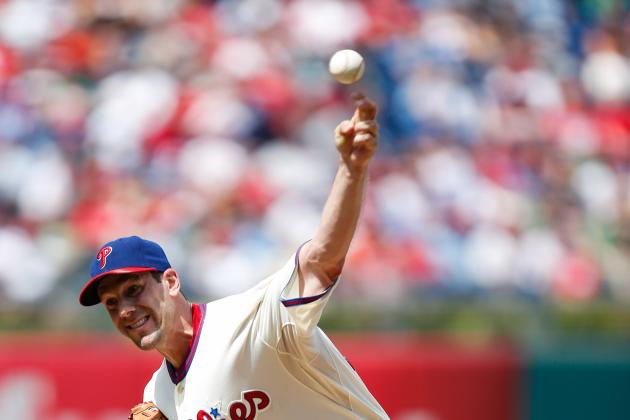 Brian Garfinkel/Getty Images

There will be a lot of talk about the Phillies possibly trading Cliff Lee this offseason, but I don't see it happening. Neither does Jayson Stark of ESPN:
And now a word that probably best describes both Joe Mauer and Cliff Lee: Staying.

As for Lee, there's no doubt the Phillies listened on him before the trading deadline and might listen on him again this winter. But they showed which way they were leaning when they had a chance to move all $95 million he had left on his contract when the Dodgers claimed him in August—and showed next to no interest.

"Considering their financial restrictions and their other issues, particularly the age of their team, you would have thought they'd have at least looked into it," said an official of one big-market team. "So to me, the fact that they didn't push it very far says they're probably not moving him."
If the Phillies were going to move Lee, they would have done so in August. They had an opportunity not only to dump his contract on the Dodgers, but to acquire a couple of prospects in the deal as well.
Lee will rejoin the Phillies in 2013 as part of that three-headed monster atop the Phillies' starting rotation.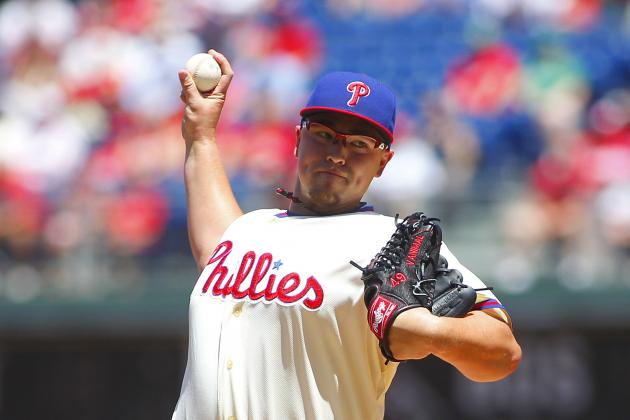 Rich Schultz/Getty Images

The Phillies recently made the decision to shut Vance Worley down for the season and have him undergo an early procedure to remove "loose bodies"—also known as "bone chips"—from his right, throwing elbow.
With capable replacements waiting in the wing over the final months of the season, it's hard to argue with that decision.
While neither he or any of the Phillies officials seem ready to admit it, Worley was really struggling with the bone chip in his last couple of starts. His velocity was good, but his pitch location was not, and that's a big part of Worley's game.
The hope now is that Worley will undergo the surgery, have a "normal" offseason and return ready to have sort of a "bounce-back" season next spring.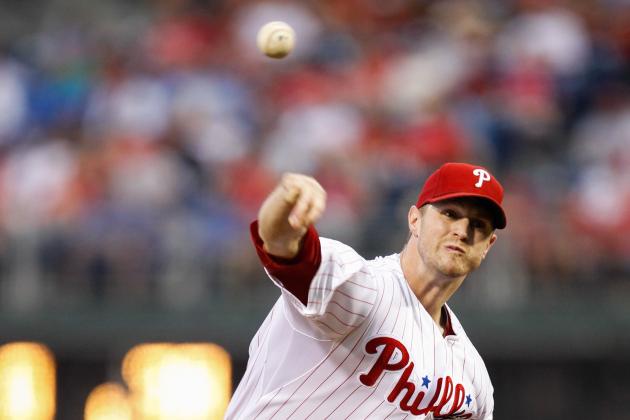 Brian Garfinkel/Getty Images

At this point in time, the fifth starter's job is Kyle Kendrick's to lose, and what has he done to lose it?
Kendrick played the good soldier all season long when the Phillies bounced him back and forth between the bullpen and the starting rotation and never really gave him time to settle into one role or the other.
After trading Joe Blanton to the Los Angeles Dodgers, Kendrick finally got his chance to make a role stick—and boy, has he done an excellent job.
Kendrick was 4-1 with a 2.95 ERA in the month of August and seems to have made a legitimate improvement on the mound.
There aren't many free agents that, for the price, would come in and be a vast improvement over Kendrick, and while guys like Tyler Cloyd and Jonathan Pettibone could be in the conversation, either of the two would really have to step up and take this job from Kendrick.
Other Options: Cloyd, Pettibone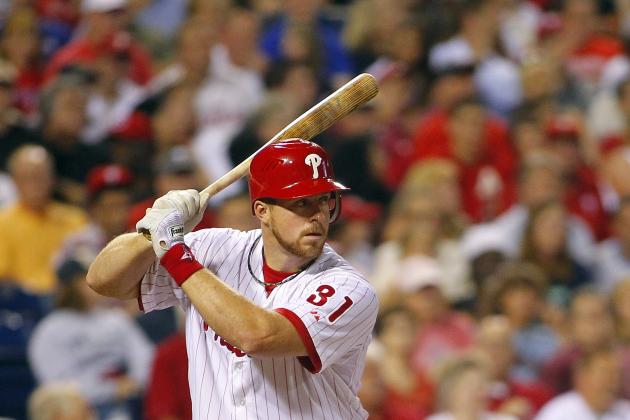 Rich Schultz/Getty Images

It's been the kind of year where a guy who is never given much of a fair shake in the MLB can step up and take a job for the Phillies, and no man has done more to pad his resume than catcher Erik Kratz.
After all, he had some big shoes to fill. Carlos Ruiz was the Phillies' offensive MVP before he hit the disabled list and Kratz was tasked with filling in for him.
He jumped right over Brian Schneider on the depth chart and has done everything within his power to prove that he and Ruiz can be one of baseball's most dynamic catching tandems in 2013.
Kratz, who has been solid in all areas of the game, would be a fine option for a backup backstop next season.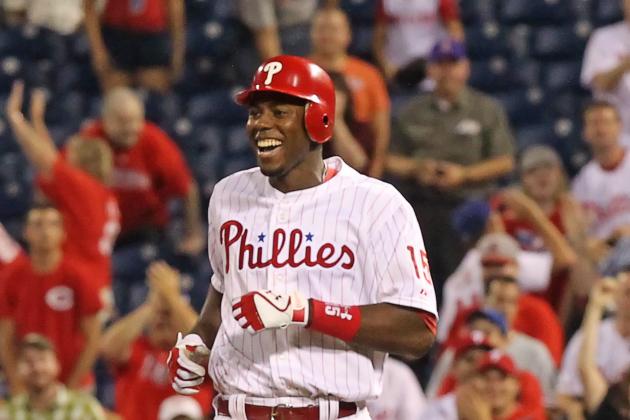 Hunter Martin/Getty Images

The general consensus is that Phillies fans have had enough of John Mayberry Jr., but anyone ready to spontaneously combust at the thought of Mayberry spending another season may want to skip ahead to the next slide.
I don't see Mayberry going anywhere, but that's not necessarily a bad thing.
Sure, the Phillies have given the outfielder a chance to take an everyday job on multiple occasions, and he has failed each time. The days of Mayberry being an everyday outfielder are over.
But if we're talking about a bench role, Mayberry is a good guy for the job. He's an average defender at all three outfield positions and first base and has hit left-handed pitching well this season (.287 / .298 / .537 with eight home runs).
He may not be capable of playing every day, but Mayberry as an inexpensive bench option isn't a terrible idea.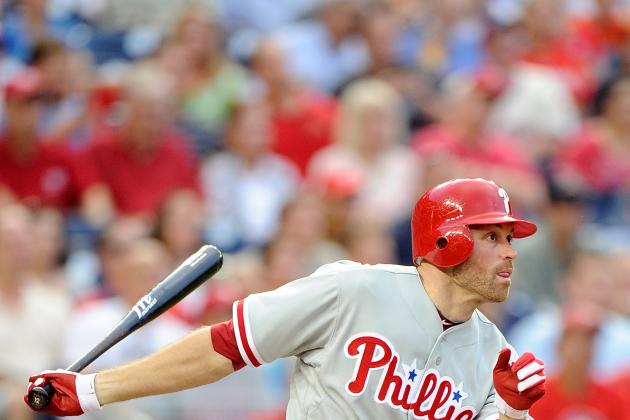 Greg Fiume/Getty Images

Heading into his second year of arbitration, there is a strong case to be made that the Phillies should at least consider non-tendering Nate Schierholtz this offseason.
I don't think they will.
Schierholtz, who was acquired from the San Francisco Giants as part of the deal that sent Hunter Pence west, is the kind of bench player that contending teams love to have—and he's only made himself more valuable since joining the Phillies.
A left-handed hitter, Schierholtz has hit right-handed pitching well this season (.270 / .349 / .461 with six home runs) and is learning to play center field on the fly.
The bench I'm predicting looks a little heavy on outfielders at first glance, but the versatility of some of the guys that I'm including could make a world of difference.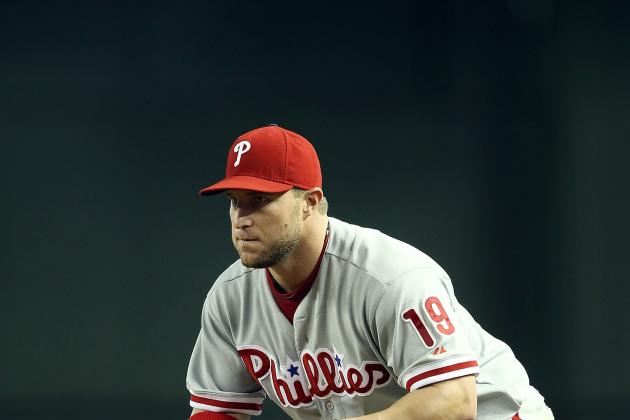 Christian Petersen/Getty Images

One of the reasons that I believe the Phillies may consider non-tendering Nate Schierholtz is because they already have Laynce Nix on the roster. He's a very similar player and already under team control next season.
For now, we'll assume that both of these guys are in the Phillies' plan for next season.
The Phillies hope to move into the 2013 campaign with Ryan Howard and Chase Utley closer to 100 percent than they've actually been in a long time. That would allow them to use Nix in the role they had envisioned for him when he signed last offseason.
Nix has a powerful, left-handed swing and could come off of the bench and provide quality at-bats against right-handed pitchers in the later innings.
He's not a spectacular defender, but he has logged some innings in center field this season and can play the corner outfield positions and first base rather well.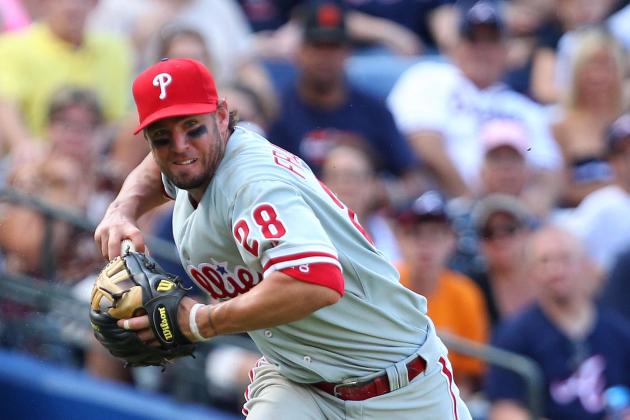 Mike Zarrilli/Getty Images

This is a spot on the roster that is tough to predict because of its fluidity and ability to change very quickly, but I think that Kevin Frandsen is doing his best to become this club's utility infielder next season.
While he's only played third base for the Phillies this season, Frandsen is a natural second baseman and has played shortstop during his MLB career.
With John Mayberry Jr. and Laynce Nix both on this predicted bench, they have first base covered.
Though there's been a considerable amount of luck (.385 BABIP) in Frandsen's hot bat this season, there's no reason to believe that he can't—at the very least—provide a quality at-bat off of the bench.
Other Options: Michael Martinez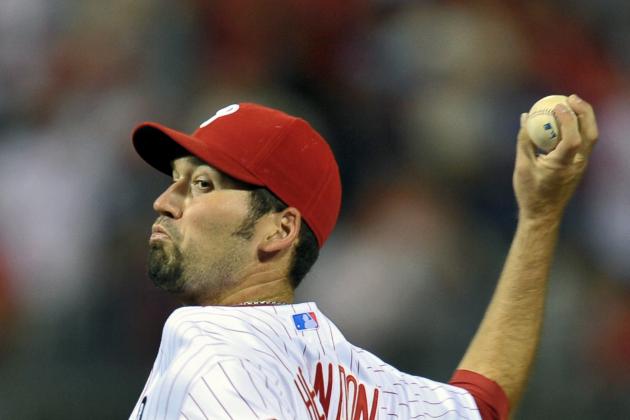 Drew Hallowell/Getty Images

David Herndon is kind of the forgotten man in the Phillies bullpen puzzle heading into next season after missing nearly the entire 2012 campaign following Tommy John surgery.
He isn't the most glamorous option, but Herndon was pitching well before he hit the disabled list and fits the Phillies' idea of a "long reliever" well—a guy who can throw multiple innings or function as a right-handed "middle reliever" in a pinch.
Five games is an incredibly small sample size, but Herndon was throwing well before suffering his injury this season. He had logged 7.2 innings and showed markedly better command and strikeout potential.
His xFIP—a good indicator of future performance—was just 2.18.
Other Options: Kyle Kendrick, Joe Savery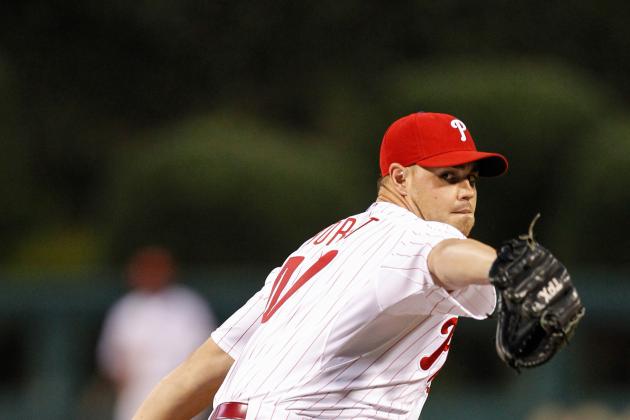 Brian Garfinkel/Getty Images

I had this whole slide written out about giving one of the final spots in the bullpen to a healthy Mike Stutes. But as I read over the slide show and thought about the future of this bullpen, I couldn't leave Jeremy Horst off.
Horst has been everything the Phillies could have hoped for and more this season after coming over in a trade with the Cincinnati Reds last offseason.
The left-handed reliever has been one of the bullpen's best arms in a year in which he didn't even begin the season on the Phillies' 25-man roster. He's become a favorite of Charlie Manuel and has been more consistent than fellow lefties like Antonio Bastardo and Jake Diekman.
That deserves some kind of recognition, right?
And while guys like Justin De Fratus and Phillippe Aumont probably aren't as safe as I'll make them out to be over the next couple of slides, I just can't see the Phillies handing a job off to Stutes when other right-handed arms have jumped ahead of him.
I won't say "the final spot" because this list is my own opinion and that's a subjective term, but there is going to be a battle in the Phillies bullpen next spring.
Guys like Stutes could be on the bubble.
Other Options: Stutes, Michael Schwimer, Raul Valdes, Joe Savery, Diekman, B.J. Rosenberg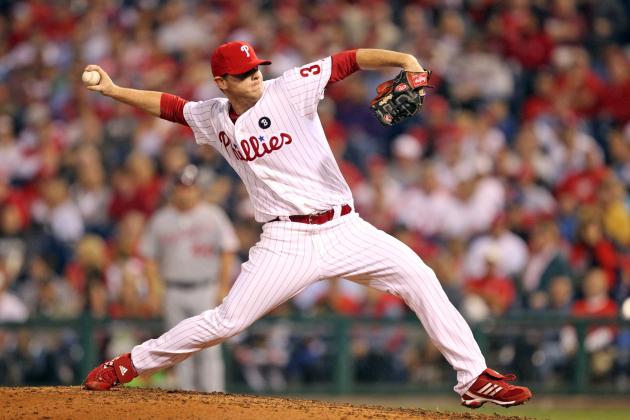 Hunter Martin/Getty Images

What's left for Justin De Fratus at Triple-A?
De Fratus was a September call-up for the second consecutive season, but that title is just a formality after he suffered an injury in spring training and missed most of the season, rehabbing with the Lehigh Valley IronPigs for quite a while.
Had he not been injured last February, the speculation is that De Fratus would have broke camp with the Phillies—and boy, could they have used him.
De Fratus, who was named the seventh-best prospect in the Phillies system by Baseball America coming into the season, has back end of the bullpen potential.
Baseball America called his slider the best in the Phillies system, and he pairs it with a good fastball that he can locate consistently.
At worst, his ceiling is a right-handed set-up man.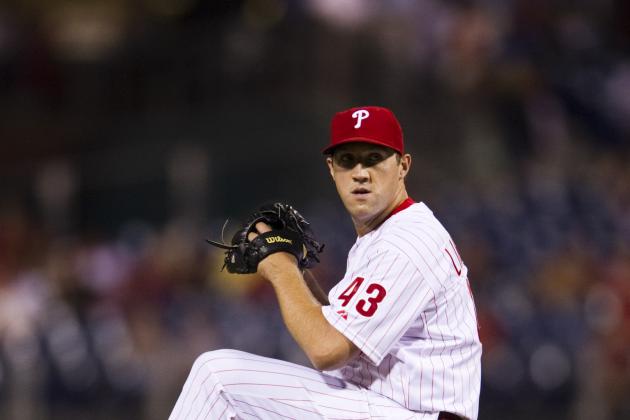 Howard Smith-US PRESSWIRE

Josh Lindblom's case for 2013 is interesting.
On one hand, you would assume that the Phillies really want him to be a part of their future after they made him the centerpiece of the deal that sent Shane Victorino to the Los Angeles Dodgers.
They made no bones about wanting a right-handed set-up man and thought that they found their guy in Lindblom.
Of course, he hasn't pitched up to their expectations just yet. While his outings have been much better as of late, Lindlbom has allowed eight earned runs in just 13.1 innings.
On the other hand, you have to assume that there are guys in the picture for next season that could blow right by him. Phillippe Aumont and Justin De Fratus both have higher ceilings and could be the club's set-up man next season.
The Phillies could also pursue any number of veteran right-handed set-up men on the free agent market.
I think that Lindblom will be on the club, but I don't that that's a guarantee.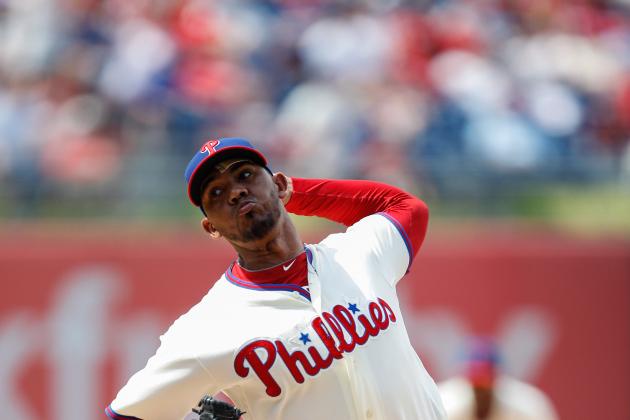 Brian Garfinkel/Getty Images

Antonio Bastardo has probably been the Phillies' most frustrating reliever this season—and that's saying something, given the kind of season that this bullpen has had.
The Phillies expected Bastardo to come into the season and just be lights out. He was dominant for almost all of the 2011 season, and they thought that he could classify his month of September as a fluke and move on in 2012.
Whether or not his September struggles in 2011 had anything to do with his struggles early in 2012, I don't know. But the point is that Bastardo struggled.
Things have gotten better as of late for Bastardo, but that's a "good news, bad news" type of deal.
The good news is obvious. The Phillies expected Bastardo to use his good fastball / slider repertoire to become a dominant left-handed set-up man, and he's showing that this is still possible.
The bad news is that he's become a very streaky reliever. That's not something you really want out of a guy who is supposed to come in and shut things down in the eighth inning.
Bastardo will make the club in 2013, but don't be surprised if the club pursues a number of relief options to function as a set-up man.
Other Options: Ryan Madson, Brett Myers, Brandon League, Mike Adams, Kyle Farnsworth, Mark Lowe, Jeremy Affeldt, Mike Gonzalez, JP Howell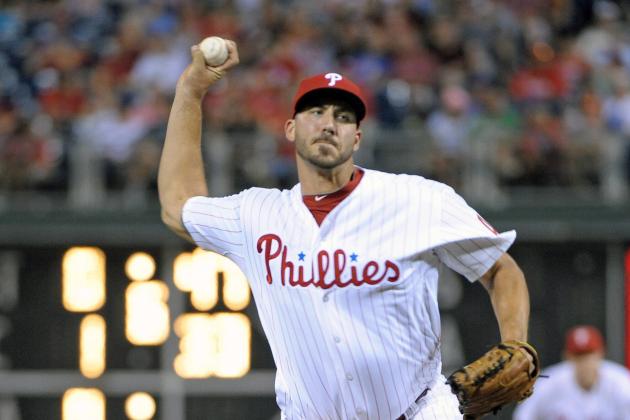 Eric Hartline-US PRESSWIRE

Calling Phillippe Aumont a potential set-up man for the 2013 season may be a bit premature, but it's hard not to love his potential to impact the Phillies bullpen next season.
Control issues have long been the bane of Aumont's professional career, but the trip to the MLB seems to have really lit a fire under the big right-handed reliever.
He's walked two and struck out three in three innings with the Phillies this season, and I struggled to envision a situation where the Phillies can explain sending him back to Triple-A. He has huge upside.
Of course, a number of guys on this list could be "set-up men," and I really don't want to pigeonhole any reliever into a single role.
Guys like Justin De Fratus and Josh Lindblom could both have dominant springs and leap over Aumont for this role, or the Phillies could pursue a free agent a la the Chad Qualls experiment.
But I expect Aumont to be a big part of the Phillies bullpen next season.
Any of the "other options" on the Antonio Bastardo slide could be applied here as well.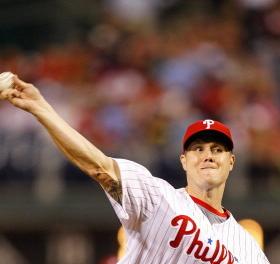 Brian Garfinkel/Getty Images

Jonathan Papelbon isn't going anywhere.
Even if the Phillies wanted to move Papelbon's contract, it would take a spending spree of epic proportions (aka one step above the Los Angeles Dodgers this season) for a team to be able to afford to take on a reliever earning the same kind of money as the Phillies closer.
That's not necessarily a bad thing.
Yes, the Phillies really backed themselves into a corner by committing so much money to a reliever, but this is a team that witnessed firsthand what a train wreck in the ninth inning could do to a club.
Sans a couple of poor outings, Papelbon has been very good for the Phillies this season and they'll need a dominant, veteran presence in a relatively inexperienced bullpen if they want to contend in 2013.