Roger Federer and the Greatest Ageless Wonders in Sports History
Cameron Spencer/Getty Images
Roger Federer is defying logic and all the rules of aging with the year he has had at the ripe old age of 31.
At an age where most tennis players see a sharp decline in skills, Federer is still playing at an elite level. As one of the greatest of all time, it's no surprise that Federer has continued his dominance into his 30s.
Throughout sports history, there have always been great players that haven't allowed father time to drag them down, enjoying great success far beyond the years of their peers.
Here's a look at some of the best ageless wonders throughout the world of sports.
Karl Malone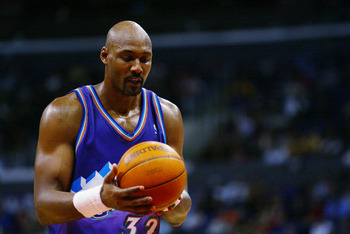 Lisa Blumenfeld/Getty Images
The "Mail Man" may not have ever won an NBA Championship, but he was an elite player deep into his career.
Malone holds the distinction of being the oldest player to win an MVP trophy, capturing the honor for the second time at the age of 36. Malone's well-known work ethic and physical playing style made him the perfect player to enjoy a long career, and he never really had a "downside" to his career.
Malone averaged over 20 points per game in 17 of his 19 seasons, only missing out on that benchmark in his rookie and final season as he accepted a lesser role with the Lakers in 2004 in an attempt to capture that elusive NBA title.
Few players can play at an elite level in the twilight of their career—Malone arguably had his best seasons while most of his peers were contemplating retirement.
George Blanda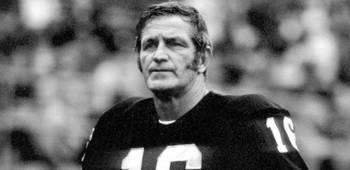 msn.foxsports.com
George Blanda is the consummate ageless wonder.
Retiring at the age of 48, Blanda played an astounding 26 seasons in the NFL as both a quarterback and kicker.
Many kickers have played well into their 40s, but the fact that Blanda played quarterback for the majority of his career until he moved to kicker full-time at the age of 39 shows that he had remarkable resiliency and durability. Blanda was drafted in 1949 by the Chicago Bears and ultimately retired as an Oakland Raider in 1975.
His 2,002 points still ranks him as the 6th highest scorer in NFL history.
Chris Chelios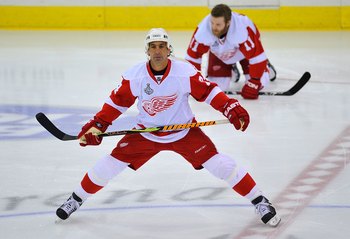 Jamie Sabau/Getty Images
Few players can match Chris Chelios in terms of longevity.
The star defenseman played an incredible 26 seasons and 1,651 games, which ties him with Gordie Howe for most seasons played in the NHL.
An NCAA champion in 1982, Chelios was truly a winner on the ice. Out of his 26 seasons, his teams only missed out on the playoffs twice in his entire career, and he was a three-time Stanley Cup winner.
When you think of grizzled veterans in hockey, Chelios always comes into the conversation, and that makes him one of the greatest ageless wonders of all-time.
George Foreman
Al Bello/Getty Images
Before he was a lean, mean, grilling machine George Foreman was a world champion boxer, at the age of 45.
Foreman initially retired from boxing in 1975 after a loss to Muhammad Ali at the age of 26, but he wasn't even close to being done with the sport.
A comeback in 1976 saw him go 6-1 and included a victory over Joe Frazier and another heavyweight championship. Foreman then retired again in 1977.
His second retirement would last a little longer as Foreman didn't fight for 10 years before he made a return to the sport in 1987.
It may have seen absurd for a 38-year-old to make a comeback after 10 years out of the fight game, but Foreman showed that age is just a number when he fought for another 10 years and pushed his final record to 76-5. Foreman hung up the gloves for good (we think) in 1997.
Roger Federer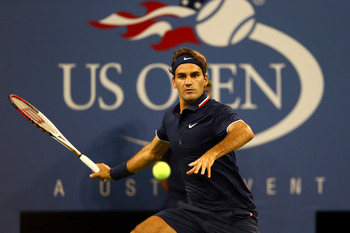 Al Bello/Getty Images
For tennis players, success normally starts to dwindle in their late 20s, and careers are usually over by the time players hit 30.
Roger Federer is proving to be a unique exception at this point. At the age of 31, he's won a major this year and is ranked No. 1 in the world right now.
With a record of 56-7 this season, Federer is having no issues dominating the field and consistently defeating players much younger than he.
As long as he remains healthy, there's no reason he won't be able to continue to fight for the world's No. 1 distinction for a few more years and continue to establish himself as one of the greatest tennis players of all time.
Keep Reading