Odds of All 25 Philadelphia Phillies Mailing It In for the Season's Final Month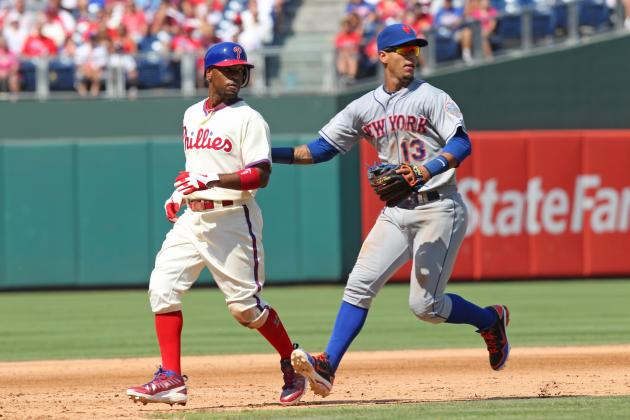 Hunter Martin/Getty Images

Fans like to think that professional athletes never even think about "mailing it in" early, but the reality is that it happens all the time.
Sometimes we forget that professional athletes are human at their core. There's a human element involved in any competition, even at a professional level, and the Philadelphia Phillies are involved in a unique situation.
They were supposed to win this season.
Of course, they haven't done much winning at all. The Phillies have been plagued with injuries and inconsistency and haven't gotten on much of a roll. They're all but mathematically eliminated from the postseason, and the question has changed.
What's next?
The Phillies haven't played a meaningless September in a long time. This is a roster full of veteran players accustomed to winning ball games. What are they going to do when there is nothing on the line?
It would be very uncharacteristic for some players on this team to essentially "cave in," but others have shown a willingness to do so in the past. Some have their hands tied. They're going to have to mail it in early to rest or let other guys play.
We'll rate the roster on a three-level scale for this slide show: low, moderate and high.
I think those ratings are pretty self explanatory, with "low" being a player most likely to give it everything he has in the final month and "high" being a player who has already conceded.
Begin Slideshow

»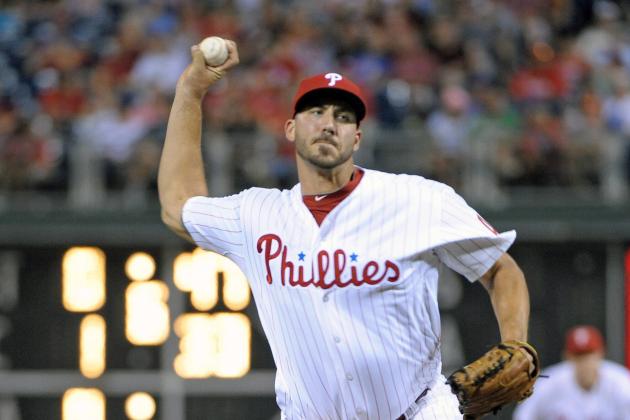 Eric Hartline-US PRESSWIRE

Rating: Low
Of any reliever currently pitching out of the Phillies' bullpen, no man has more to gain than right-handed flamethrower Phillippe Aumont.
A top prospect heading into the season, Aumont finally got the call a couple of weeks back and hasn't pitched much since.
But he's trending upwards.
The Phillies have used Aumont in increasingly more pressurized situations, and that's no accident. He has some of the greatest upside in this bullpen and could realistically emerge as the Phillies' set-up man for Jonathan Papelbon in 2013.
He can't afford to shut it down early.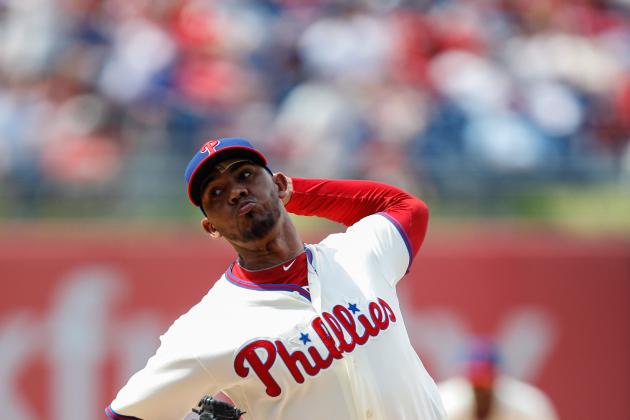 Brian Garfinkel/Getty Images

Rating: Low
Antonio Bastardo is really one of this bullpen's "veteran" relievers moving forward. Of course, the lefty is just 26 years old, which should give you some idea of just how inexperienced this bullpen is.
When the 2012 season began, Bastardo was a guy that the Phillies were counting on to stabilize the bullpen. He was supposed to be Jonathan Papelbon's set-up man and a dominant force in the eighth inning.
That never happened.
Bastardo struggled through most of the first half of the season before getting on the right track recently. They'll need him to reverse his September fortunes this year and move full-steam ahead towards 2013.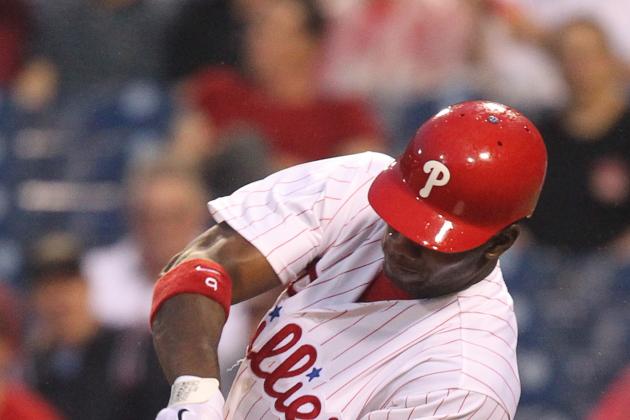 Hunter Martin/Getty Images

Rating: Low
Is there a position player on this roster with more to prove than Domonic Brown?
The Phillies have already given him two chances to become an everyday player before this season. He wasn't ready in 2010 and that was okay. After all, he was just 22 years old.
However, the Phillies had also hoped that getting his feet wet in '10 would give him some inspiration heading into 2011, but Brown fractured the hamate bone in his hand in spring training and really never got on track offensively.
Now here we are in 2012.
Even after an underwhelming season in the minor leagues, the Phillies thought it was time for the Brown era to begin in the outfield—for good.
They dealt Hunter Pence to the San Francisco Giants and handed the reins over to Brown. He's done some impressive things since his recall. Brown's plate discipline has been second to none, and he's shown a proficiency for hitting the ball the opposite way.
Those are traits that he'll need moving forward. However, he also needs to show that he can handle the grind of playing daily by staying healthy—something he hasn't been able to do this season.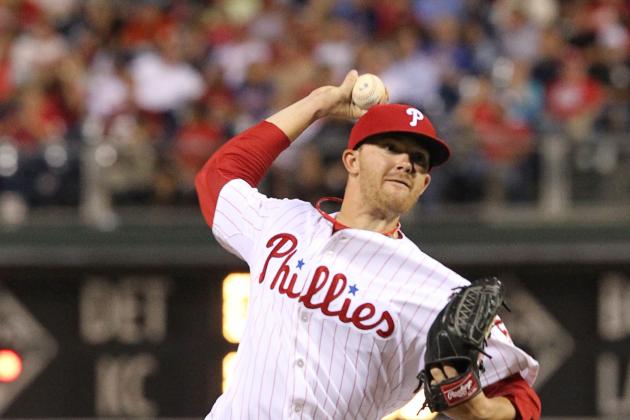 Hunter Martin/Getty Images

Rating: Low
After he posted a record of 15-1 with an ERA of 2.26 at two different minor-league levels this season, Phillies fans all but started a petition to get Tyler Cloyd to the MLB. He finally made his first start of the season against the New York Mets and wasn't bad.
For a right-handed starter whose fastball doesn't touch 90 mph, you shouldn't hope for much more than a quality start, and that's exactly what Cloyd delivered.
With Vance Worley shut down for the remainder of the 2012 season after having bone chips removed from his right elbow, Cloyd will have a couple of opportunities in the month of September to show what he can do at the Major League level.
At that point, the Phillies will have to decided whether he's minor-league fodder or Major League material.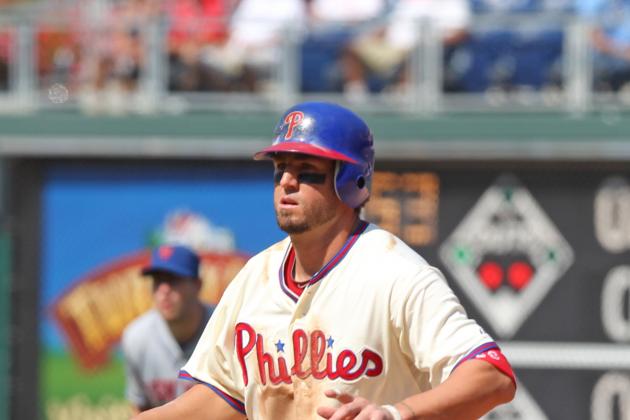 Hunter Martin/Getty Images

Rating: Low
Kevin Frandsen doesn't seem to be the kind of guy to "mail in" anything. Then again, why should he?
The third baseman spent most of the 2012 season playing in Triple-A where all he did was sit at the top of the leaderboard in hits for most of the year and wait for the Phillies to call him up.
When he finally received that opportunity, he didn't disappoint.
Frandsen has been on fire ever since returning to the MLB this season, unseating incumbent third baseman Placido Polanco as the starter and making a case for a role on the club in some form for next season.
He won't be mailing anything in any time soon. Frandsen still has work to do.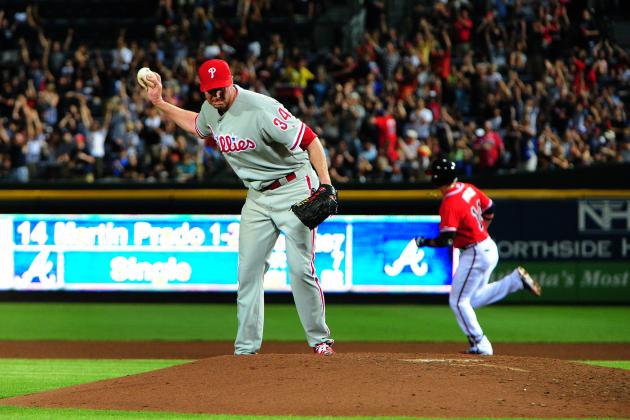 Scott Cunningham/Getty Images

Rating: Moderate
Roy Halladay's latest start against the Atlanta Braves raised a few eyebrows.
The Phillies' ace has been getting shelled at Turner Field this season, but that wasn't the issue. The real problem lies in his continued lack of fastball velocity and intriguing pitch selection.
Most fans were quick to note that it appeared as though the Atlanta heat was getting to Halladay on the mound, but we would later learn from multiple sources, including MLB.com's Todd Zolecki, that Halladay got sick during his start.
Halladay got sick last night, explaining his fatigue. Told Dubee in the third inning he had no legs under him.

— Todd Zolecki (@ToddZolecki) September 1, 2012
In some ways, that explains a lot. In others, it doesn't explain anything.
Now the Phillies are going to have to make an interesting decision in regards to Halladay. If they want to make an improbable run at a Wild Card spot, they're going to need him.
They could also take it easy with their ace with an eye on 2013. Both seem as though they are realistic options at this point.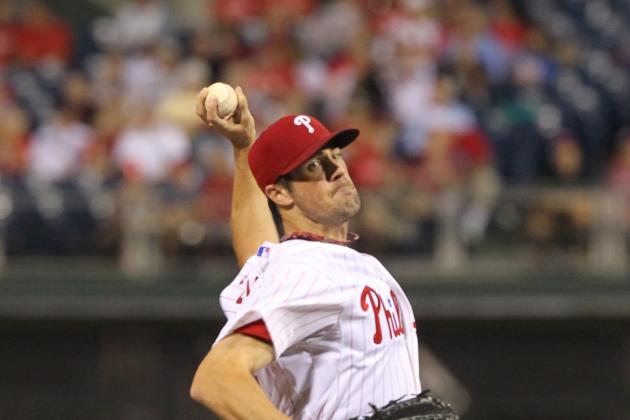 Hunter Martin/Getty Images

Rating: Low
Cole Hamels has things on cruise control right now.
Completely healthy this season and having recently signed a mega-deal to keep him in Philadelphia for a long time, the Phillies' left-handed starter has to be feeling confident heading into the season's final month.
He missed his last start with a "gastrointestinal illness," but to be completely honest, I'm not sure that's a bad thing for the Phillies—or unintentional.
It gave them an opportunity to line up Roy Halladay, Cliff Lee and Hamels to face the Altanta Braves, who are currently eight games ahead of the Phillies in the Wild Card race.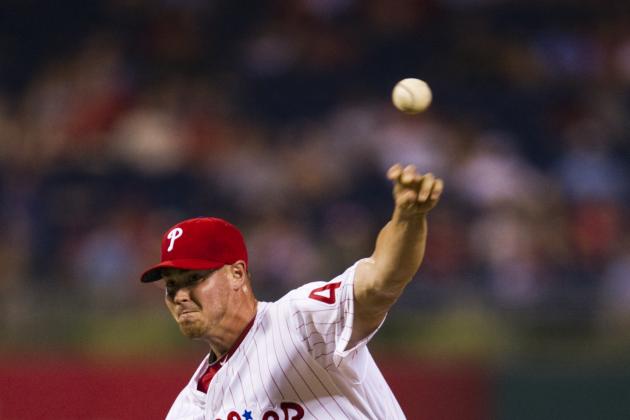 Howard Smith-US PRESSWIRE

Rating: Low
Jeremy Horst has been the bullpen's most pleasant surprise this season.
Acquired in the trade that sent Wilson Valdez to the Cincinnati Reds last offseason, Horst was an afterthought heading into the regular season.
After spending a couple of months with the Phillies' Triple-A affiliate, Horst was recalled to shake up the bullpen a bit and has been pitching incredibly well ever since.
But even in the midst of an impressive season, Horst can't afford to "mail it in." He has to prove that he's capable of helping this bullpen in 2013 as well.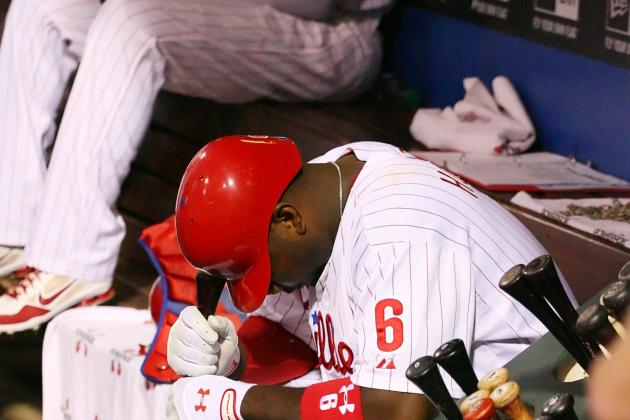 Hunter Martin/Getty Images

Rating: High
If any one player has an excuse to "mail it in" over the final month of the season, it's Ryan Howard.
The Phillies' first baseman is still recovering from a torn Achilles tendon he suffered last October, and I think he makes that clear every time he is forced into running.
Howard is still moving with a noticeable "gimp" in his step, but that's not entirely unexpected. The recovery time for this kind of injury allows up to a full year.
If the Phillies are out of the race any time soon, expect them to ease Howard through the final month of the season with an eye on 2013.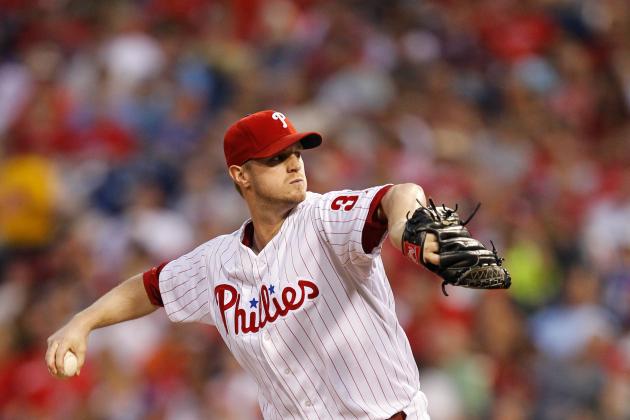 Brian Garfinkel/Getty Images

Rating: Low
The Phillies received some outstanding work from a few members of their starting rotation in the month of August, but none more impressive than that turned in by starter-turned-reliever-turned-starter Kyle Kendrick.
Life as a member of this organization hasn't been kind to Kendrick this season, but now that he's settling in to a more permanent role, you can see a very noticeable improvement.
Over the final month of the season, however, Kendrick can't take anything for granted. The Phillies are going to need a fifth starter next season, and he needs to prove that he can be the guy.
He has competition for that role. Tyler Cloyd is going to get an opportunity to show what he can do and top prospect Jonathan Pettibone isn't far behind them.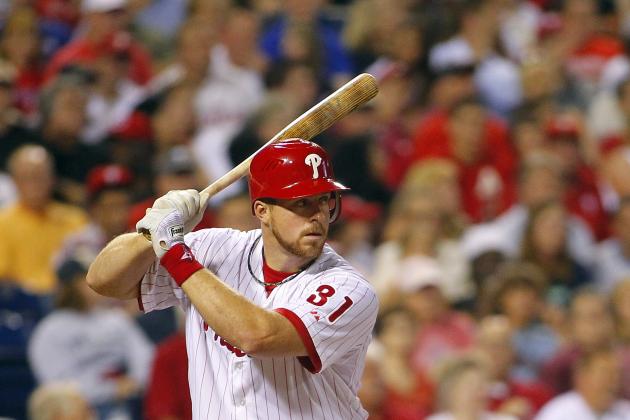 Rich Schultz/Getty Images

Rating: Low
While there are no guarantees at this point and no way to prove that they can maintain their offensive output, is there a catching duo with more offensive potential heading into 2013 than Erik Kratz and Carlos Ruiz?
Kratz, who has been a career minor-league catcher outside of a few brief stints in the MLB in the past, stormed onto the scene with the Phillies this season and has been nothing but a blessing for this club.
When Ruiz, who had undoubtedly been the club's offensive MVP, hit the disabled list, Kratz stepped in and picked up right where "Chooch" left off.
He'll probably be the Phillies' backup catcher next season, but at this point, you have to wonder if they'll experiment with him at different positions just to get his bat in the lineup.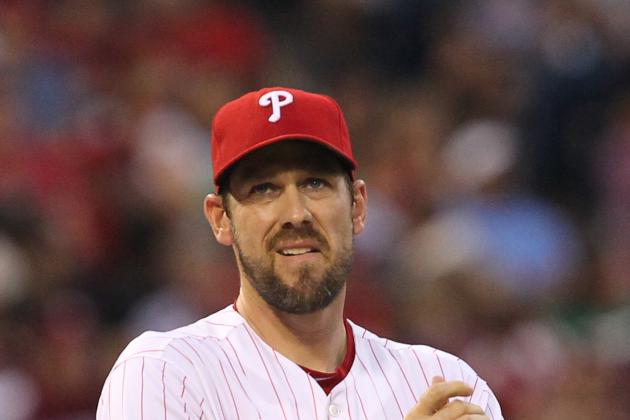 Hunter Martin/Getty Images

Rating: Low
I'll spare you my lecture on how Cliff Lee has been one of the National League's best starting pitchers this season despite his win/loss record and just tell you that he won't be "mailing it in" down the stretch run.
Given the season that he's had—marred with trade rumors and inconsistency—it's important that Lee finishes the year strong.
Lee, who's pitched less than seven innings in just one of his last seven starts, needs to find some kind of momentum moving forward and end the season on a high note.
His last two outings are a good place to start. He allowed three earned runs over 15.2 innings to two of the best teams in baseball—the Cincinnati Reds and Washington Nationals.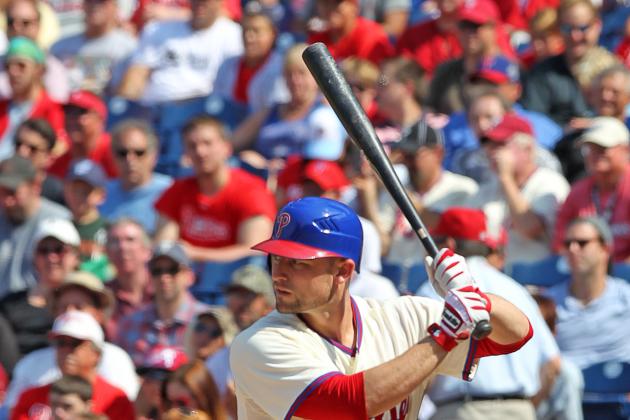 Hunter Martin/Getty Images

Rating: Low
Truth be told, I'm not even sure that Steven Lerud will stick with the Phillies over the final month of the season.
If the club needs a 40-man roster spot, he's going to be the first guy cut, with Brian Schneider and Sebastian Valle both on the 40-man and options at some point in the month of September.
But in the time that he does have in the MLB, you can expect the career minor-league catcher to give it everything he has to prove that he has value to the organization moving forward.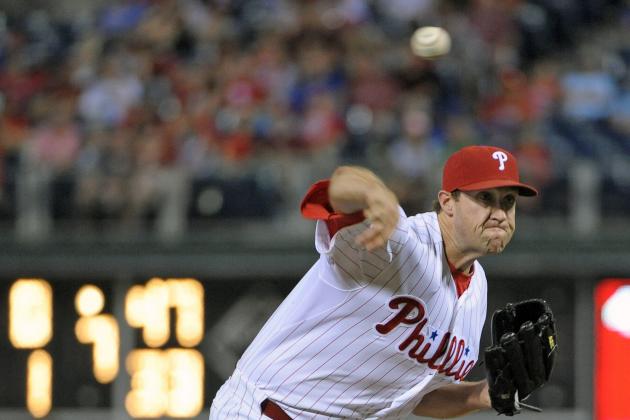 Eric Hartline-US PRESSWIRE

Rating: Low
Josh Lindblom has the potential to be the Phillies' set-up man moving forward. He just hasn't shown it yet.
A big right-handed thrower, Lindblom has the good fastball and slider combination that helps relievers succeed at this level. The adjustments that he needs to make are obvious.
With the Los Angeles Dodgers, he was more of a fly-ball pitcher. That's not going to fly (you'll have to excuse the pun) in Philadelphia. He also needs to throw more strikes and dramatically cut back his walk rate.
Over his last 4.2 innings, Lindblom has allowed just a single earned run, but he's also walked three. That's a good start. Now he needs to build off of that momentum in the month of September.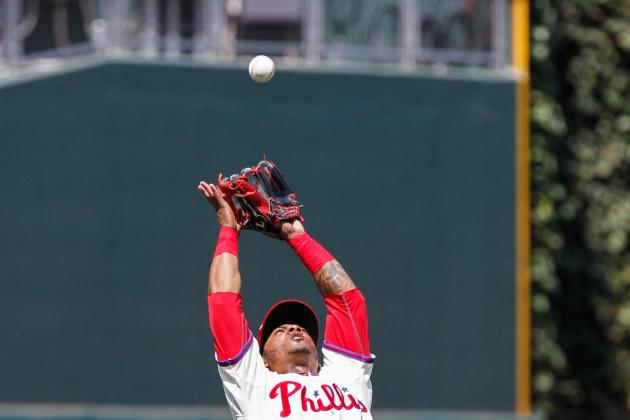 Brian Garfinkel/Getty Images

Rating: Moderate
Michael Martinez has been bad for the Phillies this season, and I'm being kind with that evaluation.
The utility man isn't going to "mail it in" so much as the Phillies are going to force him to "mail it in" as they bring in a few September call-ups and dramatically reduce his playing time.
You already know what you're going to get out of "Mini-Mart"—a player who couldn't hit water if he fell out of a boat and is a warm body at several defensive positions, but isn't necessarily good at any of them.
He probably doesn't have a roster spot for 2013.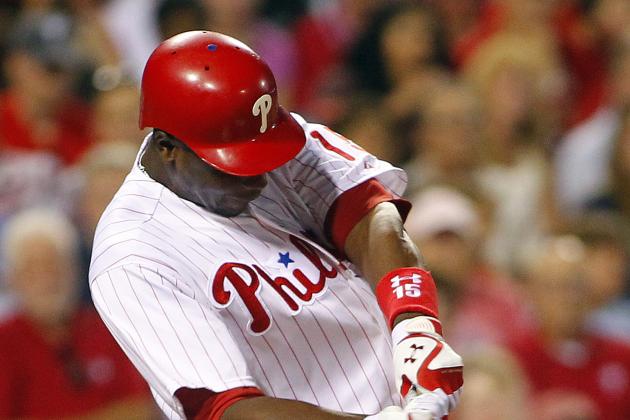 Rich Schultz/Getty Images

Rating: Low - Moderate
I'm not sure how to properly rate John Mayberry Jr. here because a lot of how much he plays could be dependent upon whom the Phillies call up at some point during the season's final month.
As the roster is currently constructed, the only other outfielder realistically capable of playing center field is Michael Martinez. We've seen Laynce Nix and Nate Schierholtz play out there this season, and Domonic Brown has done it in Triple-A, but Mayberry is clearly the favorite defensively.
From that perspective, he should get enough playing time to avoid "mailing it in."
But given the numbers that he's putting up in Double-A and the fact that he is on the 40-man roster already, you have to imagine that Tyson Gillies is at least on the Phillies' radar.
Considering the fact that they don't have a legitimate outfielder or leadoff man moving forward, they may want to give Gillies an extended look out there.
That would move Mayberry's rating to a "moderate" level, in my opinion.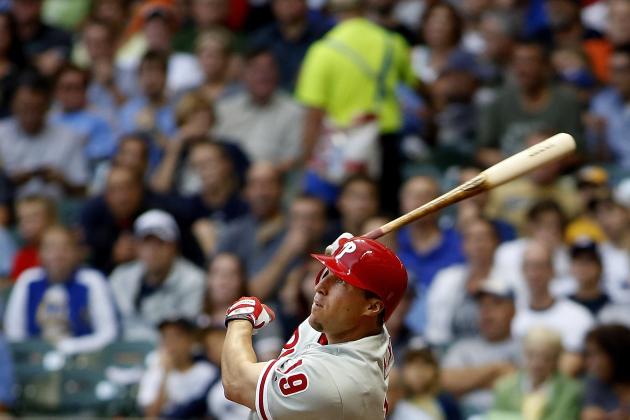 Mark Hirsch/Getty Images

Rating: Moderate
Laynce Nix hasn't played well since returning from injury about a month ago, and the Phillies' 40-man roster is loaded with outfielders.
That doesn't bode well for his playing time this September.
Nix has increased his value recently by playing some center field and not looking completely lost out there, but there's no doubt he is quickly sliding down the depth chart.
If you assume that Domonic Brown, John Mayberry Jr. and Nate Schierholtz get a bulk of the playing time, that doesn't leave many reps for guys like Nix and Juan Pierre.
Of course, that also doesn't mention the fact that the Phillies could conceivably give a couple of prospects—like Tyson Gillies and Darin Ruf—a look this September.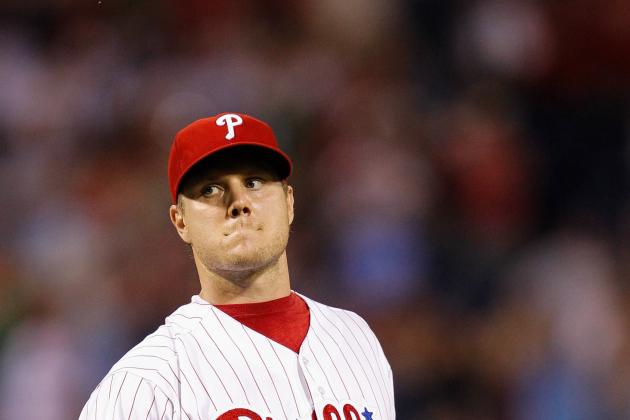 Brian Garfinkel/Getty Images

Rating: Low
The Phillies should probably make the effort to limit Jonathan Papelbon's innings in the season's final month if they're not legitimately in the postseason race, but I just don't think Charlie Manuel is going to do it.
He's old school.
Manuel is going to use Papelbon in every save situation from now until the end of the season because he's being paid as the "closer."
I'm sure you won't hear Papelbon complain, but if the Phillies are out of the race, I think the fanbase would rather see the team err on the side of caution with the most expensive reliever of all time.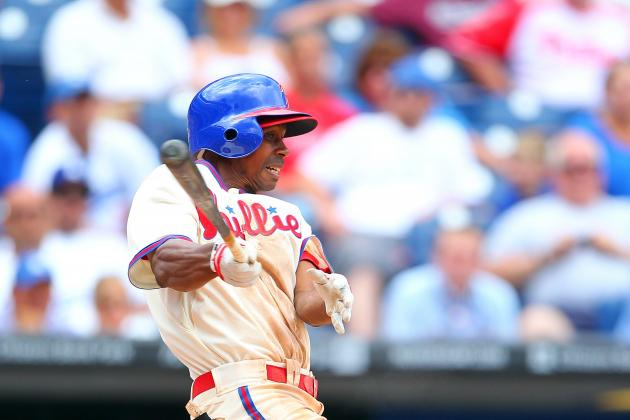 Rich Schultz/Getty Images

Rating: Moderate
Juan Pierre is kind of in the same boat as Laynce Nix.
These guys are both left-handed hitters and veteran players. They'd be battling each other for playing time if they were in the thick of the Wild Card race, but as rosters expand they'll find themselves lower on the depth chart than others.
Assuming that the Phillies will officially fall out of the race, the club is going to want to have a look at some of its options moving forward. That means more playing time for guys like Domonic Brown and Nate Schierholtz and less playing time for veterans.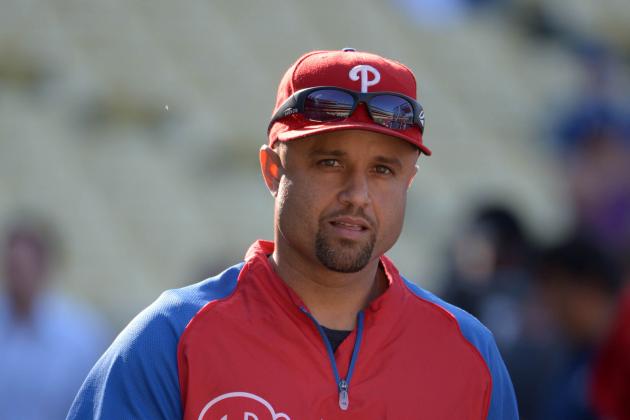 Kirby Lee-US PRESSWIRE

Rating: High
Placido Polanco is at the end of the road.
It's something that no baseball player will ever admit, but quickly becomes harsh reality for most.
In just a few quick seasons, Polanco has transformed from one of the most reliable contact hitters and best defenders in the game to a guy that can't stay on the field long enough to play defense and struggles to have good at-bats.
With Kevin Frandsen mashing the cover off of the ball, it wouldn't come as much of a surprise to see him take most of the reps at third base over the final month and see the team experiment with Chase Utley at the hot corner ahead of Polanco.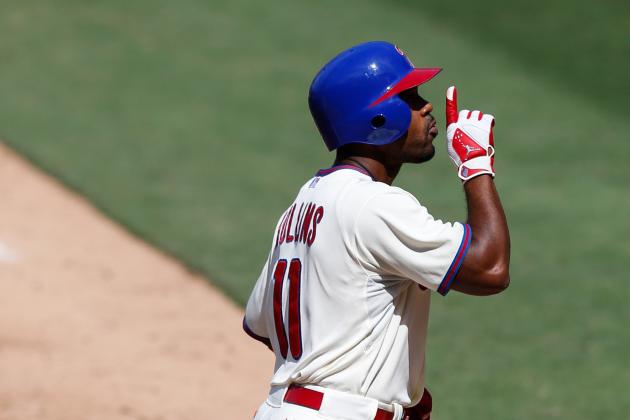 Brian Garfinkel/Getty Images

Rating: Moderate
There is nothing physically wrong with Jimmy Rollins, but I'm really beginning to question his mindset.
Now, as a guy who has never played professional sports at any level, I'm not going to sit here and criticize him for not running out a pop-up. It just wouldn't be fair for me to do that.
What I will say is that Rollins is supposed to be a leader for this team that could have some inexperienced players on its roster in the month of September. He's supposed to set a good example.
Showing a lack of hustle and refusing to talk to the media about it afterwards is not the kind of character trait that this Phillies club has prided itself on over the last couple of seasons.
Fans want to think that a guy like Rollins would hustle on every plate, but at this point, he's a repeat offender. It is getting increasingly more difficult to give him the benefit of the doubt.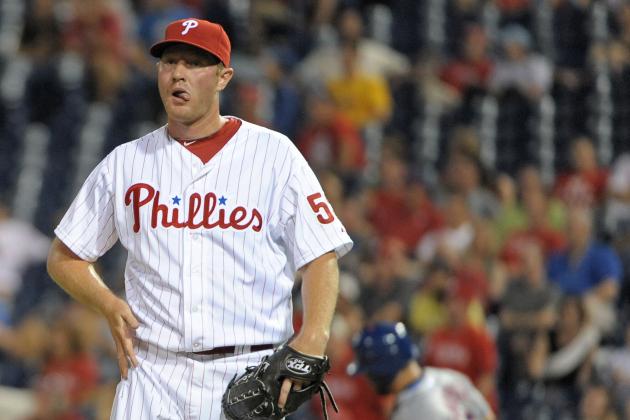 Eric Hartline-US PRESSWIRE

Rating: Moderate - High
Guys like B.J. Rosenberg come along often. They are solid relievers in Triple-A and throughout their minor-league careers that just can't find any kind of success at the MLB level.
Rosenberg may be a unique case insofar as he has a good fastball that gives him a bit of upside, but he's nowhere near the caliber of "prospect" (if a prospect at all) that the Phillies have coming through their system out of the bullpen.
You probably won't see too much of him in the final month of the season as the Phillies call up guys like Justin De Fratus, Mike Schwimer and Jake Diekman to complement what they already have in the bullpen, including Phillippe Aumont.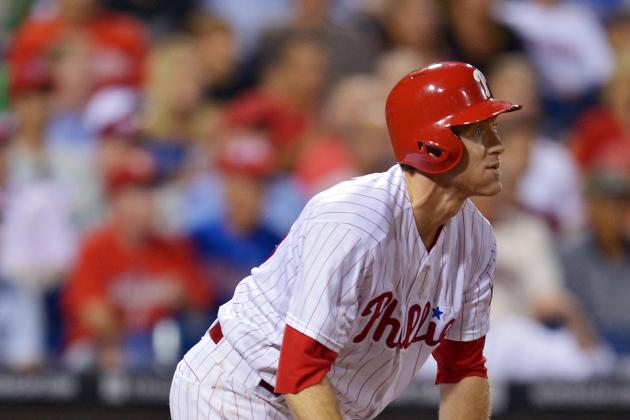 Drew Hallowell/Getty Images

Rating: Low - Moderate
Chase Utley seems like a no-brainer to rate at a "high" level on a list like this given the health of his knees, but anyone who's watched Utley over the course of his career knows that he's not going to sit on the bench unless he absolutely has to.
The whole idea of having Utley play third base just creates another interesting level to this whole debacle.
If the Phillies fall out of the race, it would be a great idea. Hypothetically speaking, the club could call up second-base prospect Cesar Hernandez and have a look at him at second base while Utley takes reps at third.
Of course, if the Phillies continue to hang in the back end of the Wild Card picture, Utley is going to be playing second base as the Phillies try and pull off a miracle comeback.
Either way, I don't see him sitting much.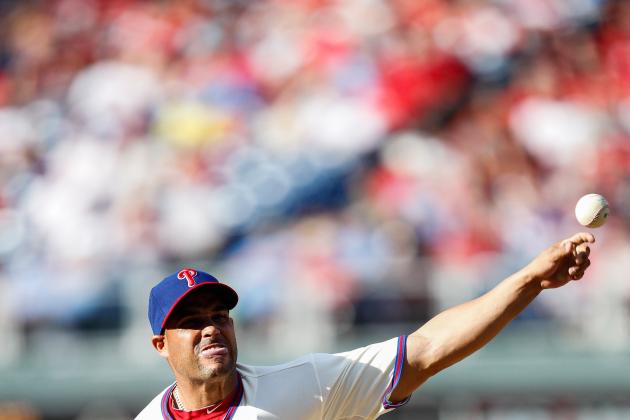 Brian Garfinkel/Getty Images

Rating: Low - Moderate
Raul Valdes is a guy that's kind of "on the bubble" in my mind.
On one hand, you know what you're going to get out of him. He's a journeyman reliever that has pitched uncharacteristically well for the Phillies this season but, at worst, is probably a left-handed specialist moving forward.
He'll probably take a backseat to lefties like Jeremy Horst, Jake Diekman and possibly Joe Savery moving forward as the Phillies attempt to evaluate their options.
On the other hand, the Phillies could also continue to throw Valdes into tough situations and see if he can fight his way out of them.
He's really been one of their best relievers this season, and they may find themselves wanting to keep him around, even if it is for nothing more than insurance.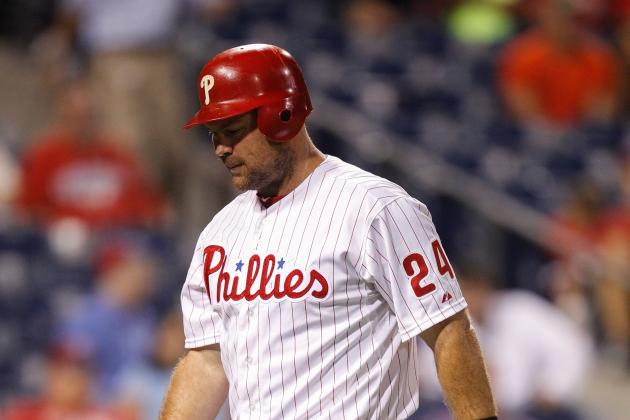 Brian Garfinkel/Getty Images

Rating: High
Ty Wigginton didn't play much in the month of August, and I suspect that his playing time will be reduced even further as the Phillies' roster expands in September.
A big part of the reason for that is the fact that the Phillies probably don't consider him to be a part of the future. They've given him every reason to prove that he has value to this club as a bench player, and he hasn't been able to produce.
He's an okay right-handed pinch-hitter, but John Mayberry Jr. is probably the better option. Wigginton has also been below average at every defensive position he's played—and that includes left field, which he has attempted to play on multiple occasions, for some reason.