Ohio State's 2012-13 basketball schedule is now officially on the books.
The nonconference slate is finalized and conference dates are now confirmed. The Buckeyes have arguably the toughest road in the entire league, especially considering how many times the team will be challenged before grueling conference play even begins.
Here is the official Ohio State schedule:
Oct. 3, Walsh (exhibition)
Nov. 9, vs. Marquette (Carrier Classic, U.S.S. Yorktown, Charleston, S.C.)
Nov. 11, Albany (Hall of Fame Tip-Off)
Nov. 17, vs. Rhode Island (Hall of Fame Tip-Off, Uncasville, Conn.)
Nov. 18, vs. Washington or Seton Hall (Hall of Fame Tip-Off, Uncasville, Conn.)
Nov. 23, Mo.-KC (Hall of Fame Tip-Off)
Nov. 28, at Duke (ACC/Big Ten Challenge)
Dec. 1, N. Kentucky
Dec. 8, Long Beach St.
Dec. 12, Savannah St.
Do you think the Buckeyes can win the Big Ten?
Dec. 15, UNC Asheville
Dec. 18, Winthrop
Dec. 22, Kansas
Dec. 29, Chicago St.
Jan. 2, Nebraska
Jan. 5, at Illinois
Jan. 8, at Purdue
Jan. 13, Michigan
Jan. 19, at Michigan St.
Jan. 22, Iowa
Jan. 26, at Penn St.
Jan. 29, Wisconsin
Feb. 2, at Nebraska
Feb. 5, at Michigan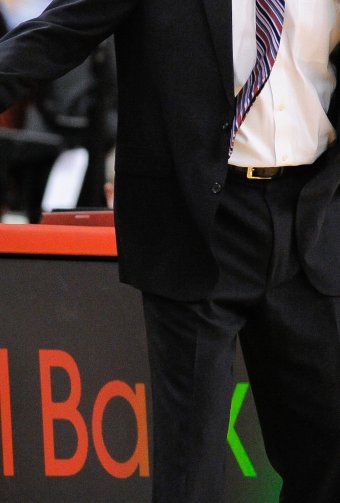 Eric Francis/Getty Images
Feb. 10, Indiana
Feb. 14, Northwestern
Feb. 17, at Wisconsin
Feb. 20, Minnesota
Feb. 24, Michigan St.
Feb. 28, at Northwestern
March 5, at Indiana
March 10, Illinois
March 14-17, Big Ten Tournament, United Center, Chicago
I have already documented my feelings on the nonconference schedule. It is significantly more difficult than it has been in past seasons, and includes showdowns with powerhouses Duke, Marquette and Kansas.
There are also tricky games against Washington (or Seton Hall), Winthrop and Long Beach State.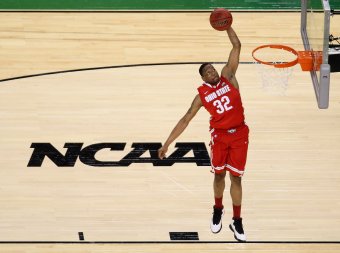 Ronald Martinez/Getty Images
Despite these challenges, I truly believe the Buckeyes will finish the nonconference schedule with an undefeated record. In order to avoid sounding like a broken record, click the link above for my previous analysis, but I feel that Ohio State will be more talented than everyone they line up against except maybe Kansas.
As for that Jayhawks game, the home crowd in Columbus will finally carry the scarlet and gray over the top against Kansas after losing two times last year (including the Final Four game). Third time's a charm, right?
The nonconference schedule always draws early headlines and intrigue, but it was the release of the league slate that was the real news this week. In fact, most of the nonconference games were already known, this just finalized some of the dates.
Here is a quick rundown of how I think Thad Matta's squad will do in league play.
Jan. 2, Nebraska Win
Jan. 5, at Illinois Win
Jan. 8, at Purdue Win
Jan. 13, Michigan Win
Jan. 19, at Michigan St. Loss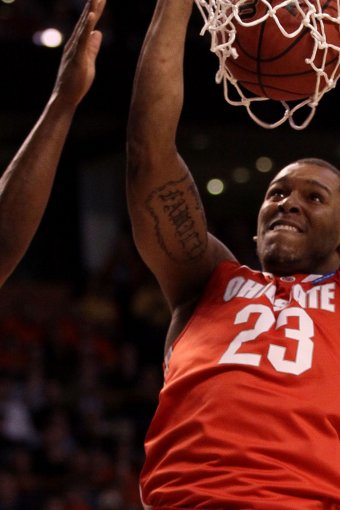 Elsa/Getty Images
Jan. 22, Iowa Win
Jan. 26, at Penn St. Win
Jan. 29, Wisconsin Win
Feb. 2, at Nebraska Win
Feb. 5, at Michigan Loss
Feb. 10, Indiana Win
Feb. 14, Northwestern Win
Feb. 17, at Wisconsin Loss
Feb. 20, Minnesota Win
Feb. 24, Michigan St. Win
Feb. 28, at Northwestern Win
March 5, at Indiana Loss
March 10, Illinois Win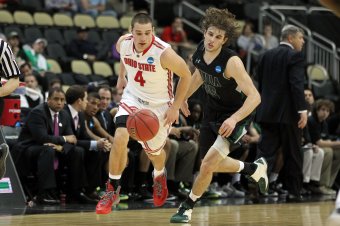 Gregory Shamus/Getty Images
On first glance, Ohio State gets somewhat of a break because most of the extremely difficult road games are spread out across the season.
There are a handful of games separating trips to Michigan, Michigan State, Wisconsin and Indiana, meaning the Buckeyes will likely avoid any type of significant losing streaks. Of course, by the same token, it is difficult to imagine Ohio State stringing together formidable winning streaks with one of these games seemingly always looming around the corner.
Ultimately, I have the Buckeyes finishing 14-4 in league play. I previously broke down how the Buckeyes stand up against each Big Ten team with more in-depth analysis, but let's look at some of the top games.
Michigan State and Ohio State always seem to battle. The two squads lost significant pieces from last year (Draymond Green, Jared Sullinger and William Buford), but there is no reason to expect anything less than the typical Buckeye-Spartan slugfest. Thus, I envision a split, with the home teams winning each game.
As for the hated Wolverines, Ohio State may not be more evenly matched with any other foe. Aaron Craft and Trey Burke are virtual stalemates at the point position, each has potentially underrated contributors inside (Jordan Morgan and Amir Williams) and both have potential superstars that are difficult defensive matchups (Deshaun Thomas and Glenn Robinson III).
Virtually even teams equal an even split in my eyes, which is what will happen.
Just as it's hard to see one rival separating itself from another in the Ohio State-Michigan games, it's difficult to imagine the Buckeyes walking into the Kohl Center at Wisconsin and coming away with a road win two years in a row against the Badgers.
Finally, Ohio State will find a way to earn a win in one of its two games against the potential preseason No. 1 Indiana Hoosiers. Indiana used its raucous home crowd to upset the Buckeyes last year, and Ohio State will return the favor on February 10.
A loud and energetic Columbus crowd will propel the Bucks at home, but the Hoosiers will end the scarlet and gray's season on a sour note in Bloomington. In fact, it may be a double-digit victory for the cream and crimson.
Nevertheless, a 14-4 conference record would be an impressive tally for the Buckeyes. In fact, they finished 13-5 last year and earned a share of the conference crown.