Miami Football: What We Learned from Week 1 vs. Boston College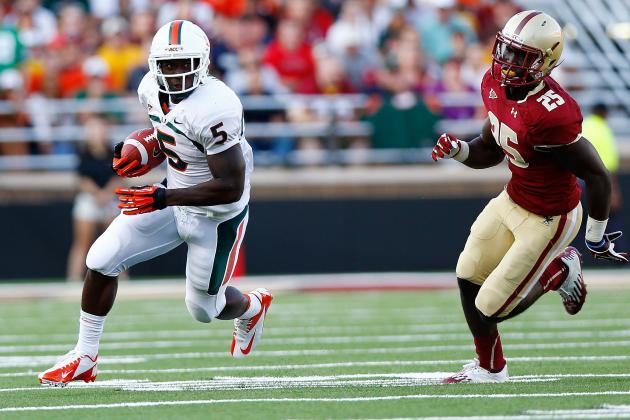 Jared Wickerham/Getty Images

The Miami Hurricanes did something that you haven't seen that often—score 40-plus points in a game. In fact, the last time the Hurricanes put up 40 points against an ACC team it was 2009 when they beat Virginia, 52-17.
Yes, the defense struggled and allowed 441 yards of passing from Chase Rettig, but they also created turnovers, something missing over the last few years.
Just like many of the Hurricanes games, there was good and bad that came out of it. Here is what we learned after Week 1.
Begin Slideshow

»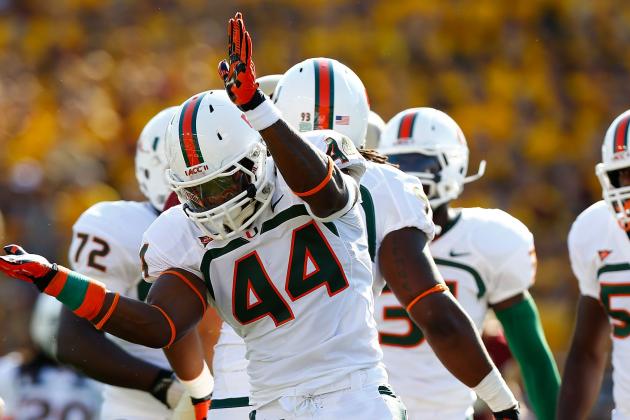 Jared Wickerham/Getty Images

The Hurricanes victory caused some changes in the most updated depth chart. Just to list a few updates below:
Dyron Dye jumped ahead of both Asante Cleveland and Clive Walford. This one is strange because Dye never had one reception, while Cleveland and Walford each had two catches.
Wide receivers were also changed as Malcolm Lewis jumped ahead of Kendal Thompkins and Rashawn Scott. Both Scott and Thompkins dropped multiple passes, while Lewis scored a touchdown and caught four passes.
The offensive linemen stayed the same except at left tackle where Seantrel Henderson grabbed the reserve role after missing the first game.
The defensive side basically stayed the same except at cornerback where Thomas Finnie is now listed as the starter and Eddie Johnson moved ahead of Thurston Armbrister at outside linebacker.
Click here for the latest depth chart.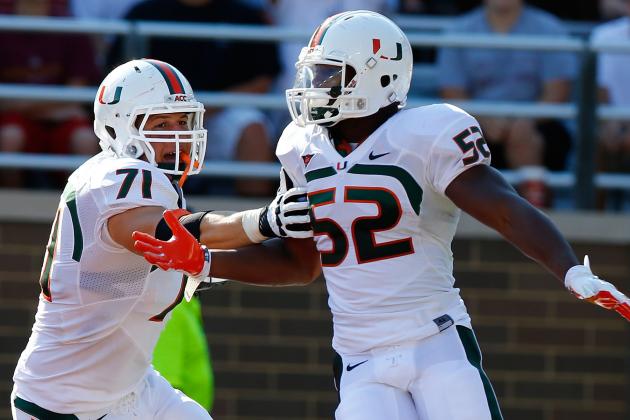 Jared Wickerham/Getty Images

Going into the Boston College game I honestly thought Miami might have one of the best defenses in the ACC.
I was dead wrong.
Miami gave up 537 total yards—including 29 first downs and 441 yards passing. Now those numbers may be expected against a team like Florida State or Virginia Tech, but not Boston College.
That being said, Boston College did return 17 players on offense, defense and special teams heading into this season. The Eagles finished 4-8 last season, but it looks like they have a much better team this year.
Back to the Hurricanes defense—according to the official Miami stat sheet—Miami finished with no sacks and only four tackles for loss. Those stats alone show that the defensive line failed miserably.
The poor play of the defensive line put too much pressure on a very inexperienced and under-achieving defensive back unit.
I believe the defensive backs can grow and become a better group, but these first couple games they will need the help of the defensive line or they won't have that opportunity.
The linebackers had a good and bad game. Denzel Perryman and Eddie Johnson created turnovers, but their coverage in the passing game was less than stellar.
Overall, it was pretty embarrassing to have the Eagles run the same pass plays over and over again to perfection.
Anyone else having dreams of the same slant pass to Eagle wide receiver Alex Amidon?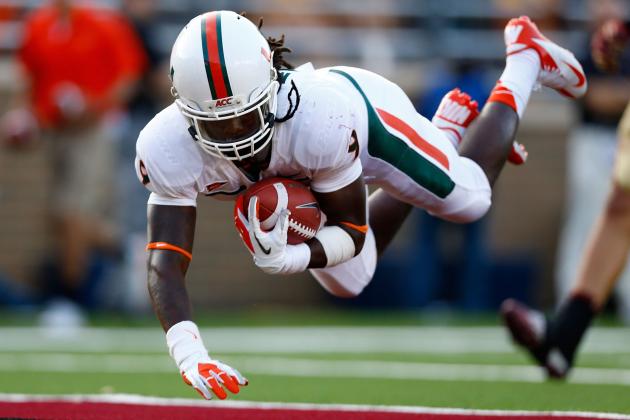 Jared Wickerham/Getty Images

True freshman Malcolm Lewis impressed me over all receivers on the team. Although Allen Hurns led the team with eight receptions for 81 yards, it was Lewis who made some high-pressure catches throughout the game.
Lewis finished the game second on the team with four receptions for 42 yards and a touchdown.
He has an amazing first step off the line and could have the best hands out of all the receivers. Lewis has a bright future and it was displayed on a national stage on Saturday.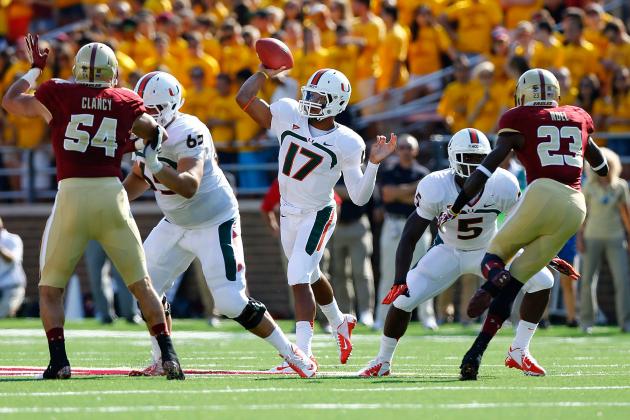 Jared Wickerham/Getty Images

Stephen Morris didn't have mind-boggling numbers completing 28 out of 45 passes for 207 yards and a touchdown, but what he did show was leadership.
Morris controlled the team's offense and never broke regardless of the score. He stayed completely focused and led the offense back every opportunity he had.
What Morris brings to the table that Harris couldn't is terrific arm strength and his ability to scramble. He has the ability to throw it in tighter spaces with a tremendous amount of force while Harris didn't quite have that ability.
Morris also can run with the ball as shown with his 11-yard scramble for a first down when Miami needed it, something Harris didn't have in his repertoire.
With all the praise there is still work to do before saying he is the next Ken Dorsey. Morris needs to put a string of good games together, and there won't be a better chance to take that next step this Saturday when Miami plays Kansas State.
If Morris can stay focused and lead the Hurricanes to a victory over a ranked opponent on the road this Saturday, things may be looking up in Coral Gables.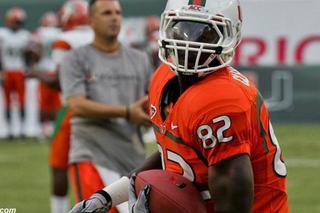 One of the best ways to improve a pro-style offense is to get the tight ends involved. The Hurricanes proved it back in the early 2000's when Jeremy Shockey, Kellen Winslow II and Greg Olsen roamed the sideline.
Now I understand that Hurricanes may not have a dominant tight end like they did in the past, but Asante Cleveland and Clive Walford do have enough talent to get more touches.
Against Boston College the two combined for just four catches for 22 yards—that won't get it done.
If Walford and Cleveland can combine for eight or nine catches for around 80 yards per game, there is no doubt in my mind the Miami can get back to scoring 40 points per game like it did in the past.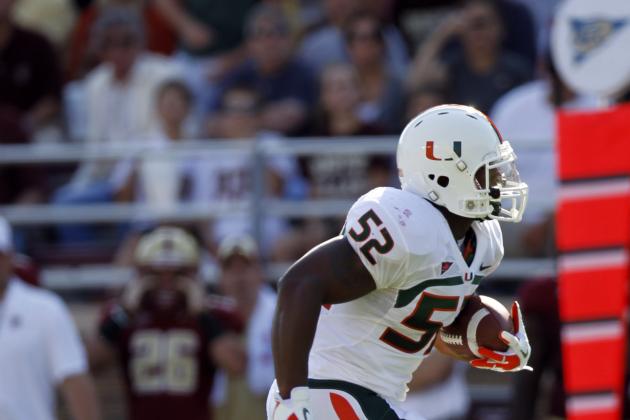 Greg M. Cooper-US PRESSWIRE

Although the defense struggled all game long there is one thing I was extremely happy about—Miami created turnovers.
Last season the Hurricanes only forced 12 fumbles all season, recovery nine of them. In the first game of the season against Boston College, they forced (and recovered) two fumbles.
It was just great to see the Hurricanes players being more aggressive, and if they want any chance at an ACC title, they need to create more turnovers than they have in the last few years.
Miami created three turnovers—including Denzel Perrymans' interception returned for a touchdown—in the first game of the season, meaning brighter days may be ahead for Hurricanes fans.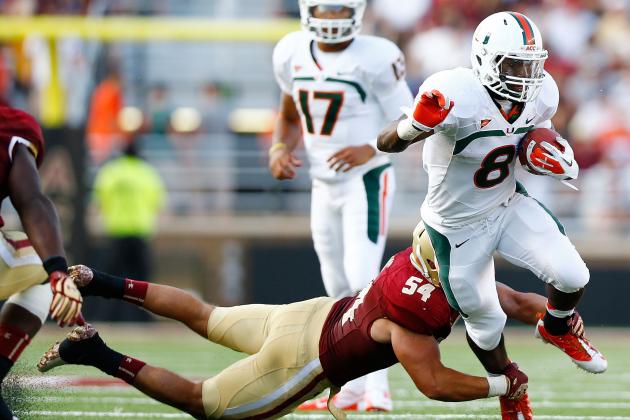 Jared Wickerham/Getty Images

What more can I say about Duke Johnson that he didn't show on the field Saturday? Johnson showed the entire country that he has the ability to do some tremendous things in Miami.
Johnson only rushed the ball seven times but ran for 135 yards—including touchdown runs of 56 and 54 yards.
The concern I had going into this season was his size as he stands only 5'9" and weighing just 188 pounds. He had the ability to bounce off smaller defenders in high school, and I thought there was no way he would be able to do that against much bigger opponents at the college level.
I was completely proved wrong.
Johnson showed unbelievable balance with the ability to take a good hit. He obviously has the quickness and speed to get past defenders, but his field vision and balance completely shocked me.
Although I heard many people saying they want Johnson to start, I don't think it's a good idea right now. Miami needs to slowly rotate Johnson in and using the combination of Mike James seems to work beautifully.