West Virginia Football: 5 Keys to the Game vs. James Madison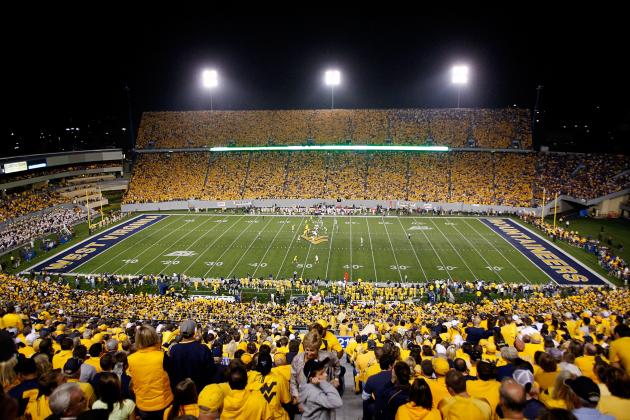 Jared Wickerham/Getty Images

The West Virginia Mountaineers have an unfamiliar opponent on Sept. 15 at FedEx Field.
The James Madison Dukes have knocked off a top team in the past. In fact, JMU was only the second FCS team to knock off a nationally ranked team.
Of course that game was against No. 13 Virginia Tech on September 11, 2010.
Any team is capable of an upset each week, but the Mountaineers will be the heavy favorite going into the neutral territory of Landover, Md.
With the game against JMU, West Virginia is guaranteed $2.3 million. Both schools gain great opportunities from the game—whether it's a monetary advantage or the chance for national spotlight.
Here's a look at the keys to the game for the Mountaineers.
Begin Slideshow

»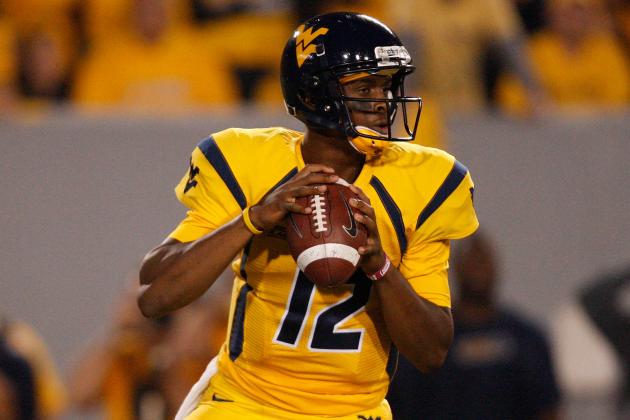 Jared Wickerham/Getty Images

While it does sound a bit cliche, underestimating any opponent is never the way to go, especially for a top ranked team.
While James Madison does play teams such as Saint Francis and Alcorn State, it does have the capability of upsetting a ranked opponent like the Hokies.
JMU didn't have an overly impressive season last year with a second-round loss in the Division 1 playoffs, and losses against New Hampshire, Old Dominion and Maine. The opening game of the season wasn't a surprise with UNC defeating the Dukes by 32.
However, WVU can't underestimate James Madison. Losses against Syracuse and Louisville may have occurred due to underestimating the opponent last season.
West Virginia must be consistent. This game is everything to lose for the Mountaineers and everything to gain for the Dukes.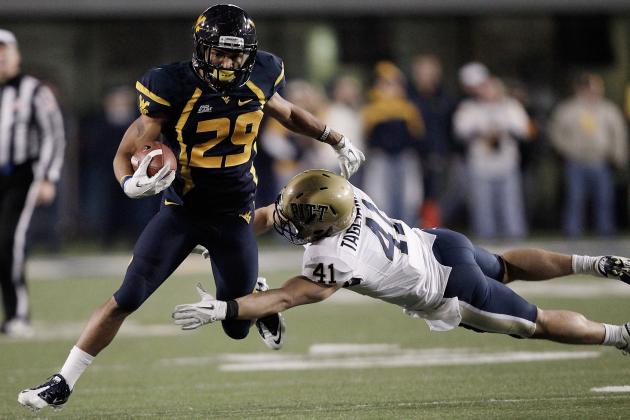 Jared Wickerham/Getty Images

If the Mountaineers continue to play smart football offensively, they shouldn't have a problem with James Madison.
There is some uncertainty with the defense still, but with Geno Smith completing more than 85 percent of his passes, things will usually go well.
The running game was established against Marshall with guys like Andrew Buie and Shawne Alston producing for the Mountaineers.
In the last two games, West Virginia has combined for 139 points. Smith is playing tremendously, and wide receiver Stedman Bailey had a good game against the Thundering Herd.
If West Virginia continues to make the plays on offense, the defense should be able to build throughout the season.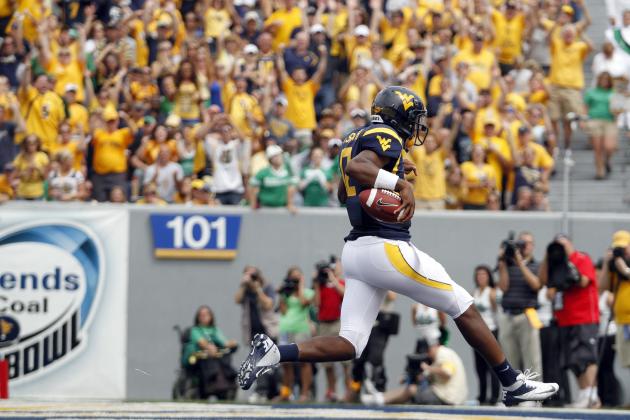 Justin K. Aller/Getty Images

It's as simple as that. Smith was a man possessed against Marshall. He only had four incomplete passes on the day, and he threw four touchdowns.
Smith threw for 323 yards and no interceptions. He looked quite comfortable in the offensive schemes. The Miami native also had a 28-yard rushing touchdown.
When you have running back Shawne Alston running for 123 yards and two touchdowns, Smith's job as a passing leader gets simpler.
Smith is looking more and more like one of the favorites to win the Heisman Trophy. His statistics against the Thundering Herd were incredible with 32 of 36 passes completions, 323 yards and four touchdowns.
The WVU quarterback was able to run his way out of trouble as well. His completion rate was a jaw-dropping 88.9 percent.
If Smith continues this play, he should be able to lead the Mountaineers past the Dukes.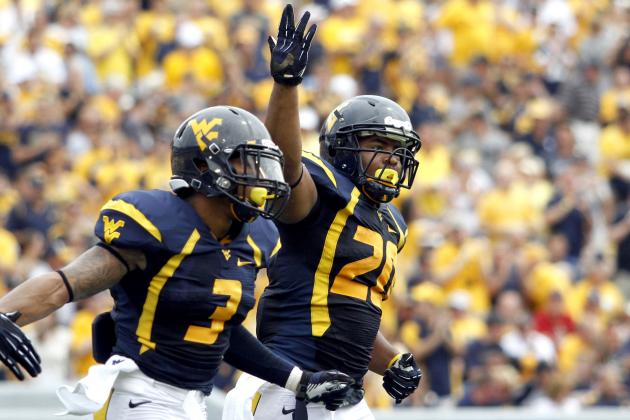 Justin K. Aller/Getty Images

Senior West Virginia running back Shawne Alston was a star player for the Mountaineers on Saturday afternoon. He had 123 yards on the ground, adding two touchdowns for West Virginia.
He wasn't alone, however. Sophomore Andrew Buie had six carries himself, contributing 80 yards and a touchdown.
Tavon Austin showed his abilities to run with his 66 yards on three carries. Of course Smith had a solid rushing game himself with 65 yards rushing and a score.
Many opponents know about the WVU passing game. Still, the running game is experienced and should be respected by JMU.
If the Mountaineers can have a well-rounded attack against JMU, they will have a strong chance to put up a good amount of points on Sept. 15.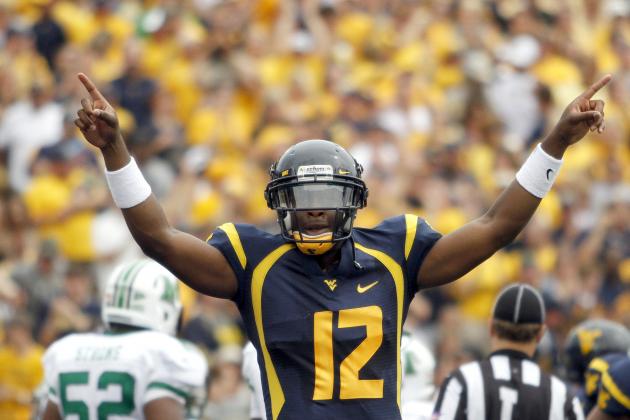 Justin K. Aller/Getty Images

When West Virginia plays with confidence and with the mindset that it can beat any team in the country, that's when the Mountaineers are at their best.
WVU simply wants to blow teams out of the water. If the first game was a sign of things to come, watch out for "Touchdown City" in Morgantown.
Can this team put up nearly 70 points in every contest? Well, in these non-conference games, that's certainly not out of the question, but against more talented teams in the Big 12 Conference, it would be more impressive obviously.
The Mountaineers are arguably the most confident group in college football after the Orange Bowl win and such a convincing win against their in-state rival Marshall.
Smith set a school record for career completions and touchdown passes.
Every game has a different tale, however. The Mountaineers have to take it one game at a time.
Still, what a start for WVU and the potent offense. The future looks bright in Morgantown as long as West Virginia continues to play with confidence.