Tennessee Titans Preseason Week 4 Review: Jake Locker Dazzles and Fizzles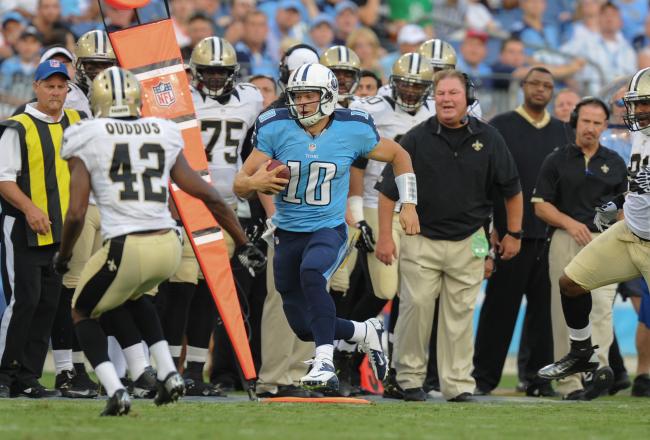 This run dropped my jaw.
Randy Sartin-US PRESSWIRE
The Tennessee Titans beat the New Orleans Saints 10-6 in the final preseason contest. Innate of nothing, the Titans finished the preseason 3-1.
I'm not going to dignify this snooze fest with much of a recap, but it's a great time to recap my thoughts on Jake Locker.
If someone were to listen to me watch a game quarterbacked by Locker, they would note a series of guttural noises and ecstatic exclamations.
Every five plays or so, I involuntarily let out a "WOW!" or an "ooooh!" That's often quickly followed by an untranslatable noise that can roughly be transcribed as "omygoarlaph."
Locker is scrambling and suddenly explodes with speed as if he has been concealing an extra gear behind his waist towel.
Locker locks in on a receiver in tight coverage and unloads a rifle shot complete with audible retort as it flies from his hand.
I shake my head and marvel.
Locker has Kendall Wright wide open on a slant and guns the ball three feet over his head.
Locker jukes a linebacker, gains the corner and inexplicably fumbles inside the 10-yard line.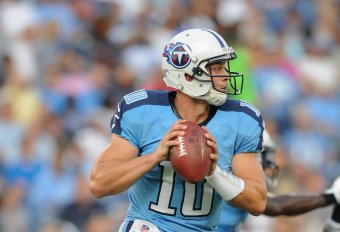 Randy Sartin-US PRESSWIRE
I shake my head and marvel.
Honestly, I can't wait to watch Titans games. Locker is so much fun to follow that his starts are going to be must-see TV all season.
He's going to frustrate Titans fans for 16 games. He's going to flash the incredible and the inexplicable even on the same play.
There's still no doubt in my mind that he gives the Titans the best chance to make the playoffs, and I can see a Donovan McNabb-like future in store for him. If he ever figures out how not to spray the ball all over the field, he'll become a serious weapon for Tennessee.
I don't know that we'll catch more than glimpses of that future in 2012, but if he shows off his skills more than his weaknesses, the Titans will surprise all season long.
This article is
What is the duplicate article?
Why is this article offensive?
Where is this article plagiarized from?
Why is this article poorly edited?