5 Reasons Dallas Cowboys' Preseason Should Inspire Confidence in Fans
Matthew Emmons-US PRESSWIRE
As we get closer to cutdown day for the Cowboys, a few players have already learned of their fate.
Quarterback Rudy Carpenter, linebacker Adrian Hamilton, wide receiver Danny Coale, fullback Shaun Chapas, linebacker Orie Lemon and wide receiver Tim Brenford were all cut today.
Coale's injuries doomed him and Carpenter blew his chance last night by playing so poorly.
More on the Cowboys cuts in Bleacher Report's Cowboys roster tracker.
We are here to talk about the upside of the team's preseason success.
Here are a few reasons as to why Dallas fans should be excited about the Cowboys' regular season.
Preseason Record
Tim Heitman-US PRESSWIRE
Yeah, I know that it is just the preseason. The Cowboys went three up and one down this preseason, with their only loss coming against the Chargers in Week 2.
Yes, I know the Lions went undefeated in the 2008 preseason and went on to lose every single game that regular season.
But the Cowboys aren't the Lions.
Dallas won their final preseason game against the Dolphins behind a strong rushing attack and a tenacious defense.
Fans can take delight in knowing that the Cowboys running attack looks strong and may carry them to a few victories this season.
Winning is always a good thing as Dallas scored at least 20 points in three of their four games.
Cowboys Defense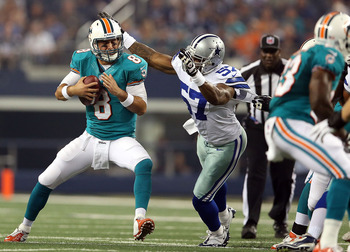 Ronald Martinez/Getty Images
Dallas ranks fifth in overall defense this preseason. No one will dispute that the Cowboys need to improve their statistics in the secondary.
Seeing them shut down the Dolphins passing game was great, but we need to see success in the regular season as well.
We also saw the emergence of defensive end Tyrone Crawford, linebacker Alex Albright, safety Barry Church and linebacker Bruce Carter.
So not only did the Cowboys defense look firm, the players within the system got better.
Bruce Carter seemingly beat out Dan Connor for a starting job and rookie Tyrone Crawford should see more of the field as he has shown an ability to obtain the Cowboys defensive scheme pretty quickly.
Dallas will receive a chance to show off their new defensive weapons next Thursday against the New York Football Giants.
Will Crawford and Carter show up or show off to be rookies?
Tony Romo
Ronald Martinez/Getty Images
Romo is in the depth of his prime. He had the highest completion percentage of his career last season and threw for 31 touchdowns.
He is one of the best quarterbacks in the league and will have more weapons to solidify that position in 2012.
In the Cowboys' all so important third preseason game, Romo went 9-for-13 with two touchdowns. He posted a rating of 151.4.
What gives many fans pause is the Cowboys' inability to put a stable offensive line together.
Romo was lost for the season after the Cowboys' sixth game in 2010 to a broken collarbone.
It actually wasn't an offensive lineman's blown assignment that led to Romo's broken collarbone, it was a former fullback. Even so, that injury is still fresh in the minds of many Cowboy fans.
With the injury concerns for Romo and how the offensive line will protect him, I expect some varied offensive looks to offset any potential problems.
Romo will thrive no matter what, as we've seen since he has taken over as starting quarterback in 2006.
Expect more of the same from him this season.
Cowboys Secondary
Ronald Martinez/Getty Images
Fans were primed and ready to watch rookie cornerback Morris Claiborne and Brandon Carr get on the field and tussle with the NFL's best receivers.
Carr showed why Jerry Jones gave him $50 million. Against the Chargers, he had two interceptions, one where he almost baited the receiver on an under thrown pass.
Safety Barry Church, Claiborne and Carr are all new starters in the defensive backfield. Claiborne and Carr are both strong, young corners who bring a new type of toughness to the secondary.
Their first test is against the Giants, one of the team's chief rivals. They should do well.
Cowboys Linebackers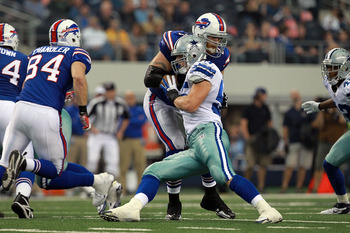 Ronald Martinez/Getty Images
Sean Lee, Bruce Carter, Alex Albright, Dan Connor, DeMarcus Ware, Victor Butler and Anthony Spencer should represent one of the best units in the league.
Lee and Ware are the leaders of the team's defense. Ware is the sack master and Lee is turning into one of the best all around linebackers in the league.
Spencer is out to prove that he's worth a long-term deal and Butler wants to push him out of his starting job.
Albright and Carter are young guys looking to make their mark and Connor wants to prove that he was worth the free agent dollars.
Watching the quickness and intelligence of these linebackers should provide a ray of hope for fans.
Lee has great vision and hands for a linebacker, while Butler has the potential to turn into a great pass rusher.
Let's see how these men perform when the lights are the brightest.
Keep Reading

Dallas Cowboys: Like this team?