Washington Capitals: 4 Reasons to Believe in Mike Green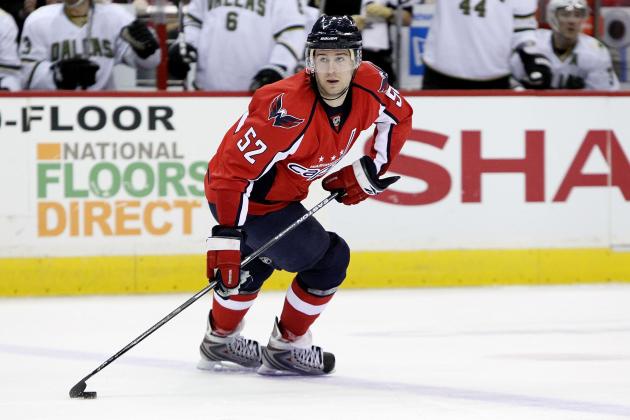 Jim McIsaac/Getty Images

When you think of hockey teams that like to gamble, take chances and make risky moves, the Washington Capitals probably do not come to mind.
Oh sure, there is the occasional move made at the trade deadline to try and put the team over the top, such as getting a player like Jason Arnott to try and secure a second-line center. I suppose that could be termed a gamble of sorts but not a real eyebrow raiser.
Enter the 2012 offseason. Aside from all the talk of a looming lockout, it has been a relatively quiet offseason for the Caps. Yes, there was the trade for Mike Ribeiro, the solid draft and a smattering of free-agent signings of role players. But, none of those moves could be considered risky or reckless.
Still, the Caps made one move this offseason that has to be considered a bigger gamble than others they have made recently. I am, of course, talking about the Caps decision to sign defenseman Mike Green to a three-year, $18.25 million deal (Washington Post).
While there is little question that Green is one of the more popular players on the Caps, even the most jaded of Caps fans have to consider this move a bit of a gamble, to say the least. After all, Green has been plagued by injuries the past couple of seasons.
To be more specific, Green has only played in 81 regular-season games the past two seasons. He has dealt with shoulder, ankle and groin injuries, not to mention problems with concussions the past two seasons.
His relative absence these past two seasons made many forget that he registered back-to-back 70-point-plus seasons in 2008-09 and 2009-2010, and to a great extent, changed the way many in the NHL utilized their own defensemen.
As one of the key players responsible for the resurgence of the franchise the past five years or so, it is not surprising that the Caps wanted to make a commitment to Green.
And still, the questions have to be there.
Was this a good move?
Did the Caps pay too much?
Can Green return to his past form, or is he just destined to be injured again?
Relax Caps fans. Mike Green will be back and better than ever. It is quite safe for the Caps and their fans to put their faith back in Green.
And here are four reasons why.
Begin Slideshow

»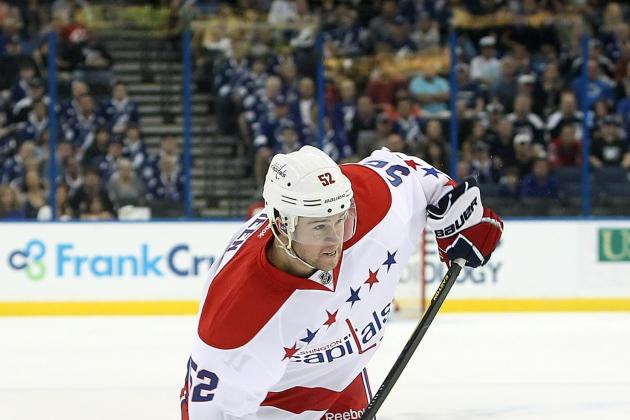 Kim Klement-US PRESSWIRE
A healthy Mike Green will be a big factor for the Caps this year.
As mentioned previously, Mike Green has had major problems with injuries the past two seasons. It got so bad, one would have sworn the young man was cursed.
But, what has to be remembered is what Green can do when he is healthy.
In 2007-2008, when the Caps rise to power truly began, Green played in all 82 games. He tallied 18 goals, had 38 assists and 56 points.
In 2008-2009, Green played in only 68 games, but he turned in one of the best seasons ever for any two-way defender. He scored 31 goals (including an NHL record for a defenseman with a goal in eight straight games), had 42 assists and racked up an amazing 73 points. Those were numbers unheard of for a blueliner.
In 2009-2010, it was more of the same. Green played in 75 games and scored 19 goals, had 57 assists and a second straight 70-point-plus season with 76 points.
Is Green still capable of numbers like that? It is hard to say because he has not been healthy the past two seasons.
The good news though is that Green says he is healthy:
It was unfortunate the last couple of years that I've suffered from injuries. But I believe that I'm over them now: I think I've got them all out of my system...I really didn't feel like I was back to myself until the middle of the playoffs, not as far as the mental game just with my injury from the surgery... But I am 100 percent now and ready for next season. (Mike Vogel of dumpnchase.com)
For Caps fans, that is very good news. While another 70-point season might be asking and hoping for a lot, a healthy Green brings so much to the Caps.
With Dennis Wideman in Calgary, expect to see Adam Oates utilize Green a lot on the power play as he tries to help the Caps recapture their power-play dominance from the 2009-2010 season. With his booming shot, letting Green quarterback the power play seems very logical.
A healthy Green also adds depth to the Caps defense and between Green, John Carlson, Karl Alzner, Roman Hamrlik, and Dmitri Orlov, the Caps can mix and match their lines to try and keep opponents off-balance without sacrificing quality of play.
But perhaps, just as important is that Green being present and healthy could have a psychological effect on the team. His consistent presence might just make the Caps feel like things are stable again with the team, and even though Alexander Semin is gone, the core of what made the Caps so good is still very much intact.
One has to wonder if a healthy Mike Green might have a positive impact on Alexander Ovechkin. Is it just a coincidence that Ovie's numbers have declined over the past two years—during the same period of time in which Green has missed so many games—or is there a connection?
Whatever the case, Green appears to be healthy and ready to go.
That is something that should very much excite the Caps and their fans.
One of the knocks on Mike Green has always been that for a defenseman, he did not really play much defense.
There were exceptions of course, such as the diving block he made against the New York Rangers in the first period of the series-clinching game during the 2011 playoffs.
But for the most part, Green was known much more for his offense than his defense.
Though his action was quite limited during the 2011-2012 campaign, Green did get healthy in time for the playoffs.
He quickly realized that then-coach Dale Hunter wanted something different from him than former coach Bruce Boudreau did: defensive responsibility.
Hunter demanded that Green play a more physical style of play—and Green responded showing everyone that, indeed, he could play defense and play it well.
True, Green's transformation was more a reaction to the team's transformation in general than anything based on an individual performance.
Regardless for the reasons, though, the world witnessed a different Mike Green. It was a physical Mike Green who would not easily yield entrance into the offensive zone.
It was a disciplined Green who did not sacrifice position in order to try and make an offensive play. And, it was a brave Green who would drop down to block a shot despite his history with concussions.
For many Caps fans, it was nothing short of a revelation.
Mike Green can play defense? Who would have thought of such a thing?
What is even more encouraging for the Caps is that Green recognizes the need to find balance in his game. He knows he needs to be a force of offense, but he also now knows just what a contribution he can make on defense.
During a conference call involving several members of the media, including dumpnchase.com's Mike Vogel, Green discussed this very issue:
I think that I played a lot more defensive game in that sense. I think that what Dale expected was kind of a grinder, chip-in, chip-out kind of game. I respect him as a coach and played that way and played hard for him. I also at the same time am really excited that [new head coach] Adam [Oates] is here. From what I've heard, how he likes to coach fits my style of play and also a lot of the other guys. Hopefully there is a balance between Bruce Boudreau and Dale, and I think Adam is the guy.(dumpnchase.com)
If Oates can help him find a balance between the style of play under which he excelled with Boudreau and the more physical and nasty style of play he gave to Hunter, Green will become an elite defender.
And, the Caps will be an even more dangerous team.
It is not all about defense for Mike Green no matter how much he may have evolved.
The man can still bring it on offense.
For those who may have forgotten this, I direct you to the video from Game 4 of the Eastern Conference semifinal series against the Rangers from this past spring.
Green absolutely blasted that shot past one of the best goalies in the world to win Game 4 and even the series at 2-2. It was a massive goal at an absolutely crucial moment.
More importantly, though, it showed that Green still has one of the best slap shots of any two way defender in the game, bar none.
When you consider the injuries Green has sustained to his shoulders, ankle and groin, the fact that he can still fire laser beams at goalies is huge.
It becomes vital if, as suspected, Adam Oates increases his playing time on the power play. When the Caps' power play was humming at its absolute best back in 2009-2010, Green was the catalyst. His booming shot was a huge factor as if he was not scoring, then rebounds were bouncing out to guys named Ovechkin, Semin and Backstrom.
But, if Green has actually learned from his past, including the frustration of the past couple of seasons, then we may very well get to see a rather balanced player take the ice this year.The concept of a balanced Green will bring a smile to the face of almost all Caps fans—and it should produce knots in the stomachs of Caps opponents.
With all of his offensive arsenal still available to him, the Caps have every reason to believe that he can still deliver goals, assists and scoring opportunities on a nightly basis.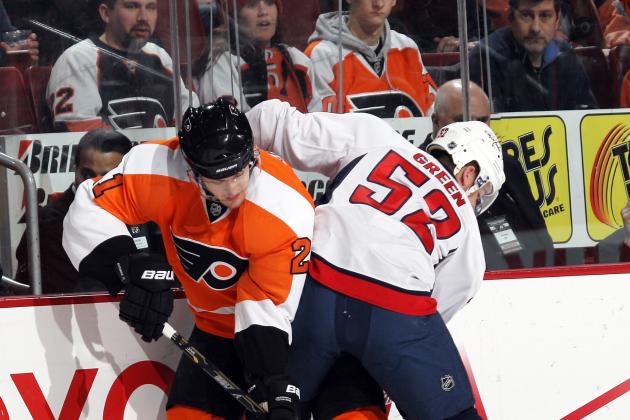 Bruce Bennett/Getty Images
Look for a revitalized Mike Green to really take it to opponents this year.
It would be vary naive to think that Mike Green did not hear all the negativity being thrust in his direction the past couple of seasons.
It seems a virtual certainty that Green heard all the rumors about him being traded—an option that was very popular with a large percentage of Caps fans (h/t The Hockey News).
One would have to suspect that he heard all the similar comments that he was done, that he could not come back from his injuries, that he lacked any sort of true defensive style or skills and that the Caps were crazy to invest $18.25 million on him.
I am fairly certain Green heard of all of that—and it should greatly motivate him to what could be his finest season yet.
As if that were not motivation enough, Green has to feel a sense of gratitude toward the Caps, who were willing to invest a ton of money on him.
He knows, or he should know, that the Caps did not have to do that. They had every reason to walk away from the injury-prone defenseman. They could have refused to budge from the qualifying offer made to Green and caused a true impasse between the team and Green.
Instead, the Caps went in the other direction, demonstrating their faith and belief in Green. By locking him down for three years and deciding to commit over $18 million to him, the Caps, in a not-so-subtle way said to Mike Green, "You are our man."
With all of that, how can Green be anything but supremely motivated this season? Not just to prove the naysayers wrong, but to prove the Caps right.
It is, therefore, safe to say that for the 2012-2013 season, the Caps will get all that he can give to them.
If he can stay healthy and find a true balance between offense and defense, then Green's motivation and desire to prove that he is one of the best defensemen in the league should lead to great things for he and the Capitals.