Bears vs Browns: Final Report Card, Player Grades for Chicago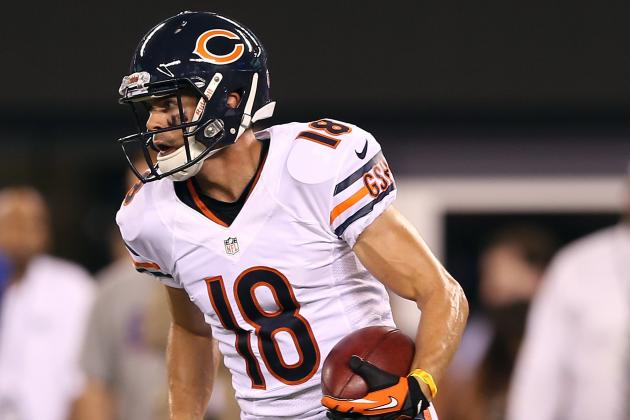 Elsa/Getty Images
Dane Sanzenbacher
The Chicago Bears finished the preseason on a three game winning streak. They defeated the Cleveland Browns 28-20 behind the strong play of Josh McCown and Armando Allen.
None of the starters took the field in the game giving the coaching staff a good look at who should make the final spots on the 53-man roster.
The importance of being able to see what the backups can do was vital to the football game and Lovie Smith was able to do just that. Going into final cuts the final preseason game proved to be very valuable for the Bears.
Begin Slideshow

»
Elsa/Getty Images
Josh McCown
Jay Cutler and Jason Campbell sat out, making way for Josh McCown to be the signal caller for the entire game.
Josh McCown: A
McCown was outstanding the entire night. He was very efficient, completing 20 of his 29 pass attempts with two touchdowns. He had an ill-advised throw during the first drive of the third quarter but still finished with a passer rating of 90.7
He is a solid third option for the Bears should they ever need him and did nothing to hurt himself during the football game.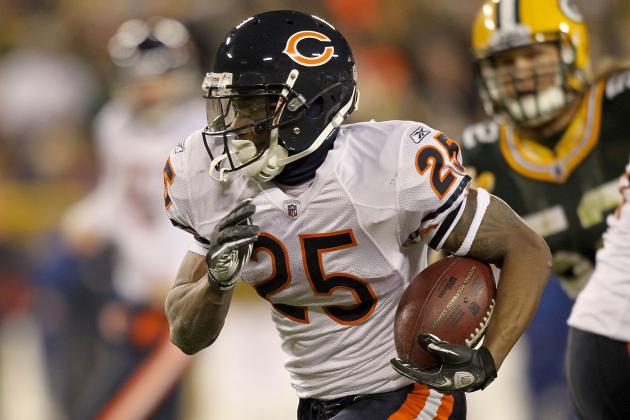 Matthew Stockman/Getty Images
Armando Allen
The battle of the night was between Lorenzo Booker and Armando Allen.
Lorenzo Booker: A-
Booker had a great game on the ground. He racked up 81 yards on 15 carries, good for over five yards a rush. He also had four receptions and showed his usual value on special teams. He is a veteran player who has a good feel for the game and has proven that throughout the preseason.
Armando Allen: A
Allen did most of his work in the receiving game. He led the team with five catches for 51 yards and a touchdown. He broke a long 49-yard run late in the fourth quarter to edge Booker in rushing by one yard. He is young but his ability as a versatile player has shown to be a great value.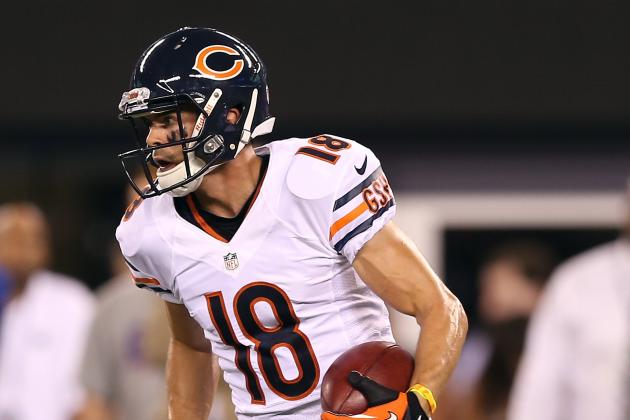 Elsa/Getty Images
Dane Sanzenbacher
Not too many chances went to the receivers tonight leaving, only one to stand out among the others.
Dane Sanzenbacher: B+
It is obvious the catch of the game went to Sanzenbacher. Josh McCown made an outstanding throw in the end zone and the receiver was able to come down with a terrific one-handed grab that was upheld after review.
In addition to his receiving skills, Sanzenbacher continued to provide some help in special teams in coverage as well as the return game.
Joe Anderson: B
Anderson made the most of his chances. He was targeted twice and caught the ball each time. Both were not easy catches, showing that the rookie has good hands.
Eric Weems: B-
Weems' true value comes on special teams. He had only one catch in the game on two targets but going forward his role will be on kick coverage where he continues to do a fine job.
Brittan Golden: C+
Golden made a good play scooping up the football on a blocked punt but also dropped two key footballs on offense. In four targets he only had one reception. The receiver has outstanding speed but still needs to work on catching the football.
Terriun Crump: C
Crump was quiet for most of the game. He had one catch on two targets and struggled to get open throughout the night.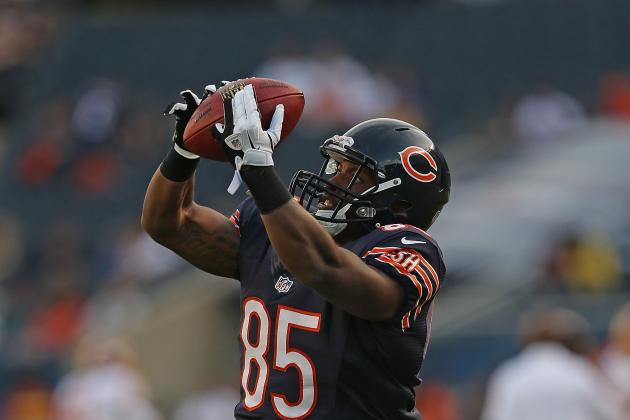 Jonathan Daniel/Getty Images
Brandon Venson
Tight end was by far the most forgettable position of the night. Nothing of note should be remembered from any of the tight ends.
Evan Rodriguez: C
With very little snaps, Rodriguez did nothing to stand out. He wasn't targeted once and made an early exit as his roster spot has been locked in for quite some time now.
Kyle Adams: C
Adams has had an up and down preseason on offense and this game proved to be more of the same. He did a solid job in his blocking but was not able to get a football thrown his way. His value on special teams still remains high as the coaching staff loves what he brings to the team in that aspect.
Brandon Venson: C
The only tight end with one catch was Venson. He had two targets and caught one for five yards. Other than that his night was pretty forgettable.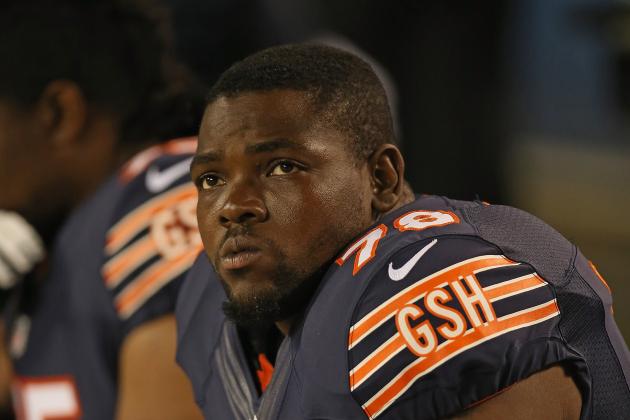 Jonathan Daniel/Getty Images
James Brown
Leave it to the backups to provide the best offensive line play of the preseason. They were good, actually very good albeit against mediocre competition.
James Brown: A-
Josh McCown was able to stay upright, not getting sacked the entire game. A special thanks should go to Brown for providing good pass coverage on the blind side.
Cory Brandon: A-
Brandon was nasty in the running game. He was able to open some holes for the backs and get a good push on the line of scrimmage.
Edwin Williams: B+
Williams proved to be a valuable backup by playing center the entire night. He showed flexibility pulling from the spot after snapping the ball and had no glaring coverage mistakes.
Jonathan Daniel/Getty Images
Corey Wootton
The defensive line had its ups and downs. There were some good plays, players to build off of and a few teachable moments.
Brian Price: B+
It's unfortunate Price left the game with a head injury because he was having an outstanding game. Often he was found pushing the guard behind the line of scrimmage. He was a disruptive force at times and really stood out on the defensive line.
Corey Wootton: D
This should have been a game where Wootten was able to put together a solid pass rush and it never happened. His inconsistency as a Bear has been frustrating and tonight was no different.
Cheta Ozougwu: B
What Wootton was not able to do, Ozougwu did. He provided pressure on the quarterback even getting himself a sack, his second of the preseason. He has a reputation as a pass rusher and did nothing to hurt that in this game.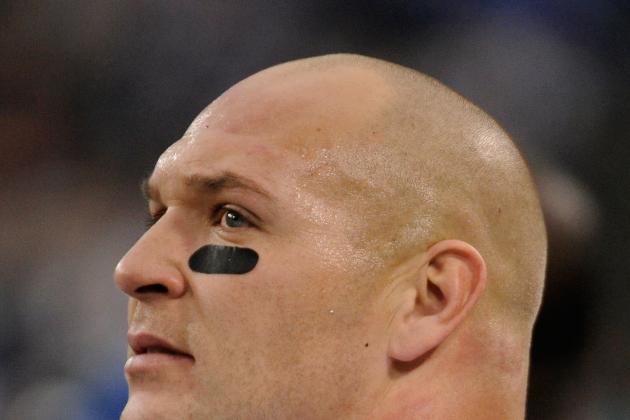 Hannah Foslien/Getty Images
Brian Urlacher
While the buzz was still flowing about Brian Urlacher and his knee injury, this game gave some of the backups a chance to shine.
Xavier Adibi: A
Adibi was a true standout on defense. He led the team with seven tackles, three tackles for a loss and a sack. He was all over the field, in the backfield and had outstanding gap coverage throughout the game.
Jabra Williams: B
Williams had five tackles and two for a loss. He had a good game, making the necessary plays when needed.
Patrick Trehan: B
Not much can be said about Trehan on defense, but his blocked punt was a big play. Any player in a backup role needs to stand out on special teams first and Trehan was able to do that with the big play in the third quarter.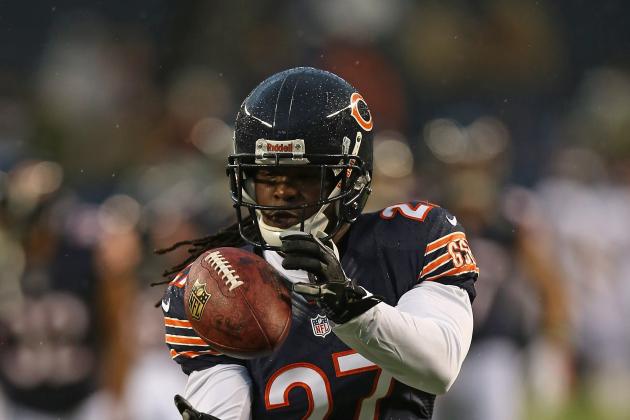 Jonathan Daniel/Getty Images
Jonathan Wilhite
The Bears are going to need help at the safety position due to injuries, so having somebody stand out is always great. The young corners still need some help but one is clearly better than the other.
Jeremy Jones: B
Jones set the tone early. He made big hits and made a nice play on the ball to break up a Colt McCoy pass. As the game went on, he dipped a little but still had a nice game overall.
Isaiah Frey: D
Frey still struggled in pass coverage, getting burned on a touchdown in the back of the end zone at one point. He really had a hard time in man coverage and his lack of technique and body control was evident.
Greg McCoy: B
McCoy's outstanding break on the ball led to an acrobatic interception that might have been the play of the game. By not giving up on the play he got rewarded with a touchdown after a challenge overturned the initial call.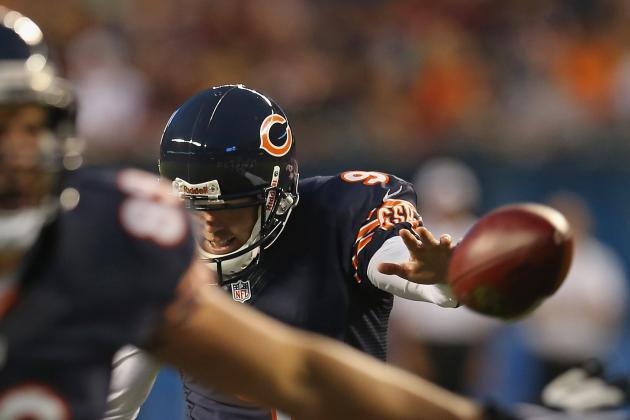 Jonathan Daniel/Getty Images
Robbie Gould
After struggling the last couple of weeks on kick and punt coverage the special teams seemed to regain their form.
Robbie Gould: B-
Gould missed a kick early he normally makes but was still able to be outstanding on kickoffs booming the ball out of the end zone.
Ryan Quigley: A
Getting his chance to show what he can do for the injured Adam Podlesh, Quigley came out and had a good night. His kicks were deep and high even pinning the Browns inside the 10-yard line at one point. Overall he finished with three of his four punts inside the 20.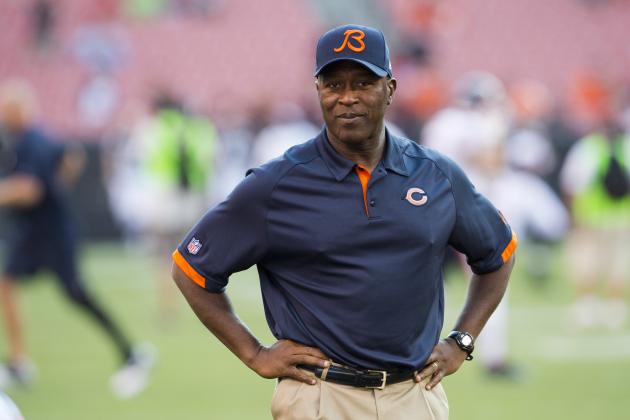 Jason Miller/Getty Images
Lovie Smith
Rest the starters, get the most out of your backups and try to come away fairly healthy. That is what a coach is looking for in the final preseason game.
Coaches: A
Lovie Smith was able to get a good look at all the key backup players in the game. He had a good challenge which led to a touchdown on the McCoy interception as well.
Mike Tice mixed up the offense very well and put McCown in some good spots to make plays. He was able to get the football in the two running backs' hands knowing there was a tough battle at the position.
Rod Marinelli's defense was aggressive early. Over the course of the game they were thrashed at times in the running game but still came out with a couple takeaways and key plays.