Ole Miss Football 2012: Can the 'New-Look' Rebels Play to Their Strengths?
Ole Miss fans have been on a roller coaster the last five years, experiencing two Cotton Bowl victories but also tolerating two zero-win seasons in the SEC.
The Ole Miss Rebels in 2012 will have a new offensive philosophy, a new starting QB, and a revamped offensive backfield and defensive line. As the Rebs transition to an up-tempo spread-type team, what positives can the Ole Miss fanbase keep an eye on under first-year head coach Hugh Freeze?
Begin Slideshow

»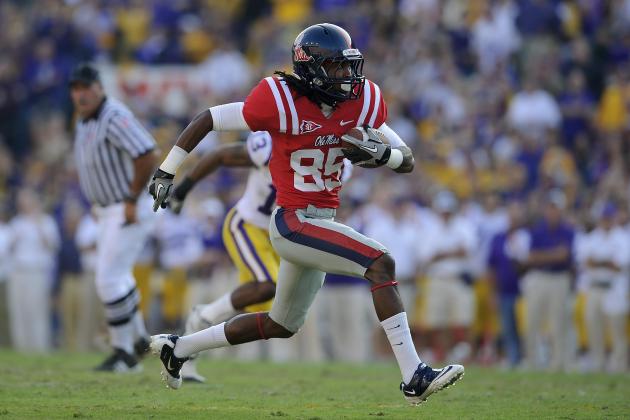 Paul Abell-US PRESSWIRE

Hugh Freeze has not been one to embrace being known as a "spread coach." Often times, the spread is thought of as a gimmick offense that relies on trick plays, option quarterbacks and small running backs. The most common perception of the spread is that they can't hang against top-flight SEC defenses.
Coach Freeze is quick to point out that the emphasis with his offense is playing to the teams strengths and playing at a higher tempo than the defense he faces. Whether Ole Miss runs a true "spread" offense or not, the idea will be to transition the Rebels from a mediocre wildcat, power run team to a dangerous, speed first team, that is capable of breaking the big play on every play.
This requires offensive lineman to ideally run 25-percent more plays per game, but to hopefully release blocks faster due to the quick passing and run attack Freeze is implementing. In the SEC, as the O-line goes, so goes the team. This team can only run as fast as the O-line will carry them.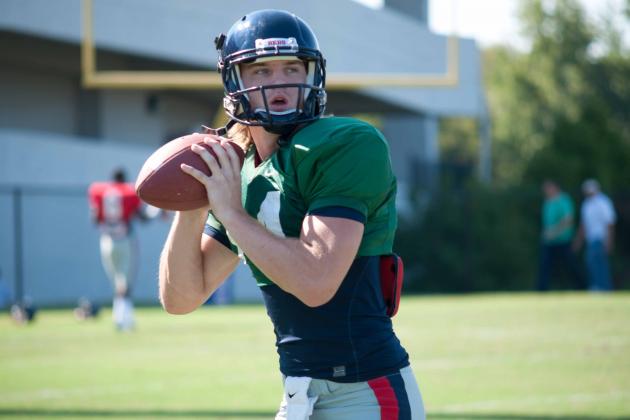 Finally a starter has been named. According to beat reporter Hugh Kellenberger of ClarionLedger.com, JUCO transfer Bo Wallace will start for the Rebels against Central Arkansas. This is a welcome sight for many Rebel fans as the QB by committee approach is common in Oxford, MS and is also commonly a disaster.
Many a coach and fan will tell you that if you have two starting QBs you really don't have one good one. While backup Barry Brunetti is athletic and will see some playing time, Bo Wallace is more familiar with Hugh Freeze's offense, playing his true freshman year at Arkansas State.
How well Wallace manages this team will be important to watch in 2012. I hope to see a vocal leader on the field that can manage the personalities as well as the fragile psyche of a team coming off a zero-win season in the SEC.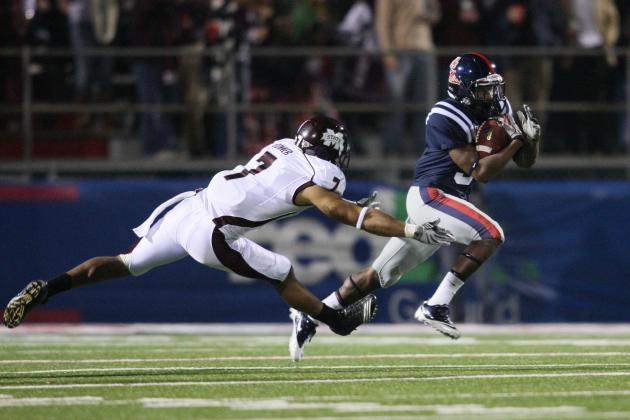 Marvin Gentry-US PRESSWIRE

If any position has been a surprise at Ole Miss this fall it has been the development of depth at the running back position. Only one running back (Jeff Scott) returned from last year's team, and while he has plenty of speed, the idea of giving the ball to a 175-lb running back 20 times a game in the SEC seems a little absurd.
A big surprise in 2012 will be Randall Mackey, who after playing QB his entire career makes the switch to running back as a senior, and by all accounts has surpassed expectations. Also coming into fall camp and making waves are true freshmen I'Tavius Mathers and Jaylen Walton, who have jumped to the top of the depth chart over senior Devin Thomas and Sophmore Nick Parker.
Look for Mackey to start against Central Arkansas with plenty of touches for Mathers and Walton as Jeff Scott will be held out due to back strain.
After having some monster defensive lines under former coach Ed Orgeron, the positions have dwindled somewhat, at least in size and experience. Expect future stars sophomore CJ Johnson and true freshman Channing Ward to come strong off the ends. What they lack in experience, they make up for in speed and talent.
To prove the point of how shallow the depth is along the D-line at Ole Miss, watch for another true freshman to get significant playing time at nose tackle—South Panola high school's very own, Isaac Gross. Despite being undersized, Gross has proven he is one of the best in fall camp, and deserves the playing time.
With the youth movement, defensive coordinator Dave Wommack can at least rotate some bodies along the defensive front and keep the line fresh.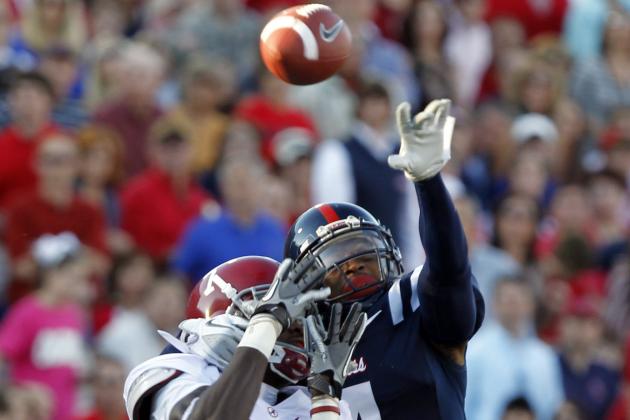 Butch Dill/Getty Images

If there is a position of strength at Ole Miss this year, it is the defensive secondary (Final depth chart). With a little more help in pass rush, this secondary will have the skill and the depth to lock wide receivers down. Losing Nick Brassell as a grades casualty will hurt, but if we could afford to lose a player at any position it would be in the secondary.
Look for Corners Wesley Pendleton and Senquez Golson to be solid this year as Charles Sawyer and Cody Prewitt look for more interceptions.
Also, the introduction of hybrid LB/safety positions Huskie and Stinger, will give the Rebels a new look and a new chance in 2012.