Wisconsin Football: 3 Most Intriguing Storylines for Opener
Jonathan Daniel/Getty Images

It's here. It's finally here.
Work has been ignored and loved ones neglected all week in anticipation of the opening of the Wisconsin Badger college football season. Slowly Madison's streets begin to fill, as more and more fans swarm the city for that sacred Saturday ritual.
As Bret Bielema and his team prepare for a game against the University of Northern Iowa, a few questions still linger. While the Panthers should put up an admirable fight, they will be outgunned in every phase of the game, which provides the Badgers with a much-needed tune-up game.
While the final score will probably lean more toward blowout than nail-biter, much will be learned in the first game of the season.
Begin Slideshow

»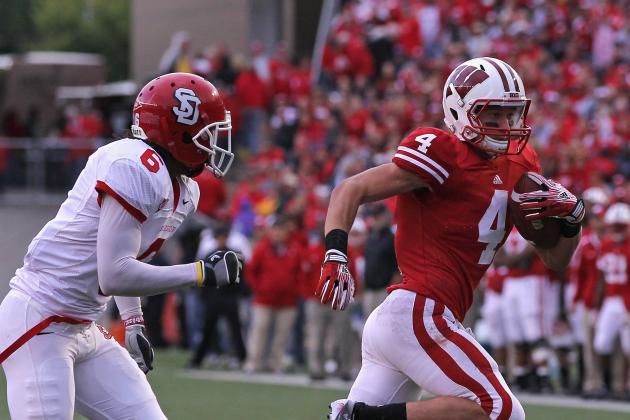 Jonathan Daniel/Getty Images

Jared Abbrederis must be a little lonely on the depth chart, because it's him and then everyone else.
One of the biggest question marks coming into the game will be who will be catching Danny O'Brien's passes. Abbrederis is as dependable as snow in November, but who will be the second or third option? Anyone?
Offensive coordinator Matt Canada must be thanking his lucky stars that tight end Jacob Pedersen is still on the roster, otherwise the situation would go from bleak to dire.
Other contenders to catch some meaningful passes are freshmen Jordan Frederick and A.J. Jordan, along with sophomore Kenzel Doe and junior Jeff Duckworth. Duckworth has seen the most game-time snaps and even played the part of unlikely hero during the Big Ten Championship game.
Otherwise, the unit is filled with inconsistent camp performers and spring game pass droppers.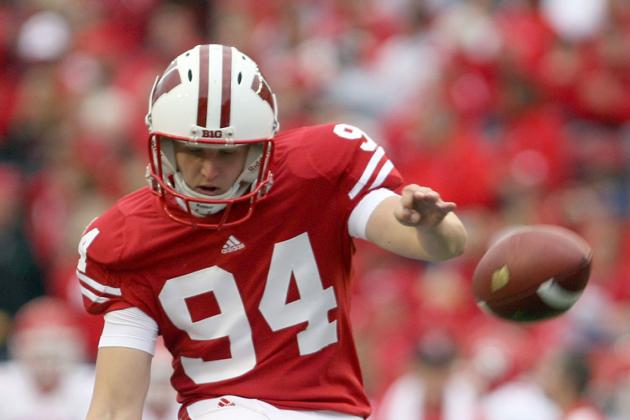 Mary Langenfeld-US PRESSWIRE

The race to be Wisconsin's kicker is an uneven one.
Since camp ended, Bielema has tabbed sophomore Kyle French as the kicker for both field goals and kickoffs. Meanwhile, a depth chart dated just 10 days ago had freshman Jack Russell booting field goals, but that is no longer the case.
In an interview with the Milwaukee Journal Sentinel's Jeff Potrykus, associate head coach Charlie Partridge gave credit to French for emerging from a slump to nab the starting spot for both duties:
French, a redshirt sophomore from Menomonee Falls High School, said his issues started with a few misses from the right and multiplied.

"Kicking is so much like golf in that respect," said Partridge, adding the staff would continue to chart both kickers this week. "If you start thinking about a million things, what happens? You don't hit any ball right.
Slumps scare coaches because they have a tendency to return. A real game should shed some light on whether French is the real deal or in between bad performances.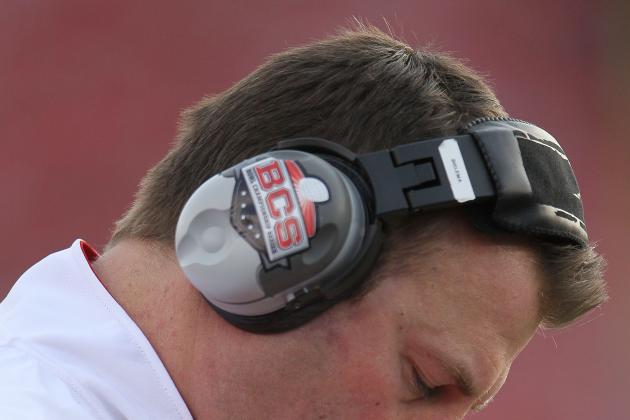 Jeff Gross/Getty Images

Head coaches have to think about contracts and pink slips as much as they have to analyze X's and O's.
Wisconsin saw a flurry of assistant coaches give in their two weeks' notice for new opportunities. Opportunities that only come from success, mind you. The UNI Panthers should provide the new staff an excellent chance to bond under pressure.
Who sits in the box? Who likes to prowl on the sideline? How will players respond to calls?
While details like this seem innocuous to the casual fan, football is a game of rhythm, on and off the field of play. Bad chemistry often starts with crossed signals, and that communication begins with the head coach and bleeds into the coordinators.
Coaches can smile and bluff in interviews, but what happens when a win or loss is on the line?