Bengals vs Colts: Final Report Card, Player Grades for Indianapolis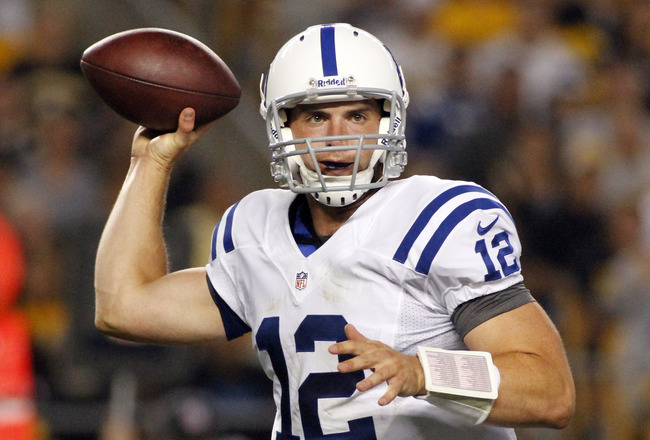 Justin K. Aller/Getty Images
The Colts beat the Cincinnati Bengals 20-16 tonight at Lucas Oil Stadium, as the battle of the scrubs turned into a penalty filled mess during the second half. Both coaches got to see the bottom half of their roster tonight, as the third and fourth string players got the vast majority of playing time in the second half.
Here are our final grades, with individual grades for the notable players in tonight's preseason finale.
Quarterbacks
Patrick McDermott/Getty Images
Andrew Luck: B-
Luck was only in for one drive, as the Colts coaches wisely played it safe. In that drive, Luck couldn't find anyone downfield and was forced to check down several times. He was not helped by Coby Fleener drop, however, but didn't make any big mistakes, taking care of the ball.
Drew Stanton: B+
Stanton also only played one drive, but was able to move the ball a little bit, going 3-3 for 42 yards. However, the drive stalled when he checked down to Vick Ballard on third and long.
Chandler Harnish: B
Harnish didn't wow, but he was able to move the ball once he got into a rhythm, leading the team on three scoring drives. Harnish threw for 162 yards on 16 attempts for one touchdown and no picks.
Running Backs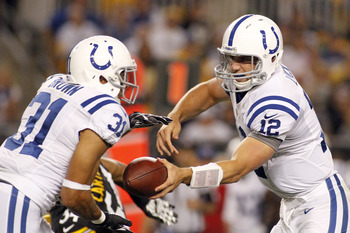 Justin K. Aller/Getty Images
Vick Ballard: A-
Ballard only had two touches, but gained 16 yards with the one carry and one reception. He's quickly cementing his spot as Donald Brown's backup and may earn a bigger role as the season progresses.
Darren Evans: C-
Let's just say that he won't be making the final roster. He had a nice touchdown run, but other than that, failed to make much of an impact. His second fumble of the preseason sealed his fate.
Deji Karim: B+
While his failed kick return in the second quarter was disappointing, he showed some nice quickness and burst in this final game, trying to make the roster over injured running backs Delone Carter and Mewelde Moore. He also had a touchdown run and was the only player with multiple carries with a YPC over two.
Wide Recievers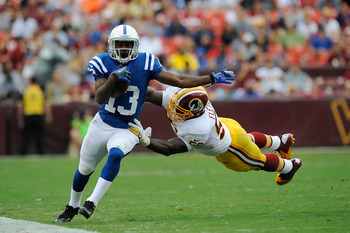 Patrick McDermott/Getty Images
LaVon Brazill: B
Brazill had some nice catch-and-runs, three short passes taken for 28 yards and three first downs. His punt returns were unnoticeable, but he looks to have locked down a spot at receiver.
Kris Adams: A-
The lone tall receiver on the roster, Adams finally lived up to expectations tonight with several big catches down the sideline, getting two catches for 53 yards. He also earned a pass interference on the goal line, leading to a one-yard TD run. Unfortunately, Adams received a blow to the head on that same play, and did not come back into the game. If he's healthy, he may have earned a roster spot.
Jeremy Ross: B
Ross showed up on special teams tonight, which is really what he's shooting for in terms of a spot on this final roster. But he also had some nice moves catching the ball as well, turning his one catch into a 12-yard gain with a great stiff arm.
Tight Ends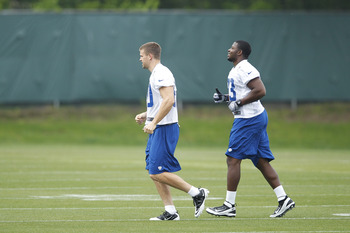 Joe Robbins/Getty Images
Coby Fleener: C-
While he did have an eight-yard catch, Fleener also had another costly drop. He's had several in camp and also in preseason games. He needs to develop dependable hands if he's to be a top target at tight end.
Dwayne Allen: A
Allen again showed his blocking skills tonight, as well as his ability in the receiving game, getting a nice ball from Drew Stanton on a 23-yard pass downfield.
Dominique Jones: B-
Jones' job on this team would mainly be blocking. He was inconsistent doing that tonight, at one point causing a fumble by Chandler Harnish when he backed into him. However, Jones had some tough running on a 42-yard touchdown pass, including at least three stiff arms.
Offensive Line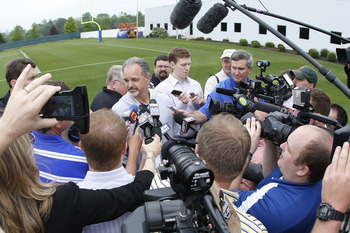 Joe Robbins/Getty Images
AQ Shipley: C+
Shipley had some very inconsistent blocking in the run game, but did have a very nice block to spring a touchdown run in the second quarter. He was quiet in pass protection, which is always a good thing for an offensive lineman.
Ty Nsekhe: D
Ryan Grigson is rooting for him, and LT George Foster just got put on the injured reserve list, otherwise Nsekhe would likely be getting cut this weekend. His performance tonight didn't help him as he gave up a particularly ugly sack.
Defensive Line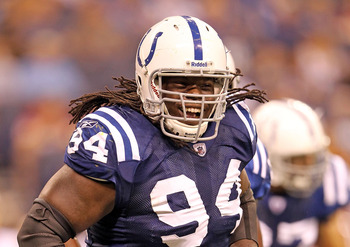 Andy Lyons/Getty Images
Drake Nevis: B+
Nevis was active in both run stopping and pass rushing, getting a sack and five tackles. Nevis did have a bad personal foul penalty during Cincinnati's 45-second drill, but made up for it with a sack on his next play. He also caused at least one holding penalty on the night.
Antonio Johnson: C-
Johnson did nothing to reassure Colts fans this week, as he was again pushed back far too easily on running plays. He offers little to nothing when rushing the passer.
Linebackers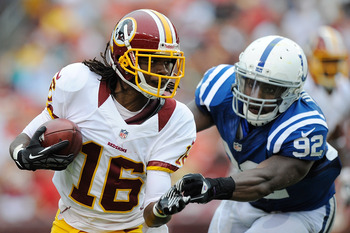 Patrick McDermott/Getty Images
Jerrell Freeman: B+
The feel-good story of the Colts' 2012 preseason, Freeman made some important stops in the first quarter, showing up around the ball early and often.
Jerry Hughes: A-
Hughes continued his impressive preseason tonight with multiple quarterback pressures and three tackles in the run game.
Mario Addison: A
Addison, along with Hughes, is making a case to be the full-time backup at outside linebacker, gaining two more sacks tonight.
Moise Fokou: B+
Fokou got everyone's attention with big hits and also had a pass defensed and a forced fumble. He will likely make the roster with his performance tonight and his past repertoire with Ryan Grigson.
Defensive Backs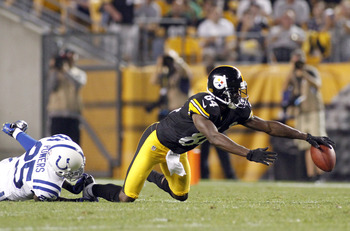 Justin K. Aller/Getty Images
Cassius Vaughn: D
Vaughn was allowed to start in place of Jerraud Powers and did not use the opportunity to help himself. He allowed several quick catches to start the game, leading to the Bengals' first field goal. He also allowed a long pass at the end of the first half as they got a last second field goal.
Josh Gordy: F
After showing up via trade this past week, Gordy was awful against the Bengals. Marvin Jones abused him in the second quarter, including one pass for a touchdown.
Antoine Bethea: B+
He cleaned up all the backfield messes for the Colts in the first quarter and was the lone good performer of the game.
Special Teams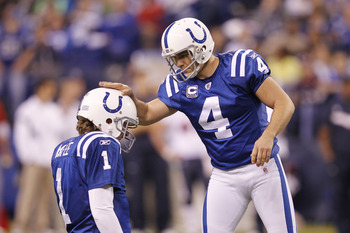 Joe Robbins/Getty Images
Pat McAfee: A+
Getting a lot of work tonight by punting the ball eight times, McAfee proved he was still a top-10 punter by booming the ball deep again and again, often from his own endzone. He had one particularly impressive punt, pushing the Bengals back to their own 25 (from his own endzone).
Returners: C
The Colts used several different kick returners throughout the game, none of which stood out negatively or positively.
Coaching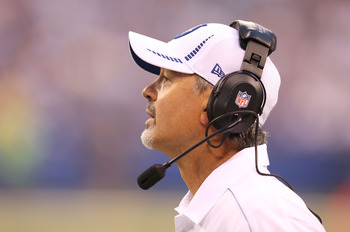 Andy Lyons/Getty Images
Chuck Pagano: B+
The new Colts' head coach was wisely conservative tonight, pulling his starters extremely early. That's really all that matters for a final preseason game, yet we saw Pagano getting involved late in the game with his players as well. He may have done better by allowing Drew Stanton more time in the game, but that's not much of an issue.
One issue was also the amount of penalties, but some of the blame can be placed on the replacement officials, who did a terrible job running the game.
Bruce Arians: C
The play-calling continues to be frustrating, as bubble screens and draws continued tonight, as well as a reverse that netted negative five yards. This is the preseason, however, and the game planning will be much more involved in the next four months. As long as the offense is productive, Arians wins.
Keep Reading

Indianapolis Colts: Like this team?