Buffalo Bills vs Detroit Lions: Preseason Week 4 Live Score, Analysis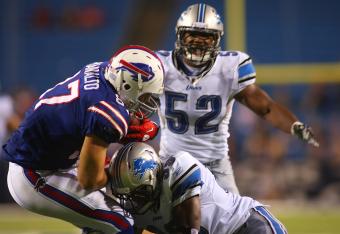 Rick Stewart/Getty Images
Get ready, because here comes the notorious fourth preseason game.
It's going to be an incredible contest full of ruthless men, doing whatever they can, wherever they can, to best one another. It's going to be a hard-fought contest full of elite-level play and...pffffft!
I was really trying to hype this one up, but I couldn't keep a straight face through it. But it's meaningless even if I had. Everyone already knows what this game is.
It's a game where the starters do a quick, half-hearted walkthrough for one series, the secure backups come in and do the same and the last 30-40 players on the roster fight tooth-and-nail to prove they're worth a roster spot.
In reality, the Lions and Bills aren't really playing each other tonight. That's not the real contest. The real game is the bottom halves of these two rosters trying to outplay the guys on their own team. The guys on the other side of the field are just a proxy to help make that point.
It may not be good football, but it does precede the cuts of about 22 players per team. So don't try telling those 22 guys that this game doesn't matter. This is the last game of football some of these players will ever play.
Of course, if you're not one of those guys, this game has limited entertainment value. But if you're a true football geek and simply can't wait for the regular season, here's what you need to know to watch the final game of the season in which the outcome is unimportant.
Buffalo Bills (0-3) at Detroit Lions (1-2)
Time: Thursday, August 30, 7 p.m. ET
Lions Networks
TV: WXYZ-TV ABC 7 (Detroit)
Radio: WXYT-FM (97.1)
Bills Networks
TV: WKBW Channel 7 (Buffalo), WHAM Channel 13 (Rochester), WTVH Channel 5 (Syracuse), WBNG Channel 12 (Binghamton)
Radio: WGR 550 AM
Final Score: Bills 32, Lions 38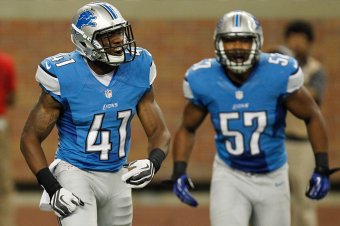 Gregory Shamus/Getty Images
Tyler Thigpen comes back out to run the two-minute offense, which makes sense, considering Tarvaris Jackson has no concept of even the regular offense.
The Bills moved the ball pretty efficiently with underneath routes, at the expense of time. They moved into striking distance, but Everette Brown got a hand on Thigpen to wreck the release of a throw to the outside, and Justin Miller consequently came down with a dead-duck interception to seal the game.
The Lions have to come out feeling pretty good about this one, as most of their top players in the first quarter utterly dominated to jump out to a 28-7 lead, with big plays on offense, defense and special teams.
Mikel Leshoure finally showed why the Lions traded up to the second round to draft him in 2011. He wasn't statistically fantastic, but showed plenty of lateral agility and hard running. It's just too bad he'll have to wait another three weeks to play again.
The Bills showed flashes, especially on the opening drive with the first-string offense, but will ultimately fall to 0-4 on the preseason.
To be fair, two teams went 0-4 in the 2011 preseason (Atlanta and Oakland), and neither team finished the season with a losing record (10-6 with playoffs and 8-8, respectively). Buffalo will keep that in mind as they prepare for a big opening week matchup against the New York Jets.
As always, Lions fans, keep it close as I give a post-game analysis of who helped and hurt their case for the roster.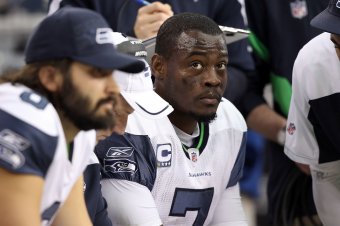 Christian Petersen/Getty Images
With under 10 minutes left in the game, it's surprising that the Bills have not yet given Tarvaris Jackson a shot. Tyler Thigpen continues to run the offense, while Jackson reads over the plays on his wristband from the bench.
Clearly, the Bills have no interest in creating a backup quarterback controversy just yet. That should come as no particular surprise, since Jackson has been with the team for less than a week and isn't actually a very good quarterback, despite his starting experience.
Jackson finally enters the game with about six minutes to go in the game, and fumbles his first snap as a Buffalo Bill. That's an ominous sign, as Jackson's first drive as a Bill gains seven total yards before ending in an interception.
Tyler Thigpen probably feels a lot better now.
Current Score: 38-32 Lions (4Q, 2-minute warning)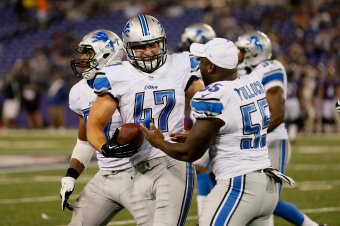 Rob Carr/Getty Images
Carmen Messina is going to want that sequence back.
After the Lions make it 31-24, Messina got the tackle on the ensuing kickoff at about the 10-yard line, only to have it flagged back on his own offsides call.
After getting an earful from special teams coordinator Danny Crossman, Messina headed back out for the re-kick, only to miss a tackle and watch as Marcus Easley returned it 100 yards for a touchdown to tie the game (or not, as the Bills actually took the lead on a seven-yard two-point conversion after a false start).
Messina is very much on the roster bubble, and his special teams value is going to be the biggest factor regarding whether he makes the team. A penalty and a missed tackle on a touchdown return are the two worst possible things that could happen in that regard.
And of course, the Lions answer back faster than I can even post the initial update, as Joique Bell makes up for a slow start and leads the Lions down the field for an 80-yard touchdown drive that took just over three minutes.
The drive was capped off with a nifty little Kellen Moore playaction naked bootleg from about the half-yard line, and the Lions lead again, as they have for most of the game.
Current Score: 38-32 Lions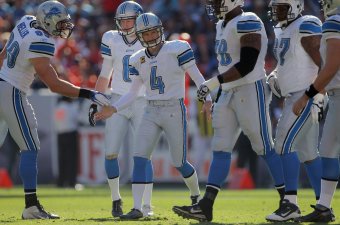 Doug Pensinger/Getty Images
Once again, Kellen Moore runs a pretty decent drive, doesn't finish it, and a missed field goal makes it look like he hasn't produced any offense. The stats are telling a very different story for Moore than the film.
Lions RB Joique Bell is getting a steady diet of carries with Leshoure out of the game, but he looks awful. At present, he has four carries for -6 yards with a fumble.
The Bills, or rather the collection of players that will and won't be Bills 24 hours from now are decisively the better team on the field in the second half. After the Lions scored 28 unanswered points, the Bills have rolled off 17 straight to cut the lead down.
To be fair, the Lions have left a lot of points on the board in the form of field goals, but Jason Hanson finally put one through early in the fourth quarter to extend the lead to seven.
Current Score: 31-24 Lions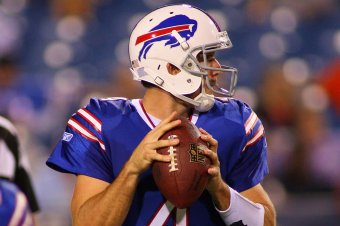 Rick Stewart/Getty Images
The Bills open the second half with a touchdown on their first offensive possession. Tyler Thigpen appeared to find a rhythm, and the result was a picked-apart Lion defense.
A couple of Lion defenders came close to making big defensive plays, but Thigpen had the game of inches on his side on this drive. He is now 9-for-17 with 90 yards and an interception. Not sexy numbers, but reasonable for a backup quarterback, especially considering he has helped produce 10 Bills points.
Kellen Moore continues to chug away in the Lions offense, but he has had about a quarter to run the offense, and has produced no points.
That's the stat, anyway. What it won't tell you is the reason Moore's offense hasn't scored is because of rampant drops in the receiver corps, a blocked field goal, and Mikel Leshoure taking a seat, presumably until Week 3 of the regular season (he's suspended for the first two).
Bills are starting to creep back on the scoreboard, which is good news for the players making it happen, especially as they start moving again.
Current Score: 28-17 Lions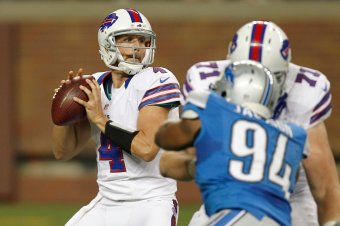 Gregory Shamus/Getty Images
The Bills' second-best drive of the night earns them a field goal, after Tyler Thigpen's best work all game. The Lions continue to play soft defense between the 20s, and then stiffen up in field goal range.
Kellen Moore came out for the Lions and responded with a very strong two-minute drill that took the offense past midfield. But a couple of drops on catchable passes doomed the drive through no fault of Moore's.
Moore has the entire second half to continue putting his skills on display, and to this point, he's having one of his better games of the season. Although he's 4-10 thus far in the game, at least three of those incompletions were near-perfect passes that were just dropped.
For the Bills, Thigpen finished the half, and there is no sign of Tarvaris Jackson just yet. Thigpen would probably like some time to improve on his 5-12 start before handing the reigns to the new guy.
Oh, and I guess some might like the score of the game at halftime, as well.
Current Score: 28-10 Lions (Halftime)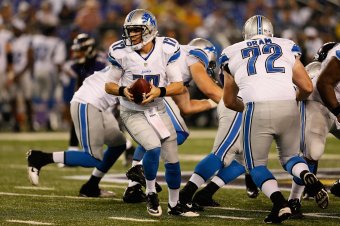 Rob Carr/Getty Images
The Bills have stopped the bleeding, a fact that probably has a great deal to do with Kellen Moore entering the game just a few minutes into the second quarter. That said, Moore engineered a nice drive to put the Lions in field goal range, but that field goal was blocked by Leodis McKelvin.
Mikel Leshoure remains in the game for the Lions, and while he isn't putting up huge numbers, he is showing some very nice moves. The problem is, most of them are to avoid an unblocked defender coming right at him in the backfield. The Bills defense is starting to swarm.
On the other side of things, Tyler Thigpen remains in the game, but has had a rough go of it. After a couple of drives that never got off the ground, the Bills are now in the red zone at the two-minute warning. Still, the Bills can't be thrilled with their options at backup quarterback.
Current Score: 28-7 Lions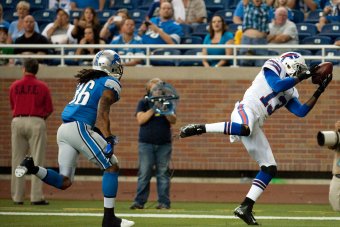 Tim Fuller-US PRESSWIRE
Both teams are fielding primarily second-string players as the first quarter winds down, but the Lions are still giving RB Mikel Leshoure plenty of work.
Leshoure now has 30 yards on nine rushes with a touchdown, as well as a 33-yard reception. Not sure how deep he'll go into this game, but that's not bad for a first quarter.
I was prepared to post a wrap-up for the first quarter, and then Jonte Green stepped in front of a weak Tyler Thigpen pass on the wing, and returned it 24 yards for a touchdown. That's great for Green, who was beat badly on the Bills' only touchdown. I'd say he's evened that out.
Lions now dominating in all phases, and scoring faster than I can write.
Current Score: 28-7 Lions (end of 1Q)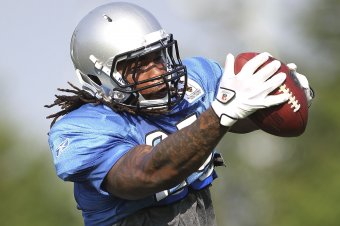 Leon Halip/Getty Images
After the Lions defense was pretty well embarrassed by the Bills offense, the roles reversed and the Lions offense returned the favor, courtesy of Stafford-to-Johnson (in double coverage).
On the ensuing kickoff, Lions LB Ashlee Palmer forced a fumble on Brad Smith, the Lions recovered at the nine-yard line, and Mikel Leshoure took it up the gut twice for another Lions touchdown. That's an encouraging sign for both Leshoure and the Lions' power-run game.
Stafford and Johnson are now done for the preseason. We'll see them again on Sept. 9.
Current Score: 14-7 Lions (1Q)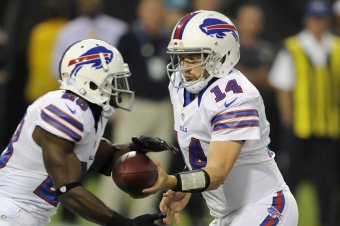 Hannah Foslien/Getty Images
If the Lions had their way, the game would have started a little better than that for the defense.
Ryan Fitzpatrick and C.J. Spiller just helped the Bills pick apart the Lions defense during a methodical 84-yard drive in which they didn't face a third down until they were on the four-yard line. On that play, Fitzpatrick hit Stevie Johnson in the end zone on a fade route, making rookie CB Jonte Green look silly in the process.
With just over six minutes in the books, the Bills lead.
Score: 7-0 Bills (1Q)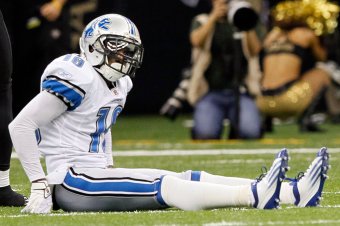 Kevin C. Cox/Getty Images
Because of the less-than-pivotal nature of today's game, both teams are going to hold out a number of players for health reasons.
The Bills will be missing RT Erik Pears, DE Mark Anderson, CB Terrence McGee and CB Ron Brooks.
The Lions have deactivated a few more players. They will be without RB Stefan Logan, RB Kevin Smith, WR Titus Young, DT Corey Williams, DE Kyle Vanden Bosch, LB Travis Lewis, LB Stephen Tulloch, CB Chris Houston, CB Bill Bentley and S Louis Delmas.
Lions QB Matthew Stafford, who injured his non-throwing hand last week against Oakland, is active and starting.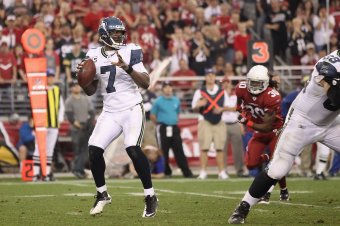 Christian Petersen/Getty Images
Though the majority of this game will go unnoticed even by some of the most dedicated fans, there are still a number of questions for both teams, even going into the fourth quarter.
For the Lions, can they run the ball? And can they get any quality play out of their maligned secondary, especially with injuries already starting to stack up? Somebody has to earn those roster spots.
For the Bills, is Tarvaris Jackson an upgrade from the recently cut Vince Young? And can the defense clamp down after allowing an average of 27 points a game in the preseason?
Those are important questions, but the biggest question is whether these teams can keep from suffering any major injuries. The real winner of this game won't be the team that scores the most points, it's the team that suffers the fewest injuries.
This article is
What is the duplicate article?
Why is this article offensive?
Where is this article plagiarized from?
Why is this article poorly edited?

Detroit Lions: Like this team?