South Carolina Football: 10 Important Storylines to Watch Throughout 2012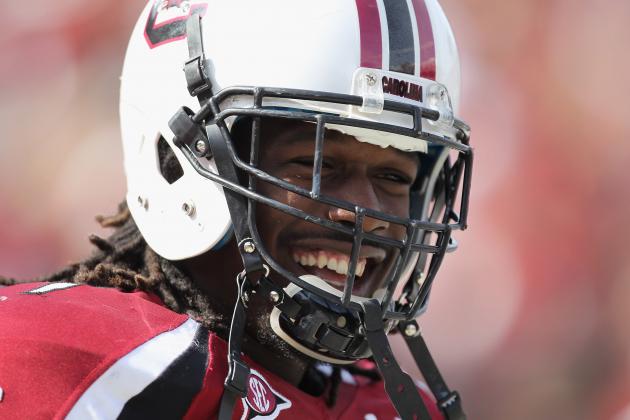 Streeter Lecka/Getty Images

The season begins in earnest tonight, as the Gamecocks travel to Nashville to take on the rising Commodores. There are a ton of fantastic storylines to follow if you are a Gamecocks fan. I came up with a list of 27, before cutting it down to my 10 favorites.
Each week, I will update the story with results and analysis from the week before.
Guys, I also want to hear from you! I don't care if you are a fan of a different team or just a casual fan… I would like to see what storylines you want to follow! Leave me a comment with the storyline you are most interested in, and I may pick yours to add to my list. I will pick one a week.
Without further ado, I present my storylines to watch in 2012.
Begin Slideshow

»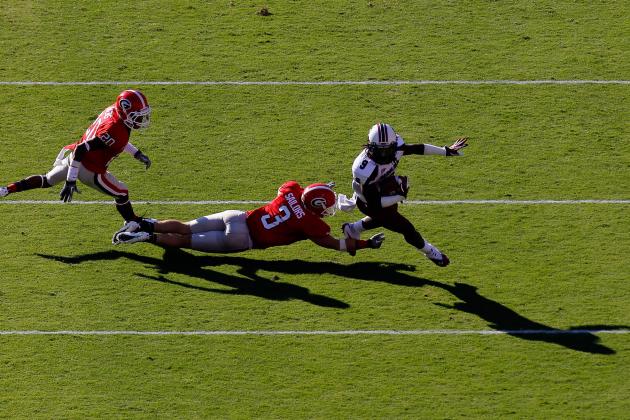 Kevin C. Cox/Getty Images

South Carolina has a roster full of talented wide receivers and no true No. 1. How the guys shake out and produce will be one of the most intriguing things to watch during the course of the year. Will it be Ace Sanders who breaks out? A freshman? An unknown? A tight end?
It's suspenseful.
And delicious.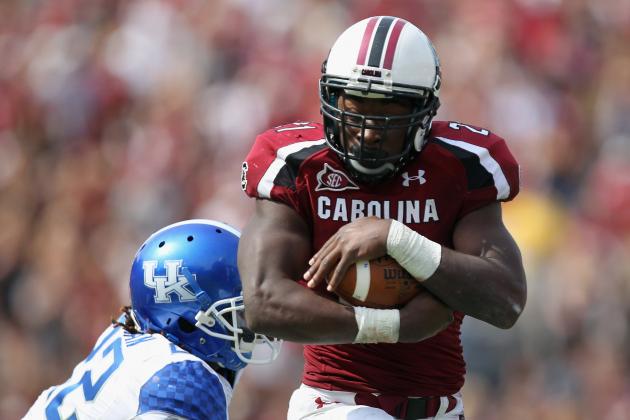 Streeter Lecka/Getty Images

Marcus Lattimore has a great shot of winning the Heisman if he stays upright. It's been well documented that he's a power back that has speed and agility. He is also a high character guy and should be the leader of a great team.
That screams Heisman. You know who else screams Heisman? No one. Nobody does that.
Don't be stupid.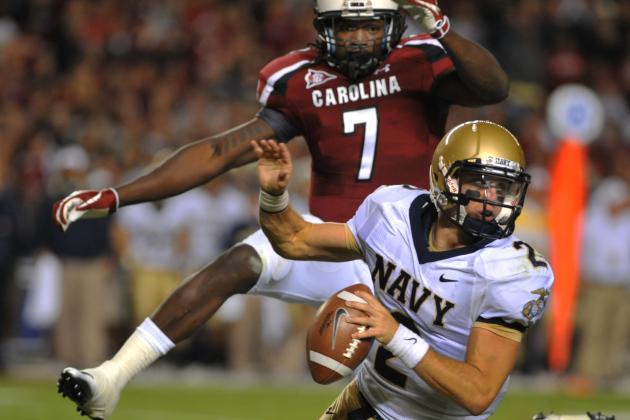 Al Messerschmidt/Getty Images

Jadeveon Clowney is the world's most freakish defensive end. He's stunningly fast and capable of destroying entire plays by himself.
Many people have him listed as an All-American, All-SEC, All-whatever player in only his second season. Can this season live up to the hype?
Short answer:
YES.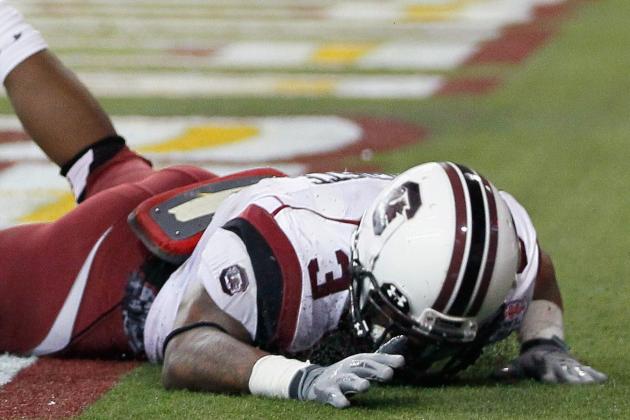 Kevin C. Cox/Getty Images

South Carolina has had injuries, transfers and early NFL draftees at this position, so it's really thin. Can the youth movement produce and play well? They are athletic enough, but can the understand schemes and coverages? We will see.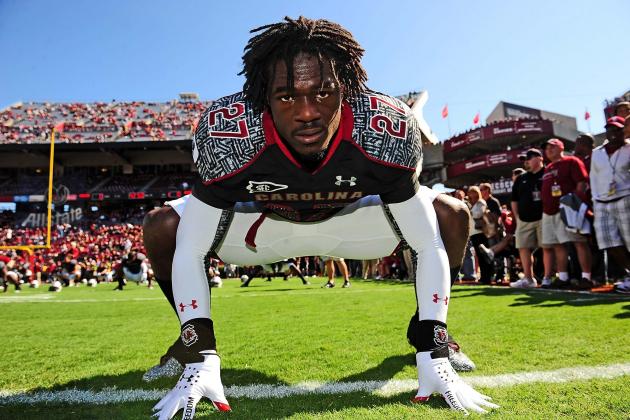 Andrew Weber-US PRESSWIRE

South Carolina is "DB U." They just keep producing top-tier defensive backs.Victor Hampton steps into the role of main coverage guy and has the potential to be another high draft pick from that position. He's had character issues in the past, but can he stay on the field? How will he perform in his sophomore year?
Will he be great?
Or will he punch someone in the face?
Only time will tell.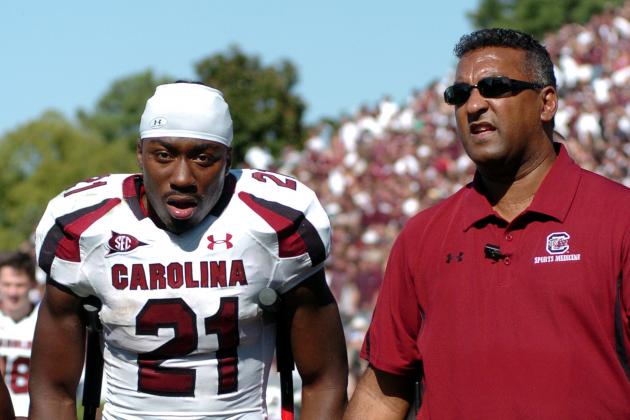 Chuck Cook-US PRESSWIRE

Akeem Auguste. Brandon Wilds, Shon Carson. Damiere Byrd. Rico McWilliams.
All out for various reasons.
I am not sure why, but the injury bug has hit the team hard already. They need to stay on the field in order to reach (voice becomes deep, bassy and awesome as thunder strikes in the background) maximum potential.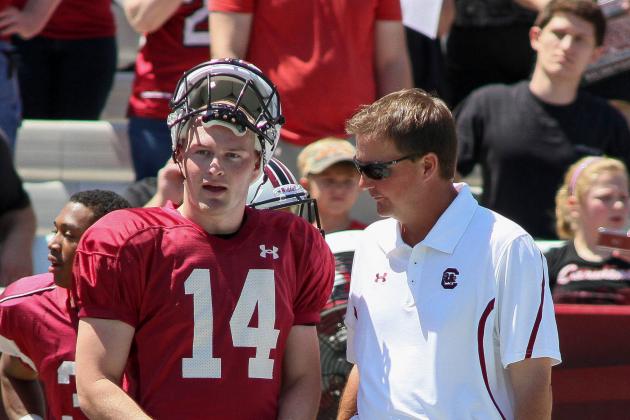 Jeremy Brevard-US PRESSWIRE

Connor Shaw came alive in the second half of the season, becoming a monstrous player for the Gamecocks. A true dual-threat who could destroy you with his legs, arms and brains.
Steve Spurrier loves the guy, and he will be the No. 1 from beginning to end of the season (as long as he doesn't get killed running the ball).
All eyes are on Mr. Shaw, Steve Spurrier's flower child.
thestate.com
There are, like, nine hundred kickers on the Gamecocks roster.
Who does what? How well will they perform? The world may never know.
Except they actually will. Tonight.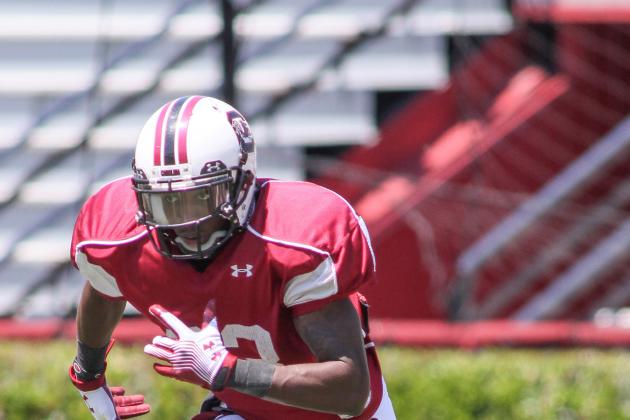 Jeremy Brevard-US PRESSWIRE

Bruce Ellington, Damiere Byrd and Shaq Roland all seem to be great return men, and Ace Sanders is a solid (not spectacular) punt returner.
It would be nice to see the special teams make some plays in that area.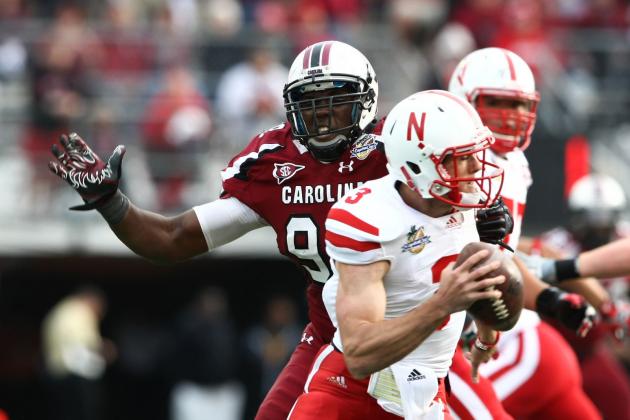 Douglas Jones-US PRESSWIRE

Beyond Jadeveon Clowney, the Gamecocks have some other sack masters. Devin Taylor should be a top defensive end drafted this year. He could be a first-round pick. He's massive and fast. Then, there is Kelcy Quarles, the athletic defensive tackle.
The defensive line rotation is absolutely sick. They will make quarterbacks sick with their sacks. Sick sacks.
Sickening sacks? Man, my phrasing seems off.
The point? My grand slam was supposed to be with sausage.