The Green Bay Packers' 5 Biggest Concerns Heading into the Regular Season
Jake Roth-US PRESSWIRE
The first four games of the Green Bay Packers' regular season schedule is about as brutal of a four-game stretch as there is in the NFL this season.
First, they face the San Francisco 49ers, who went 13-3 last year and were a couple special team blunders away from going to the Super Bowl.
Then, they must prepare for the division rival Chicago Bears in a shortened week, as they play their first Thursday night game of the year.
After that, the Packers will travel to Seattle, one of the best home-field advantages in the NFL, and play a decent Seahawks team.
And finally, Green Bay will host the New Orleans Saints, who nearly beat the Packers in the season opener of the 2011 season in a shootout.
If the Packers are not ready for this death row of games, their record will surely suffer early on, and they will be forced to play catch up the remainder of the year.
I believe Mike McCarthy will indeed make sure his team is ready to face each and every team the Pack face this year, but there will still always be questions surrounding any team.
The following list is of the five biggest concerns Packer fans should have as Green Bay begins their tough regular season, in no particular order.
(Note: this was published before the Packers preseason finale vs. the Kansas City Chiefs. All stats credit to espn.com)
Injuries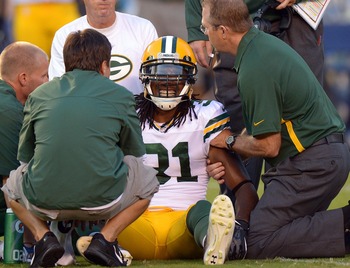 Jake Roth-US PRESSWIRE
The Packers haven't even played one regular season game, and they've already suffered multiple concerning injuries.
Jermichael Finley, Greg Jennings and Marshall Newhouse all have missed preseason games and significant practice time due to concussions.
Desmond Bishop is on Injured Reserve after tearing his right hamstring in the preseason opener.
Davon House also injured himself in the opening preseason game with a left shoulder subluxation, which eerily reminds me of Tramon Williams' injury from last year. That injury prevented Williams from ever reaching 100 percent health, and his play mightily suffered because of it.
And neither Derek Sherrod nor Alex Green nor Andrew Quarless are fully recovered from their respective season-ending injuries from a year ago. Quarless was placed on the Physically Unable to Perform list recently, and Sherrod has a strong chance of ending up there as well.
The Packers were able to overcome all their injury woes in 2010, but sustaining this many injuries this early should frighten any fan.
Graham Harrell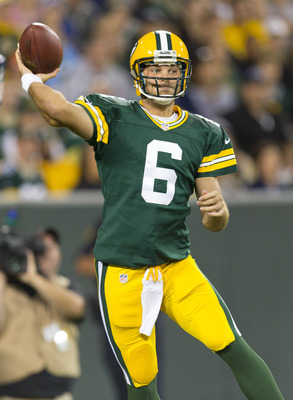 Jeff Hanisch-US PRESSWIRE
With Matt Flynn now in Seattle, the Packers no longer have a top-tier backup quarterback.
Graham Harrell was supposed to be the heir apparent, now that he has gone through McCarthy's "quarterback school" for a couple years.
But so far in the preseason, Harrell has not produced. In the two preseason games against the Cleveland Browns and Cincinnati Bengals, Harrell has led 14 offensive drives. Two of those drives led to a field goal, and none resulted in a touchdown.
Through three preseason games, Harrell has completed 32-of-63 passes for 261 yards, an average of 4.1 yards per attempt. He has also thrown one touchdown and two interceptions.
Granted, his offensive line hasn't blocked for him, and one of those interceptions was the fault of Ryan Taylor when he fell down, and the other occurred on a Hail Mary heave.
Still, it would be encouraging to see at least a little bit of production. Aaron Rodgers was fortunate to go injury free in 2011, but he suffered two concussions in 2010. What if he gets his third in three seasons? The Packers would likely be much more cautious than before with his return, and would need someone to manage a game or two from the quarterback position.
Unless he has a strong performance against Kansas City in the final preseason game, I'm not yet convinced Harrell can do that.
Young Defense
Benny Sieu-US PRESSWIRE
The success of recent Packer youngsters like Clay Matthews and B.J. Raji is encouraging, but the fact remains that Green Bay will be relying on at least five rookies to make significant contributions to the defense.
Nick Perry is supposed to be the immediate pass rush complement to Matthews, so that the latter doesn't constantly face double or triple teams.
Jerel Worthy and Mike Daniels won't start, but will see plenty of action as interior rushers on obvious passing downs.
Casey Hayward will likely be in the three- to four-man cornerback rotation, and may even end up starting opposite Williams.
Jerron McMillian has proven to be a solid tackler, and will likely see significant playing time in short-yardage situations.
And then there's undrafted rookie Dezman Moses, who looks like he will be the first bench option when Matthews or Perry need a breather.
Usually in Ted Thompson's draft-and-develop system, it takes a year or two until draft picks begin to really improve. All these rookies will make solid contributions and are all natural talents, but how do we know they are NFL ready?
That brutal four-game stretch will be just as mentally tough as it is physical. Relying on so many rookies may prove to be costly.
Depth of Offensive Line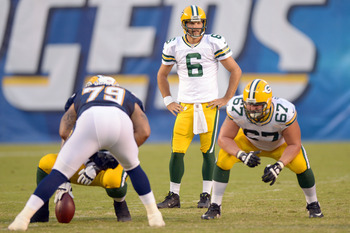 Jake Roth-US PRESSWIRE
I really like the starters for Green Bay's offensive line. Newly acquired Jeff Saturday is a proven veteran, Josh Sitton and T.J. Lang might be the best 26-and-under guard combination in the NFL, Bryan Bulaga is always improving after a solid rookie season and Marshall Newhouse proved he can play both tackle spots effectively.
But the only good backup the Packers have on the O-line is Evan Dietrich-Smith, who can play center and either guard spot.
Former first-round pick Derek Sherrod has talent, but he still isn't back from the injury he sustained against the Chiefs last season.
2012 seventh-round pick Andrew Datko also has some talent, but he's been injury prone since his college days and has already been diagnosed with a concussion this preseason.
The Packers signed Reggie Wells as a utility backup lineman, but he has only started one game in the past two seasons.
After that, Don Barclay, Shea Allard and Greg Van Roten have seen the most snaps with the No. 2 offensive line, and all of them are undrafted rookies.
Running Back Situation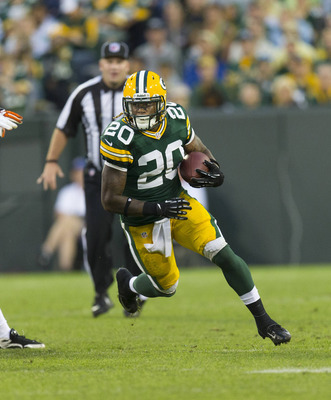 Jeff Hanisch-US PRESSWIRE
I really love the signing of Cedric Benson. He's rushed for over 1,000 yards each of the past three seasons and racked up 20 total touchdowns during that time frame. He looked really good in the Cincinnati preseason game, even though he only rushed the ball six times and caught one pass.
But everyone else concerns me. Alex Green is coming off knee surgery from last year, and doesn't look good running the ball at all.
Since his breakout in the 2010 playoffs, James Starks' history of injuries has resurfaced. None have been major, as he only missed three games last year, but there were many small ones that made him sit out a half here, leave the game early there, and he ended up with only 578 rushing yards and one touchdown in 2011.
McCarthy began raving about Brandon Saine during training camp, but then Saine went down with a hamstring injury and subsequently missed the first three preseason games.
Undrafted rookie Marc Tyler has looked OK in the preseason, but he doesn't appear to be anything special.
So there's really only one bright spot in the running back squad right now, and he's only played one half of a preseason game for the Packers. Overall, the running game isn't looking too bright.
Keep Reading

Green Bay Packers: Like this team?