Dolphins vs. Cowboys: Miami's Biggest Winners and Losers from Preseason Week 4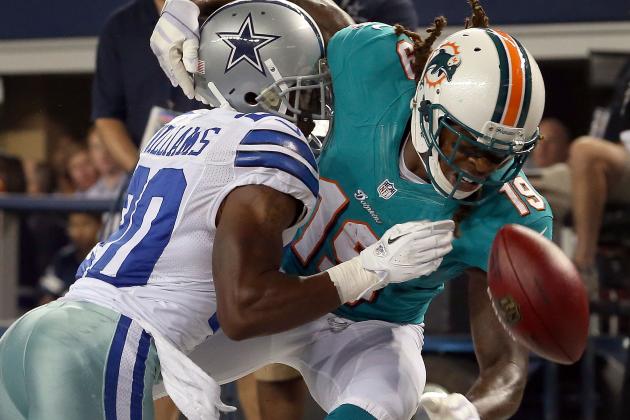 Ronald Martinez/Getty Images

So, Miami Dolphins fans, there's good news and bad news.
First, the good news: The preseason is over.
Now, the bad news: We have to watch this team play 16 more games.
After Wednesday night's embarrassing 13-30 loss to the Dallas Cowboys, it's nearly impossible to conjure any scenario in which this Dolphins team succeeds in 2012. Generally, I try not to overreact to anything that happens in the preseason, but this game—combined with the preseason as a whole—was just miserable.
The Dolphins were undisciplined, inefficient and incompetent. For starters, they committed 10 penalties for 126 yards and converted on just three of 13 third downs. More depressingly, they yielded 238 rushing yards. No, not to DeMarco Murray or Felix Jones, but to Lance Dunbar, Jamize Olawale and Phillip Tanner.
This week's Hard Knocks is going to be so depressing; I might not even watch it.
All this being said, there were a few scattered glimmers of light. They were just dwarfed by the team's collective failure.
Anyway, here are the winners and losers from Miami's preseason finale.
I'm going to go throw up now.
Begin Slideshow

»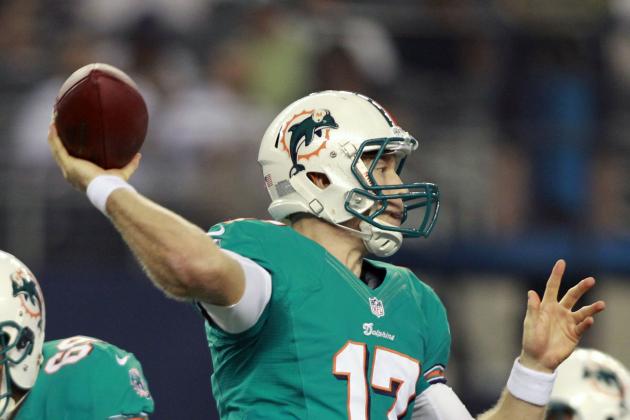 Tim Heitman-US PRESSWIRE

Ryan Tannehill might not know the NFL's divisions, but he knows how to handle himself against his opponent, and that's all that ultimately matters.
Playing with the second-team offense on Wednesday night, Tannehill looked comfortable in the pocket, crisp with his throws and in tune with his wide receivers. In total, he completed 5-of-7 passes for 35 yards.
Granted, Tannehill had his hiccups this preseason—and will have plenty more in the regular season—his progress is pleasing.
I didn't advocate for the Dolphins to draft him in April, and I'm still not sold on him at all; however, he's clearly the best quarterback the team has at its disposal. If Tannehill's preseason play is any indication—and the Dolphins get him another viable wide receiver—then he just might keep this team afloat in 2012.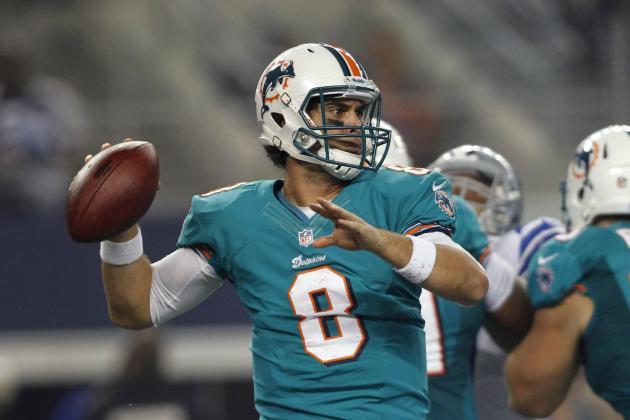 Tim Heitman-US PRESSWIRE

A one-word summary of Matt Moore's performance against the Cowboys: Yikes.
Look at this stat line:
| | | | | |
| --- | --- | --- | --- | --- |
| Comp./Att. | Yards | TD | INT | Rating |
| 4/12 | 49 | 0 | 1 | 12.2 |
The interception was an errant throw that anonymous Cowboys backup linebacker Orie Lemon returned for a touchdown. Miami's offensive line gave Moore virtually no protection, but even when he had some time to pass, he couldn't do anything positive.
Now, look at his preseason totals:
| | | | | |
| --- | --- | --- | --- | --- |
| Comp./Att. | Yards | TD | INT | Rating |
| 20/54 | 234 | 0 | 2 | 37.05 |
Moore has played so poorly this preseason that his gamer reputation can't save him anymore. At the same time, it's difficult to blame him given the utter lack of protection he has received. However, Moore's trade value has diminished, and Pat Devlin has looked significantly better.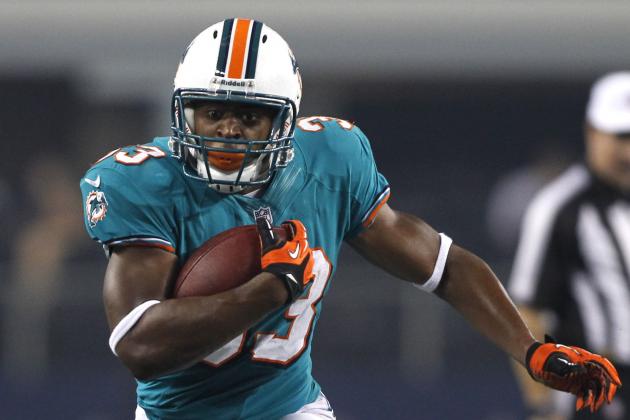 Tim Heitman-US PRESSWIRE

On Tuesday's episode of Hard Knocks, Joe Philbin chewed out Daniel Thomas for showing up late to a team flight and a workout. Given the Dolphins' recent intolerance for troublemakers, Thomas immediately became the subject of trade talk, specifically to the running back-needy Detroit Lions.
As far as we know, Thomas could still be traded, but he was one of the few bright spots on the field Wednesday night.
Thomas hit the hole hard and ran with a purpose, racking up 31 yards on five carries. Granted, it was against Dallas' backups, but it's another positive step in a promising preseason. In the last two weeks alone, he's accrued 60 yards on 11 carries.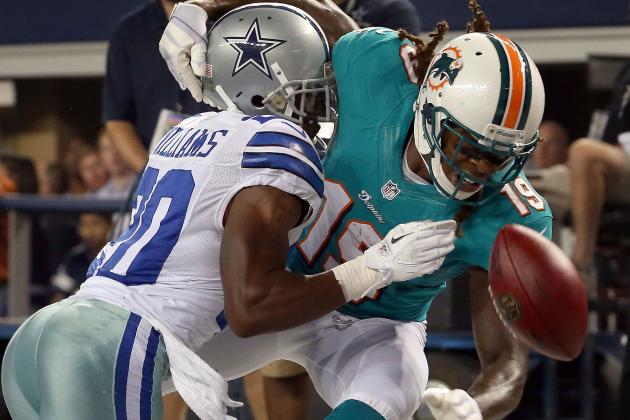 Ronald Martinez/Getty Images

After a horrendous showing against the Atlanta Falcons last week, Legedu Naanee's starting job came into jeopardy.
After Wednesday night's game, his roster spot is in question.
Naanee dropped another pass, adding another blemish to his massively disappointing preseason. He was a star in practice all offseason long—which is how he earned a starting role in the first place—but simply couldn't translate it onto the playing field.
There's a very real chance Naanee won't make it through roster cuts.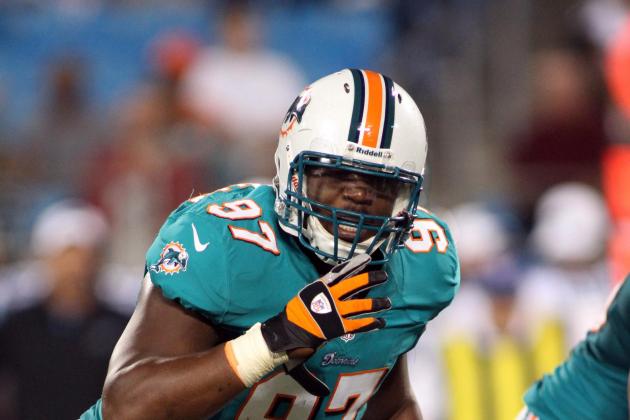 Jeremy Brevard-US PRESSWIRE

Kheeston Randall gets my vote for Defensive MVP of Wednesday's game. For that matter, he might get my vote for preseason Defensive MVP.
He was one of—or, should I say the only—bright spot on Miami's defense. Randall played the entire game and created chaos throughout it, finishing the night with six tackles (two for loss), one sack and one quarterback hit.
Those are spectacular numbers for a defensive tackle, let alone a seventh-round draft pick who was touted as a poor pass-rusher. Randall uses his hands notably well to get off blocks, and he consistently creates penetration.
This is only the latest in a string of standout performances from the former blue-chip high school recruit. He's a safe bet for the 53-man roster, and he'll see the field often in 2012.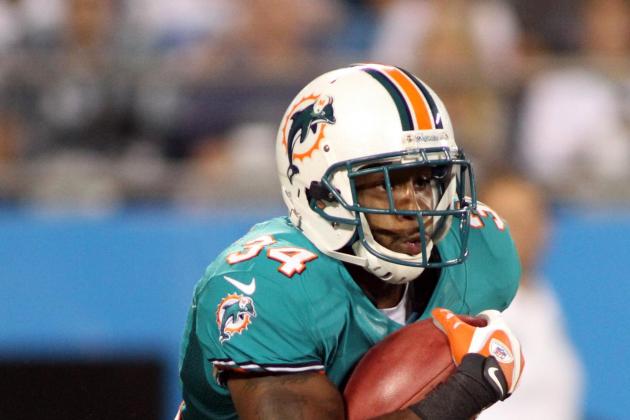 Jeremy Brevard-US PRESSWIRE

The Dolphins clearly like Marcus Thigpen.
They've given him every opportunity to shine this preseason. Although he has flashed the occasional glimpse—three receptions for 40 yards against Carolina—he hasn't done enough to secure a roster spot. That isn't to say Thigpen won't make the roster. He might. But he had a chance to fasten his grip on a spot, and he didn't.
Thigpen didn't capitalize on the extended playing time he saw against the Cowboys. He registered just one reception for seven yards on four targets, one carry for three yards and 73 yards on three kickoff returns.
Thigpen's ticket to the team was through the return game, but he didn't show enough to demand a roster spot based on return value alone. The practice squad is the most realistic landing spot for him right now.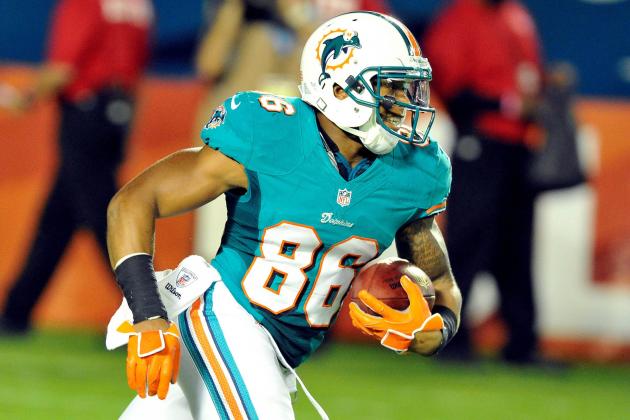 Brad Barr-US PRESSWIRE

My vote for preseason Offensive MVP goes to Rishard Matthews, who had yet another standout performance on Wednesday night. (Two seventh-round draft picks standing out in camp. Props to Jeff Ireland?)
Matthews reeled in three receptions for 47 yards on three targets, bringing his preseason totals to: eight receptions for 91 yards and one touchdown.
It's tough to decide if Matthews has actually looked great, or if he just looks great in comparison to Miami's other wide receivers.
Either way, he secured himself a spot on the 53-man roster.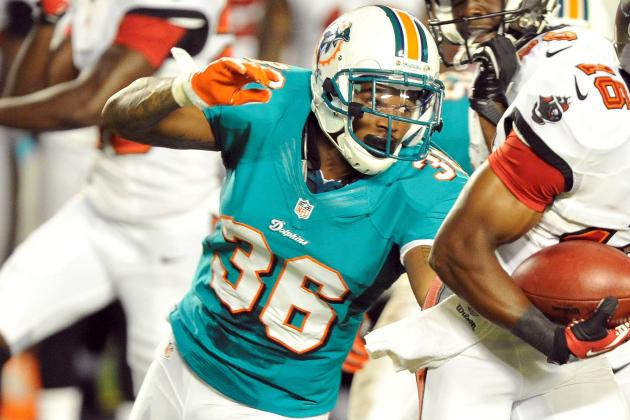 Brad Barr-US PRESSWIRE

After Jonathan Wade's release, the door opened for Quinten Lawrence to earn a spot on the 53-man roster. All the converted wide receiver needed was a great showing against the Cowboys.
He failed to turn one in.
Lawrence looked good early, particularly on a deep pass to Kevin Ogletree which drew a phantom pass interference call. But things took a turn for the worse. Early in the fourth quarter, Lawrence was flagged for pass interference again, and this one cost the Dolphins 43 yards.
That play might've sealed his fate.
Overall, he didn't show anything to suggest he's reliable against backups, so how could the Dolphins trust him against a first-team offense?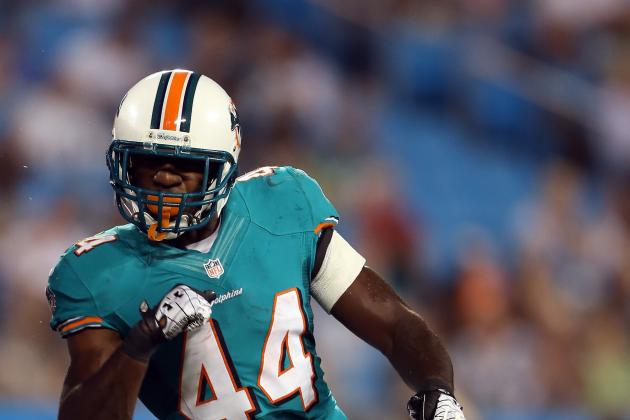 Streeter Lecka/Getty Images

When the Dolphins scooped up Lamar Miller in the fourth round of April's draft, it was as if Jeff Ireland's sins had been forgotten. Miller is a hometown hero with deadly athleticism who projected as a first-round pick early in the pre-draft process.
However, Miller was mum for most of the offseason, and the hype died down as the weeks wore on.
On Wednesday, he finally showed why he was once considered first-round worthy. Miller racked up good, but not great numbers, rushing for 60 yards on 17 carries, catching one five-yard reception and scoring Miami's only touchdown.
Rather than kill the Cowboys with his speed, he displayed surprising strength, which was the most impressive part of his performance. Miller carried the pile on a few plays, ran effectively in between the tackles and even looked solid in pass protection.
With Reggie Bush entering the final year of his contract, Miller has an opportunity to inherit a big role next season. If he continues to improve in pass protection and run well in between the tackles, then the Dolphins may move forward with him and Daniel Thomas.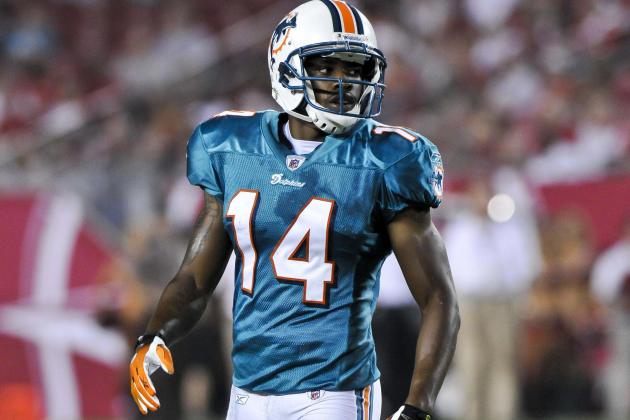 Fernando Medina-US PRESSWIRE

Marlon Moore was on the thinnest of ice entering training camp, and he initially did little to warrant a roster spot. However, he's finally proving the Dolphins wise for holding onto him for the last two years.
Running with the first team for the second straight week, Moore caught two passes for 19 yards on two targets. More impressively, he made a tremendous special teams play in the first quarter, forcing a fumble on a kickoff that led to a Dan Carpenter field goal.
Although his preseason numbers—four receptions for 45 yards—are underwhelming, Moore has looked better than a majority of Miami's wideouts. His special teams contribution will go a long way toward helping him lock up a roster spot.
If the Dolphins bring in multiple wideouts in the next few days, then his job could be in jeopardy, however.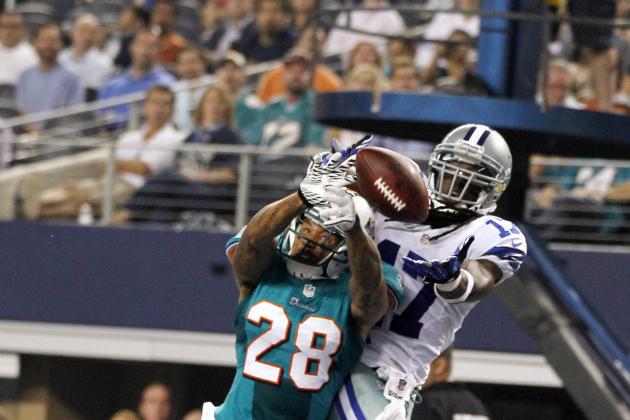 Tim Heitman-US PRESSWIRE

Don't let this picture fool you. It's not entirely indicative of Nolan Carroll's night.
Carroll held his own out of the gate, briefly inspiring confidence that he can ably fill the void left by Vontae Davis.
That didn't last long, though. After a promising quarter, Carroll slowly folded. He yielded a 32-yard reception to Cowboys wide receiver Andre Holmes in the second quarter. If Carroll can't defend Andre Holmes, how's he going to fare against Andre Johnson?
Then, with just 20 seconds remaining in the half, he was flagged for pass interference on a 3rd-and-10. This allowed the 'Boys to attempt a 30-yard field goal rather than a 52-yard field goal.
The odds of Miami finding a better cornerback on the waiver wire are slim to none, and it's inevitable that Carroll will play a major role for this secondary.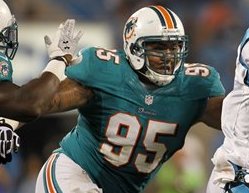 Photo via BigStory.AP.org
It's no secret that Tony McDaniel's $3 million cap hit makes him expendable. Struggles with a knee injury haven't helped his cause. However, the Dolphins need to keep four defensive tackles on the roster, and up until Wednesday night, nobody on the roster showed enough to supplant him.
That changed when second-year undrafted free agent Isaako Aaitui had a breakthrough performance.
He was a force to be reckoned with throughout the night, showcasing great pursuit, penetration and power. On one play, he literally bulldozed the Cowboys' center and pummeled quarterback Rudy Carpenter in the blink of an eye.
Aaitui's performance just might catapult him onto the 53-man roster, but Jeff Ireland may be hesitant to roll with two young, untested players as his backup defensive tackles. That being said, Aaitui and Randall are the best options he currently has.