Oklahoma State Football: 7 Keys to Winning the Savannah State Game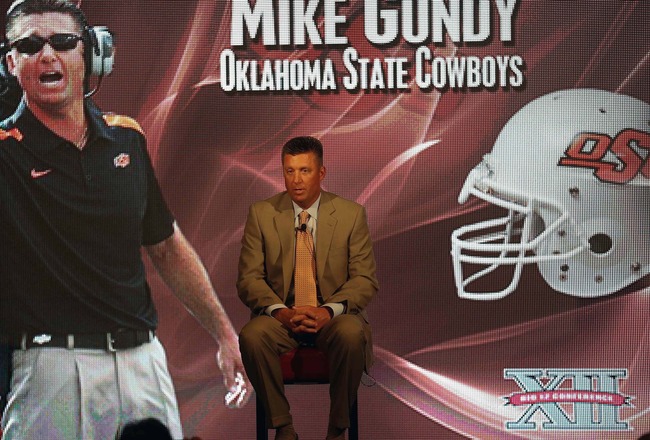 Kevin Jairaj-US PRESSWIRE
The 2012 college football season is here, and Oklahoma State Cowboy fans are more ready for it than ever before. This season is a big one for the players, coaches and fans, and it will begin on September 1st with Savannah State.
Obviously, this is meant to be an easy opener to help the Cowboys ease into the season after losing many principal parts of the great team they had last year. But they must be on their toes, because every underdog wants to get its name out there by beating the overconfident big dog it challenges.
The Cowboys must use this game to get ready for the rest of the season, while still taking their opponent as seriously as they normally would. There will be many key things that must be accomplished in this game, both to get a win and to assure everyone that this team is ready for the challenging season ahead.
Start the Turnover Train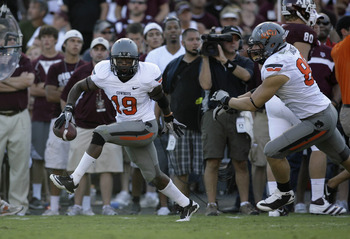 Brett Davis-US PRESSWIRE
The Cowboys led the nation in turnovers last year, which was a big part of why they were able to win 12 games for the first time in school history. They need to replicate that effort early and often if they are going to have the same success during the 2012 season.
The loss of Markelle Martin at safety will hurt the Cowboys in this area, but they are returning the rest of the starting secondary. Cornerbacks Brodrick Brown and Justin Gilbert and returning safety Daytawion Lowe should be even better than last season, especially with an improved defensive line. This team should be very capable of continuing its turnover-producing ways.
Perform Well Against the Run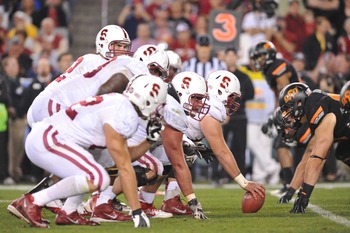 Chris Morrison-US PRESSWIRE
The Cowboys struggled to stop the run when it really counted last season. Improvements on the defensive line and a linebacker core that goes two or three deep at each position should help the team progress in those areas.
Junior college transfer Calvin Barnett is a player to be particularly excited about this year. The 299-pounder should help the Cowboys stuff the line of scrimmage better than ever before.
Oklahoma State will not face many great running games this season, but they must be able to stop the ones they run into.
Ease Wes Lunt into the Flow of Division I Football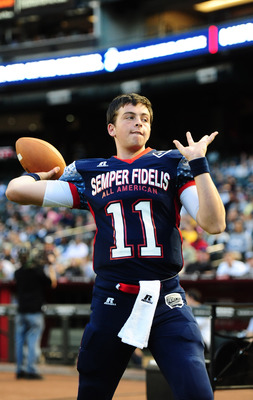 Mark J. Rebilas-US PRESSWIRE
Division I football is not easy, and the Big 12 does not make it any easier. Add to that the idea of playing quarterback and you have got a pretty tough task ahead of you. This is the task that Wes Lunt has in front of him. Plus, he just happens to be a true freshman.
Lunt is big, athletic and talented, but that is not enough to be a good player. He must be able to run the Cowboys offense and make all the throws. Oklahoma State must use this game to help him gain the confidence he'll need throughout the season. They must start him out small, and build him up as he goes. That approach will not only win this game, but many more down the line.
Utilize the Versatility of Joseph Randle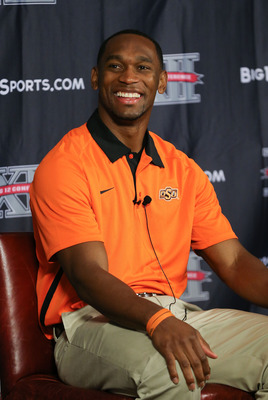 Kevin Jairaj-US PRESSWIRE
Joseph Randle is one of the most talented players in the nation that most people probably have not heard of yet. Don't worry, you will soon enough. The junior running back was a touchdown machine last season, rushing for 24 of them. This year, he could have just as big a year, if not bigger, thanks to the Cowboys' need to lean on the running game more in 2012.
Randle is also a great pass-catcher out of the backfield. Mike Gundy even stated, per The Oklahoman, that Randle could lead the team in receiving. That is still unlikely, but the Cowboys must utilize Randle's versatility. With a capable backup in Jeremy Smith, it is a very workable idea to put Randle in the slot where he can really get into the open field. Moving him around will put tons of pressure on Savannah State's defense.
Spread the Ball Around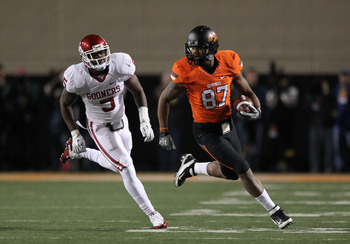 Matthew Emmons-US PRESSWIRE
Unlike last season, when Justin Blackmon was the preferred target above all others, this season will feature a more balanced group. It will be important for the Cowboys to spread out the touches, as they really do not have a dominant player that can carry the team in critical moments.
That player might develop as the season progresses, but for now he does not exist. So, it is important in this game to spread the ball out and put as much pressure on the defense as possible. That will give everyone more confidence and allow the players to perform their best.
Be Perfect in Special Teams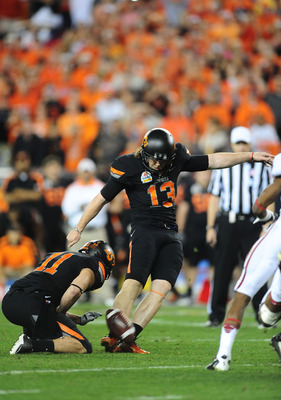 Mark J. Rebilas-US PRESSWIRE
Games like these are the ones people talk about forever if there is an upset. Granted, that does not happen very often, but when it does, it seems there is always a special teams snafu that contributes to the upset.
That cannot happen in this game, especially in the wake of special teams coordinator Joe DeForest leaving for West Virginia. Quinn Sharp missed a crucial kick in the Cowboys' only loss last season. That cannot happen. Everything in this facet of the game must be pristine.
Tune Up Anything That May Need It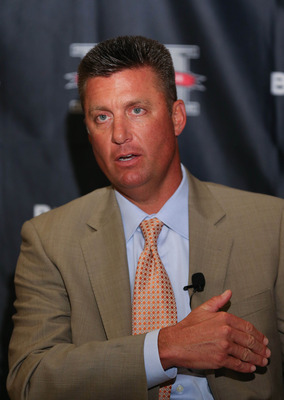 Kevin Jairaj-US PRESSWIRE
That is what this game is really all about when it comes down to it. Anything that is looking weak now must be fixed and worked on in this game. If the offensive line is having trouble blocking, the long-snapper is having a problem snapping the ball or even if the receivers are struggling to run good routes (all just hypothetical), the Cowboys must find the proper remedy. That will help the team in this game and throughout the rest of the season.
This game with Savannah State will be a tune-up for what comes next, as the Cowboys begin their attempt to defend their Big 12 title. The 2012 season is upon us, and Cowboys fans should be excited and ready to go.
Keep Reading

Oklahoma State Football: Like this team?