Felix Sturm vs. Daniel Geale: Fight Time, Date, Analysis and More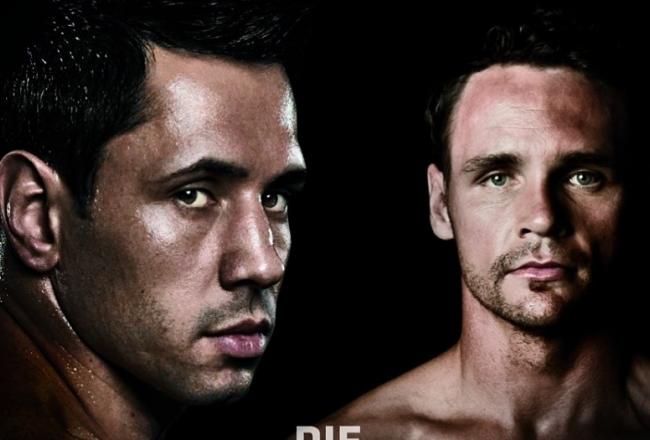 image from )2arena.com

Here is a bold statement, but one I firmly believe in: Felix Sturm is one of the most underrated fighters of the last 10 years.
One of boxing's most overlooked fighters will battle another lesser-known, but formidable, combatant in Daniel "Real Deal" Geale on Saturday in Oberhausen, Nordrhein-Westfalen, Germany.
Despite Sturm's lack of notoriety, he is a champion. He currently holds the WBA Super World Middleweight title, and Gaele is the current IBF champion.
This is just another confirmation that titles mean little in the sport today. This is a fight between two world champions, who collectively have three losses, yet it isn't even on television in the United States.
Sturm is 33 years old, and he's been fighting professionally since he was 22. Geale is 31, but he began his professional career a little later, at the age of 24.
Throughout both fighter's careers, they have been ignored, and other fighters in the middleweight and super middleweight divisions have received more attention. This has been the case despite the fact that the men collectively hold a record of 24-1-2 over the past five years.
Perhaps battling each other will give the victor some of the spoils he's been missing from the sport.
The Book on Sturm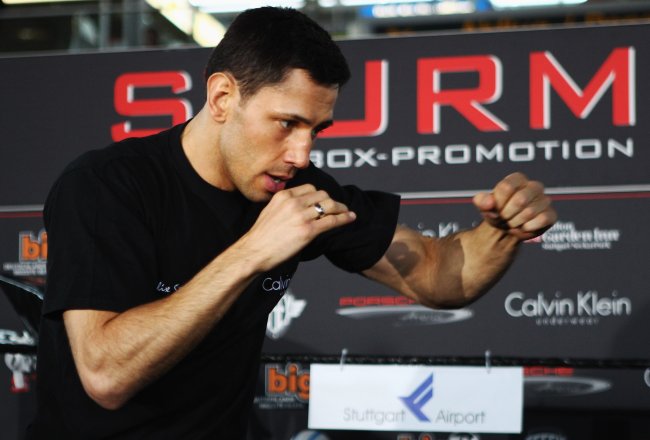 Alex Grimm/Getty Images
Sturm has a cool nickname already in Leonidas, but you could also call him DJ Khaled, because all he does is win—for the most part. His sparkling record consist of 37 wins and just two losses, but I can tell you that only one of those losses is legit.
There is no disputing his loss in 2006 to Javier Castillejo. He was stopped in the 10th round of that fight legitimately—even though he was up on all scorecards at the time of the stoppage, per BoxRec.com.
He would later avenge this loss by decision victory in 2007.
The other "loss" on Sturm's record came back in 2004 against Oscar De La Hoya. The fight was supposed to be a tune-up for the De La Hoya-Bernard Hopkins bout that followed, but De La Hoya got more than he bargained for.
In my opinion, Sturm should have been awarded the decision in that fight. Even De La Hoya knew he didn't beat Sturm.
Take a look at the video below.
It contains the entire fight, but if you jump to the 58:35 mark of the video, you can hear De La Hoya almost admitting defeat in the post-fight interview with Larry Merchant.
Though Sturm didn't get the decision, he did make a name for himself with hardcore fans of the sport. Since then, he is 17-1-2 with only six KOs, and the latter stat is another reason he doesn't get the attention he deserves.
Boxing fans love knockout power, and that isn't Sturm's game.
Sturm has also been the beneficiary of a couple questionable decisions. Some thought he lost to Matthew Macklin and Martin Murray, but he escaped with a draw against Murray and a decision victory over Macklin.
I thought he could have been given the loss against Murray, but I did think he out-boxed Macklin. But these situations are nothing new to the sport of boxing, and obviously Sturm.
It doesn't change that Sturm is an excellent boxer with accurate punching, a solid chin and mounds of toughness. He is technically sound and his jab is among the more underrated in the sport.
He doesn't overwork it, but it is awfully accurate. Sturm is a bit of a throwback with his style. He doesn't overwhelm his opponents with speed or power. His effectiveness is in his technique and timing.
He stands just over 5'11", has broad shoulders and, when he's right, he's constantly moving forward. He throws strong accurate counter-punches, but he has a tendency to limit himself to throwing one punch at a time.
Since he doesn't possess one-punch KO power, that partially explains his lack of wins by KO.
Sturm has a solid chin that has been tested on several occasions. In his first fight against Castillejo, he was rocked badly early, but he recovered. He out-boxed Castillejo for most of the fight before he was stopped in the 10th.
He will be a tough out for any middleweight or super middleweight in the world.
The Book on Geale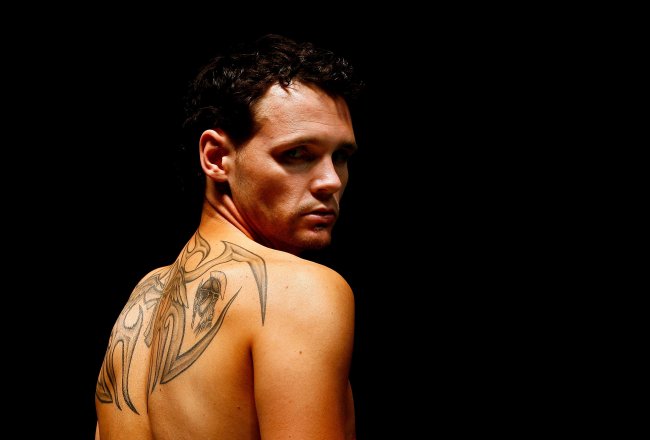 Quinn Rooney/Getty Images
Hailing from Australia, Geale didn't take advantage of his first opportunity at a major fight. He lost a very close split-decision to Anthony Mundine in 2009, but he would have another opportunity to shine.
Geale won the IBF title last year in a split decision over Sebastian Sylvester in 2011. You can see a portion of that fight below.
He is 27-1 with 15 KOs, like Sturm, he is not a terribly hard puncher. He, too, is very accurate and calculated with his punches. Geale features a sharp jab, and he likes working to the body behind it.
He keeps his hands high, and he transitions from defense to offense very quickly. He has shown outstanding stamina and defense in the fights I've seen him in.
Although he's 5'10", he seems to fight much shorter, and that could be a problem against an opponent as big and strong as Sturm.
Geale has good lateral movement, and he will need it to upset the timing of Sturm. He could also use this skill to create better angles for counters.
Sturm's biggest challenge in this fight will be to make Sturm respect his power. He isn't the biggest puncher, but his speedy counters could cut Sturm and they will score.
If the fight has a methodical pace it works in Sturm's favor. If the fight features a series of quick-hitting exchanges, Geale has a much better shot at winning.
What will the outcome of this fight be?
Prediction
I don't believe this will be an action-packed bout, unless both men come out intent on giving a show. This looks like a tactical battle between two solid boxers.
My prediction is a 12-round split decision victory for Sturm.
He is the type of fighter that creates bouts that are difficult to score. Often times his opponents may appear busier, but Sturm is genuinely more calculated with his punch output.
I don't think Geale has enough power to back Sturm up, and I can see him slowly walking Geale down and controlling the fight on the inside. I don't anticipate a thriller, but Sturm will do what he does best—win.
Follow Brian Mazique and Franchiseplay on YouTube and Twitter for reactions, analysis and news from the world of sports and sports video games
This article is
What is the duplicate article?
Why is this article offensive?
Where is this article plagiarized from?
Why is this article poorly edited?