6 Things to Watch for in Steelers' Preseason Finale
Dale Zanine-US PRESSWIRE
Steelers coach Mike Tomlin will have some decisions to make after the preseason finale against the Carolina Panthers.
If you're a Pittsburgh Steelers fan, you've had Sept. 9 circled on your calendar for months.
Thursday's preseason finale? Why spend one of the precious few remaining summer nights watching that?
Starters usually play very little, if at all, in the last preseason game. If you blink, you might miss seeing the likes of Antonio Brown and LaMarr Woodley. Ben Roethlisberger and Troy Polamalu? You might not see them at all in the Steelers' fourth and final preseason game against the Carolina Panthers at Heinz Field.
What you will see, however, determines who's cleaning out their lockers Friday and who's trying to hush their excitement out of respect for the guys who didn't make the team.
Less than 24 hours after the game ends, the Steelers will be required to cut their roster from 75 to 53.
You could get a last look at a Steelers veteran playing his final game or you could get a sneak preview of a star in the making.
The Steelers' preseason finale is worth a look, even if you're not hardcore enough to have Terrible Towel wallpaper.
Begin Slideshow

»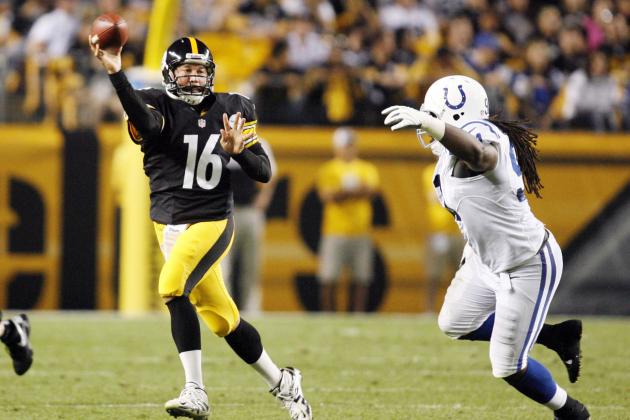 Charles LeClaire-US PRESSWIRE

Steelers fans will see plenty of Charlie Batch Thursday night.
Enjoy it, because it could be Batch's swan song.
Byron Leftwich, if he plays at all, would have to do a Curtis Painter impersonation Thursday to lose his grip on the Steelers' No. 2 quarterback spot.
Leftwich completed five of eight passes for 105 yards with two touchdowns and no interceptions Saturday in the Steelers' 38-7 preseason win over the Bills.
Batch has been with the Steelers since 2002 but he's on the roster bubble because the Steelers are carrying so many injured players on their 53-man roster that they might only keep two quarterbacks, according to the Pittsburgh Post-Gazette.
If the Steelers do keep a third quarterback, it could be 24-year-old Jerrod Johnson, although he'll need to show in the final preseason game that he belongs on the team.
If the Steelers go with just Roethlisberger and Leftwich or if they choose Johnson and his upside over the 37-year-old Batch, it will be time to reflect on Batch's 10 years of service to the Steelers.
Batch contributed to the Steelers' 2005 championship season by winning two games as a starter when Roethlisberger was injured. Batch also finished up in one victory and won another game as a starter during Roethlisberger's four-game suspension in 2010, playing his part in another Super Bowl season.
The sight of Batch, wearing a baseball cap and earpiece, providing sideline counsel to Roethlisberger also will be missed if Batch is cut.
Batch is scheduled to play a lot in the preseason finale, according to the Pittsburgh Post-Gazette. Don't be surprised if those in attendance at Heinz Field give him a standing ovation when his night is done, just in case they don't see him again.
That alone will be a reason to watch the game.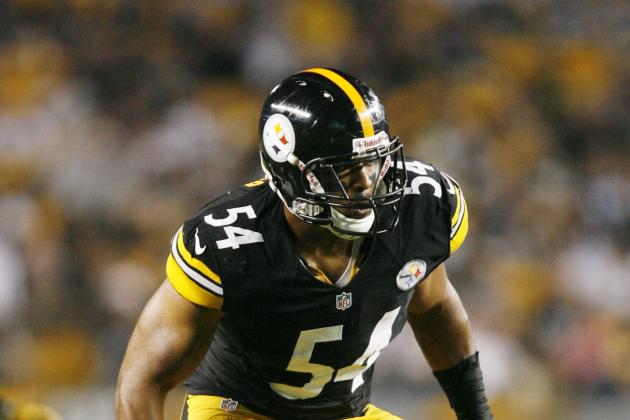 Charles LeClaire-US PRESSWIRE

Keep an eye on Chris Carter and Adrian Robinson.
The Steelers hope James Harrison and Jason Worilds can play in the season opener at Denver, according to the Pittsburgh Post-Gazette. Both were recently taken off the physically unable to perform list, so even if they play, they're likely to see limited action.
That's where Carter (pictured) comes in. If Harrison is ready to play, he'll play. However, Carter has a chance in the preseason finale to show he deserves to get the call before Worilds when Harrison needs a breather.
Carter is also worth watching because Harrison is 34 and can't play forever. Carter, a fifth-round draft pick in 2011, needs to prove his ability to carry the torch at outside linebacker when Harrison retires.
After showing promise early in training camp, the reviews on Carter have been mixed during the preseason.
Joe Starkey of the Pittsburgh Tribune-Review says that Bills rookie guard Cordy Glenn dominated Carter most of the night in Buffalo.
Conversely, Jim Wexell of Steel City Insider said that Carter was very active in the pass rush at Buffalo.
It's unclear how much Carter will play in the preseason finale, since he could start in the season opener. But there are still plenty of doubters he needs to prove wrong.
Robinson likely will see more action than Carter against the Panthers. He's fighting to keep those paychecks coming.
The undrafted free agent rookie from Temple has been a disruptive pass-rushing force during the preseason.
However, Steelers coach Mike Tomlin referred to Robinson as a "one-trick pony," according to Steelers.com, suggesting he's a pass-rushing specialist who doesn't play special teams.
The activation of Harrison and especially Worilds off the PUP list doesn't bode well for Robinson in his effort to make the team at linebacker.
However, if Robinson is constantly in the grill of Panthers' backup quarterbacks Jimmy Clausen and Derek Anderson, he'll be a hard guy to cut.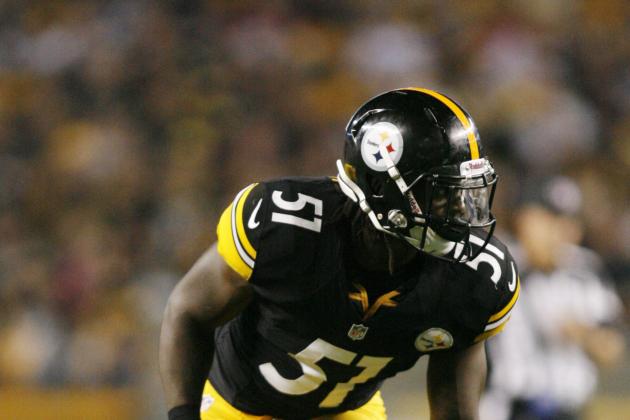 Charles LeClaire-US PRESSWIRE

The Steelers' starters allowed just 49 rushing yards on 14 carries in the first half against the Bills. The reserves, on the other hand, allowed 47 yards on 10 carries in the second half.
Many of the players who gave up those rushing yards in the second half Saturday will be providing depth on the front seven during the regular season.
Guys like Corbin Bryant, Al Woods, Cameron Heyward, Brandon Johnson and Sean Spence (pictured) need to do a better job stopping the run. They have one more chance to work on it before the games count.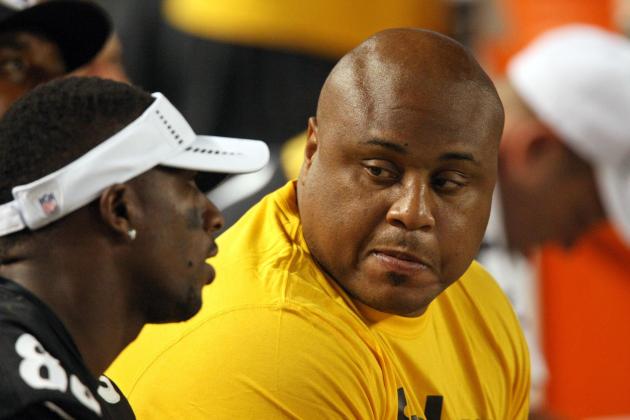 Jason Bridge-US PRESSWIRE

There really isn't much urgency for Casey Hampton to regain his job as the Steelers' starting nose tackle. Steve McLendon has been a monster in the preseason and is likely to at least be the opening-day starter there.
Hampton began practicing this week, according to the Pittsburgh Post-Gazette, and could see action in the preseason finale with hopes of being ready to play in the season opener.
The soon-to-be-35-year-old Hampton looked tentative in his first practice, according to Steel City Insider. That's not surprising for a guy who had ACL surgery seven months ago.
It will be interesting to assess Hampton's skill level, as well as his scale level.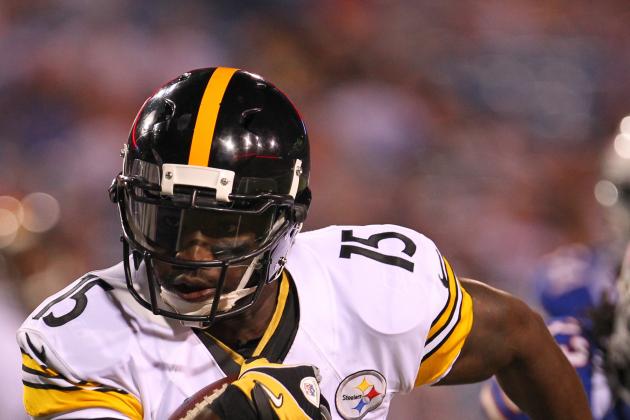 Timothy T. Ludwig-US PRESSWIRE

The Steelers' No. 5 receiver spot is up for grabs.
Derrick Williams (pictured) is the latest hopeful to boost his stock. He caught two passes for 36 yards, including a touchdown, in the Steelers' preseason win over the Bills.
Williams, who was chosen two picks ahead of Mike Wallace in the 2009 NFL draft, had nine career catches in two seasons with the Lions.
That's nine more NFL catches than David Gilreath, Toney Clemons and Marquis Maze, the Steelers' other fifth-receiver candidates.
Gilreath, a second-year player who spent time on three practice squads in 2011, stated his case for the job with four catches for 78 yards in the Steelers' preseason win over the Colts on Aug. 19.
Unless Clemons, a seventh-round draft pick, or undrafted Maze (who dropped a pass in Buffalo) catch everything thrown in their area code in the preseason finale, there likely will be a showdown between Williams and Gilreath for the No. 5 receiver slot.
Or, the Steelers could choose to go with four receivers.
With Mike Wallace's holdout finally over, the Steelers have Wallace, Antonio Brown, Emmanuel Sanders and Jerricho Cotchery at the top of the depth chart at wide receiver.
Ed Bouchette of the Pittsburgh Post-Gazette suggested the Steelers could keep just four receivers and put some on the practice squad. With a hybrid running back-receiver in Chris Rainey and at least two tight ends capable of catching the ball, the Steelers might not need five receivers.
Williams, Gilreath, Clemons, Maze and maybe even Tyler Beiler will all try to give the Steelers a reason to carry a fifth receiver.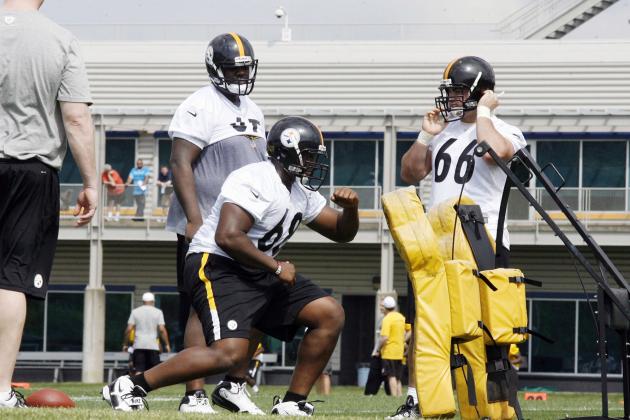 Charles LeClaire-US PRESSWIRE

The drafting of David DeCastro and Mike Adams was supposed to be the dawn of a new day for the Steelers' offensive line.
Now, DeCastro might miss his rookie season with a severe knee injury and Adams isn't ready to start.
So it looks like the Steelers will enter the 2012 season with the same old mediocre offensive line. Their only hope for new blood is if someone emerges in the preseason finale to unseat one of the incumbent backups.
The starting offensive line figures to be Max Starks at left tackle, Willie Colon at left guard, Maurkice Pouncey at center, Ramon Foster at right guard and Marcus Gilbert at right tackle.
Adams will make the team and the Steelers don't plan to put DeCastro on injured reserve, according to the Pittsburgh Tribune-Review.
That likely leaves two roster spots available on the offensive line. Doug Legursky and Trai Essex are probably the front-runners, but seeing those ham-and-eggers step in whenever someone gets hurt is getting rather tedious.
Seventh-round draft pick Kelvin Beachum (pictured) appeared doomed after his performance in Week 2 of the preseason. But he saved his roster spot for the time being with a solid, penalty-free game in Buffalo.
After organized team activities, Steelers general manager Kevin Colbert told the Pittsburgh Tribune-Review that Beachum could potentially play guard and tackle and eventually center.
Beachum's woes in training camp and the preseason make that statement seem like a lifetime ago. If he really is that versatile, however, a good game in the preseason finale could make things interesting.
Guard Ryan Lee, an undrafted free agent, was impressive early in the preseason but only played in the final two minutes at Buffalo.
Guard John Malecki also survived Monday's cuts and, like Beachum, deserves his share of the credit for Leftwich's big game in the second half against the Bills.