WWE Night of Champions: 5 Wrestlers Who We'd Rather See as World Champion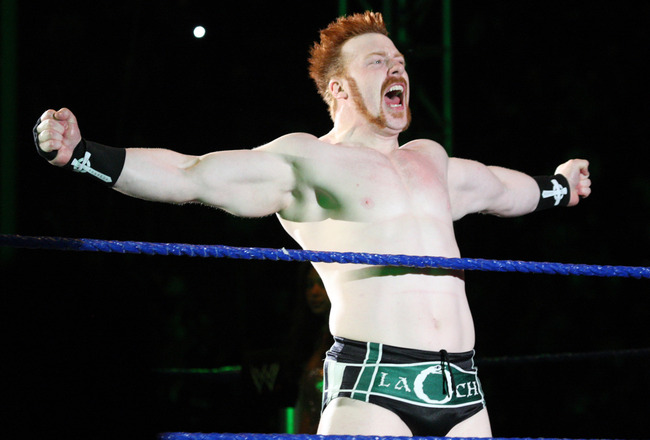 Gallo Images/Getty Images
Since defeating Daniel Bryan in 18 seconds at WrestleMania for the world heavyweight championship, Sheamus has held the title and done fairly well with it.
The Great White himself has all the tools to be great, but a terribly boring feud with Alberto Del Rio has certainly taken some of the shine off his reign.
That isn't to say that Sheamus is necessarily a poor world champion, but many feel like it's time for a change. Sheamus has been absolutely dominant since winning the Royal Rumble and I don't believe he has lost so much as one singles match by pinfall or submission.
Sheamus' invincibility has irked some fans and it's one of the main reasons why he has fallen flat in recent weeks. With that said, the WWE has a very talented roster of superstars and there are several guys who could perhaps do a better job of carrying the flag for SmackDown than Sheamus.
A title change doesn't appear to be on the horizon, especially with Sheamus and Del Rio set to face each other yet again at Night of Champions. However, many fans are clamoring for it all the same, and it's tough to blame them based on the current state of the world heavyweight championship.
Here are five wrestlers who would be better as world champion than Sheamus has been to this point.
Randy Orton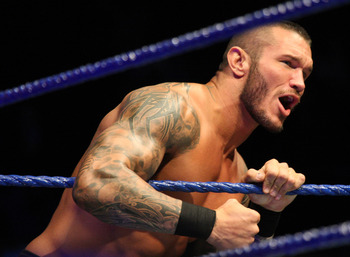 Gallo Images/Getty Images
Randy Orton is unquestionably one of the WWE's most popular superstars, but he hasn't been used particularly well since returning from a 60-day drug suspension.
I'm sure that's no coincidence. Orton was left off the SummerSlam card completely and then put Alberto Del Rio over in a big way on SmackDown by tapping out to the Cross Armbreaker.
The WWE is clearly punishing Orton for his violation of the wellness policy, but it seems like a stupid thing to do when he could potentially save the world title scene. Orton and Christian had a wonderful feud over the world heavyweight championship that lasted throughout the summer last year, so The Viper has already proven that he can do great things on SmackDown.
You could say that Del Rio is the biggest issue with the current title picture, but I'm not sure Sheamus has been credible as champion either. Orton is a nine-time world champion in the WWE, however, and would bring instant credibility to the big gold belt.
Orton is also a guy who can have a good feud with essentially anyone, and if the WWE were to put the title on him, he could be effective as a face or heel. Orton offers a ton of versatility and the writers would be wise to capitalize on it.
Dolph Ziggler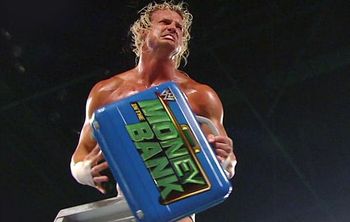 Photo courtesy of WWE.com
As Mr. Money in the Bank, it is only a matter of time before Dolph Ziggler becomes world heavyweight champion, but maybe now is the time to pull the trigger.
You could make equally good arguments for Ziggler cashing in now or waiting to do so until several months down the line. However, he would clearly inject new life into the world title scene if he were to do it now.
I'm not a big fan of the way Ziggler has been booked since winning Money in the Bank. He lost to Chris Jericho at SummerSlam, lost to Alex Riley on Raw and has dropped countless other decisions, but Ziggler is still clearly the total package. He has a great look, he is one of the top in-ring workers in the company and he has the potential to kill it on the mic if given an expanded role.
Ziggler hasn't technically been feuding over the world heavyweight championship, but he has definitely been a thorn in Sheamus' side due to his repeated attempts to cash in on him.
I'm not saying it's going to happen, but the creative team definitely has a way out of the current, stale title picture. All they have to do is have Ziggler cash in—perhaps at Night of Champions.
I would tend to lean toward having him carry the briefcase long-term, since it would be something different. However, I definitely wouldn't be upset if Ziggler cashed in at some point in the near future. The world title scene needs a shakeup and Ziggler could be the guy to provide it.
Daniel Bryan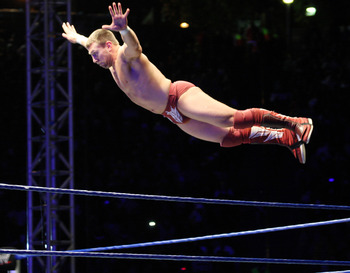 Gallo Images/Getty Images
The last world heavyweight champion prior to Sheamus was Daniel Bryan, and I wouldn't be against giving him another run with the strap.
Bryan won Money in the Bank last year and ultimately cashed in on Big Show before turning heel. Bryan was booked particularly well as champion, but thanks to massive crowd support at WrestleMania, he has since got over in a big way.
Bryan is at the height of his popularity right now and it wouldn't be a bad time to put him back in the main-event scene.
Bryan did well during his feud with CM Punk over the WWE championship, but he has truly shined since then. D-Bry is now playing somewhat of a psychotic character and the clips of him going to anger management on Monday's edition of Raw were absolutely hilarious.
When Bryan first came to the WWE, he had wrestling skills and not much else, but now he is one of the best in-ring workers in the business, he has a discernible gimmick, he has the ability to be funny or serious and he is massively over. There aren't many guys in the company that you can say all those things about.
I do like Bryan in his current role and I feel like it's only a matter of time before he and Kane team up, but he would be great for the world title scene. I'm not sure Bryan was ready from a character development standpoint to hold the belt the first time, but now he most definitely is.
Wade Barrett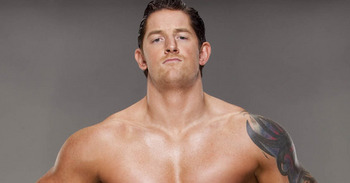 Photo courtesy of WWE.com
He has been out of action ever since the night after Elimination Chamber due to a dislocated elbow, but Wade Barrett should be returning at some point in the very near future.
Vignettes have been airing in order to hype his return, and he has wrestled some dark matches as well, so I have to believe that the creative team is simply waiting for the perfect time to bring him back into the fold.
Whenever that happens to be, I hope that Barrett is immediately thrust into the world title scene.
Some may find that to be presumptuous, since Barrett has never been a world champion, but he was on fire prior to his injury and he has everything needed to be a top guy. He has the size to look like a credible threat to Sheamus, his in-ring ability is solid and he is definitely one of my favorites on the mic.
He would be the perfect choice to put up against Sheamus, and regardless of who comes out on top in that feud, I feel like both guys would come out of it looking good.
Most would probably agree that Barrett is a future world champion in the making, so why not say that the future is now and give the title to Barrett soon after his return?
The key will be making sure that Barrett has an impactful return. If he comes back by squashing Justin Gabriel on SmackDown, nobody is going to care. If he attacks Sheamus at Night of Champions, however, then Barrett has instant heat and reason to pursue the title.
If that is the case, then I would love to see Barrett take the strap from Sheamus.
The Miz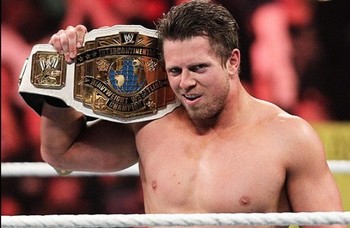 Photo courtesy of WWE.com
As Intercontinental champion, The Miz really isn't even on the radar when it comes to the world heavyweight title. Having said that, I feel as though he would be the perfect carrier of the big gold belt.
Miz has been absolutely fantastic since his return from filming The Marine 3. He has an edgier look, he continues to be an excellent talker and his in-ring skills have seemingly grown by leaps and bounds.
Some revisionist historians like to call The Miz's WWE championship run a failure, but that isn't the case. He was built well after winning Money in the Bank and was highly entertaining while holding the company's top title. The real issue is that he was booked very poorly upon winning the belt and wasn't made to look credible, which was the fault of the writers and not Miz himself.
Now that Miz is a little more polished and established and has that past title run under his belt, I believe he is ready for another world title win.
I don't mind Miz with the Intercontinental championship, but with Rey Mysterio injured, there is nobody for him to feud with. It seems like the IC title is holding The Miz back more than it's helping him at this point.
The Miz is main-event quality in essentially every area, so conventional wisdom says that he should be put in a main-event-level feud. Sheamus vs. Miz would be leaps and bounds better than what we're seeing currently on SmackDown, as Miz has a way of making everything entertaining.
It doesn't seem likely, but a Miz world heavyweight championship run would be excellent.
Follow @MikeChiari on Twitter and listen to him on Ring Rust Radio.
Keep Reading