Chicago Bears: 5 Bears to Watch in Preseason Week 4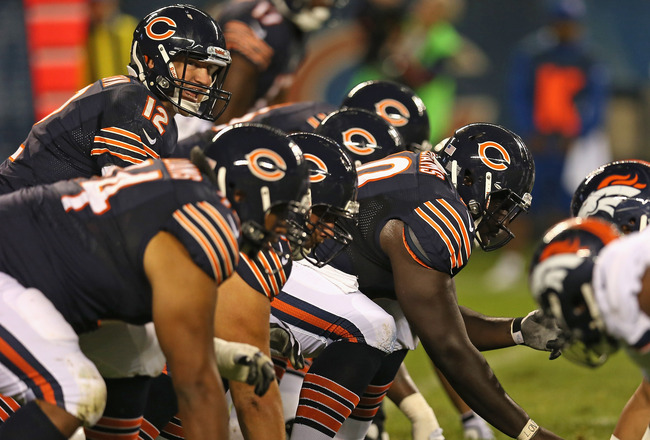 Jonathan Daniel/Getty Images
Thursday night in Cleveland will mark the end of the preseason for the Bears and put them that much closer to the start of the regular season.
Game 4 of the preseason often means that most starters may play only a series or two or if at all. The fourth preseason game will give the staff the opportunity to take their final look at players on the bubble.
Here is my list of five players to watch this Thursday night:
Josh McCown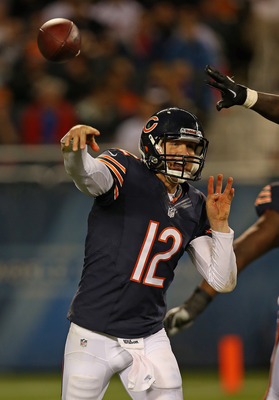 Jonathan Daniel/Getty Images
For the first time in years, the Bears appear to have plenty of depth at the quarterback position. Jay Cutler is now healthy, and the Bears have, arguably, one of the best backup quarterbacks in the league with Jason Campbell.
With Cutler taking first-team reps and Campbell getting the majority of the others this preseason, third quarterback Josh McCown has gotten the short end of the stick. In three preseason games so far, McCown has attempted only 17 passes, completing nine of them for 88 yards.
On paper, it looks great to have a guy like McCown available as a third quarterback, but looking around the league, there are very few teams that keep a veteran stashed away as a third quarterback.
At the age of 33, McCown would undoubtedly be the oldest third-stringer quarterback in the league. With injuries abound and bigger needs at other positions, McCown could very well be cut.
Thursday night, McCown will likely get a majority of the reps with the Bears wanting to sit Cutler and Campbell. McCown will have to prove his worth and show that his abilities outweigh the roster spot that could be opened by cutting him.
Armando Allen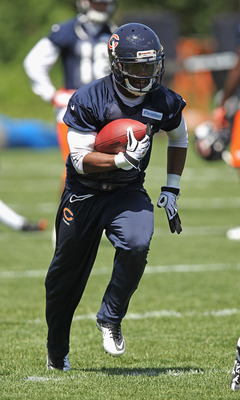 Jonathan Daniel/Getty Images
After suddenly releasing Kahlil Bell late last week, the third running back position behind Matt Forte and Michael Bush became wide open. Armando Allen now suddenly finds himself battling it out with veteran Lorenzo Booker.
Allen and Booker have similar stats this preseason both rushing and receiving, but Booker has the bigger advantage showing off his return skills by returning a kickoff for 105 yards against the Washington Redskins in the second preseason game.
Despite having two return men in front of him (Devin Hester and Eric Weems), Booker's ability to return kicks gives him an upper hand. Allen will have to prove his worth as a running back and special teams contributor to cement his place.
Allen will likely get plenty of opportunities to run the football on Thursday and will have to display an ability to catch the ball as well as pick up the blitz. If Allen can prove he is an all-around running back, he will have a great shot at beating out Booker.
Brittan Golden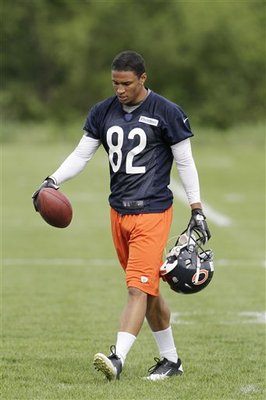 The undrafted rookie out of West Texas A&M Brittan Golden has been a very consistent receiver all through training camp. He stays after most practices trying to get better.
At 5'11″ he is one of the shortest receivers on the team, but he has the speed and ability to be a solid NFL receiver. He will likely be stashed away on the practice squad.
The Bears kept six receivers on the active roster a year ago and one on the practice squad.
Golden should see plenty of playing time Thursday night in Cleveland. Expect to see big things out of this kid. He is focused and should be ready to showcase his skills for the other 31 NFL teams if the Bears opt to let him go.
Chauncey Davis
Adam Bettcher/Getty Images
Chauncey Davis came to Chicago under the radar last season and was productive during the six games he played in, even registering a sack.
Davis is, by no means, the answer at defensive end for the Bears, but he is a veteran who provides solid depth at the position. Corey Wootton has been hit or miss not only this season, but his whole career, and it is unknown what Shea McClellin will be able to do with his playing time.
The Bears have not given much indication on how many defensive ends they will keep, but with Henry Melton able to move to the outside and an ability to use many different mixtures along the defensive front, Davis may find himself as the odd man out.
Davis should get plenty of playing time in the preseason finale and will have to show that his contributions are worth keeping him around on the 53-man roster.
Jonathan Wilhite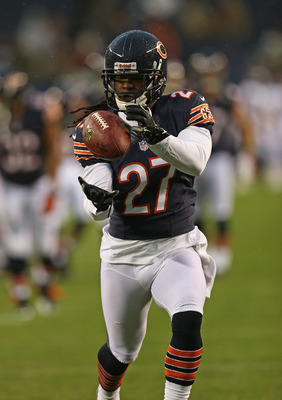 Jonathan Daniel/Getty Images
Coming into the preseason, the Bears felt good about their cornerbacks with mainstays Charles Tillman, Tim Jennings and D.J. Moore all returning as well as the additions of Kelvin Hayden and Jonathan Wilhite in free agency and drafting Isaiah Frey and Greg McCoy.
Tillman, Jennings, Moore and Hayden are complete locks for the position, leaving three to duke it out for likely two final spots. Frey and McCoy hold the upperhand because of both being drafted by general manager Phil Emery, but Wilhite was also handpicked by Emery.
Wilhite has played well this preseason, but the final game will be a great chance for Wilhite to force Emery to waive one of his two draftees and try to stash him on the practice squad. Wilhite will have to prove that his abilities now as a veteran outweigh the futures of either Frey or McCoy.
Keep Reading

Chicago Bears: Like this team?