Clemson Football: 10 Storylines to Watch in 2012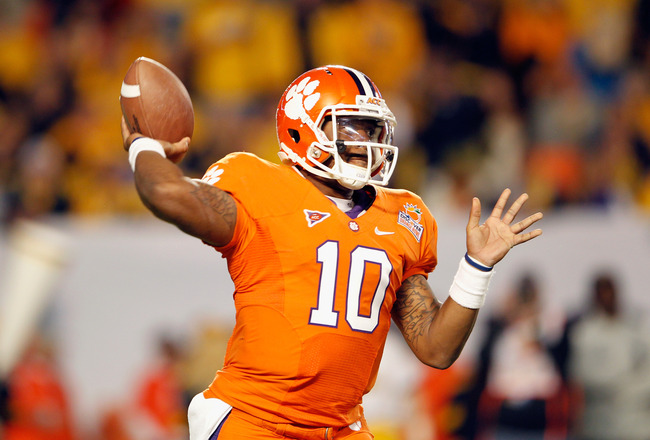 Tajh Boyd leads one of the most dynamic offenses in the country in Clemson.
Mike Ehrmann/Getty Images
The roller-coaster ride that has been Clemson football continues this season.
Clemson has garnered a lot of attention after last season's run. From a No. 8 ranking to a 37-point loss in the Orange Bowl, Clemson's 2012 season has a number of storylines the country will be following.
The pressure starts early. The Tigers travel to Atlanta, Ga., to take on unranked but dangerous Auburn on Sept. 1 in their season opener.
The Tigers begin the season ranked No. 14 in the Associated Press and USA Today polls.
The Tigers face two ranked opponents in ACC play, Florida State (7th) and Virginia Tech (16th), and face SEC foe and in-state rival South Carolina (9th).
With the season starting this weekend, here are the top 10 storylines for Clemson in 2012.
Auburn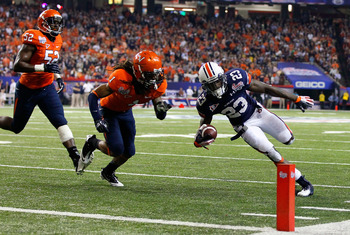 Sept. 1, Auburn and Clemson kick off the season in Atlanta.
Kevin C. Cox/Getty Images
Clemson won its first eight games in 2011, including a 38-24 upset win over Auburn in Week 3. Those wins catapulted the Tigers to the No. 8 ranking. Then the wheels came off.
Against Auburn, sophomore quarterback Tajh Boyd went 30-for-42 for 386 yards and four touchdowns.
This season, however, the roles are reversed this season, and Auburn could put a blemish on the Clemson slate early.
But after its 70-33 loss to West Virginia in the Orange Bowl, Clemson will be motivated to get that bad taste out of its mouth.
Tajh Boyd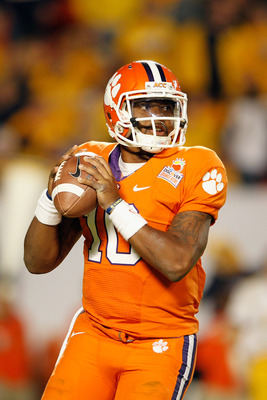 First-Team All-ACC in 2011, Tajh Boyd looks to repeat his success in 2012.
Mike Ehrmann/Getty Images
Tajh Boyd completed 298-of-499 passing attempts in his sophomore season for 3,828 yards, 33 touchdowns and just 11 interceptions.
Those stats earned him first-team All-ACC honors. He was named first team All-ACC this preseason as well.
Expectations are high for this Clemson offense that is commanded by Boyd and supported by a great cast, including wide receiver Sammy Watkins.
As a junior, can Boyd live up to the expectations and improve on his 2011 performance?
Consistency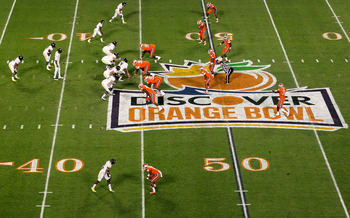 Clemson can't afford to have a roller-coaster season like they did in 2011.
J. Meric/Getty Images
Clemson may have been the most polarizing team in 2011. They either won big or lost big. The Tigers went undefeated at home and 2-3 on the road.
The Tigers beat Troy by 24, Boston College by 22 and North Carolina by 21. They lost to North Carolina State by 24, South Carolina by 21 and West Virginia by 37.
Consistency will be key for the Tigers to get to the top of the ACC and back to a BCS bowl game.
Achieving Won't Be Good Enough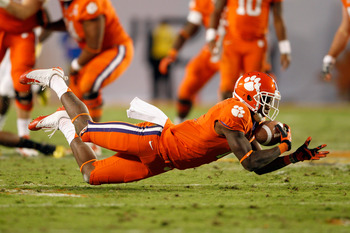 The Tigers are picked to finish third in the ACC.
Mike Ehrmann/Getty Images
Last season, Clemson overachieved. The problem is, the Tigers did it in such a high-profile fashion that the entire country realized it.
That is reflected in the preseason polls. The ACC poll has two powerhouses fighting for the title. That would be Florida State and Virginia Tech, not Clemson.
Clemson is picked to finish second in the Atlantic Division behind FSU, despite winning the ACC for the first time in 20 years last season.
The Tigers did receive 17 first-place votes, but finishing third in the conference won't be good enough to silence the critics who saw 2011 as a fluke.
To do that, Clemson has to knock off the conference powerhouses and overachieve again in 2012.
Dominance in Death Valley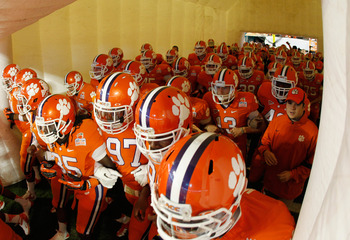 The Tigers will need to use Death Valley to the fullest in 2012.
Mike Ehrmann/Getty Images
Death Valley is one of the toughest places to play in college football. Yahoo! rated it the 16th-toughest place to play.
Last season's visiting teams can attest to that. The Tigers went 7-0 in Death Valley and will need to duplicate that success if they want to get back to the top.
The Tigers travel to Florida State, but host Virginia Tech, N.C. State and South Carolina.
If Clemson continues its dominance at home, the Tigers could go 11-1. Florida State on the road will be a tough contest, but the rest of the Tigers' road schedule is favorable.
The Tigers' game against Auburn is in Atlanta, a neutral site.
Defense Wins Championships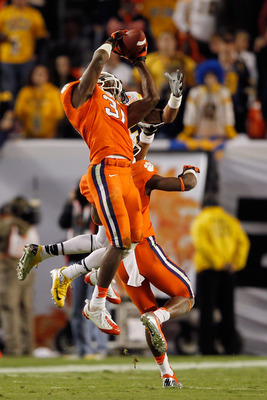 Rashard Hall will be a crucial part of the defense's success in 2012.
Streeter Lecka/Getty Images
Clemson gave up 29.3 points and 394,36 yards a game last season. That placed them 81st in points scored and 70th yards allowed in the Football Bowl Subdivision.
Coaches at all levels preach that defense wins championships.
In its loss to West Virginia, the Tigers gave up an Orange Bowl-record 70 points last season, further proving the adage.
Clemson lost nine starters from last season, including four on defense. The Tigers lost three of their starting four defensive linemen, including second-team All-ACC end Andre Branch.
New defensive coordinator Brent Venables is hoping this year's defense will more resemble the unit that held Virginia Tech to 17 points than the one that gave up 30-plus points in eight games.
Sammy Watkins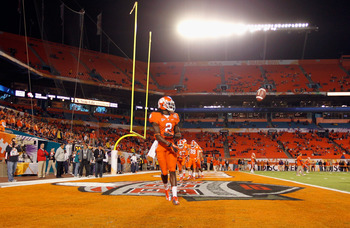 The lights will shine bright on Sammy Watkins in 2012.
Mike Ehrmann/Getty Images
Sammy Watkins is the preseason Player of the Year in the ACC and for good reason.
As a freshman, Watkins caught 82 passes for 1,219 yards and 12 touchdowns. He set ACC freshman records in yardage, receiving and touchdowns.
But Clemson won't have Watkins in the first two games this season, stemming from his arrest on marijuana possession.
When Watkins does return, he will be under a lot of pressure to perform and live up to his billing. He is crucial to the success of the Clemson offense.
In his absence, sophomore Charone Peake will start.
The Run Game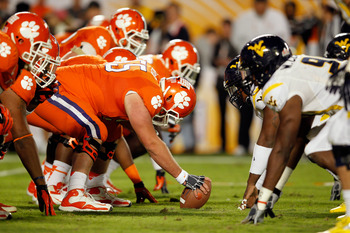 Senior All-ACC center Dalton Freeman will lead a talented Clemson offense.
Streeter Lecka/Getty Images
Clemson has one of the nation's most dynamic offenses. Tajh Boyd at quarterback and Sammy Watkins at receiver make for a high-flying attack, but that's not all the Tigers have.
Senior running back Andre Ellington and senior center Dalton Freeman were elected to the preseason All-ACC first team.
Last season, Ellington rushed 223 times for 1,178 yards and 11 touchdowns. He was also a reliable receiver, making 22 catches. He was crucial in the upset win over Virginia Tech, rushing for 125 yards and a score.
But the success of the Clemson run game will be centered on Freeman. He will direct an offensive line that made Clemson to the 24th-best scoring offense in the country (33.57 points per game) last season.
The senior center will have his hands full with a completely retooled offensive line. The Tigers lost three starters and will need to jell quickly if the offense wants to repeat last season's performance.
Is Brent Venables the Answer?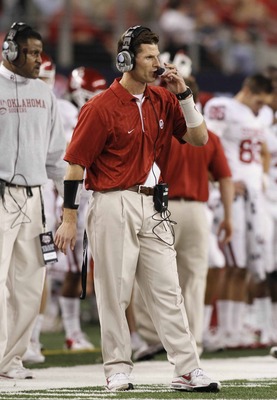 Brent Venables brings over a decade of experience to Death Valley.
Brett Davis-US PRESSWIRE
Clemson's Achilles' heel was its defense last season. The Tigers brought in former Oklahoma defensive coordinator Brent Venables to fix that problem.
But can he?
Venables coached a defense that finished in the top four in the Big 12 in each of his eight seasons at OU.
With eight returning starters, the Tigers have a lot of experience. Unfortunately, they have very little experience on the defensive line.
Seven of the eight starters are at linebacker or in the secondary. There isn't a lot of depth on the Clemson defense either, which may limit Venables' options.
Venables' contract is worth $800,000 per season. He will be worth every penny if he is able to get the Clemson defense back to a big bowl game.
The End Game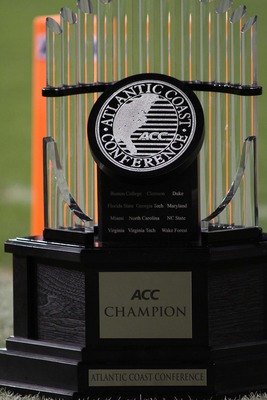 For the first time in 20 years, Clemson won the ACC title. Can they repeat?
Jeremy Brevard-US PRESSWIRE
Expectations are high for the Clemson Tigers. A breakout season last year put them on the national radar, which is both a blessing and a curse.
Clemson's schedule is rated the 49th-toughest in the country. That's a solid number for a team looking to get to a BCS or other major bowl game.
The Tigers can't afford a slip in their schedule. They will need to at least split against Virginia Tech and Florida State.
If the Tigers are going to lose one of those games, they can hope it's to Virginia Tech. A loss to VT would hurt their ACC Championship hopes less than a loss to in-division FSU.
Last season, FSU went 9-4 and won the Champs Sports Bowl over Notre Dame. Virginia Tech went 11-3 and lost to Michigan in the Sugar Bowl.
Clemson has the opportunity to be a major player in the national title picture, whether it's as a contender or a spoiler.
Will the Champs Sports Bowl be good enough for Clemson? Can the Tigers make the Sugar or Orange Bowl?
Is 11-2 a good enough record? Is the season a failure if there's no ACC title?
Sixteen of the last 20 ACC titles have gone to either Florida State or Virginia Tech, and those two programs are the only ones to repeat as conference champions since 1989.
Clemson won three straight conference crowns from 1986-88.
Thirty-one years ago, the Tigers won the national title. Is this the year?
The country will be watching on Saturday as Clemson begins its quest to repeat as ACC champs.
Keep Reading

Clemson Football: Like this team?