Minnesota Twins: 5 Players to Watch in September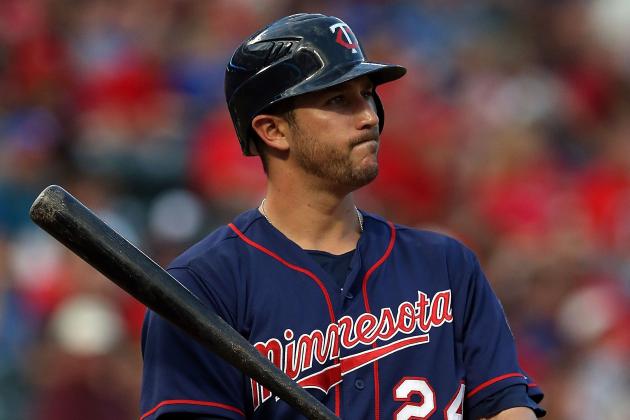 Ronald Martinez/Getty Images

2012 has not gone the way the Minnesota Twins have imagined.
In a perfect world, general manager Terry Ryan would have made the right under-the-radar additions to the team's pitching staff and lineup to find themselves in the mix for the American League Central championship.
In the real world, the Twins have crashed and burned as they've had to tap into their minor league system for replacements for players who could not perform at the major league level.
That's lead the Twins to the bottom of the AL Central standings and on their way toward a meaningless September, right? Nope.
September will be a pivotal month for several Twins as they look to make an impression on Ryan and the Twins' front office for next year's roster.
Here's a look at some players who have a lot to gain if they have a solid month of September.
Begin Slideshow

»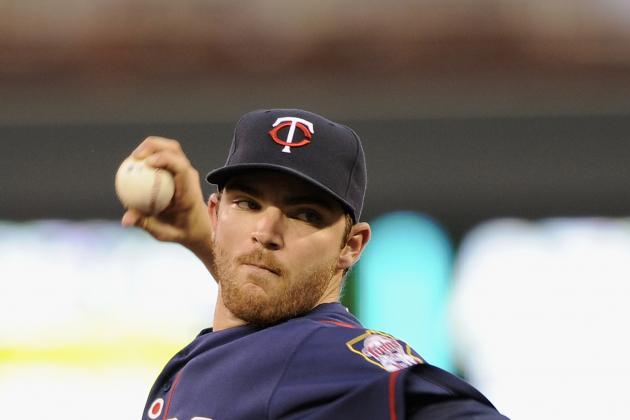 Hannah Foslien/Getty Images

Liam Hendriks was the 2011 Minor League Pitcher of the Year in the Twins' organization, but that success hasn't carried over to 2012. Or has it?
In 10 starts with the Twins, Hendriks has gone 0-7 with a 6.02 ERA (including his tough luck loss to the Seattle Mariners on Monday night).
When the Twins sent Hendriks down to find himself, he's responded by turning into the ace of the Rochester Red Wings. In 16 starts for the Triple-A affiliate, Hendriks has gone 9-3 with a 2.20 ERA.
It's tough to figure out if Hendriks is more like Scott Diamond or Nick Blackburn in his first full season between Triple-A Rochester and the Twins, but September may go a long way in determining just that.
Hannah Foslien/Getty Images

Like Hendriks, the Twins will also attempt to find out who the real Chris Parmelee is during the month of September.
One year ago, Parmelee made a major impact on the Twins hitting .355 with four home runs and 14 RBI over 21 games.
Parmelee continued that momentum through spring training and made the opening day roster, but things went downhill for the major league version of the team's first baseman of the future.
Although he's hit just .204 with two home runs and six RBI during two stints with the Twins this season, he's turned into Superman at Triple-A Rochester.
Parmelee is making a strong case to be named International League most valuable player as he's hit .341 with 17 home runs and 49 RBI in 63 games for Triple-A Rochester.
A hot September for Parmelee could mean a winter trade of current first baseman Justin Morneau, who is due $14 million in 2013. The Twins could be secretly rooting for this as it might open up space to get the starting pitcher the team desperately needs.
The Twins have had problems finding at-bats for Parmelee all season. If he does something with the ones he'll get in the next month, they may not have to grit their teeth every time he's in the lineup.
All season long, the microscope of the organization has been on 2008 first-round pick Aaron Hicks.
After being selected 14th overall in the first-year player draft that year, Hicks has been a bit of a slow developer. However in 2012, the light bulb has finally gone off just in time.
If Hicks didn't have a big season, he would be left unprotected for the Rule 5 draft if he was not placed on the Twins' 40-man roster. Fortunately, Hicks has hit .287 with 12 home runs, 56 RBI, and 31 stolen bases in 42 attempts for Double-A New Britain.
With the recent outrights of pitcher Nick Blackburn and infielder Tsuyoshi Nishioka, the Twins have room to add Hicks to the 40-man roster and call him up in the month of September the same way they called up Parmelee and Joe Benson last year.
It will be interesting to see if Hicks takes his cup of coffee and runs with it.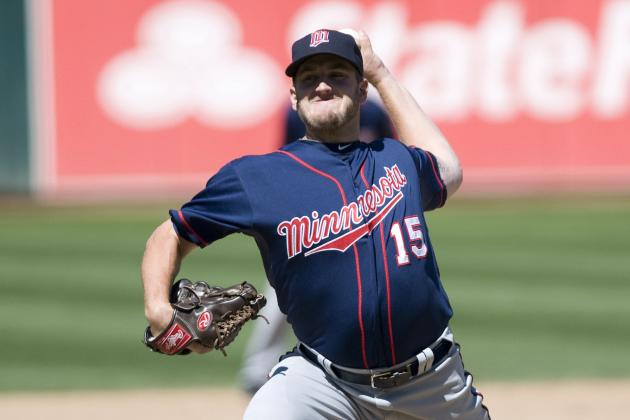 Ed Szczepanski-US PRESSWIRE

If there's anything confirmed about the Twins' offseason strategy, it's that they're not going to spend big for any sort of pitching.
With Matt Capps likely out of the fold for the 2013 team (the Twins have an option at $6 million this offseason), they'll have to find a closer to replace him. The answer for the 2012 season has been a platoon between Glen Perkins and Jared Burton.
Both Perkins and Burton have done a solid job of helping the Twins maintain late leads this season, but the month of September will be used to judge who will enter spring training as the favorite to slam the door in the ninth.
If Burton impresses, the Twins may feel inclined to offer him another one year contract and have him compete with Perkins. If Burton begins to break down because of his past shoulder surgeries, Perkins could have an advantage as the team looks for a new closer.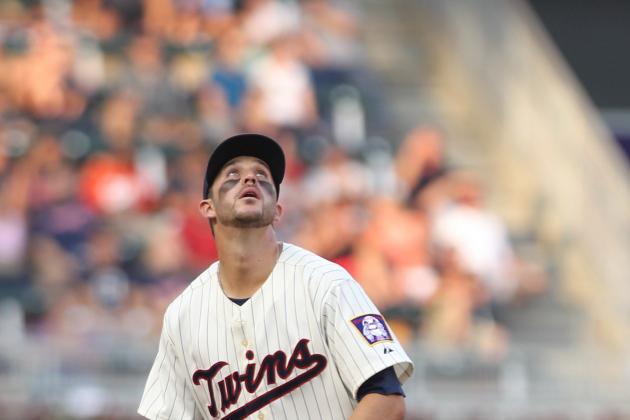 Brace Hemmelgarn-US PRESSWIRE

When Danny Valencia was traded to the Boston Red Sox earlier this month, it seemed like Trevor Plouffe had locked down the starting third base job for 2013.
However, Terry Ryan said to reporters that Plouffe needs to "step up and take third base" in the month of September according to ESPN 1500's Phil Mackey.
Now it's time for him to step up and take that position and give us some thoughts that, 'OK, we don't need to address that.' He's in the prime of his career, he's been looking for a spot to call his own, and now here's his opportunity, so I hope he takes advantage of the situation...He's got the rest of the year to do it.
That doesn't exactly sound like a ringing endorsement, but when looking past Plouffe's initial stats of .240 with 19 home runs and 41 RBI, the Twins have reason to be worried.
With the exception of his hot streak in June, Plouffe has been average to below average with his bat and his play in the field would make him one of the worst third baseman in baseball according to Mackey's article.
If Plouffe can have a September similar to his torrid month of June (.327, 11 HR, 21 RBI), he could become the first regular third baseman for the Twins since Corey Koskie in 2004.