Alabama Football: 10 Important Storylines to Watch Develop Throughout 2012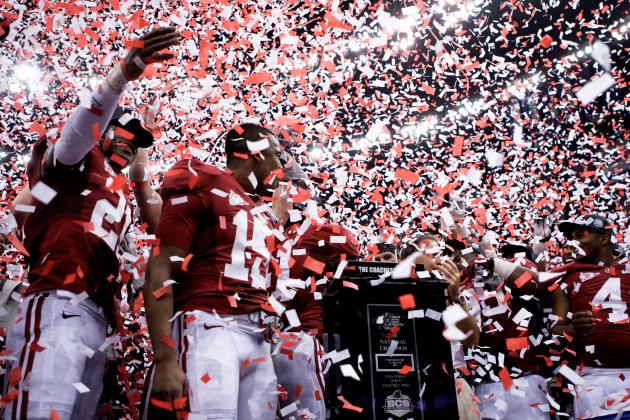 Andy Lyons/Getty Images

There sure has been a lot of jaw-jacking over the last 30 days or so as we lead up to this weeks opening of college football season—at least in SEC country, anyway. The beauty of all this endless smack talk is that every single fan, deep down, knows that his or her program enters the season with a number of questions. The Alabama Crimson Tide are no exception.
It is fun to take shots at friends and family who support other schools, one-upping each other by spurting out what is often utter nonsense in effort to prove one's point. But with every fumble, every missed assignment and every unexpected loss, the weaknesses and uncertainties of every program are exposed. And with every touchdown, pick-six and hard-earned victory, the strengths and stars of a school emerge.
Alabama has a multiple questions of its own, stories that will develop with each week of the season, eventually accumulating in the page of the Tide history book known as "2012". On both sides of the ball and even on the sideline, virtually no part of the Crimson Tide football program comes into the season with all of its questions answered.
Begin Slideshow

»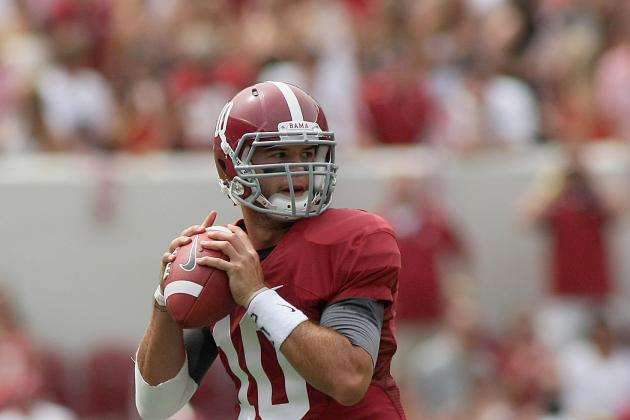 Greg McWilliams/Getty Images

Tide quarterback A.J. McCarron entered September a year ago unsure exactly how much playing time he was going to get and still in a fight for the starting role with the now-departed Phillip Sims. By January, he had led the Tide to a 14th national title.
Even though he completed over 66 percent of his passes in his sophomore season, along with 16 touchdowns and only five interceptions, not too many people gave McCarron a whole lot of credit as a quality passer until his superb performance in the BCS championship game. Now, a year later and much more seasoned, McCarron will take on more of a leadership role for the Tide offense.
He has seemingly established himself as a top-tier quarterback among his SEC competitors, but with improved numbers statistically, McCarron may be able to put himself in position for a Heisman run in 2013.
Here to possibly help him with that quest is new offensive coordinator Doug Nussmeier, who has orchestrated more pass-heavy offenses than Alabama is accustomed to. If the Tide looks to put the ball in the air more this season, as many fans have speculated, McCarron could very well be the benefactor.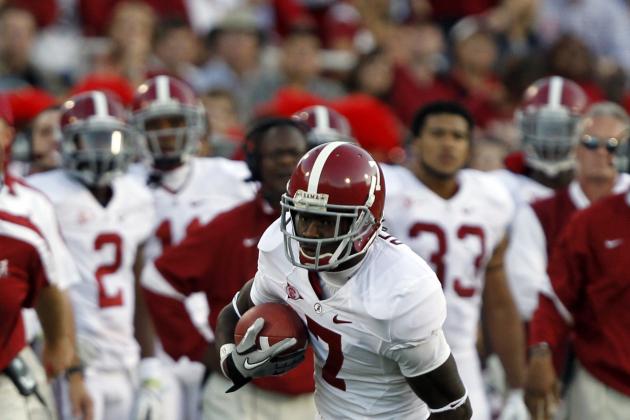 Butch Dill/Getty Images

Really the only serious area of concern for the Tide offense is at the wide receiver position. Alabama lost its top four ball catchers from a year ago to graduation and the NFL, leaving a gaping hole of inexperience at the position.
Kenny Bell and Kevin Norwood would appear to be the next in line to replace Marquis Maze and Darius Hanks, but the pair only combined for a total of 28 catches in 2011. These two will be pushed by sophomores DeAndrew White and Christion Jones, both of whom saw little action last season, but were impressive when the few opportunities were provided.
The real wild card in this equation may be freshman and early enrollee Amari Cooper. Cooper comes to Tuscaloosa with high praise and has already been impressive enough in his short time on campus to generate quite a buzz of anticipation.
Cooper may well be the most talented of this group, but if he is not "SEC ready" by the end of the week, his time may be limited.
As a whole, Alabama fans don't really care too much who it is that takes over as the go-to guy, as long as it's someone.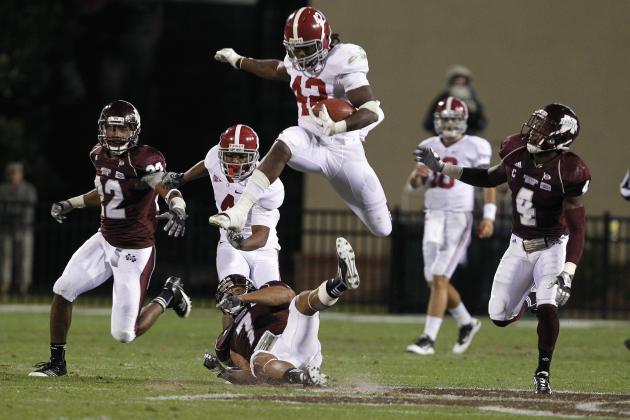 Butch Dill/Getty Images

Alabama has become a little spoiled at running back over the past three seasons, led by the now departed Mark Ingram and Trent Richardson. 2012 will likely be nothing like what occurred in the era of the first-rounders.
Junior Eddie Lacy has earned his way to the top of the depth chart and averages over six yards per carry for his career. Still, Lacy has yet to be called upon to carry the bulk of the load on his own and the dependability of his ball-handling and his health are uncertain.
Fellow junior Jalston Fowler is another bruising back who has been an impressive force in limited time. He will be joined by freshmen Dee Hart and T.J. Yeldon in effort to unseat Lacy. Yeldon may well be the best of the group, as he has shown his ability to both run and catch passes out of the backfield with consistency.
The other, and maybe more likely, option for the Tide is that all four will see quality playing time from the start. Head coach Nick Saban has used as many as four regular backs in previous years and would love nothing more than to go into the fourth quarter of key conference battles with eight fresh legs in his backfield.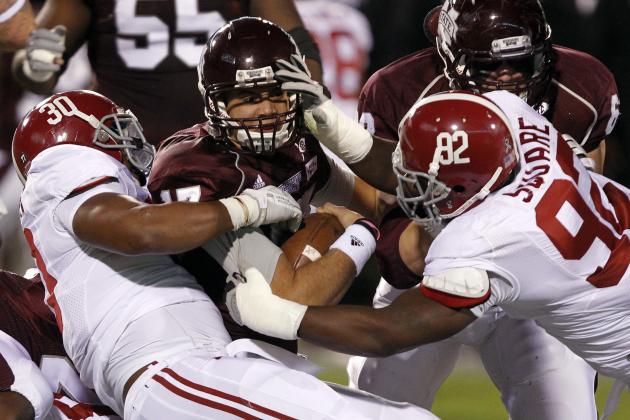 Butch Dill/Getty Images

Detractors have spent the last eight months talking about how much Alabama lost on defense. Supporters have spent that same time countering with talk of how much talent there is waiting in the wings.
The reality of the 'Bama defense is that even though departures to the NFL gashed last season's nation-leading squad to shreds, there is a ton of experienced talent left to mend the fences.
Damion Square, Ed Stinson and Jesse Williams are all well seasoned on the front line. Returning starters Nico Johnson and C.J. Mosley will lead young but impressive talent like Trey DePriest and the beast that is Adrian Hubbard at linebacker. The backfield returns Robert Lester, Dee Miliner and Vinnie Sunseri to help work in a top-notch class of freshmen into the rotation.
Alabama, in reality, is simply loaded on defense. The question, though, is how long will it take this exact crew to gel into an equally punishing defense as that of 2011? This unit will need dependable leadership both on and off the field. It will also need to be a cohesive unit right from the start as games with Michigan and Arkansas in the first three weeks of the season could make or break the season.
If they can get it together quickly, the detractors will have to bark up another tree.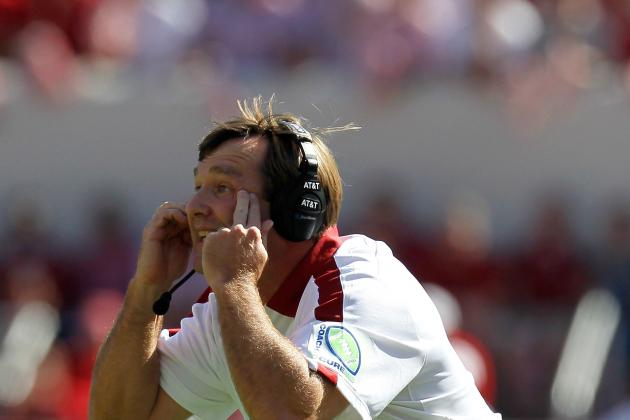 Kevin C. Cox/Getty Images

Nick Saban has arguably the best defensive coordinator in the business in Kirby Smart. Unfortunately, the drawback to having a coordinator like Smart on your side is that just about every team in the country would love to take him away.
Saban and Alabama have managed to bump Smart's salary to levels unheard of for a coordinator just a few short years ago, and the defensive mastermind has allowed his Tuscaloosa roots to dig in a little deeper because of it. Still, it is only a matter of time before Smart starts to seriously entertain the head coaching offers that will continue to be thrown his way.
Most Alabama fans accept that Smart is going to be leaving them one day soon and understand why it has to happen. Nonetheless, if Smart can take his newest generation of Alabama defense to the levels he led the last one to, one would have to accept the fact that this could be his last season in Tuscaloosa. And one might not be ready for it to happen this soon.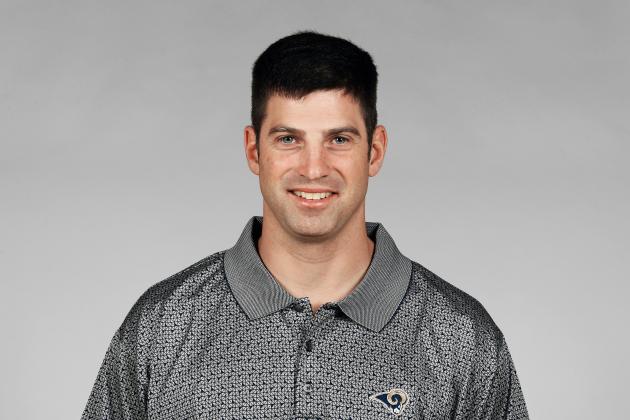 Getty Images/Getty Images

After Jim McElwain left his position as the Tide offensive coordinator at the end of last season to take the head job at Colorado State, Saban brought in former Washington OC Doug Nussmeier. Nussmeier has proven himself to be one of the rising starts in the collegiate coaching ranks and led an impressive turnaround while with the Huskies.
Known to be a little more pass-happy than Saban has in his career, some wonder if this might be the year that the Tide opens it up a little more offensively. Don't expect to see too much of that. Still, with the loss of a nationally touted feature back combined with the return of an upcoming quarterback, it might be reasonable to expect the Tide to put the ball in the air a little more than it has in the past.
The offense will definitely see some changes in philosophy and play-calling at times. But at the end of the day, Saban is still the king of this castle and the only changes to the 'Bama offense will be the ones that he approves.
However, it is going to be interesting to see this relationship develop.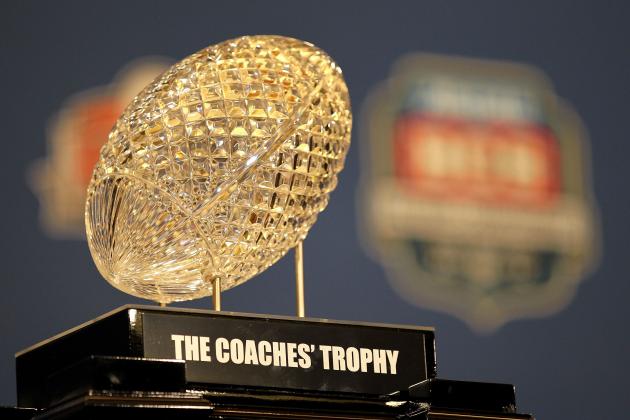 Andy Lyons/Getty Images

Since the initiation of the BCS formula in 1998, there has not been a back-to-back champion in college football. Florida State played in three championship games in the first few seasons of the BCS, but only came out on top in one of them. Alabama now sets its sights on not only a repeat title, but its third in four years.
But is this even possible? It is hard enough to escape the SEC gauntlet as it is, much less a national title run. Even though the conference has won the last six national titles, it has been won by four different schools.
To make a run through the SEC and national slate once again just a year after the numerous losses that Alabama suffered would be a feat for the ages. It would also clearly boost Saban into the rare air that only Bear Bryant occupies in 'Bama folklore.
Unfortunately, these things don't and won't come easy. Alabama needs to beat Michigan first. Any serious talk of a national title in late August is just plain absurd. One can dream, though...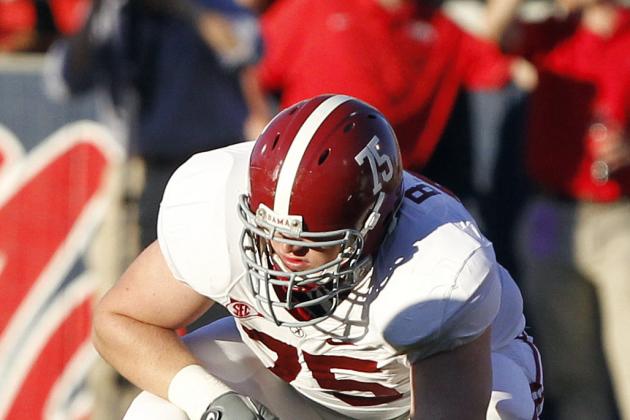 Butch Dill/Getty Images

It is well documented that after their 2009 national title, the Crimson Tide, at times, assumed an air of entitlement. Alabama suffered through a 10-3 season in 2010 that included an unexpected loss to South Carolina and a disappointing regular season-ending loss that still remains unmentioned in many circles.
Fortunately the seniors on this team, led by Barrett Jones and Nico Johnson were there through all of it. They have won, lost and returned to win again. Their leadership and experience should help to keep this team's eyes on the prize. Again, forgetting a national championship for now, Alabama will need all hands securely focused and on deck if it wishes to battle with LSU for the SEC West crown.
This is a talented, but relatively young team that will see its share of bumps and bruises. If the Tide can maintain their dedication to the ultimate goal and fight through the certain adversity, then the sky is the limit.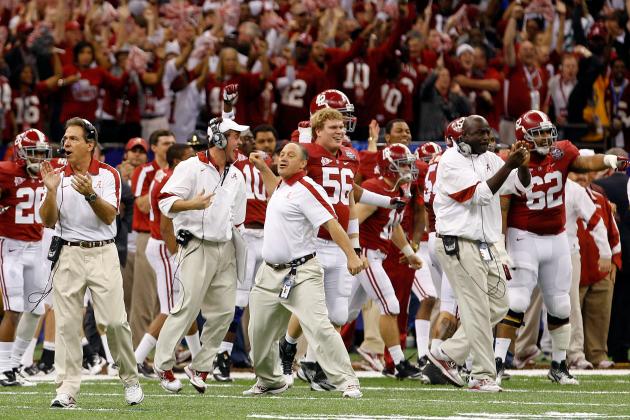 Chris Graythen/Getty Images

As good as Alabama was offensively last season, averaging over 30 points per game, the red-zone offense was all but abysmal. In 58 possessions that entered the opponents'' red zone, Alabama only scored touchdowns on 32 of them (55 percent).
Sure, there are plenty of schools that would love to get inside their opponents' 20 that many times, much less get 32 touchdowns out of it. But for a national title team, those numbers are nothing to brag about. Alabama also had its share of field-goal letdowns in 2011 that did not make things much better.
As previously stated, this team is going to see its share of adversity and will have to fight its way through some sticky situations. If the red-zone offense cannot be improved, it could be a long and disappointing campaign. At the same time, if the Tide can take better advantage of these opportunities, the possibilities are endless.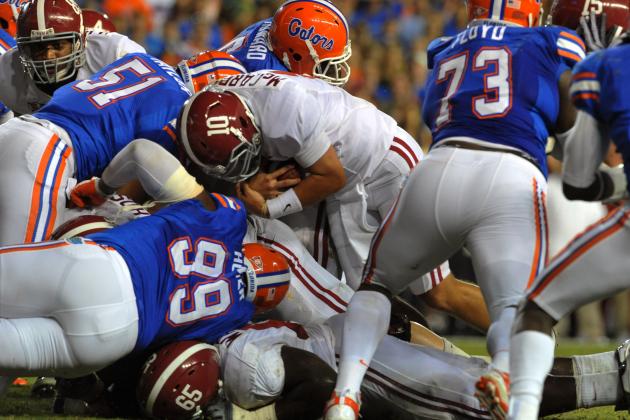 Al Messerschmidt/Getty Images

To be blunt, it better. A.J. McCarron is the leader of this offense. The entire season rests squarely on the back of the junior passer. Behind him is a freshman, Phillip Ely. Not that Ely is not worthy to wear the uniform, but Alabama faithful would prefer not to see it get dirty. The longer Ely is on the sideline, the better.
Fortunately, Alabama will be throwing out what is possibly the best offensive line in the college ranks this season. Jones, D.J. Fluker, Chase Warmack and the like will do everything in their power to keep McCarron healthy. But no matter how good the line is and how quick McCarron makes decisions, the kind of defenses that roam the SEC trenches will surely take their shots at Mccarron.
If McCarron can stay healthy for the entire season, it will most likely be a memorable one. If he goes down, infamy may unfortunately be on the horizon.