Wyoming vs. Texas: Final Report Card, Player Grades for the Longhorns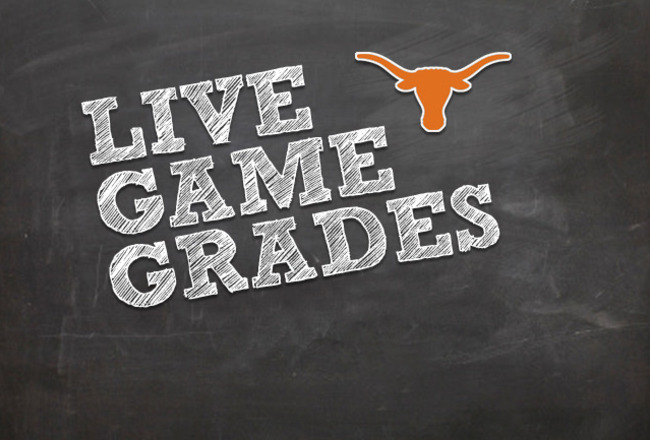 The Texas Longhorns shook off some early jitters on defense and came away with a relishing win in their season opener, rumbling their way to a 37-17 win over Wyoming on Saturday night in Austin.
Texas looked unsure of itself defensively early on, allowing a number of big plays to the Cowboys. But after finding their rhythm, the Longhorns defense and a multi-look ground game paved the way for their first win of the 2012 season.
It was unconvincing early, but Texas responded strongly.
Here are the final grades for the Longhorns' season-opening triumph.
Quarterbacks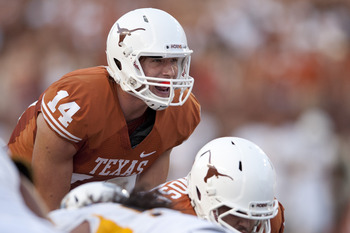 Cooper Neill/Getty Images
The most telling statistic for the Longhorns' David Ash was a doughnut.
That's right, Ash's zero in the turnover column means he did everything he needed to do at the least to lead Texas to a win. He did not force the issue, he took care of the ball and he made good throws and decisions. Most importantly, he relied on the running game to carry the offense so that he did not have to.
Although the sophomore made some questionable throws, he was in control for the game.
Ash finished 20-of-27 for 156 yards and a touchdown pass to Jaxon Shipley in what may have been the quarterback's best throw of the night.
It was not just the completions that demonstrated progress, however. Ash's decision making in knowing when to throw the ball away and avoid possible turnovers is critical for this team's success as the season moves on.
Ash's deep ball still needs work. Underthrowing his receivers is something that just cannot happen on a continual basis. He will get away with it against teams like Wyoming and New Mexico, but against better competition, those miscues could turn into costly turnovers.
Grade: B-
Running Backs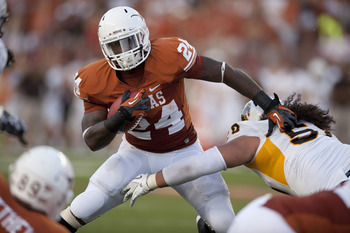 Cooper Neill/Getty Images
Texas' bread and butter on offense did not disappoint.
The Longhorns finished with 47 carries for 280 yards. Sophomore standouts Malcolm Brown and Joe Bergeron rumbled off for 225 of those yards and scored three of Texas' four rushing touchdowns. Bergeron started off slowly, but as Wyoming grew tired, the bruising back improved his game, capped by a 54-yard scamper in the fourth quarter before his 17-yard touchdown score.
D.J. Monroe, meanwhile, simply impressed.
On five carries, the senior speedster reeled off an average of 7.2 yards per carry and added a 15-yard reception. As an explosive play waiting to happen, this man cannot get enough touches.
Freshman starlet Johnathan Gray graced the field late in the game, but managed just eight yards on five carries.
The Longhorns ran the ball with a variety of looks that should provide encouragement later in the season. If the four aforementioned tailbacks find their strides at the same time, Texas' multi-look offense will create plenty of confusion.
Verdict? It was a good first crack for the Longhorns.
Grade: B
Wide Receivers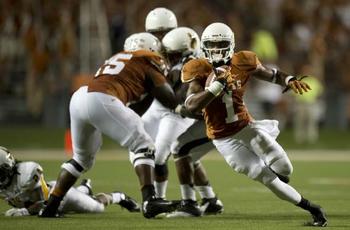 We all know what Texas is and what it is not at receiver.
For the Longhorns, it goes Jaxon Shipley, Mike Davis and then everyone else.
Shipley hauled in seven catches for 45 yards, including a leaping catch for a touchdown that had Texas regain the lead in the second quarter.
Davis finished with 40 yards on four receptions, and while he did flash his ability to weave in and around defenders, he showed signs of his old, inconsistent self with some dropped passes.
Otherwise, no other Texas receiver caught more than one pass.
Bryant Jackson, Marquise Goodwin and freshman Kendall Sanders got minimal looks, and with an offense so prolific at running back, it could be the same story, different chapter for the Longhorns in the future.
Someone else has to elevate his game.
Grade: C+
Tight Ends
texassports.com
There was not a ton of action from the tight ends against Wyoming, at least nothing that will stand out on the box score.
D.J. Grant was the only player at the position to record a catch, and his one reception for four yards did record a first down.
Otherwise, the position was rather invisible.
They held their own in blocking formations and holding the edges, but surely the Longhorns will want to see more production from their guys in the passing game.
It is hard to complain about a group that got little spotlight against the Cowboys, but there is simply too little to work with for Texas to expect great success from the position, right now.
Grade: D+
Offensive Line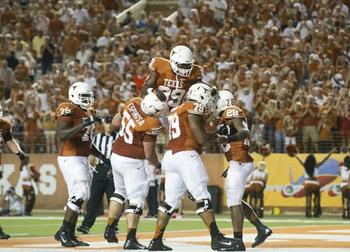 texassports.com
For the most part, Texas was good in the trenches. Not great, not terrible, but good.
It took a little bit for the Longhorns to get going in the running game, but evidenced by a handful of long runs from Malcolm Brown and Joe Bergeron, the offensive line did itself a solid by performing to a standard that can only be raised from this point forward.
Helped by the gimmicks of formations and misdirection, Texas' big boys were able to move well and played with determination in the open field, attributes that had been sorely missed in recent years.
The 280 yards on the ground is a credit to the line's performance, as is steady numbers at quarterback.
Delivering good protection against a Wyoming team that never really established themselves defensively is one thing, but it is a performance to be heralded to an extent.
There are much better days ahead for this group.
Grade: B
Defensive Line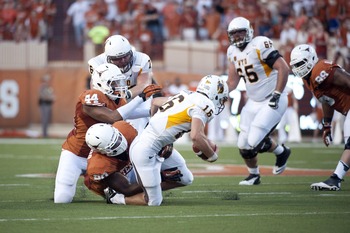 Brendan Maloney-US PRESSWIRE
If you want to talk about presence and push, look no further than what the Texas defensive line was able to accomplish in its first outing of the season.
With consistent plugs up the middle against the run and off the edges against the pass, the Longhorns were able to provide constant pressure in both phases of the games, no matter the results.
This is an effort that will have Texas defensive coordinator Manny Diaz happy, but not overly thrilled.
Too many times in pass rush, Wyoming quarterback Brett Smith evaded the pressure and escaped for easy yards. But on the other end, the Longhorns absolutely stuffed every up-the-middle effort the Cowboys produced.
To the line's credit, Wyoming managed just 69 yards on the ground over 30 carries.
Alex Okafor recorded the only sack of the night, but it is nowhere close to indicative of how constant the Longhorns were in Wyoming's backfield.
Grade: A-
Linebackers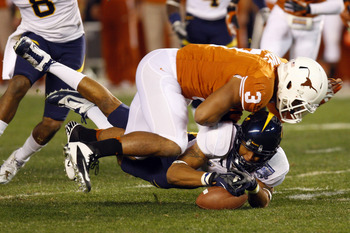 Jody Gomez-US PRESSWIRE
Texas' linebackers were come and go in the win against Wyoming, demonstrating there is plenty of work to be done in the middle of the Longhorns defense.
Sophomore breakout candidate Steve Edmond recorded six tackles on the night, but failed to deliver any punishing blows for which many had hoped.
Jordan Hicks performed solidly. No glaring mistakes from the junior, though he did have a couple of standout plays that are encouraging for future contests.
One of the most memorable moments of the night came against Demarco Cobbs. The junior was flagged for a late hit penalty that clearly was a miscall.
Overall, there was nothing special about the linebackers. They lived up to their roles in stopping the run, but against the pass, the Longhorns may have flashed a weakness over the middle of their defense.
Grade: C-
Defensive Backs
Brendan Maloney-US PRESSWIRE
There is good news and there is bad news in the evaluation of Texas' defensive backfield.
On the one hand, the Longhorns were able to force some errant passes that turned into two interceptions for Texas' premier defensive backs.
Senior safety Kenny Vaccaro and junior cornerback Carrington Byndom each recorded picks, but in the grand scheme of the defense, the defensive backs came up well short of their desired performance.
Wyoming caught 16 balls for 276 yards and two touchdowns. Junior receiver Robert Herron torched the Longhorns for five catches and 173 yards.
Much of the damage came over the middle in between the levels of linebackers and defensive backs. Often times, the coverage was too loose underneath, allowing the Cowboys' pass-catchers space to eat up yards after the catch.
Coming off a season that had the Longhorns rank very high against the pass, this was a forgettable evening for Duane Akina's crew.
Grade: D+
Special Teams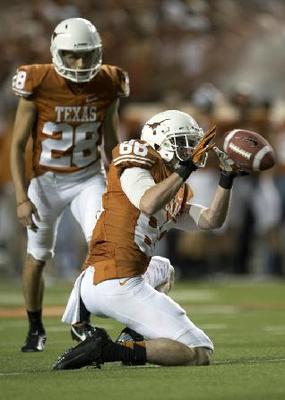 texassports.com
We can all breath heavily now that we know the Longhorns have serious work ahead of them in certain areas on special teams.
Texas has been fortunate with its string of impressive place kickers in the past, but with transfer Anthony Fera sidelined with an injury, the onus fell on freshman Nick Jordan, who converted just one of three field-goal attempts and had one point-after blocked.
Positively, punter Alex King performed beautifully, nailing three punts for an average of 53.3 yards each.
Finally, coverage on kickoffs could not have gone more smoothly. Consistently, the Longhorns were making the tackle inside Wyoming's 15-yard line, efforts that will not go overlooked this season.
Those missed field goals can really hurt the Longhorns.
Grade: C+
Coaching
Brendan Maloney-US PRESSWIRE
Overall, it was a pretty clean-cut opener for the Longhorns.
Aside from a ridiculous late-hit penalty, Texas was penalized just twice on the night. If the Longhorns can play with this type of discipline for the entire year, there is reason to be encouraged by tonight's performance.
The game plan was clear as well.
The Longhorns ran the ball at will and used multiple formations to create imbalance for Wyoming's defense, setting up for some explosive plays more often than not.
Defensively, there is work to be done.
The middle of the defense appeared much too vulnerable despite great pressure up front. Texas' run defense appears formidable in Week 1, but how long will it take for the pass defense to catch up?
Grade: B-
Keep Reading

Texas Longhorns Football: Like this team?