West Virginia Football: 10 Storylines to Watch Develop for Mountaineers in 2012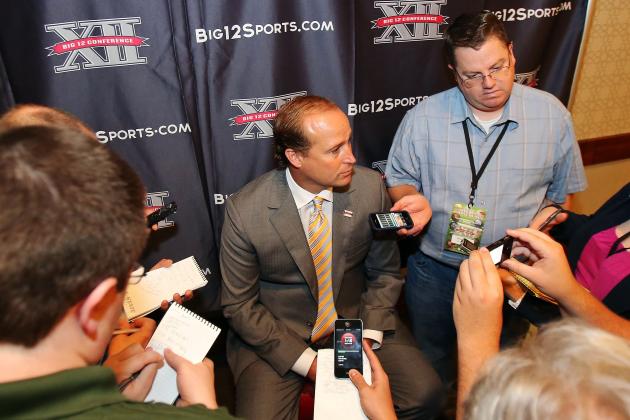 Kevin Jairaj-US PRESSWIRE

West Virginia's world changed this summer when it finally made the transition to the Big 12 Conference.
The Mountaineers entered one of the deepest and most talented conferences in all of college football with the move, and have been in the national spotlight throughout the offseason.
WVU will be led by a Heisman Trophy candidate at quarterback who will have two of the most explosive receivers in the country catching his passes.
The defense will be under the direction of an entirely new coaching staff and will also have to deal with the departure of a few of its on-field leaders.
West Virginia's high-flying offense looks like the main reason to watch the team in 2012.
Here are a few more reasons:
Begin Slideshow

»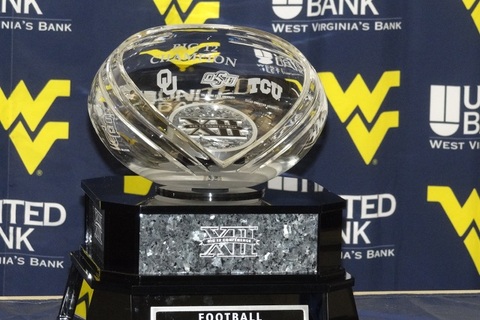 Photo Credit: WV Metro News
On July 1, West Virginia finalized its long-awaited move to the Big 12 Conference.
Now, the Mountaineers schedule will be a stark contrast from the slate they faced in 2011. No more Rutgers, no more South Florida—heck, even no more Pitt.
This season, WVU's schedule is filled by five ranked teams, including four in a row between Oct. 20 and Nov. 17. The conference opener will come on Sept. 29 in Morgantown against a Baylor team that finished No. 3 in the league last season.
After that, the Mountaineers will travel to Austin, Texas to take on Texas, one of the most successful teams in Big 12 history. There's no doubt the Longhorns will be out to throw the conference newcomers a rough welcome party.
Then, WVU will stay on the road and face one of its head coach's old teams, Texas Tech and its strong passing game.
Next, the Mountaineers will face four consecutive ranked teams, culminating with the most highly anticipated game on the entire Big 12 slate this year in Morgantown against No. 4 Oklahoma.
Despite mouth-watering matchups like this one, West Virginia cannot look ahead during a single week, or they almost undoubtedly be taken down.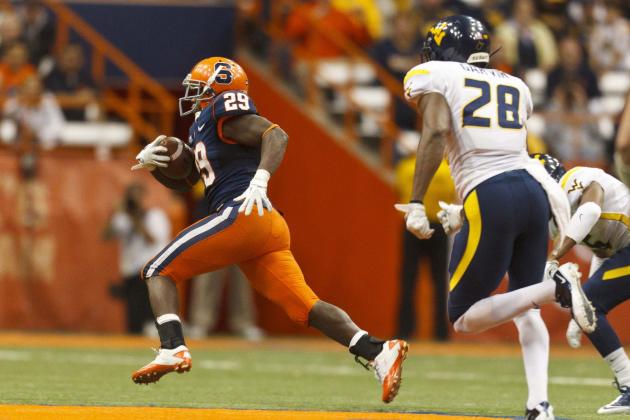 Jason O. Watson-US PRESSWIRE

For the past few years, West Virginia has struggled to play well consistently.
At times, the Mountaineers have looked like one of the best programs in the country—but other times mental and physical mistakes have doomed them into the realm of mediocrity.
Embarrassing losses to Syracuse and Louisville soured an otherwise successful 2011 campaign. In 2010, consecutive losses to the Orange and Connecticut kept WVU out of Big East Conference title contention.
In the Big 12, that cannot happen.
Seven Big 12 media voters picked the Mountaineers to win the conference title preseason, as they finished No. 2 in the official preseason poll.
It is clear that many people believe that WVU has what it takes to compete in the conference this year, and rightfully so.
However, West Virginia will need to be more consistent to do so. There really isn't a single walkover game on the schedule, so the Mountaineers will need to bring it every single week.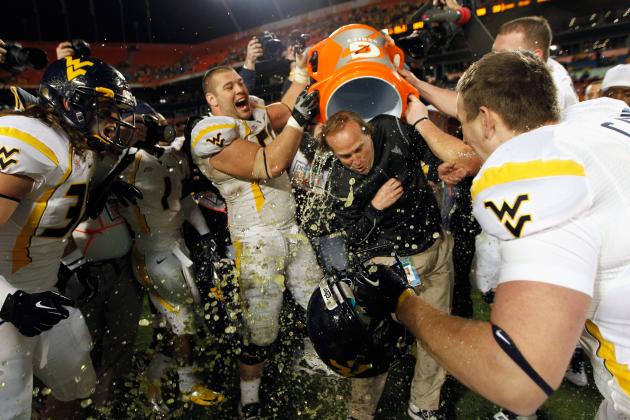 Streeter Lecka/Getty Images

Last season, the West Virginia offense had a record-breaking campaign in its first year under the direction of offensive guru Dana Holgorsen.
Just one offseason of work produced a 4,000-yard passer and two 1,000-yard receivers, including the national leader in all-purpose yardage.
In year two, Holgorsen's offense promises to be even better, and here's why.
According to Tony Caridi of WVUSports.com, Holgorsen's offense can be implemented in just three days, then perfected through repetition:
"Enter Holgorsen, who has jumped to the other end of the spectrum with an offense built on simple assignments that are refined to the highest level of precision through repetition...Holgorsen said it would take three days, that's three days, to install his offense that's been ranked among the nation's best in its recent stops at Houston and Oklahoma State."
Essentially, Holgorsen's offense is a relatively simple scheme in which no player will fill more than his designated role. Holgorsen finds out what his players do best, puts them in place to do just that and finally, those athletes practice that one job over and over until they are masters of their trade.
West Virginia returns almost its entire starting offense, so now the offensive line, running backs, receivers and most importantly, quarterback Geno Smith, will all have an entire season and two offseasons of work in the system.
I'm no mathematician, but that's a lot more than three days. With that much repetition, this offense is poised to explode in 2012.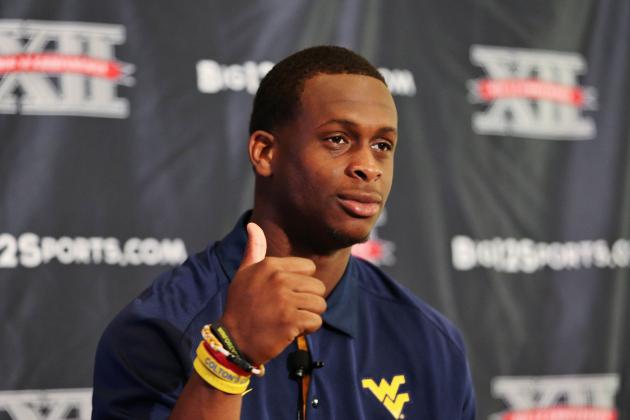 Kevin Jairaj-US PRESSWIRE

This year, West Virginia has its first legitimate Heisman Trophy candidate since the departure of Pat White and Steve Slaton.
Quarterback Geno Smith set the WVU record last year with 4,385 passing yards and is tied with Marc Bulger atop the single-season leaderboard with 31 touchdowns through the air.
In his senior campaign, he'll be looking to break both of those records. He's on nearly every national preseason Heisman watch list and all signs point to him having everything he needs to match those expectations.
The Miramar, Florida native will have three senior offensive linemen in front of him, and the other two starters up front both have a full season of game experience as well.
He'll have a senior starting running back to keep defenses honest too.
Most importantly, he has two of the most talented receivers in the country to throw to in Stedman Bailey and Tavon Austin.
West Virginia will throw the ball a ton in 2012, so he'll have plenty of opportunities to put up huge numbers.
If WVU ends the season with double-digit wins, Smith will at least be a Heisman finalist.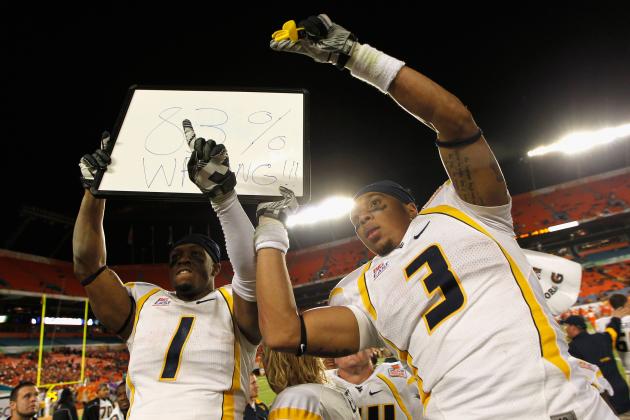 Streeter Lecka/Getty Images

Only two returning receivers in the Big 12 went for more than 1,000 yards last season—both of them go to West Virginia.
Junior Stedman Bailey led WVU with 1,279 yards last year to become No. 1 on the school's single season receiving yardage list. He also tied the school record by hauling in 12 touchdowns.
Meanwhile, senior Tavon Austin led the team and broke the school record with 101 receptions, eight of which went for touchdowns for a total of 1,186 yards.
Bailey will be in the "X" outside receiver position, primarily working from the left side of the formation. Austin has moved over to the "Y" slot on the inside of the right side of the formation.
The duo will be competing for catches all season long, which may be the best thing for this offense.
Austin receives most of the national recognition, while Bailey had an incredible 17.8 yards per reception last year.
One of the most exciting factors to watch with this team will be which of these two dynamic receivers makes the most big plays in 2012.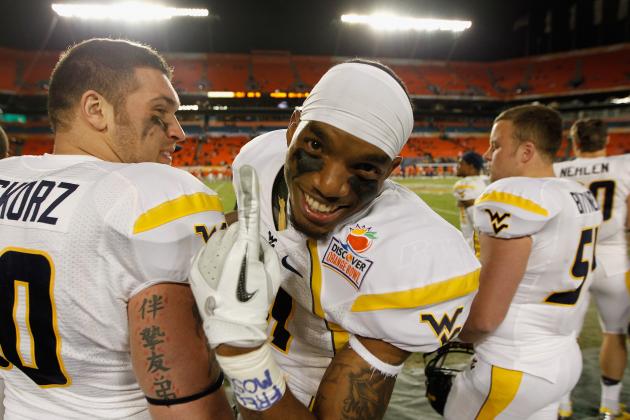 Streeter Lecka/Getty Images

There's little doubt that Austin and Bailey will have great production in 2012, but Holgorsen's spread offense needs more than just two receivers to run like it should.
West Virginia's No. 3 receiver from last year, Ivan McCartney wasn't listed in WVU's most recent two-deep depth chart, which leaves the door open for some others to step up.
Opposite of Bailey on the outside at the moment are two seniors, J.D. Woods and Ryan Nehlen in the "Z" wide receiver position. The two combined for just 12 receptions last year, so it'll be interesting to see how much their roles will increase in 2012.
With Austin's move to the "Y" slot, a true freshman Jordan Thompson took over his position in the "H" slot next to Bailey. Thompson had a great showing in the spring game, which put him in position to work his way up the depth chart during the summer.
It will be interesting to see if McCartney can make his way back into good faith with the WVU coaching staff and earn playing time and catches.
Of the current starters, keep an eye on whether the fifth-year senior Woods or the freshman Thompson wins the battle to become the No. 3 receiver. Thompson is playing in the position where Austin eclipsed 1,000 yards last year, so he may actually have the upper hand over the much older Woods.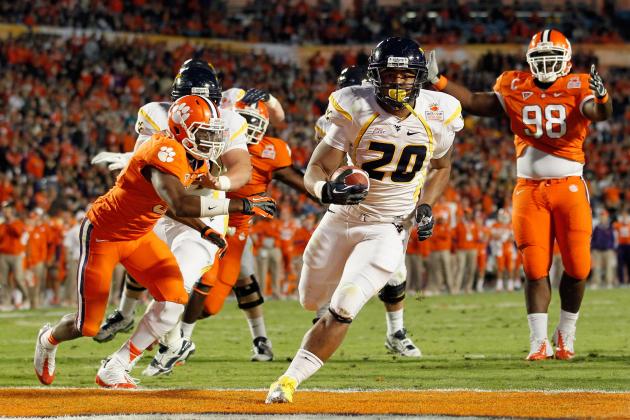 J. Meric/Getty Images

Last year's starter at running back, Dustin Garrison, accumulated 742 yards on the ground before he sustained a torn ACL in practice prior to the Orange Bowl. Now, entering his sophomore campaign, he is listed as No. 3 on the depth chart.
He's back practicing but isn't yet at 100-percent, so it remains to be seen just how big his role will be as he regains health.
This year's starter, senior Shawne Alston, was the No. 2 rusher last year, netting 416 yards and a team-high 12 touchdowns.
Alston is the man right now, and it appears as though the Hampton, Virginia native is ready to make the WVU run game a serious threat:
"People haven't seen me at the level I can perform at now, but they're going to get a show Sept. 1," Alston said. "Being healthy this offseason allowed me to lift better and run more and get in better shape and now I'll be able to come out and apply that to the football field. Last year, I couldn't make some of these cuts I'm making in practice and I couldn't break away on runs like I am now." (Via Mike Casazza, Charleston Daily Mail).
Last year, Alston was hampered by a neck injury that slowed his preparation for the season, which was especially difficult with the implementation of a new offense. Now, he's ready to go.
Sophomore Andrew Buie is currently second on the depth chart between Alston and Garrison. Last year, he saw limited time as he ran for 172 yards.
At the "A" running back position, senior Ryan Clarke is listed as the starter. As the "A" (fullback) last year, Clarke didn't have a single carry—however, he has more career rushing touchdowns (16) than any other player on the roster.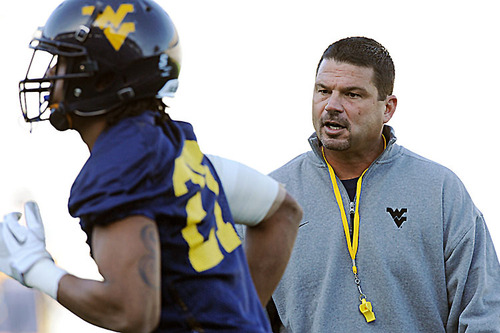 Photo Credit: Dale Sparks | All-Pro Photography | Via WVUSports.com
West Virginia's longtime defensive coordinator Jeff Casteel followed former head coach Rich Rodriguez to Arizona this offseason, and he took his staff and his 3-3-5 defensive alignment with him.
Enter Joe DeForest from Oklahoma State. Former Pitt interim head coach Keith Patterson joined him as well, and he has taken on the role of co-defensive coordinator. Former receivers coach Daron Roberts also moved to the defense and is now coaching cornerbacks. Finally, Erik Slaughter from Stephen F. Austin was added as the defensive line coach.
The new staff will run a hybrid 3-4 scheme. It's tough to call it a traditional 3-4, as it's essentially just athletes here, athletes there, athletes everywhere.
The group will be spearheaded primarily by two of its best athletes: former safety and now "star" linebacker Terence Garvin, and safety and No. 2 tackler from 2011, Darwin Cook.
From Dana Holgorsen's first regular season press conference, Geoff Coyle of WV Illustrated tweeted the coach's expectations for the duo:
#WVU's Holgorsen on Cook, Garvin: They've done everything they've been asked to do… Counting on them to be leaders on this football team.

— Geoff Coyle (@GFCoyle) August 28, 2012
West Virginia has the talent and athleticism to be a solid defense in 2012, but the main question is how quickly the new scheme will catch on.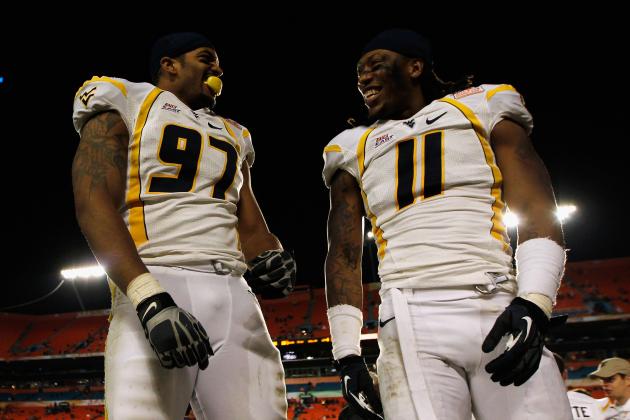 Streeter Lecka/Getty Images

West Virginia lost about as much on the defensive line as any team in the country.
First-round NFL draft pick Bruce Irvin and his under-appreciated bash-brother Julian Miller have both moved on and will leave a huge void at defensive end. Just how large is the void?
The DE tandem combined for a total of 97 tackles last year. Of those 97 tackles, 26 were for a loss, for a total of 121 negative yards. Of those 26 TFL, 14.5 were sacks, representing almost half of the team's sacks from 2011.
Fortunately, the Mountaineers will have some talented athletes to replace them on the line.
Will Clarke may be the team's top pass-rusher this season. The 6'7" junior is listed at defensive tackle and had two sacks last year, more than any other returning defensive lineman.
Joining him up front will be Jorge Wright at defensive end, who has 13 career starts under his belt. He moved from the nose tackle position, which will now be filled by the 6'4" 308-pound junior Shaq Rowell.
It's going to take a group effort from them, along with some help from the pass-rushing linebackers for the Mountaineers to have a formidable pass rush in 2012.
Quarterback pressure will be crucial, especially against the pass-heavy offenses in the Big 12.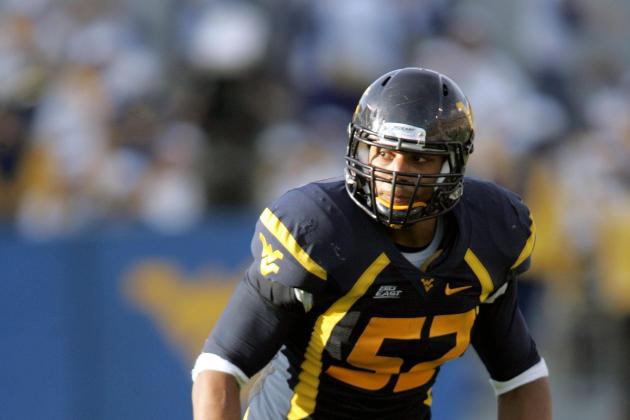 Charles LeClaire-US PRESSWIRE

Along with losing their two sack leaders, the Mountaineers will lose their top tackler who also finished No. 3 on the team with five sacks.
Najee Goode had a team-high 87 tackles but has since moved on to play on Sundays for the Tampa Bay Buccaneers.
The top returner Jewone Snow has missed some time this summer due to injury and wasn't listed on the depth chart heading into fall practice. However, he should be back playing at some point.
For now, taking his place at the "buck" linebacker position will be junior Tyler Anderson. Also, listed at the buck position behind Anderson is senior Josh Francis—an athlete who fans and coaches were hoping would be the second coming of Bruce Irvin.
However, WVU may have found another Bruce—redshirt freshman Isaiah Bruce—who was listed behind junior Doug Rigg at the "sam" linebacker position heading into fall practice. According to Geoff Coyle of WV Illustrated, Holgorsen said that Bruce would start in WVU's opener against Marshall, though he did not specify which position he would fill.
The leader of the group, and likely the whole defense, will be "star" linebacker Terence Garvin. He's a versatile, lengthy athlete who had 72 tackles, 3.5 sacks and two interceptions a year ago.
Although he's coming off injury, he'll be leaned on to be a defensive workhorse in 2012.