WWE Power Rankings: Breaking Down WWE's Top 25 Superstars for Week of Aug. 26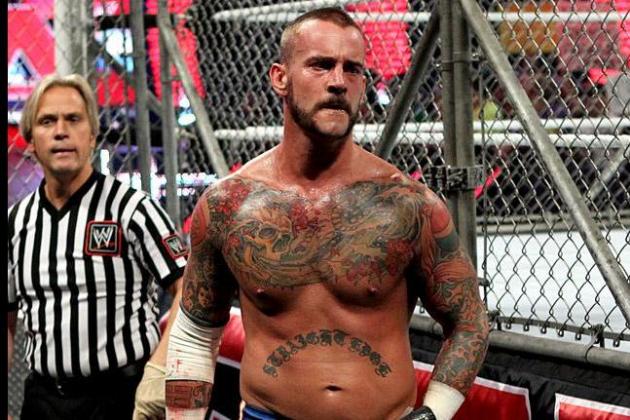 Photo courtesy of WWE.com
With the build toward Night of Champions starting to pick up steam already, the past week of WWE programming has certainly been packed with action. That was especially true on RAW as CM Punk officially cemented his heel turn, John Cena was granted his title shot and Triple H delivered a heartfelt speech.
There is no question that this week's RAW was far better than most of the post-RAW-1,000 shows have been, and the new power rankings reflect that. There were quite a few impressive performances over the past week and it gives me hope moving into the fall season.
Power rankings mainstays over the last couple weeks such as Chris Jericho, Brock Lesnar and Shawn Michaels may not be in the fold any longer, but top guys like Punk, Cena and even Daniel Bryan and Dolph Ziggler have stepped up in a big way already.
Here are my top-25 superstar power rankings for the past week based purely on entertainment value rather than kayfabe factors.
Begin Slideshow

»
Last Week's Ranking: 22
David Otunga returned with somewhat of a bang last week as he tried to become general manager AJ Lee's assistant before losing a match in short order to Big Show. Otunga was in another match this week against Zack Ryder, but the results were the same.
I've dropped Otunga down a few spots since he didn't receive any mic time, which is where he normally shines, and because he hasn't exactly shown a marked improvement in the ring since coming back from hiatus.
Last Week's Ranking: NR
The Prime Time Players didn't even wrestle a match on SmackDown or RAW, but their commentary with Michael Cole for the match between the team of Kofi Kingston and R-Truth, and Primo and Epico was fairly good and gives me hope for their continued development.
There is a lot of work to be done in the tag-team ranks, but I do give the writers credit for putting some effort into the Prime Time Players and trying to get the fans to care about them.
Last Week's Ranking: 24
I'm still not buying Kofi Kingston and R-Truth as credible Tag Team Champions, but at least they're receiving air time and the titles are slightly more relevant now than they were in months prior. The fact remains, however, that they are a thrown-together team with little in common.
Hopefully a team emerges in the near future that is capable of winning the titles and making them seem as important as they should be. Until then, I suppose Kofi and Truth are decent caretakers.
Last Week's Ranking: 21
It kind of seems like Brodus Clay is in no man's land now that his undefeated streak is over. Big Show ended it and Damien Sandow beat The Funkasaurus last week, so Clay no longer seems invincible. Even so, I still enjoy his gimmick and find myself happy when his music hits.
He got the win in a tag match on Monday as his feud with Sandow rages on and I'm hoping that we get a pay-per-view match out of it, since both competitors have done a very nice job with their respective characters.
Last Week's Ranking: NR
Santino Marella may have dropped his United States Championship to Antonio Cesaro at SummerSlam, but it has actually resulted in the master of The Cobra receiving increased exposure.
There is no doubt that The Cobra being in love with Aksana is very PG, but I can't help but chuckle a bit about it.
If Santino wanted to be, he could be great in the ring and have a very serious gimmick, but what he does works with the younger fans, so I can respect his character, as dumb as it may seem on the surface.
Last Week's Ranking: 23
It's really a shame what has happened to Cody Rhodes since he dropped the Intercontinental Championship to Christian at Over The Limit, but at least he is starting to be used on every show again.
Rhodes is embroiled in a feud with Sin Cara, and I'm not really sure where it's going, but it's better than nothing at this point.
Rhodes and Damien Sandow made for an entertaining team on Monday and although Rhodes took the pinfall loss at the hands of Brodus Clay, I'm hoping that he is pretty much back on track and out of his funk.
Last Week's Ranking: 20
New United States Champion Antonio Cesaro hasn't had a match since he captured the title at SummerSlam, but the creative team is trying to make him look like a threat.
He beat up Santino on SmackDown and seems to be relishing the fact that he is champion, so perhaps that will lead to something.
Cesaro hasn't been used particularly well since his debut, but the United States Championship is a very prestigious title that deserves more of the spotlight, and maybe Cesaro is the guy who will ensure that happens.
Last Week's Ranking: NR
Say what you will about Heath Slater, but it's tough to deny the fact that he has been both relevant and entertaining since the advent of the weekly legend return. Even though Slater lost essentially all of those matches, they allowed him to get time on the mic and mix it up with some fan favorites.
The legends may not be coming around any longer, but Slater has continued to do well, in fact, he even defeated Sin Cara on SmackDown with help from Cody Rhodes. Slater's goofy character is very fun to watch, and perhaps he'll be rewarded for that moving forward.
Last Week's Ranking: 14
Rey Mysterio hasn't appeared on WWE programming since SummerSlam as he suffered a concussion during his Intercontinental Championship match with The Miz.
He and Miz really didn't receive any storyline buildup to speak of ahead of their contest, but they still managed to put on what I consider the best match of the night.
I was hopeful that Mysterio and Miz would have another match at Night of Champions, but that may not happen depending on the severity of Mysterio's injury. I'm sure every fan wants to see Mysterio make a speedy recovery, though, because he is a key cog in the mid-card.
Last Week's Ranking: 18
I realize that Sin Cara doesn't talk and his moveset since returning from injury is dumbed down, but he has been used quite a bit lately. Sin Cara is having matches on every single show, performing well, not botching and, most importantly, continuing to get a favorable reaction from the crowd.
I also like that he has been humanized a bit by losing to Heath Slater and also by being so affected by Cody Rhodes trying to unmask him. The storyline between Sin Cara and Rhodes is fairly good and I'm very interested to see what comes of it.
Last Week's Ranking: 9
After weeks of being one of the company's most visible figures, Big Show was inexplicably absent from RAW last week. With CM Punk and John Cena set to have a singles match at Night of Champions, there isn't really any room for Big Show in the main-event scene, but I figured the creative team would find something for him to do.
I'm not a Big Show fan by any means, but I was impressed enough by his performance at SummerSlam that I'm pulling for him to get involved in the World Heavyweight Championship picture. Sheamus vs. Alberto Del Rio is stale beyond belief, but Big Show could inject some new life into that rivalry.
Last Week's Ranking: NR
After weeks of doing nothing, Zack Ryder finally picked up a win on RAW as he defeated David Otunga this week. It looked like the celebration might be short-lived as Kane entered the ring and was about to chokeslam the Long Island Iced Z, but he thought better of it and attacked Otunga instead.
You could say that Kane has single-handedly destroyed Ryder's push as he pushed him off the ramp numerous times, caused him to lose the United States Championship and has been a thorn in his side ever since.
WWE's booking of Ryder makes absolutely no sense, but here's hoping that Monday's win helped him turn the corner.
Last Week's Ranking: 15
The curious booking of Ryback continued this week as he is now suddenly back to facing actual WWE superstars. With fan support rising last week seemed like the perfect time to put Ryback in a real feud, but instead he went back to squashing local jobbers.
Ryback has since defeated Jinder Mahal and Jack Swagger on SmackDown and RAW respectively, however.
The transformation has been slow, but at least the opponent has been allowed to get some offense in over the past couple matches, so Ryback isn't quite as one-dimensional. Until he has a real angle with a big guy like Tensai or Big Show, though, his potential is capped.
Last Week's Ranking: 17
Randy Orton has been utilized much more frequently since surprisingly being left off the SummerSlam card, but it's clear that he hasn't reclaimed his spot in the main-event scene.
Orton defeated Alberto Del Rio on last week's RAW thanks, in part, to a distraction from Sheamus, but The Viper's momentum didn't carry over.
Orton shockingly lost cleanly to Del Rio on SmackDown as he tapped out to the Cross Armbreaker.
I'm not on Orton fan by any means since I find him boring on the mic and somewhat repetitive in the ring, but I would have rather he won the No. 1 contendership so that the awful Del Rio vs. Sheamus feud could have ended.
Last Week's Ranking: 12
Sheamus continues to turn in solid performances with each passing week and each passing show, but he has been unspectacular to say the least.
I enjoy Sheamus and feel like he has all the tools necessary to establish himself as one of the faces of the company one day, but he has been placed in an albatross of a storyline and can't escape it.
Until his feud with Alberto Del Rio comes to an end, I can't move Sheamus up more than a spot or two in good conscience. Sheamus is stuck in a rut for now and that will likely continue until Night of Champions at the very least.
Last Week's Ranking: 13
I wouldn't necessarily say that Alberto Del Rio has been any better than Sheamus during their World Heavyweight Championship feud, but based on the fact that Del Rio was finally made to look strong for the first time over the entire course of the storyline on SmackDown, I thought it fitting to move the Mexican Aristocrat slightly past The Great White.
Del Rio still doesn't seem like a threat to take the big gold belt from Sheamus, but beating a face Randy Orton cleanly on SmackDown by forcing him to tap out was a pretty big deal.
If Del Rio had been booked like that from the start of the feud forward, then we might have something right now, but that wasn't the case.
Last Week's Ranking: NR
Jerry "The King" Lawler isn't technically a superstar, but he has played a major role on RAW over the past couple weeks, so he obviously deserves a ranking.
I hate Lawler on commentary as I consider him a shell of his former self, and his acting while responding to CM Punk on Monday wasn't all that great either, but there is no doubt that he helped the WWE Champion get over as a heel.
Most of that was Punk's own doing since he did such a fantastic job in his own right, but Lawler's status as a Hall of Famer and stalwart within the company obviously contributed. I typically don't like when Lawler competes in matches, but if things are done correctly as they were on Monday, then I don't mind too much.
Last Week's Ranking: 8
I'm still waiting for the writers to make a big move when it comes to Damien Sandow by putting him in an important feud, but until that happens I am content to watch him as is. I thought I was going to enjoy Sandow's character based on the first vignettes that aired in anticipation of his debut, and he has been as good as advertised thus far.
Sandow is usually afforded some mic time before his matches, but with three hours to fill on RAW each and every week as well as an additional two hours of SmackDown, there is ample time to give Sandow a five-minute promo. The guy is absolute gold each and every time he speaks, so why not take the training wheels off?
Last Week's Ranking: 5
Triple H finally addressed his career prospects on RAW after losing to Brock Lesnar at SummerSlam, and although The Game didn't say one way or another whether he was going to retire, it seems like we won't be seeing him for at least another month.
Triple H's speech was good, but the problem is that we all know he isn't actually going to hang up the boots.
Say what you will about Triple H, but he has been a big part of the programming over the past month and SummerSlam would have been much less successful without him on the card.
You can add Triple H to the long list of guys that are taking a hiatus at the very least, but hopefully the main attractions will be able to make up for his loss.
Last Week's Ranking: 7
He continues to be booked terribly and the creative team doesn't really give the fans a reason to care about him, but The Miz has been absolutely superb since returning from the filming of The Marine 3.
The Intercontinental Champion does hold wins over Christian and Rey Mysterio, although he has lost more often than not, including a defeat at the hands of John Cena on RAW.
Miz did look very strong in that match, though, and has had a more vicious demeanor since his return. Miz is as good as he ever was on the mic and his in-ring skills are slowly but surely beginning to catch up as well.
All that's left to do is to start giving Miz some important victories before ultimately putting him back in the main-event scene where he belongs.
Last Week's Ranking: 16
For really the first time since his terrible feud with John Cena crumbled, I find myself caring about Kane. His rivalry with Daniel Bryan didn't really make sense at first, but I'm all in after what happened on Monday.
Kane and Bryan were forced to attend anger management classes on Monday and hilarity ensued as Kane talked about some of the crazy things he has endured during his time in WWE.
Rather than being a dominant monster or a directionless face, Kane is now somewhere in between and I like where things are heading.
I predicted last week that Bryan and Kane would find common ground and form a reluctant tag team, and based on the events of Monday, I'm liking the chances of that happening.
Last Week's Ranking: 6
Much like The Miz, the writers continue to botch the booking of Dolph Ziggler, but he has endured and still managed to make himself look good throughout the process.
Mr. Money in the Bank should be going over in the vast majority of his matches, but he lost to Chris Jericho at SummerSlam, lost to Sheamus on SmackDown and lost to Sheamus and Randy Orton in a tag-team match on RAW.
He did get revenge by beating Jericho last week on RAW and sending him packing, but that doesn't make up for the creative team's other egregious errors.
Ziggler has still been stealing the show in the ring and doing a nice job on the mic, though, so hopefully the booking eventually catches up with Ziggler's fine performances.
Last Week's Ranking: 3
John Cena didn't cut any big, fancy promos on Monday nor did he take up a half hour of television time, but I am finding that less is more when it comes to Cena.
One of the big gripes that most fans have with Cena is that he has been shoved down our throats week after week for the past seven years and been the focal point essentially each and every day over the course of that time frame.
Although Cena is going to challenge CM Punk for the WWE Championship at Night of Champions, Punk was unquestionably the focal point on Monday and really has been since the 1,000th episode of RAW.
If the WWE continues to keep it like this, then Cena probably wouldn't even need a character change to get the fans off his back because the way things are going right now is just fine.
Last Week's Ranking: 10
He may not be in the WWE Championship scene any longer, but Daniel Bryan has truly flourished over the past few weeks. We always knew that he could light it up in the ring, but the big question mark surrounding Bryan was whether he could make the fans care about him on the mic and in terms of his character.
He has passed that test with flying colors, however, as his psychotic gimmick has been thoroughly entertaining.
Bryan was hilarious at the anger management class and his interaction with Kane was very funny as well. I even enjoyed his match against R-Truth as he accidentally got counted out when he snapped and started yelling at a fan.
As I mentioned previously, I hope and pray that Bryan and Kane form a tag team because it would be comedic gold and it could help save the tag division as well.
Last Week's Ranking: 1
Punk has been in the catbird seat of these rankings for the past couple weeks and nothing that happened on RAW suggested that a change was needed.
Punk's new persona has been so much better than what he was for the majority of his WWE Championship reign and his vicious attack on Jerry "The King" Lawler on Monday most definitely solidified his heel turn and made it official.
CM Punk's promo that he cut on Lawler was great, his mannerisms and actions during the match with Lawler were fantastic and what he did after the match really put a bow on a terrific night for the champ.
Punk has really put some emphasis on the title and made it important again, and hopefully he can knock off John Cena in a few weeks at Night of Champions.
Follow @MikeChiari on Twitter and listen to him on Ring Rust Radio.