10 Bold Predictions for the 2012 College Football Season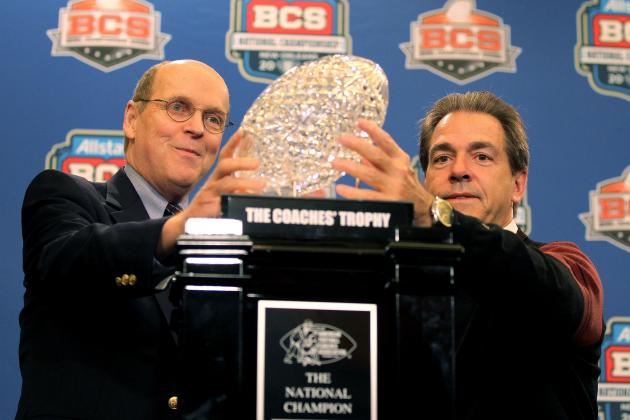 Andy Lyons/Getty Images

The 2012 college football season is finally here. After an offseason full of controversy that most fans would rather forget, it is finally time for players to put on the pads and play.
The upcoming season is a mystery, but let us gaze into the crystal ball and predict how the season will unfold.
Here are 10 bold predictions for the 2012 college football season.
Begin Slideshow

»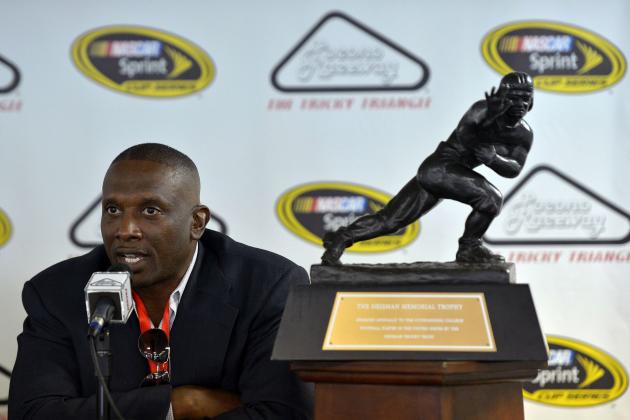 Drew Hallowell/Getty Images

It might be the easiest thing to predict all season. Heisman favorites often do well, but they usually don't win.
Two years ago, Andrew Luck and defending Heisman Trophy winner Mark Ingram were the favorites to win, but the trophy landed in the arms of Cam Newton.
Last season, the Trust all but handed the Heisman to Andrew Luck before the season, but he was upended by Robert Griffin III, who hoisted the trophy in New York.
This year is supposed to be the coronation of one of USC's all-time great quarterbacks in Matt Barkley. Barkley chose to return to school for his senior season and should put up some amazing numbers.
The problem for Barkley is that it will be hard to improve on his 39 touchdown tosses and 3,500 yards from a year ago.
A bigger problem for Barkley is the competition. Touchdown vulture Montee Ball is back at Wisconsin, Geno Smith will look to lead his high powered West Virginia team and Landry Jones and Denard Robinson will also have big years for their respected schools.
All of those men play on teams where the expectations are not as high, and if one of them should have an RG III-type season, look for that player to give the stiff arm in New York.
Jonathan Daniel/Getty Images

Notre Dame finished last season with an 8-5 record and was involved in some thrilling games along the way. The Irish rewarded themselves by scheduling what has to be the toughest slate of games in the nation. Notre Dame will face five Top 25 ranked teams, three of them in the top 10. Last year's team went 1-3 against ranked opponents.
The Irish open the season in Ireland against Navy, but will do so without last season's leading rusher Cierre Wood. Wood will also miss the Purdue game the following week.
With little room for error, the Irish cannot afford to get off to a slow start.
Games at Oklahoma and USC are unquestionably the toughest on the schedule, but it will be a five-game stretch over the course of six weeks that will determine where the season goes.
Beginning on September 15th, Notre Dame travels to East Lansing to play No. 13 Michigan St, followed by home games against No. 8 Michigan, Miami (FL), No. 21 Stanford and BYU.
It is a strong possibility the Irish duplicate their eight-win season from a year ago, but six victories seems like a more likely outcome.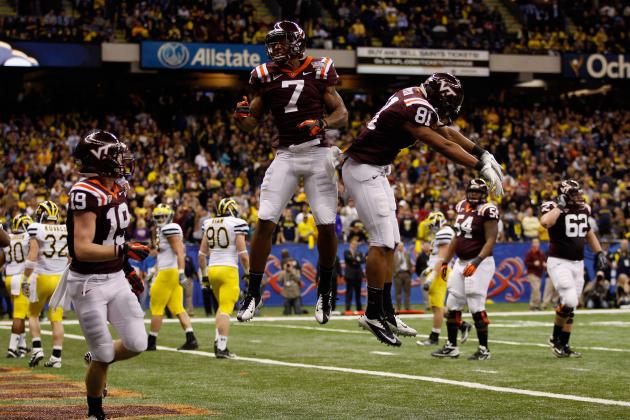 Chris Graythen/Getty Images

Year after year it seems there are high hopes for the ACC, and year after year there seems to be quite a bit of disappointment in the conference.
Last year, the conference suffered multiple non-conference defeats capped by Clemson's abysmal effort in the Orange Bowl.
This year the ACC hopes to save face. The conference looks to be a three-team race between Florida St., Clemson and Virginia Tech.
Expect Frank Beamer's boys to find a way to win the conference. Virginia Tech should once again dominate the ACC coastal division and will beat either Clemson or Florida St. in the conference championship.
Any other year that would be accomplishment enough, but the Hokies will outdo themselves and exceed everyone's expectations by winning the Orange Bowl game.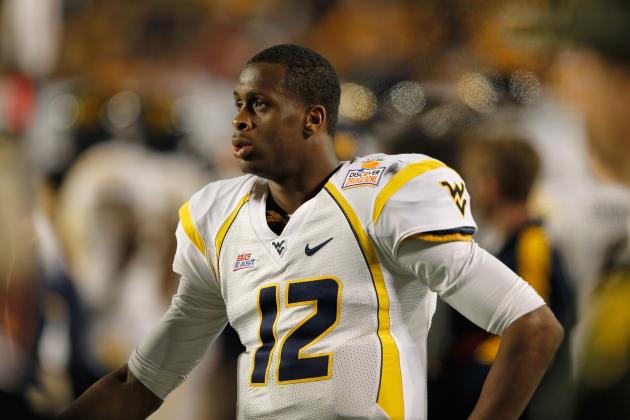 Mike Ehrmann/Getty Images

Welcome to the Big 12 West Virginia. The Mountaineers left the Big East on a high note by scoring a bowl game record 70 points in a route of Clemson. The Mountaineers will bring that high-octane offense and 15 returning starters to the Big 12.
Geno Smith could very well be the best quarterback in the conference and will enjoy playing in the spread-happy conference.
While the young West Virginia team may drop a game or two along the way, they will be in the mix to win the conference at season's end.
Back to back trips to the Lone Star state in early October could be tricky, but the Mountaineers get conference contenders: Oklahoma, Kansas St. and newly acquired Big 12 member TCU in Morgantown.
Look for a 10 or 11-win West Virginia team to reign as conference champs in 2012.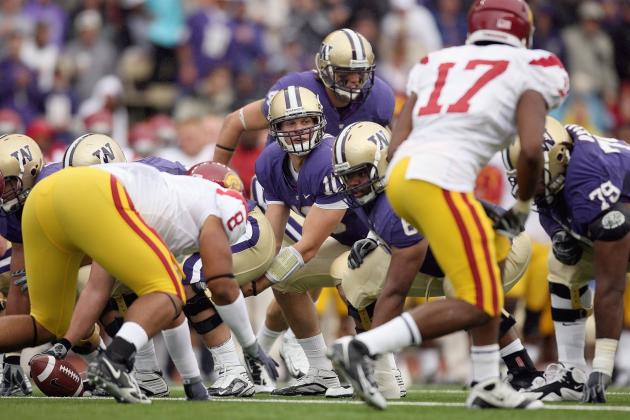 Otto Greule Jr/Getty Images

It would be so much better if it was a Friday the 13th in October, but the second Saturday of the month will give us plenty of action and some monumental upsets. Beginning in Tallahassee.
The Florida State Seminoles will come out of the gate hot, and after a victory over Clemson, will seem poised and ready to compete for a national title. But not so fast my friend. The Seminoles will inexplicably drop a home game to lowly Boston College and watch their National title dreams fly away with the Eagles.
West Virginia will cruise through the early part of their schedule and should be averaging close to 60 points per game and boast a 5-0 record when they visit Lubbock to play Texas Tech.
However, after beating Texas in Austin on October 6th, the back to back weeks of travelling across the country from Morgantown to Texas will prove too much for the jet lagged Mountaineers. The Red Raiders will tear down the goal posts after upsetting West Virginia.
The biggest shocker of them all will happen in Seattle. The USC Trojans have lost their last two trips to the Emerald city; don't expect this trip to be any different. The overconfident Trojans will show up in Seattle remembering last year's 40-17 beat down of the Huskies instead of the two previous losses they suffered in 2009 and 2010.
It will be another down to the wire game, but in the end, the Huskies will hold off the men of Troy and send the BCS into a flux.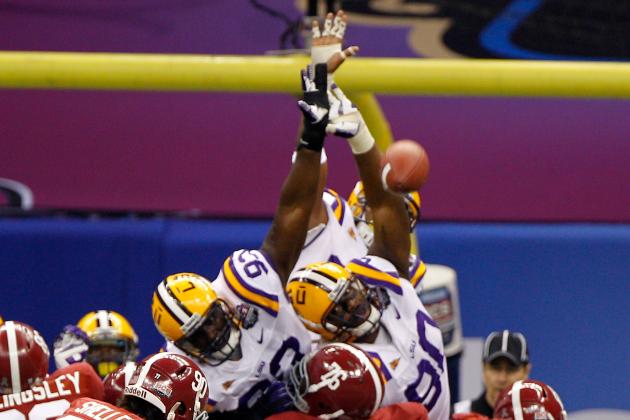 Chris Graythen/Getty Images

LSU and Alabama will both enter their November 3rd matchup in Baton Rouge undefeated, and just like last year, they will be the top two ranked teams in the nation.
Fans should expect it to be another defensively dominated game with the difference once again being LSU's outstanding special teams. This one won't need to go to overtime, but it will be decided in the final seconds. LSU will win by a late field goal.
Also on the card that weekend will be a matchup between Oregon and USC in Los Angeles. The Ducks should enter the game undefeated and ranked third behind the above mentioned teams.
However, Oregon will run into a surly USC team playing to keep its National title dreams alive. The game will be hotly contested, but in the end it will be USC's pair of outstanding running backs, Silas Redd and Curtis McNeal, and quarterback Matt Barkley who will ensure the Trojans stay alive in the title hunt.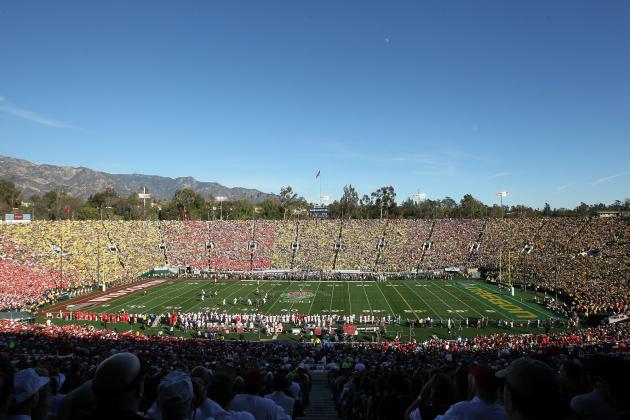 Jeff Gross/Getty Images

Maybe this is more of a wish than a prediction. The possibility of both these teams playing in the national title game is there, but I think both will be forced to settle for a Rose Bowl matchup.
Michigan should dominate the Big Ten's Leaders division, with the only chance for a hiccup coming in back to back weeks with games against Nebraska and Michigan St. The Wolverines will avenge their loss to the Spartans from a year ago and win the Big Ten.
Oregon will wreak havoc in the Pac-12 with their fast-paced offense and much improved defense. Honestly, the only games the Ducks need to be concerned about will be the two with USC (regular season and conference title game).
Michigan and Oregon will play in the Rose Bowl on New Year's Day and provide us with a 60 minute highlight reel of a football game.
De'Anthony Thomas and Denard Robinson should run wild all afternoon and the team with the ball last will win the game.
I'll put my money on Denard Robinson and Michigan.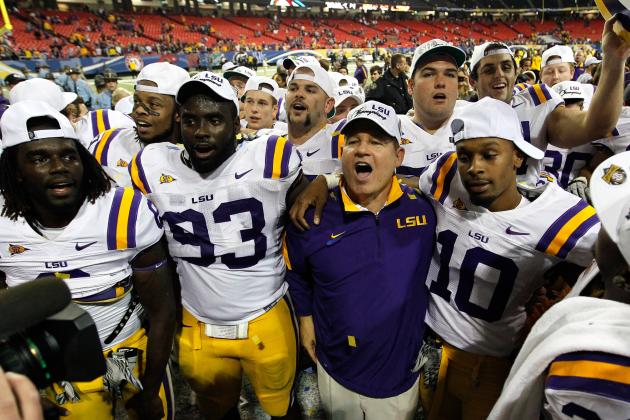 Kevin C. Cox/Getty Images

No surprise here that the SEC will feature one unbeaten in the conference title game (or de facto BCS semifinal game), but this year will actually feature two unbeatens vying for a chance to play in the national championship.
In the SEC West, it will be the LSU Tigers who should run through their schedule once again and find a way to edge out conference foe Alabama. As long as they do not suffer a letdown, LSU will walk into the Georgia Dome sporting a record of 12-0.
The Georgia Bulldogs will also walk into the Georgia Dome undefeated and looking for revenge after last season's title-game thumping at the hands of the Tigers. Georgia might be as good as their No. 6 ranking, but the schedule has done them wonders. They avoid games with SEC West leaders, LSU, Alabama and Arkansas, and they also play a pretty soft non-conference schedule with the exception of in-state rival Georgia Tech.
The Bulldogs need only to be concerned with three games: at South Carolina, at Auburn and in Jacksonville against Florida. The Bulldogs will likely be favored and should win all three contests.
Georgia will once again keep things interesting for about a half, but will be exposed by a bigger, stronger and faster LSU team.
LSU will win their second straight SEC title game.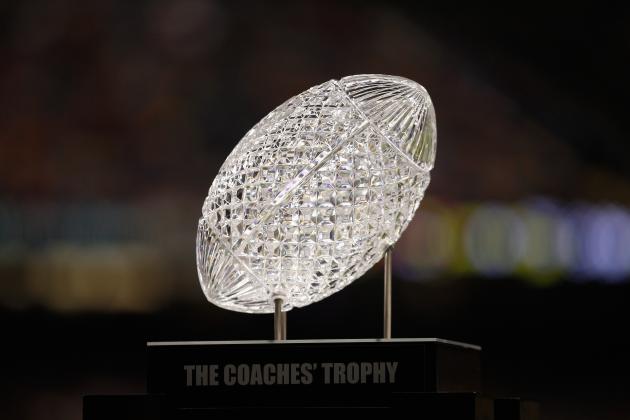 Chris Graythen/Getty Images

Controversy in the BCS isn't something new, but this year could provide us with a ton of debate at the top.
LSU will finish the season 13-0. Alabama will once again finish the regular season 11-1 with its only loss coming in another close game to LSU on the road. Georgia will be 12-1 and can make the argument that they deserve a rematch with LSU.
Oklahoma will finish the season 11-1 and tied for first in the Big 12 with West Virginia, who will also be 11-1 but own the tiebreaker over the Sooners.
Michigan will finish 12-1 and undefeated in the Big Ten, with its only loss coming to Alabama on a neutral field in the opener.
USC will finish 12-1 as well after dropping an early October game at Washington, but will rebound and beat Oregon not once, but twice.
Just to make things even more fun, we'll assume that Boise St. upsets Michigan St. on opening weekend and then runs the table in the Mountain West and finishes 12-0.
LSU will be a shoe-in for the title game, but does the BCS grant Alabama another rematch after another close regular-season loss?
Does it put Michigan in considering they won their conference and their only loss came on opening weekend?
Or do they finally give an unbeaten Boise St. team a shot in the title game?
In the end the LSU will play…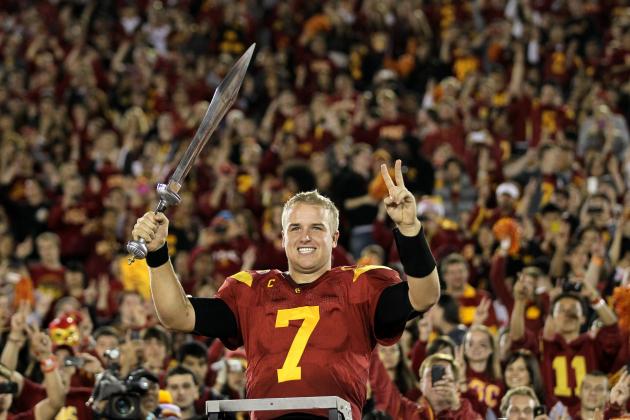 Stephen Dunn/Getty Images

They are both ranked in the preseason top three, but they will be the final two teams standing.
Even with a loss, USC will get a chance to play for the title in Miami and Matt Barkley's decision to return to school for his senior season will be well worth it.
LSU will get the chance to erase the sour taste left in their mouth after getting embarrassed in the national title game against Alabama a year ago.
This one should be a classic with USC's high powered offense clashing with LSU's relentless defensive attack.
BCS title games usually favor defenses because of the long layoff, and that will be true in this game as well.
LSU's defense will make life hell on Matt Barkley and the Trojans, but with the depth at wide receiver, running back and the inexperience of LSU's quarterback Zach Mettenberger, look for USC to pull off a close upset.
Matt Barkley and the USC Trojans will win the 2013 BCS National Championship game.