10 College Football Stadiums Where You Just Don't Root for the Other Team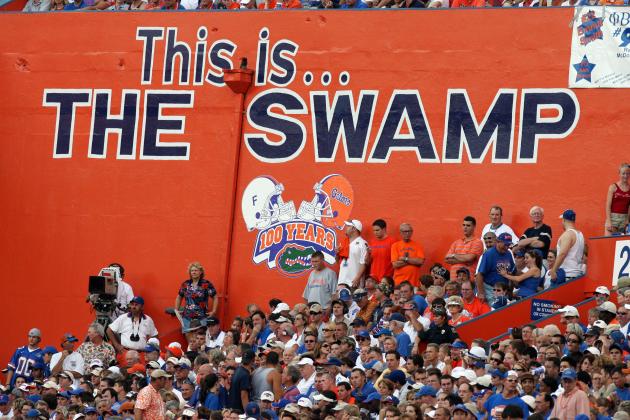 Doug Benc/Getty Images

It should go without saying that when you enter a home stadium wearing the opposition's gear, you will catch some heat.
As the 2012 college football is officially underway, here are your 10 stadiums where you simply don't root for anybody but the home team. If not, be prepared to enjoy your miserable day ahead.
Begin Slideshow

»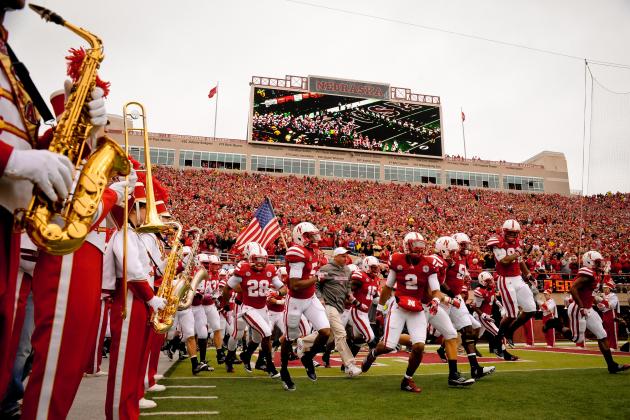 Eric Francis/Getty Images

316 straight home games sold out is quite the achievement, but one should never cheer for the team playing against Nebraska.
Even donning the gear of the opposition is not a good idea because the "Red Sea" may eat you alive. Considered one of the most prestigious programs in the country, Nebraska fans love nothing more in Lincoln than pulling for their program.
Football is king, and cheering for anything but the Huskers might as well be considered a poor choice. The pageantry is always talked evenly with the SEC squads, but regardless of the expectations or eventual results we always see this fanbase show up.
That is the true definition of elite fans, right?
Nebraska football means a whole lot to the Big Ten and college football because the Huskers bring their "A" game every single Saturday. Choosing to cheer against them would not be one of your smartest decisions.
Charles LeClaire-US PRESSWIRE

Let us all burn some couches and celebrate a tremendous victory by those Mountaineers!
West Virginia will be electric this season with Geno Smith threading the needle, but Dana Holgorsen can't help but fire you up as a fan.
Speaking of those fans, they should be considered rabid wolverines because they love nothing more than tailgating and making memories in Morgantown.
Winning memories that is by the way!
Mountaineer football means literally everything to these fans, and they bring so much to the table that you cannot help but appreciate their excitement for the game.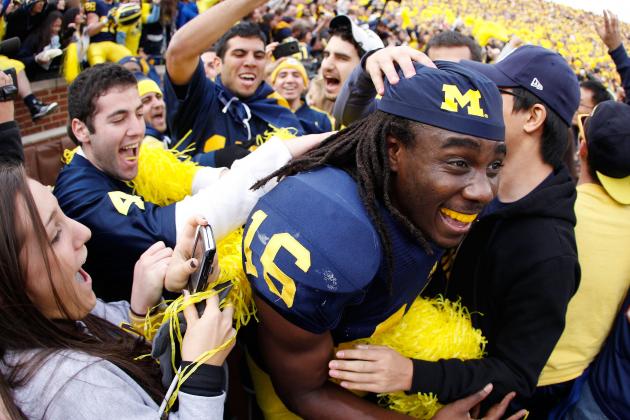 Gregory Shamus/Getty Images

At 995 victories, this prestigious program proved last season that you can never count it out for very long.
After nearly getting a crack at the Big Ten title, the Wolverines showed up in their BCS bid and came out victorious. The fan support is second to none, and the Big House is considered by many to be the top stadium in the country.
Their fans are loyal, but more so they just love to cheer on the Maize and Blue each and every fall weekend.
Brady Hoke has brought that swagger back to Ann Arbor with two tremendous coaches (Al Borges, Greg Mattison), but the pageantry brought on by the fans is always a sight to see on gameday.
Kirk Irwin/Getty Images

The Horseshoe is always one of the elite and premier places to catch college football, and the pageantry that is shared is never forgotten.
There may not be a louder stadium outside of SEC country, and some will even debate whether or not the fans in Columbus are as passionate as it gets.
Good luck cheering against Ohio State in their home stadium because you will be deaf from shouting matches that are simply not worth the fight.
Throw in the fact that they now have Urban Meyer in charge, and it would also be considered a joke to even ponder the thought of not putting on some scarlet and grey.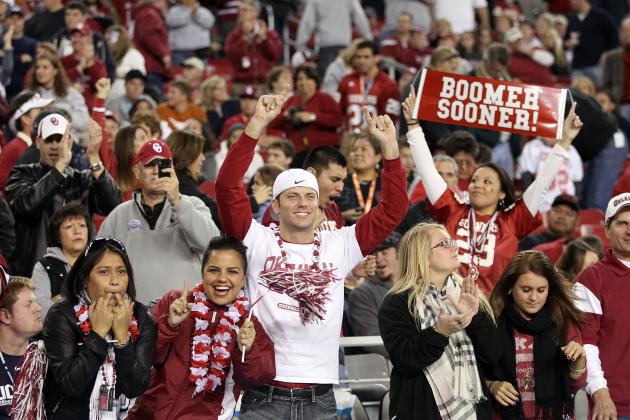 Christian Petersen/Getty Images

Boomer...Sooner!
The chants in Norman at Memorial Stadium are priceless, but their super die-hard fans will show up with the best of them.
There is a reason the Sooners very rarely ever lose at home, and the talent isn't everything. They certainly have the coaches to help ease tough gameday decisions, but the loyalty and enjoyment that OU football brings to the locals will never die.
Oklahoma's program should always remain elite with Bob Stoops around, and many fans with a ton of knowledge are still unaware these days that this program is the only one with four different coaches to have registered at least 100 wins during their tenure (Barry Switzer, Bennie Owen, Bud Wilkinson, Bob Stoops).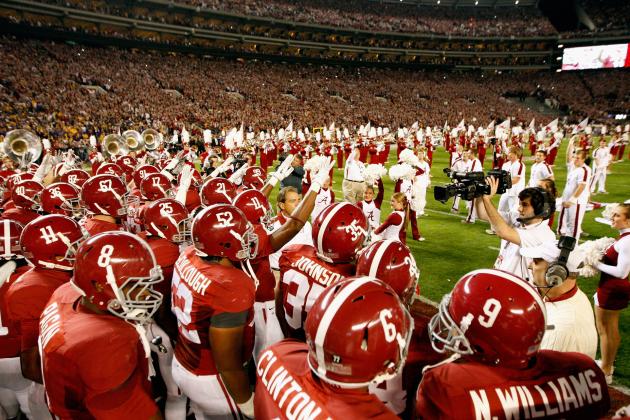 Streeter Lecka/Getty Images

Alabama has won two BCS titles with Nick Saban at the helm, and fans of the Rolling Tide are absolutely in love with him these days.
This powerhouse program loves something more though: Winning!
Alabama will cheer when they win, and they will allow you to cry on the inside when your team loses. However, it comes with the territory when you step into Tuscaloosa and have the brains to cheer for the opposition.
They love their football and enjoy it as much as any program in the country these days. Will the domination stop under Saban?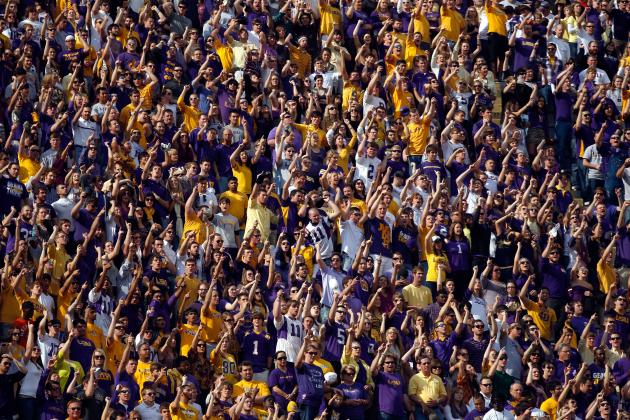 Chris Graythen/Getty Images

Geaux Tigers!
Death Valley is a tailgating party regardless of the time of day, and boy do they love their Bayou food.
Letting the good times roll is a must in Baton Rouge, and their intense fans sure enjoy themselves on a Saturday.
Many will argue that there is no venue or worse fanbase in the country to cheer against than LSU during the night.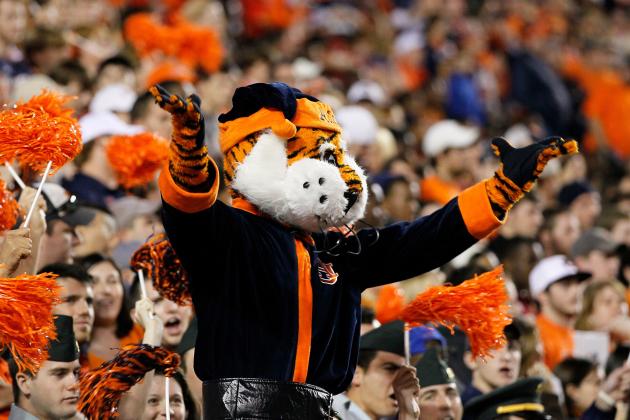 Kevin C. Cox/Getty Images

The Tigers have a bevy of hangouts on gameday, and the tailgating is typical SEC style. The atmosphere is simply relentless, and there is never a shortage of excitement at Jordan-Hare Stadium.
Also, it doesn't look like Gene Chizik is due for a bad year as we could be on the verge of witnessing another double-digit season.
The fans enjoy football more than life itself, and the battle between the Tigers and Tide makes everybody show that they support what they believe is the best program in not only the state, but in America.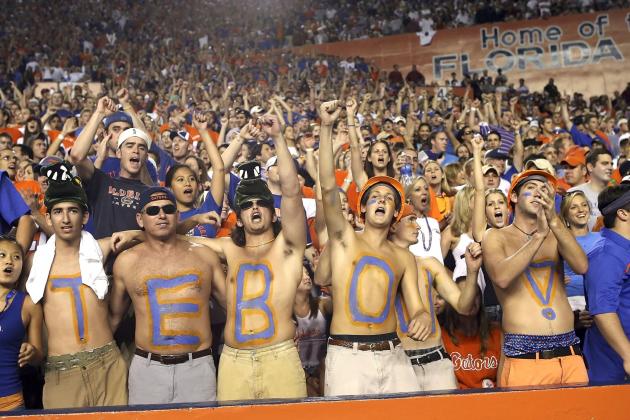 Doug Benc/Getty Images

The Swamp is a nasty place to come in as a fan of the visitors, and that is despite the fact that the Gators have struggled recently in the gauntlet SEC.
Florida is destined to go far in the immediate future with Will Muschamp at the helm, but many understand that expectations will always be fairly lofty in the SEC East.
For a prestigious program and an even more well-known stadium, the Gators have chomped on plenty of visiting opponents. It is just a matter of whether you prefer to get embarrassed or picked on when choosing to wear any gear from the opposition.
Be prepared to get picked on at the very worst just like you would at any SEC school, and perhaps you and the LSU-faithful will have some mixed emotions towards one another as well if you mix in a few drinks.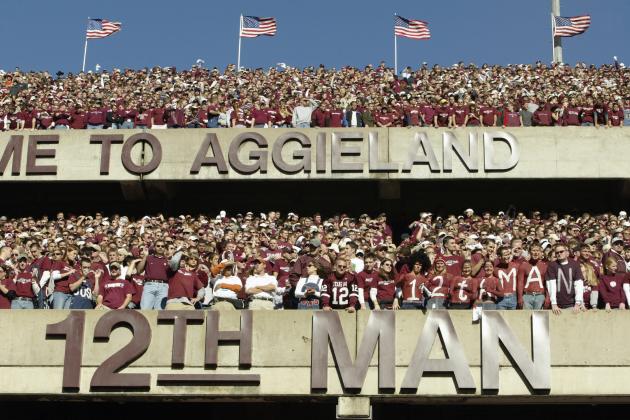 Brian Bahr/Getty Images

Gig 'Em!
Talk about fans that literally eat, sleep and breathe their collegiate sports.
College Station may just be the most loyal college town in sports, and most fans should know by now that the move to the SEC will only help them fit in even more.
Certainly it may take time to match up with the competition, but A&M may be considered the best of the bunch based on its atmosphere. If you attempt to cheer for the opposition just be prepared to leave Kyle Field deaf (the 12th Man never loses).
The midnight yell practice on the night prior to a game is an endless tradition, and once the gates open on gameday, College Station becomes electric and yet magical at the same time.