Real Madrid vs. Barcelona: 6 Key Battles to Watch in Spanish Super Cup 2nd Leg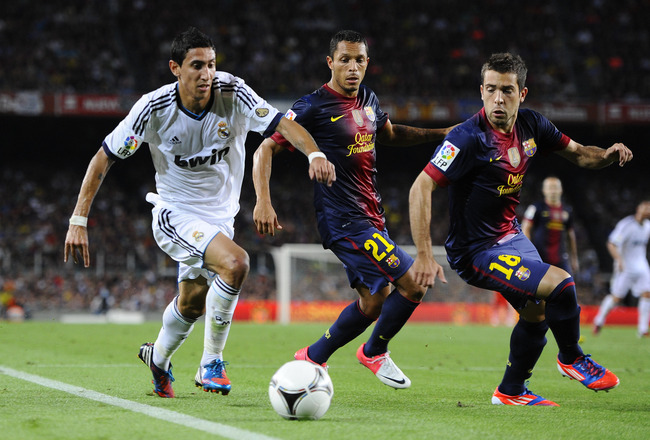 David Ramos/Getty Images
We are still in August, but we are already nearing our second Clasico of the 2012-2013 season.
Barcelona bested Real Madrid in the first leg of the Spanish Supercopa, but an error from Victor Valdes made the match a lot closer than it really should have been.
Now Los Blancos are in great position to turn things around and overcome a one-goal deficit.
To do that, Jose Mourinho will need much stronger performances from Mezut Ozil, Cristiano Ronaldo and the rest of his squad.
Going into the second leg at the Santiago Bernabeu, there are a few key matchups that will decide the tie and the trophy winners.
Read on to see these six key battles in Madrid.
Ozil vs. Busquets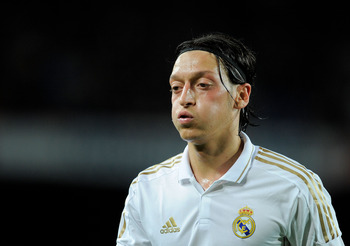 Denis Doyle/Getty Images
Mezut Ozil is only 23 years old and is already recognized as one of the top midfielders in football.
As great as the German is, he almost always underperforms against his team's biggest rival.
One of the main reasons for his poor performances is Barcelona's sweeper and ball-winner—Sergio Busquets.
The Catalan midfielder is tasked with breaking up the attacking play of opposing midfielders and has long been a pain in Ozil's side.
Busquets does a fabulous job of filling any gaps in the defense and positioning himself to shift play the other way as soon as possession is gained.
The defensive mid directs players like Ozil toward defensive zones that are not being overworked by the wingers, which shows his incredible understanding and awareness of the game.
While he is not responsible for shutting the German down, he does greatly influence the areas Ozil targets in attack as well as the direction of play.
If Busquets can force Real Madrid's No. 10 to have yet another poor outing, Real Madrid will have little chance of winning the match.
Messi vs. Real Madrid's Central Defense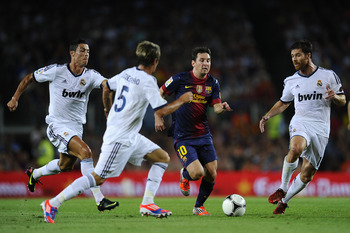 David Ramos/Getty Images
In the first leg, Andres Iniesta outshone everyone on the pitch and walked away with Man of the Match honors.
Lionel Messi went his fifth straight Clasico without a goal from open play and failed to add an assist to his name.
Make no mistake, though—Real Madrid's entire defensive strategy is planned around the reigning FIFA World Player of the Year.
As the center forward and focus of Barça's attack, Messi draws attention from three defenders almost as soon as he receives the ball anywhere in the final third.
Even in matches where he fails to score, the Argentinian takes pressure off of his fellow attackers and weakens Real's counterattack by overloading the center of the pitch when—or if—he loses the ball.
The results speak for themselves. When Madrid's central defense is able to limit Messi's shots and time on the ball, they find it much easier to stay in the match and minimize damage.
When Barça's No. 10 finds enough space to run, he abuses every defender—and group of defenders—his rivals send at him.
Shutting him down will again be key to Los Merengues' success.
Real Madrid's Counter vs. Barcelona Back Three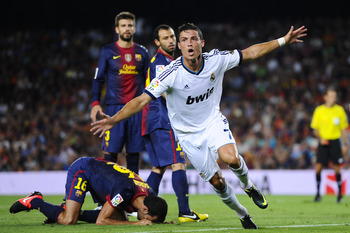 David Ramos/Getty Images
Barcelona's biggest weakness over the last few seasons has been defending the counterattack.
The center backs play very high up the pitch, and while Sergio Busquets is a phenomenal player, he lacks the pace to make up for the poor positioning of his teammates, especially on counters that get directed out wide.
Unfortunately for La Blaugrana, there is not a better counterattacking team in football than their rivals.
Real Madrid are perfectly built to exploit Barcelona. Xabi Alonso has great awareness, always knowing where to place his first ball when he cleans up Barcelona's attack.
Once Alonso sees that lane, he has at least one man at midfield—usually Ozil—ready to send the key pass to his wingers or striker.
For Barcelona, that often means leaving Cristiano Ronaldo, Karim Benzema and/or Angel di Maria racing full-speed toward a single defender.
Barça do a fine job of protecting the ball and quickly closing down passing lanes when possession is lost, but as Real showed in the final Clasico of last season, just one mistake or slight misstep is enough for Madrid to capitalize.
Mourinho vs. Vilanova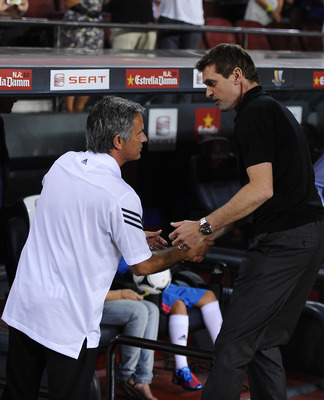 David Ramos/Getty Images
Recap
In the opener, Victor Valdes helped make Jose Mourinho look a bit more successful than he really was.
The Portuguese skipper's plan at Camp Nou had been to play a defensive first half, hoping for a goal from a counter or set-piece opportunity.
That part of Mourinho's strategy worked well. Cristiano Ronaldo opened the scoring in the first half off of a Mezut Ozil corner.
Beyond that, Xabi Alonso and Sami Khedira did a fine job of limiting Xavi's time on the ball and pressing Barca's attacking midfielders.
Second Half
In the second half, things started to go south for Los Merengues.
The switch began for the visitors, and they started to open up a bit more, clearly trying to not only limit goals at their end, but also score one or two of their own.
This plan failed, as opening up and spreading the back half allowed Barça to break through the lines. Andres Iniesta proved too much for Madrid and forced two goals in.
In the end, Valdes allowed a silly goal in and made Mourinho look like a better tactician than he really was on the night.
Looking Forward
Now with the second leg in the capital and Real needing at least a one-goal victory, how will the two managers strategize?
Will Real play more open, attacking football from the start, knowing the risk that leaves at the back? Will Mourinho opt for a more defensive approach in hopes of the visitors making a mistake?
It will only be the second time Tito Vilanova faces perhaps the best manager in football, so whatever the result, we will be nowhere near knowing the tactical abilities of the Blaugrana trainer.
But a victory at the Santiago Bernabeu could go a long way in gaining any future advantage over his new nemesis.
European Players vs Fatigue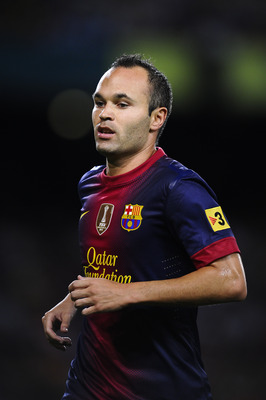 David Ramos/Getty Images
Spain's two best teams have perhaps the toughest August fixture list in all of Europe.
When they meet on August 31, they will play their first match of the season—and second against each other.
This would lead most of the teams' core players to grow tired during any campaign. But this season is especially taxing, specifically for European players.
Before the season began, each team played a handful of friendly matches that, while comparatively unimportant, still saw many stars playing at least 45 minutes of football.
But the greater, more exhausting cause of fatigue was the European Championship from this summer.
Euro 2012
The Euros have clearly taken a toll on a lot of player from both teams.
Cristiano Ronaldo has already cited fatigue as a major reason for his side's poor play, and it is clear that a long summer and playing two Clasicos has drained everyone involved.
Guys like Andres Iniesta have worked through this and performed at their usual high level, while others—such as Mezut Ozil—have been unable to get going to this point.
Why? Because Tito Vilanova is doing a better job of rotating his midfield and defense to this point. Mourinho's poor rotation policies of years past are already rearing their ugly heads again.
Mourinho cannot use a light squad as an excuse either since he is the one selling his rotation players before bringing in replacements.
Fair Excuse?
Thankfully for fans, there are enough players from both teams who partook in the Euros, so that will not be a legitimate excuse for anyone.
Yes, Ronaldo and Ozil may be tired from playing a very tough Euro campaign, but Iniesta, Busquets, Casillas and the rest of the Spanish National Team played one more match and appear to be far less affected.
Almost everyone who played in Poland and Ukraine come in on short rest, and many key players have failed to get any rest so far this season.
Real Madrid's strikers and left-backs have been rotated a bit, as have Barcelona wingers, but most of the core guys will be on a level playing field.
Whatever the result, neither team will be able to say fatigue was the reason for being outplayed.
Real Madrid vs. Santiago Bernabeu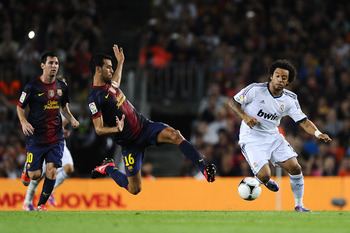 David Ramos/Getty Images
Going into the second leg of the Spanish Supercopa, Real Madrid is in great position and have reason to feel confident.
They scored two vital away goals, they will be at full health, they have the more experienced manager and they are the reigning league champions.
More importantly, the match will be played at the Santiago Bernabeu, which should give the hosts a slight advantage against their rivals.
Unfortunately, it is at the Santiago Bernabeu that Los Merengues seem most incapable of beating Barcelona.
Real Madrid have not beaten Barcelona at home since May of 2008. Not since the pre-Guardiola and Mourinho eras has La Blaugrana lost in Madrid.
That includes La Liga, Copa del Rey, Spanish Supercopa and Champions League matches.
It may not be a widely discussed record, but you can bet that Madrid players are aware of it, and that will put even more pressure on them.
It may seem like playing at home is an advantage for the Jose Mourinho and company, but recent history says otherwise.
If Real Madrid want to avoid having their rivals celebrate another trophy on their pitch, they need to play much better than they have so far this season.
Keep Reading

Real Madrid: Like this team?