New England Patriots: Preseason Standouts Who Will Carry Through to Season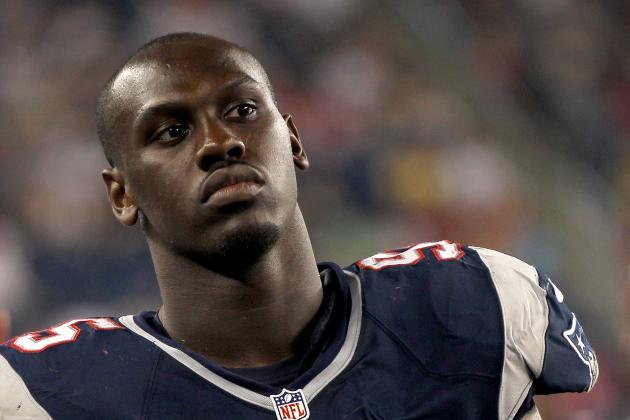 Jim Rogash/Getty Images

As the regular season quickly approaches, it's time to look back on the Patriots' biggest contributors of the preseason.
Some of these guys are veterans; others are rookies. Some are guaranteed to make the roster, and others aren't. But, they all have one thing in common. They made the most of their preseason.
In fact, they have another thing in common. If given the chance, each of them will produce over the regular season. They're too talented to remain quiet or fade into the background.
Here are the New England Patriots' preseason standouts who will carry through to the regular season.
Begin Slideshow

»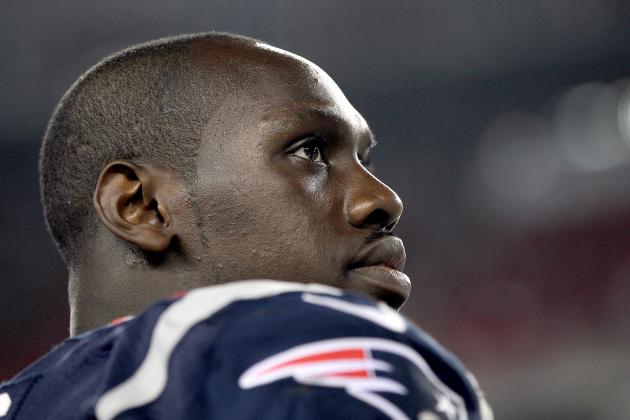 Jim Rogash/Getty Images

The rational part of our brains told us there would be an adjustment period with Chandler Jones. After all, he's a rookie. We expected the inevitable window of trial and error. A few weeks of jitters, perhaps.
But truthfully, deep down, we knew that anything less than day-one impact would be a slight disappointment. We're too excited about this kid to be totally rational.
Luckily, he didn't disappoint. Jones is so good, he allows us to be irrational.
In the Patriots' first exhibition game against the Saints, Jones dished out an assortment of deceptive and dizzying moves which forced havoc upon the Saints' offensive line. He chased Drew Brees and Chase Daniel, left and right, affecting their concentration and forcing them to make uncomfortable decisions.
He also drew a pair of penalties on Jermon Bushrod. Ultimately, the Saints only banked two field goals on the night. Jones played a significant role in making that happen.
Also, despite the fact that rookie Dont'a Hightower's debut wasn't as profound, it's worth noting that he played extremely well. Hightower made the most of his minutes against the Saints, racking up four tackles and giving New Orleans' offensive line plenty of headaches.
These are special players who will be in New England for a very long time.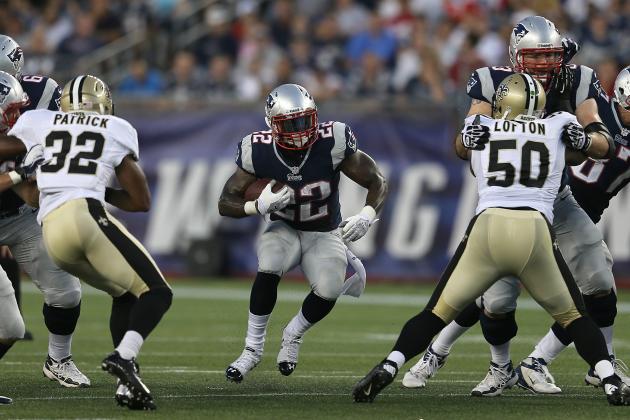 Jim Rogash/Getty Images

Shane Vereen and Stevan Ridley are competing for the top running back slot. Both have made solid cases for themselves.
Against the Saints, Vereen had 11 carries for 64 yards (5.8 avg). He consistently put his elusive moves in the spotlight and exploded for a terrific 18-yard pickup.
Ridley rounded out the ground-and-pound onslaught against New Orleans with eight carries for 40 yards (5.0 avg).
Ridley upped the ante against the Buccaneers with 16 carries for 87 yards (5.4 avg) and had a sweet 29-yard run. He capped off the evening with a touchdown.
Olympian Jeff Demps also flexed his muscles against the Buccaneers. Like Ridley, Demps put together a sensational 29-yard sprint. While Ridley's 29-yard explosion was all about power, Demps' 29-yard dash was all about speed—different personalities for different backs.
Demps finished his debut with three carries for 41 yards (13.7 avg) and made a few sensational plays on special teams. All in all, he's a wonderful addition to the team.
A sweet run game has been on our "wishlist" for a while now. Looks like we'll have it this season.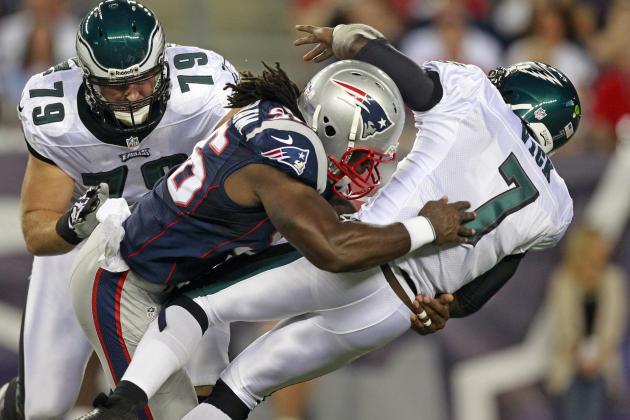 Photo: AP
Jermaine Cunningham has a very faithful fanbase who wholeheartedly believes in his talent. He also has an opposing group of critics who don't see anything special about him at all.
No matter where you stand on Cunningham, you can't argue with the hit he put on Michael Vick. The Eagles' quarterback left the game with a rib injury and gave everyone in Philadelphia a panic attack.
Cunningham is battling for respect, not to mention a roster spot. He's still living on the fringe. But, he's worked extremely hard this offseason; it's clear he wants to make the team, and he wants to contribute.
So far, he's doing a great job. If given the chance, this guy will produce during the regular season.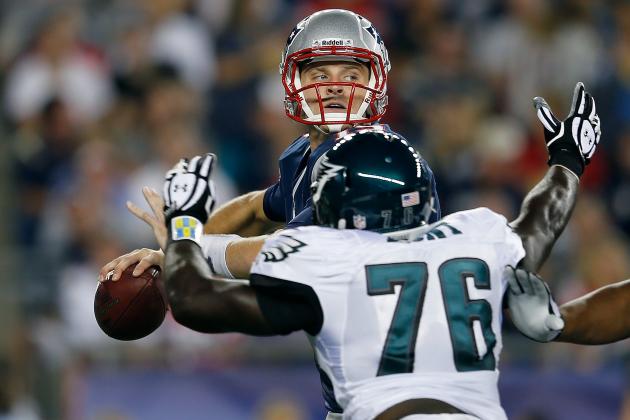 Jim Rogash/Getty Images

Ryan Mallett is New England's second backup quarterback. Brian Hoyer owns the top backup spot.
However, I'd be interested in seeing a poll amongst Patriots fans, asking them which quarterback they prefer as the go-to backup.
I can't predict the results of this hypothetical poll, but I can tell you how I'd vote: I like Mallett.
Truth be told, I wasn't happy with either of them until a few weeks ago. But, Mallett has made significant strides in the preseason. The guy's been playing hard and delivering results.
Against the Saints, Mallett threw 89 yards, but coughed up a pick. After that, he settled down and became more methodical with his decision-making. Against the Eagles, he threw 105 yards and a touchdown.
He really hit his groove against the Buccaneers, spearheading a late comeback attempt with two memorable touchdowns to Jeremy Ebert and Jesse Holley.
Although Mallett isn't racking up victories, he's racking up plenty of respect. He's forcing fans to look at him in a new light and consider him as someone who could be extremely valuable to the team.
It's too soon to tell how valuable he really is, but he's certainly earned a closer look. He's using this offseason the right way; he's taking a stand and making his presence felt.
If an injury bug sidelines Tom Brady for four regular-season games, I have no doubt that Mallett could fill in nicely and put two or three of those games in the win column.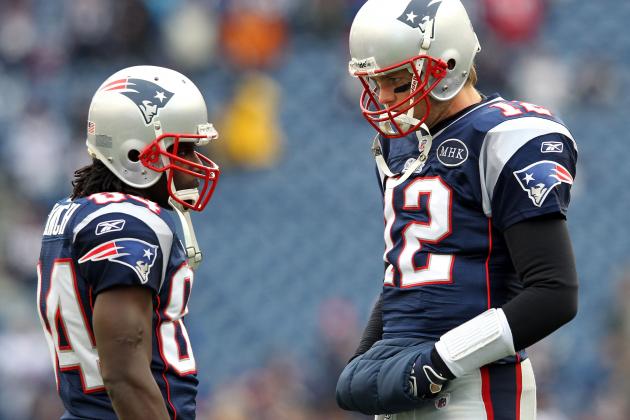 Jim Rogash/Getty Images

Despite being a Super Bowl MVP, Deion Branch has spent the majority of this offseason on the fringe. The guy's 33 years old, and many fans and critics questioned whether or not he still had any juice left in the tank. The rigors of the 2012 preseason challenged him to answer that question.
Branch rose to meet the challenge.
Against the Eagles, he had three receptions for 51 yards. He ran complex routes, picked up 20 yards on a single gain and displayed surprisingly youthful legs.
Bottom line: Branch is a phenomenal football player, a great guy and an important member of the Patriots franchise. He's got plenty of game left, and I can't wait to see him excel during the regular season. He's a true champion.
Photo: AP
I'm putting Nate Ebner and Marquice Cole on the same slide because they're in similar positions: Neither of them have made the highlight reels, nor have they emphatically carved out roster spots for themselves, but they've both quietly had a nice preseason.
One word to describe them: Active.
Ebner and Cole have been all over the place. Ebner registered a pick against the Eagles, chased balls against the Buccaneers and has consistently made his presence felt on special teams throughout the preseason.
Cole defended a pair of passes in the backfield against Tampa Bay, racked up six tackles on the evening and played consistently well on special teams.
Ebner's unique intangibles give him a better shot than Cole at making the final squad, but the truth is that both of these guys deserve a roster spot. We need them. These are high-energy players who excel at multiple positions.
More importantly, Ebner and Cole get involved and stay involved. They maximize their own performances with guts and adrenaline. They don't need to be told to play their hardest; they just naturally play that way.
They don't quit. You can't cut players who don't quit.
Bottom line: Ebner and Cole will be contributors during the regular season. Let's hope they both make the final roster.