Top 10 Realistic Expectations for the Milwaukee Bucks in 2013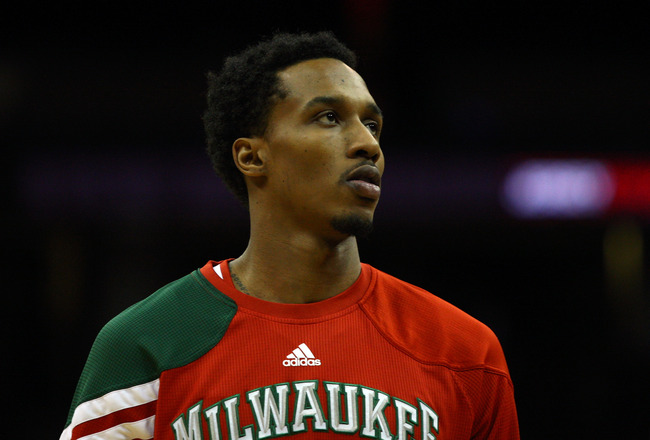 Chris Chambers/Getty Images
The Milwaukee Bucks are coming off of another season where they underachieved, missed the playoffs, and where no one "Feared the Deer."
However, in midseason, the Bucks made a huge trade for former Warriors' guard Monta Ellis. If nothing else, this team will come in with a completely different look next season after trading franchise cornerstone Andrew Bogut.
The question is whether this trade is a good thing for the Bucks' future, or for its present. This season will be an important one in terms of the direction of the team.
Here are 10 predictions of where this season will direct the Bucks.
John Henson Will Beat out Samuel Dalembert for the Starting Center Job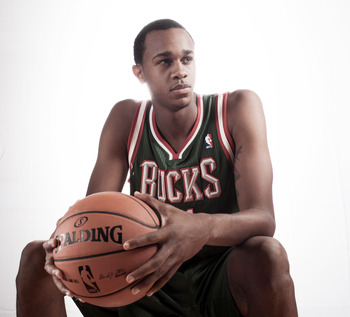 Nick Laham/Getty Images
With their first round pick this season, the Milwaukee Bucks picked former UNC big man John Henson. Henson is listed at 6'11" and is 220 pounds.
He was known as a great defender in college due to his length and athleticism, and also averaged almost 14 points a game. Some compared him to a poor man's Anthony Davis.
The main thing that stands out from Henson's point of view is that he has to get stronger. If he wants to play center in this league, 220 pounds isn't quite going to cut it.
However, he plays next to Drew Gooden, who is on the strong side of power forwards, so he should be able to be a defensive presence and not give up too much to bigger guys.
More than anything, I think Milwaukee will look to the future, and the future is Henson.
Brandon Jennings and Monta Ellis Will Struggle to Share the Ball All Year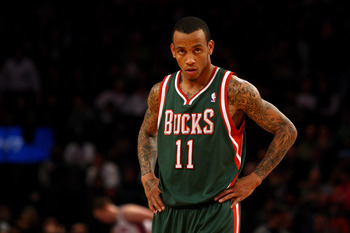 Chris Chambers/Getty Images
The Bucks made waves last season when the team traded former first overall draft pick Andrew Bogut to Golden State to acquire star guard Monta Ellis. Ellis has a career average of nearly 20 points a game and has been lauded as one of the quickest and best scorers in the game.
However, the Bucks have another guard who has been lauded for his scoring ability: Brandon Jennings. Jennings is a player who averaged nearly 20 points per game last season, and is a guy who wants the ball to create.
Every team needs a player who can take the ball and try to create something out of nothing. What you can't have is a team with two guards who excel at doing only that.
The two players dominate the ball a lot, and their games will interfere with each other's success. That will be a running theme all season long.
Monta Ellis Will Make the All-Star Team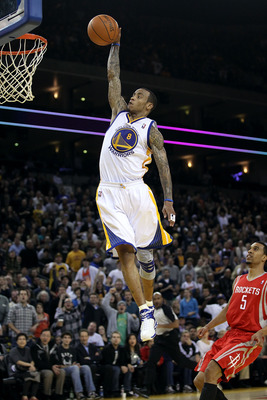 Ezra Shaw/Getty Images
When he was on the Warriors, guard Monta Ellis always seemed to be just a step away from the All-Star Game. Last season in particular, the West took four point guards and only one shooting guard, and that guy was Kobe Bryant.
The Eastern Conference also has a glut of good point guards, but they have shown that they are willing to take a deserving shooting guard. In the past, that has been former Hawk and newly acquired Brooklyn Net, Joe Johnson.
However this season, Monta will continue to prove himself, and will not be forced out by the coaches. This season, his stats will finally allow him to make an All-Star team.
Brandon Jennings Will Not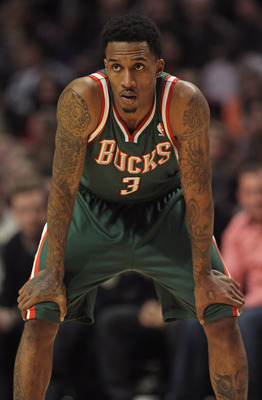 Jonathan Daniel/Getty Images
There was an argument last season that Brandon Jennings deserved to be an All-Star in the Eastern Conference. Proponents pointed to the fact that Jennings was averaging nearly 20 points per game, about five and a half assists per game, and was leading an overachieving Milwaukee team.
I was not a subscriber to that theory.
However next season, there is no doubt that Jennings will not have an All-Star season. Like I mentioned before, he and Ellis have very similar games, so the team will likely struggle to move the ball and keep both players involved.
I believe that Ellis will put his stamp on the game more than Jennings, and Jennings' stats will fall significantly.
Ersan Ilyasova Will Have Another Breakout Year
Jonathan Daniel/Getty Images
Ersan Ilyasova posted a breakout season last year. Ilyasova spiked in points, rebounds, assists, blocks, and by far in field-goal percentage and three-point percentage. He also had some huge games, including one of 29 points and 25 rebounds against the Nets.
Ilyasova only started 41 of the 60 games he played this season. He will get more of a chance to contribute this season, as the big men on the floor are looking weaker. Because of that, I think that Ilyasova will continue to evolve into one of the top power forwards in the league.
Luc Richard Mbah a Moute Will Make the All-Defensive Team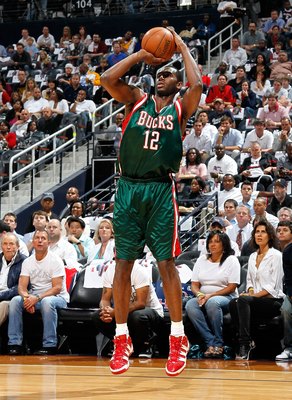 Kevin C. Cox/Getty Images
Luc Richard Mbah a Moute has long been regarded as one of the best defenders in the NBA. This season, he will not have much help behind him, as Andrew Bogut is gone for good. Now the post defense isn't ALL gone, as the Bucks drafted John Henson.
However overall, especially on the perimeter, the Bucks will be much weaker next season. This could actually be a good thing for Mbah a Moute, as he will prove how little help he needs to be a premier defender in this league.
Because of that, I think that he will make an All-Defensive Second Team appearance next season.
Doron Lamb Will Creep onto the All-Rookie Second Team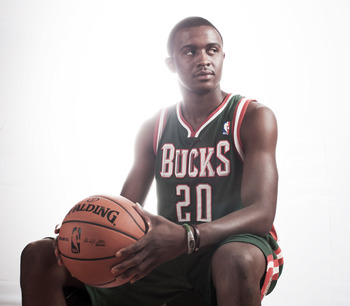 Nick Laham/Getty Images
The Bucks got one of the steals of the draft when they drafted shooting guard Doron Lamb with the 42nd overall pick in the second round of the draft. Lamb was the starting shooting guard on the Kentucky Wildcats team that won the NCAA Championship last season.
Lamb was one of the deadliest shooters in the NCAA last season, and he will be able to take advantage of teams the same way in the NBA while playing next to star guards Monta Ellis and Brandon Jennings.
Despite not being a starter and being a second-round pick, he will make the All-Rookie Second Team as a guard.
The Bucks Will Finish with 41 Wins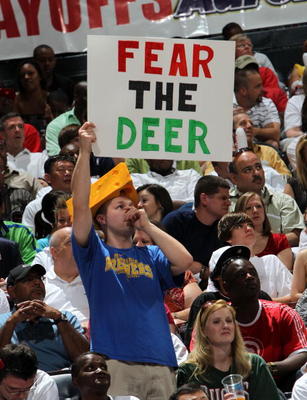 Mike Zarrilli/Getty Images
The Bucks finished with a record of 31-35, good enough for ninth in the Eastern Conference. The winning percentage was 47 percent, which is equivalent to 38 wins in a full-length season. The Bucks finished 12-11 after the acquisition of Monta Ellis, which would translate to 43 wins.
I think the Bucks overachieved a little bit after the trade for Ellis, and that they will fall back down a bit heading into next season, especially as teams have time to figure out their offensive shortcomings, of which there are quite a few.
The Bucks should be good enough to beat most bad teams, but won't beat many good teams. This balance will lead them to a straight .500 record.
Milwaukee Will Miss the Playoffs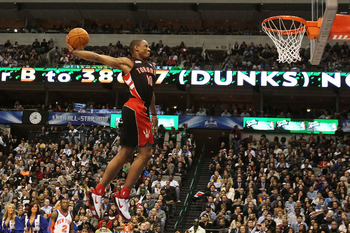 Jed Jacobsohn/Getty Images
The Bucks were the ninth overall seed in 2012, so it would seem as if they have a decent chance of making the playoffs next season. Let's take a look at the way the playoff race is looking next season at this point:
Out of the eight teams that made the playoffs last season, six of them are virtual locks to be back in it: Chicago, Miami, Indiana, Boston, New York and Philadelphia. The other two, Atlanta and Orlando, lost major players and will likely be two of the worst teams in the East. That leaves the door open for two more teams.
The first team that will assuredly be in is the newly created Brooklyn Nets. The Nets acquired Hawks' All-Star guard Joe Johnson, and some other key bench players, and perhaps a new starting power forward in Mirza Teletovic.
Milwaukee will undoubtedly be in the running for the second remaining playoff spot, however I think they will fall short to the Toronto Raptors. The Raptors have Lithuanian center Jonas Valenciunas coming over from Europe, and drafted swingman Terrence Ross to play next to DeMar DeRozan. That will be a very improved team.
Will Milwaukee be much improved? They'll be improved for sure. However I don't think they'll be improved enough to overtake the other two.
Scott Skiles Will Be Fired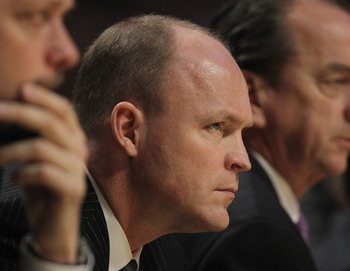 Jonathan Daniel/Getty Images
Scott Skiles is about to begin his fifth season as coach of the Milwaukee Bucks. In that time, the Bucks have made the playoffs exactly one time, and have advanced past the first round exactly zero times.
Now it must be understood, coaching the Bucks is a difficult task, as the team has mediocre talent and not much means to acquire talent, so they are at a chronic disadvantage. However, no coach can miss the playoffs four times in five years and expect to stick around long term.
If Skiles misses out on the playoffs, he should and likely will be fired.
Keep Reading

Milwaukee Bucks: Like this team?